UCLA releases part 1 of 2023 Hollywood Diversity Report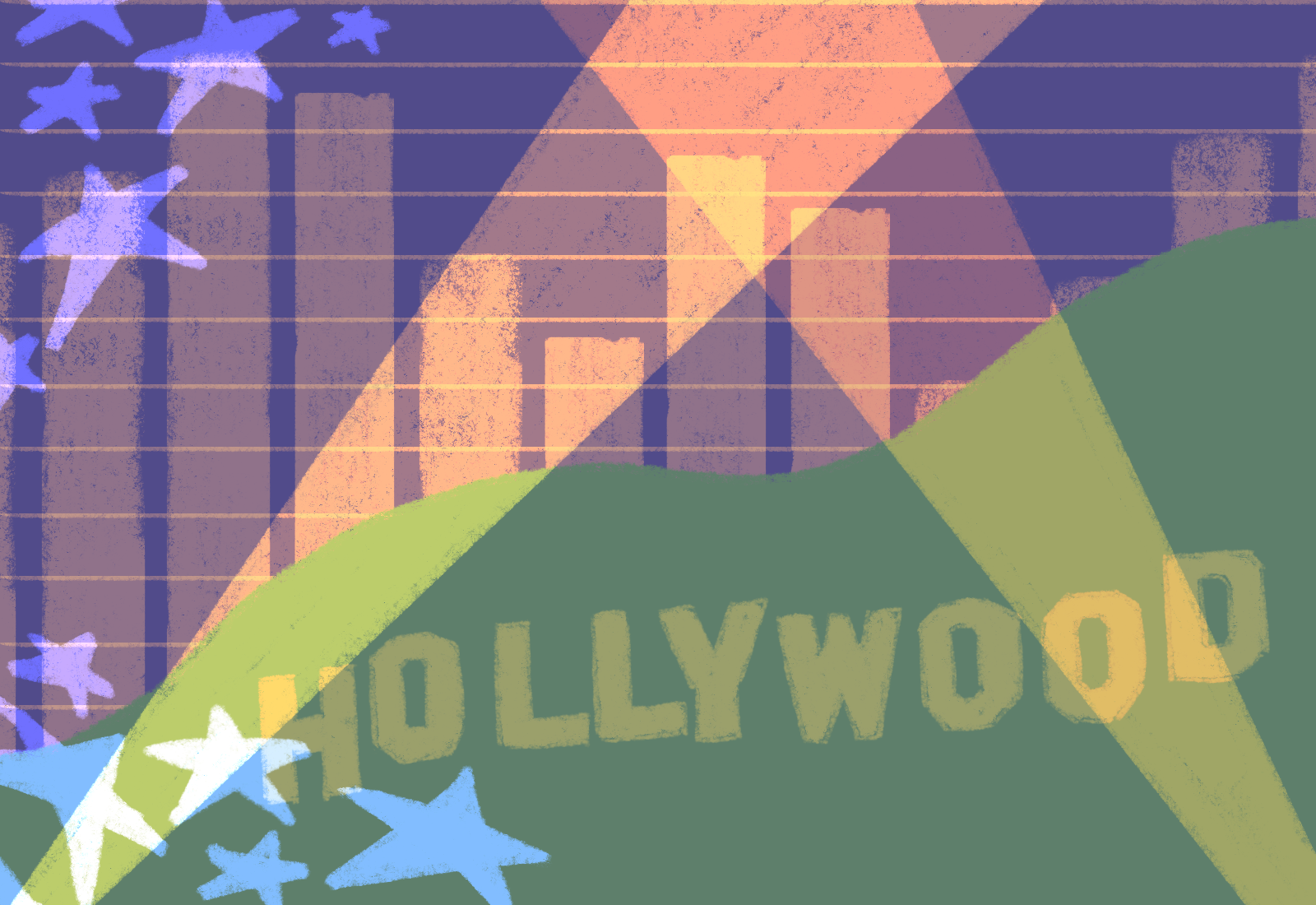 (Isabella Lee/Illustrations director)
This post was updated April 30 at 8:19 p.m.
Despite increased efforts, Hollywood still isn't producing content that reflects its diverse audience.
Conducted by UCLA faculty and students, the 2023 Hollywood Diversity Report, Part One: Film is the 10th report in an annual series analyzing the degree to which underrepresented groups were involved in front of and behind the camera in 2022. Researchers primarily tracked the following identities of individuals working in Hollywood's top films: race and ethnicity, gender, and disability status. Overall, both on- and off-screen diversity has improved in some ways and remained the same in others, said Michael Tran, a doctoral candidate in sociology and co-author of the report.
"Every year, we usually see these mixed progress stories where some things are getting better," Tran said. "The industry is trying to make a change, but it might not be changing in all the ways it should."
[Related: UCLA community members discuss 2022 Hollywood Diversity Report at town hall]
This varied progression is evidenced through the study's findings related to race and ethnicity, he said. The proportion of white people versus people of color in films generally extends to the larger United States population, Tran said. However, he said the representation of different racial communities is still fairly unequal. Black actors continue to be disproportionately represented in film compared to other communities of color, making up 14.8% and 16.2% of all theatrical and streaming roles, respectively. Meanwhile, Asian Americans, Native Americans and Latinx Americans are still underrepresented, Tran said.
Annie Meyers, the program director at the Center for Scholars & Storytellers, said she is baffled by the lack of Latinx representation because they have the highest theater attendance among all ethnicities in the country. Nevertheless, the report found that Latinx actors only comprised 5.5% and 6.6% of all theatrical and streaming roles, respectively. A key takeaway from the report was that audiences prefer films that mirror America's diverse population, so Meyers said the underrepresentation of different ethnic communities isn't only wrong from a moral standpoint but from a business one as well.
Additionally, Nico Garcia, a graduate student in the cinema and media studies program, said he was surprised by the lack of diversity within film casts. Usually, he said, all the characters in a movie will be played by cast members of a certain racial demographic. Garcia said he thinks this pattern occurs because on-screen diversity typically reflects diversity behind the camera.
"When a cast has a lot of Latine or Black or Asian castmates, that usually means the production itself as a whole is pretty diverse," Garcia said. "To me, it seems like people are reaching out laterally to their sides and bringing out others along to not just be the token."
In a similar vein, Meyers said the representation of women and gender-queer people has somewhat progressed, although there is still a lot of room for improvement. One positive change audiences are seeing is the inclusion of more complex and independent women on screen, she said. Twenty years ago, Meyers said, most female characters' existencewas tied to male characters. Now, personalities like Marvel Cinematic Universe's Scarlet Witch (Elizabeth Olsen), she said, are some of the most recognizable of the 21st century.
Conversely, Meyers said there should be more nonbinary and transgender visibility in film. According to the report, there was only one lead actor among 2022's top streaming films who identified as nonbinary. She said representation beyond the gender binary would especially be appreciated by adolescents who are exploring and questioning their identity.
Behind the camera, Tran said, women are gradually receiving more opportunities to write and direct. However, they are still underrepresented in proportion to their male counterparts, he said. For example, the report found that only 1.5 out of 10 theatrical film directors identify as women. Tran said nonmale-identifying writers and directors continue to be underfunded as well.
For the first time, UCLA examined and included disability status in the diversity report, Tran said. Altogether, individuals who identify as having a disability remain vastly underrepresented, he said. Comprising 26% of the adult U.S. population, disabled adults made up 9.1% and 6.1% of leads starring in the top theatrical and streaming films last year, respectively. Meyers also said actors with visible disabilities are rarely represented in Hollywood. Oftentimes, disabled characters are played by actors and written by screenwriters who are able-bodied, she said.
[Related: Disability and LGBTQ+ advocates criticize scope of UCLA Hollywood Diversity Report]
Garcia said that to improve diversity in front of and behind the camera, he urges filmmakers to expand their perspective by befriending industry professionals of different backgrounds. Meyersalso said some of the most well-known white male directors, such as Steven Spielberg, came from humble backgrounds, so members of underrepresented groups should be given the same chance as well.
"There's this cycle being perpetuated by the same kinds of bros hiring each other, and those are the stories being told, and it's from their perspective," Meyers said. "You're just missing so many people in terms of storytelling."