Editorial: UC needs to better value its workers to achieve aim of excellence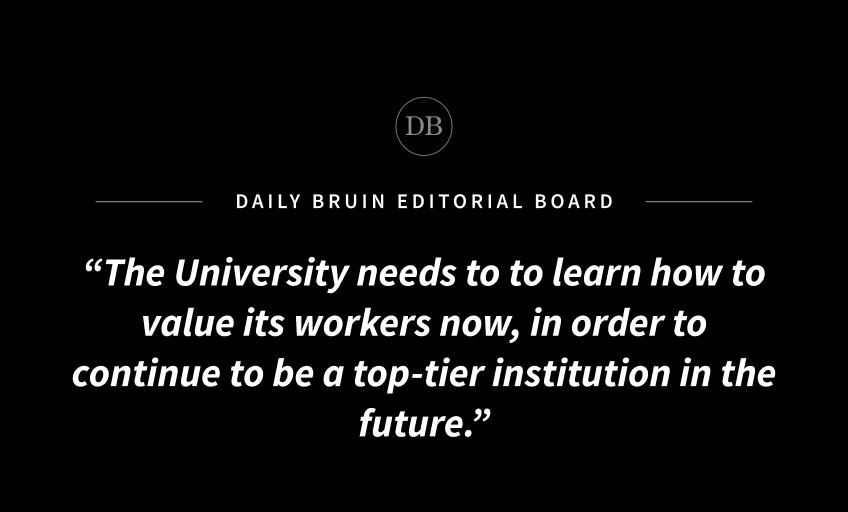 Editor's note: Editorials do not represent the views of the Daily Bruin as a whole. The board encourages readers to respond to our editorials at dailybruin.com/submit.
UC employees are the backbone of the university's success, yet many are struggling to make ends meet.
The American Federation of State, County and Municipal Employees Local 3299, which represents more than 30,000 UC workers, organized a rally last week in front of the Meyer and Renee Luskin Conference Center where a UC Board of Regents meeting was being held.
At the rally, the group called for a minimum wage increase to $25 per hour across the entire UC system. For workers who already make more than $25 per hour, AFSCME Local 3299 is calling for at least a 5% increase in pay rates.
The wage increases would go a long way toward remediating the affordability crisis affecting workers.
In the past five years, the percentage of housing cost-burdened workers rose from 50% to 70%. With the UC campuses located in counties that are 1.5 times as expensive to live in as the average US county, a wage increase is imperative for workers to be able to afford basic necessities such as food and child care.
If the UC truly wanted to be a role model for operational excellence while treating people with respect, professionalism and fairness, it wouldn't disregard the well-being of its workers while increasing the pay of its campuses' chancellors by 34%, who each make more than half a million dollars per year. As recently as this week, the UC San Diego chancellor received a $500,000 raise.
This isn't the first time the UC has failed to properly compensate its workers and recognize the importance of their well-being.
Teaching assistants, postdoctoral scholars, student researchers and other campus workers being represented by the United Auto Workers union went on strike in November to fight for their dignity and better compensation. This monumental strike also addressed the affordable housing crisis, in addition to access to transportation benefits for those who commuted to work.
Last March, protesters from Teamsters Local 2010, representing more than 14,000 UC and California State University clerical and administrative workers, gathered to demand fair pay for their work, holding up signs that said "Pay UC Workers Enough To Live" and "Our Work Makes 'UC' Work."
While both have led to favorable worker contracts, there is a common thread: The UC has repeatedly failed to recognize that without its employees, its claim to academic excellence wouldn't be possible.
With a budget of over $46 billion, the UC appears to have the financial capacity to provide livable wages to its employees.
However, it squanders that budget by investing in funds that only contribute to the affordable housing crisis.
Earlier this year, in the wake of the graduate student strike, the UC invested $4 billion in the Blackstone Real Estate Income Trust, doubling down with another $500 million in February. Corporate landlords such as Blackstone only agitate the housing crisis by driving up rent and eviction rates, as that is how they deliver a return to their shareholders.
It's as if the struggles of affordable housing, which have been a common point of contention in recent rallies and protests involving UC workers, have gone in one ear of the UC only to immediately flow out the other.
The UC must listen to the union calls to divest from Blackstone and redirect those funds into the community of workers that is tirelessly operating to aid the University in continuing its mission of teaching, research and public service.
The current deplorable wages provided to workers are not just affecting their livelihoods, but have also caused staffing shortages at many UC campuses.
These shortages have had significant effects on the UCLA campus experience, most notably for UCLA Dining Services. For instance, Feast at Rieber, a dining hall once raved about by upperclassmen, while now open, only serves as a pop-up spot for other businesses, providing a much more limited menu than it used to before.
While negotiations between AFSCME and the University will begin in fall, the UC should have proactively recognized that its workers needed to be compensated more fairly.
Enough is enough. Protests shouldn't need to occur for the UC to realize changes need to be made.
The University needs to to learn how to value its workers now, in order to continue to be a top-tier institution in the future.