UC employees rally for $25 minimum wage outside Board of Regents meeting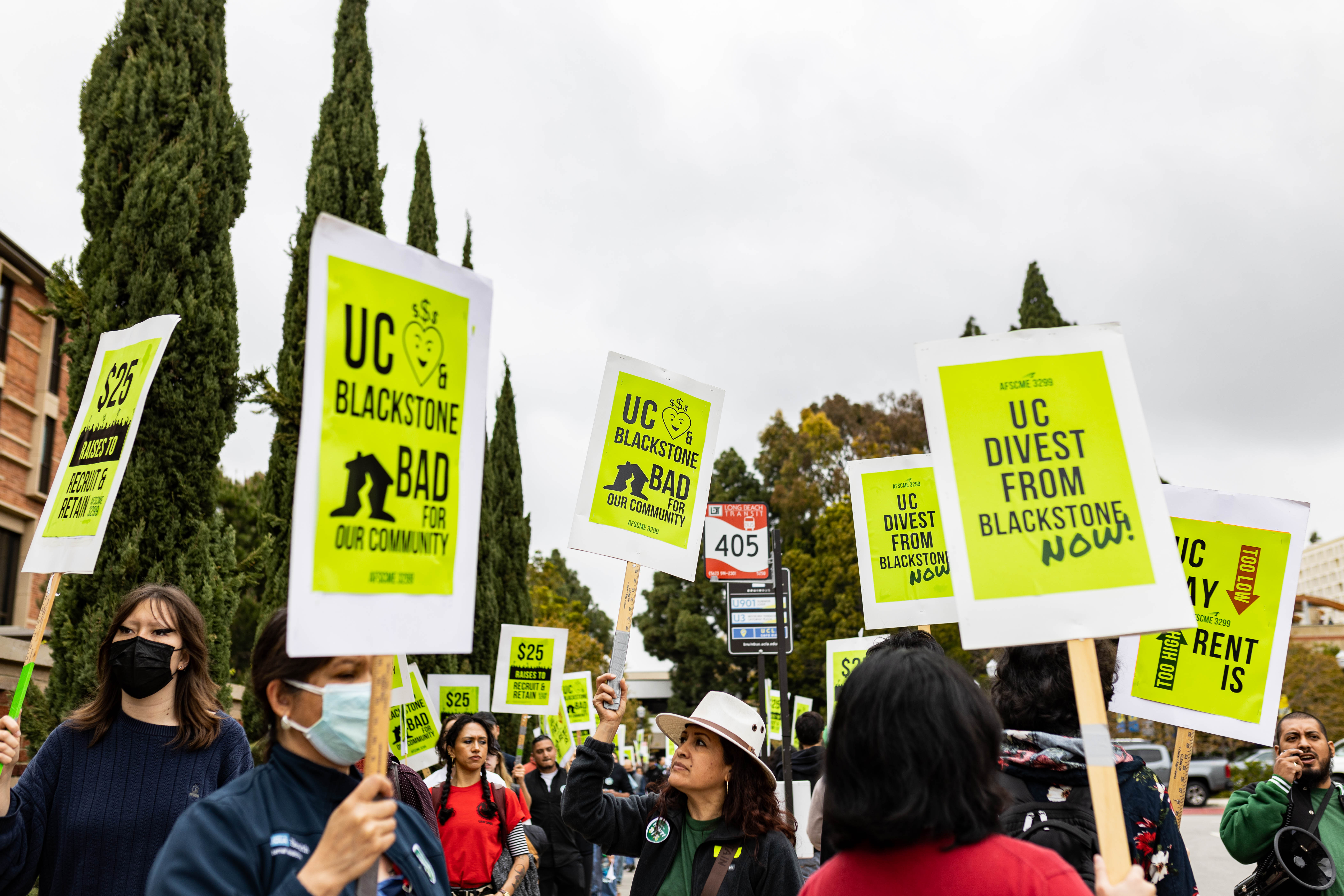 American Federation of State, County and Municipal Employees Local 3299 union members protest outside Wednesday's UC Board of Regents meeting. They called for a $25 an hour minimum wage for University employees. (Shengfeng Chien/Daily Bruin staff)
April 13, 2023 11:33 p.m.
Dozens of UC employees gathered outside a UC Board of Regents meeting at Meyer and Renee Luskin Conference Center to call for higher wages.
The rally, put on by the American Federation of State, County and Municipal Employees Local 3299 – which represents more than 30,000 UC service workers and skilled craft workers – called for minimum wages of $25 per hour, said Frank Valdez, the strategic communications director for AFSCME Local 3299.
Throughout the rally, workers chanted phrases such as "We are UC!" and "25 right away!" as they marched in front of the building.
"Our workers are tired. … They're tired of having two and three jobs when they work for one of the premier institutions in the country," Valdez said. "They feel like $25 an hour is a reasonable wage to start at, and up till now the UC just chooses not to."
Ryan King, a UC Office of the President spokesperson, said in an emailed statement the University will begin negotiations with AFSCME in the fall. He added that the UC and AFSCME reached a contract in early 2020 for annual increases, and every University staff employee is paid at least the minimum wage of their locations.
"We are grateful to all our employees, including our AFSCME-represented members, for their dedication and hard work in support of our campuses," King said in the statement. "The University looks forward to beginning negotiations with AFSCME … to demonstrate the University's continued commitment to being an employer of choice in California."
Kathryn Lybarger, president of AFSCME Local 3299, said workers are struggling to pay for rent and other needs, such as gas and food, as inflation continues to rise. 2022 saw the highest consumer price index increase over a one-year period in over 40 years, according to the United States Bureau of Labor Statistics.
One worker testified to the regents during public comment that she paid more than $2,000 for rent out of her $3,000 monthly salary.
"That's not an unusual story. … We have a member who was sleeping in her car, sometimes outside her sister's house, sometimes outside of work, because it's just too crowded and people cannot afford the rent," Lybarger said.
More than 70% of AFSCME Local 3299 workers are rent-burdened, meaning they have to pay at least 30% of their income for housing, Lybarger said, adding that, in 2017, 50% of workers were rent-burdened. This issue especially impacts Latino individuals, who make up a large portion of UC service workers, and other people of color.
She said this problem is also tied to the UC's staffing shortage, adding that people are not working at University campuses because of the low pay. This call for $25 an hour would also benefit student workers, many of whom take out student loans while trying to pay for housing, she said.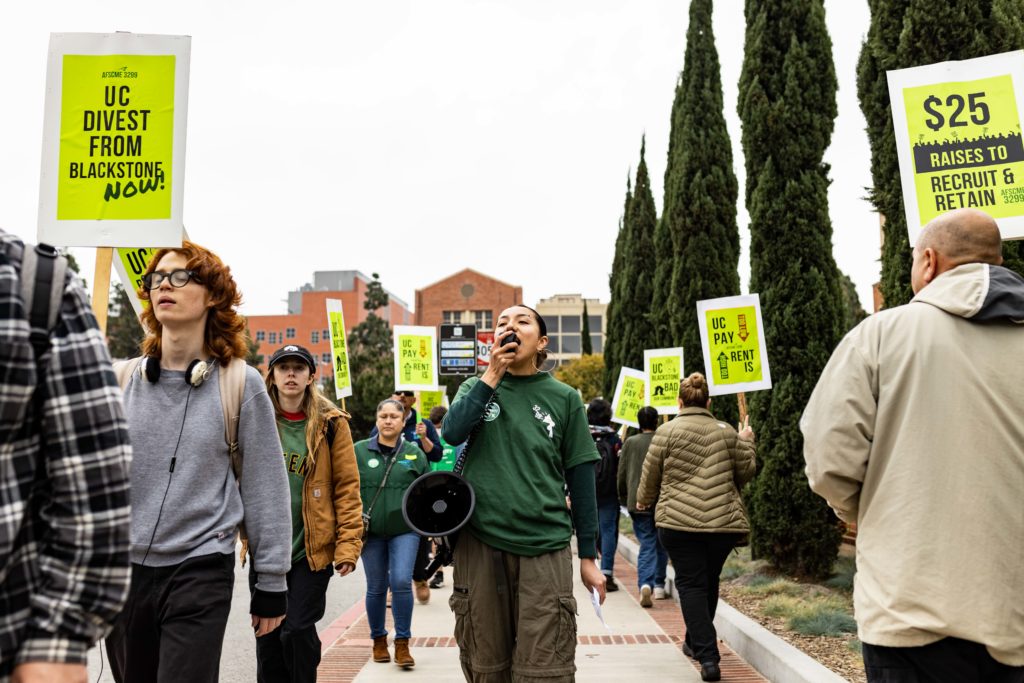 Jordan, a third-year international development studies student, who wished to remain partially anonymous out of fear of retaliation, said in a speech at the rally that student workers who are financially insecure struggle to balance their studies and working.
"Where did that money (from the UC) go? Not to my rent, not to my transportation, not to buy my food," they said. "I'm still struggling at the number one public university in the nation."
William Chao, a third-year political science student who helped at the rally, said he came out to support workers because the UC's argument for not raising wages lacks defensibility.
"One of the arguments against raising wages is that inflation is going to get higher. But guess what: We didn't raise wages and inflation still went up," he said. "A worker getting housing and food matters a lot more than Gene Block's little executive bonus."
Diego Marcial, an employee at Ronald Reagan UCLA Medical Center, also said that his $20 per hour wage cannot cover daily expenses such as food, housing and transportation because of the high cost of living in California.
Despite working overtime for at least three days a week, Marcial said he struggles to make ends meet, such as paying rent.
"This isn't about negotiations or bargaining," Valdez said. "People need to get paid more."