Students express excitement at reopening of Feast despite limited operations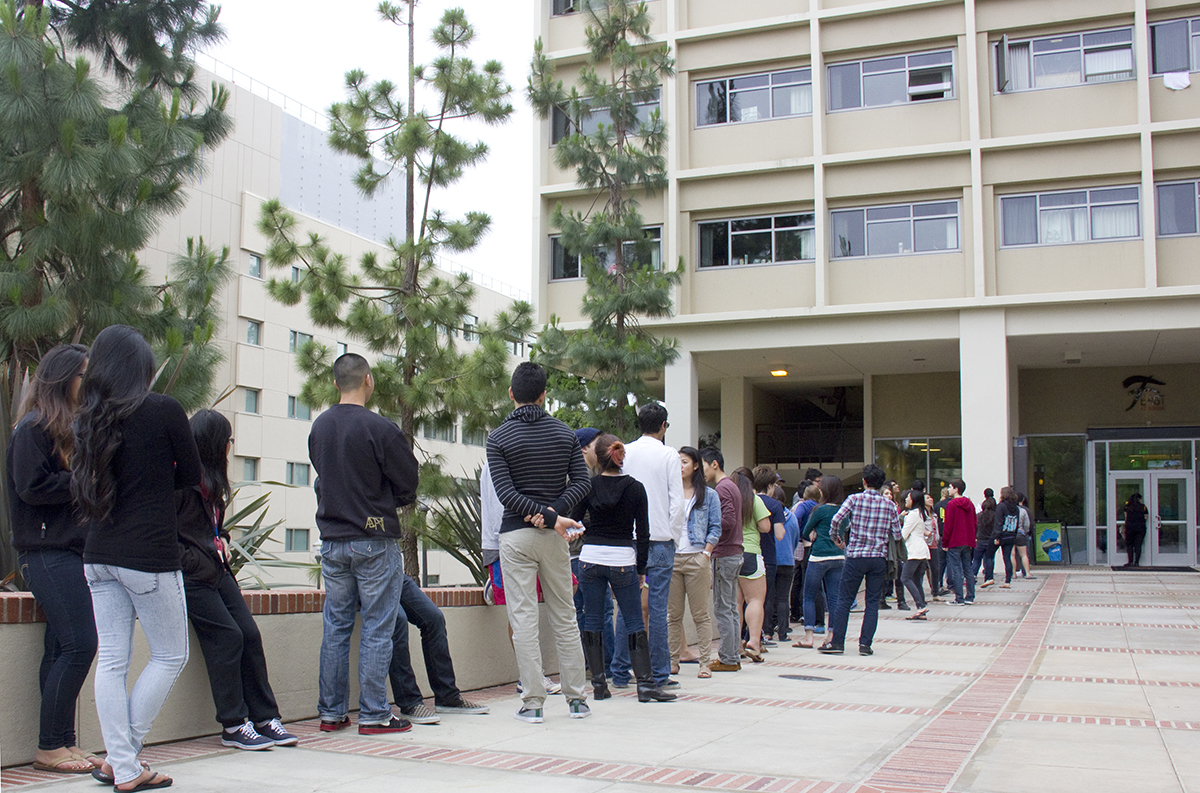 Feast at Rieber reopened for nightly dinner operations Monday. Students expressed excitement to have another residential dining option despite a lack of menu variety at The Spice Kitchen at Feast. (Daily Bruin file photo)
Feast at Rieber reopened for dinner service Monday.
Students lined up in the rain outside of Feast on Monday to eat at the dining hall, which did not open at the start of fall quarter. While Feast has reopened for daily service, it currently is open only from 5 p.m. to 8 p.m. each night and is offering limited food options, according to UCLA Dining Services.
Currently, Feast is running The Spice Kitchen, a platform created by UCLA Dining to offer students another residential restaurant option while staffing shortages prevent a full reopening of all on-campus dining services. The Spice Kitchen serves one dish nightly to students with both meat and vegetarian options. Prior to the start of the COVID-19 pandemic, Feast was a full-service dining hall.
Last week, the Feast dining hall hosted a weeklong pop-up event in which a team from the Los Angeles Koreatown restaurant Hanchic served students dinner nightly from Oct. 18 to Oct. 22.
Beginning Monday, the UCLA Dining team has been handling menu offerings. The opening night menu offered students a choice between a chicken katsu or a veggie tofu udon noodle bowl.
Many students living on the hill were excited to try Feast for the first time.
Hannah Shin, a second-year psychology student, and Itasha Koonei, a second-year molecular, cell and developmental biology student, decided to try Feast for the first time because they had heard positive reviews and were looking forward to trying something new, they said.
Bryce Busch, a second-year political science student, attended the reopening because he was looking forward to more options for Asian cuisine on campus, he said.
Feast reopening is exciting because it offers Eastern cuisine that often cannot be found at other dining halls, added Keila Kimura, a third-year microbiology, immunology and molecular genetics student.
Surya Dham, a first-year molecular, cell and developmental biology student said he was attracted to the reopening because he thought udon would be enjoyable on a rainy day.
Meanwhile, some students were disappointed by the lack of options at Feast. Shin and Koonei both wish that Feast had more menu options, they said.
Kimura misses when Feast was a full dining hall, but will continue to eat at Feast while she waits for it to fully reopen, she said.
"When (Feast fully) opens up I'm excited to see more variety of dishes like they were before," Kimura said.
Busch, Kimura and Kyphong Lam, a third-year economics transfer student, who all attended the pop-up event, said they preferred the food they ate at the pop-up event to the food served for the reopening.
Some students said they enjoyed their food, but still prefer other dining halls because of the variety of food options and hours of service they offer.
Surya said he preferred Epicuria at Covel over Feast due to the number of options it has.
"I'd say Feast is a little below Epicuria right now just because it's not as accessible (and) not at full capacity right now," Surya said. "I think once it opens up (fully) the rankings might change."
Similarly, Lam said he would rather go to De Neve Residential Restaurant, but was glad that Feast was reopening so he could eat something new.
Busch said that while he preferred other dining halls still, he would be returning to Feast for dinner.
"I don't think it'd be my first choice every night, but definitely like once a week, maybe," Busch added. "The chicken tasted like chicken nuggets and there are no complaints for that."
Dham finds the limited hours disappointing and would like to see Feast provide late night or lunch options, he said.
However, Dham said he has hope that Feast reopening will help ease the longer dinner lines at other dining halls.
Lam finds Feast's hours to be inconvenient but said he understands the limited hours because of staffing shortages and hopes that Feast will be open longer as they increase staff.
"I think the Feast opening is actually a sign that the dining halls are actually coming back right now," Lam said.