UCLA men's basketball 2022-2023 player grades: Bigs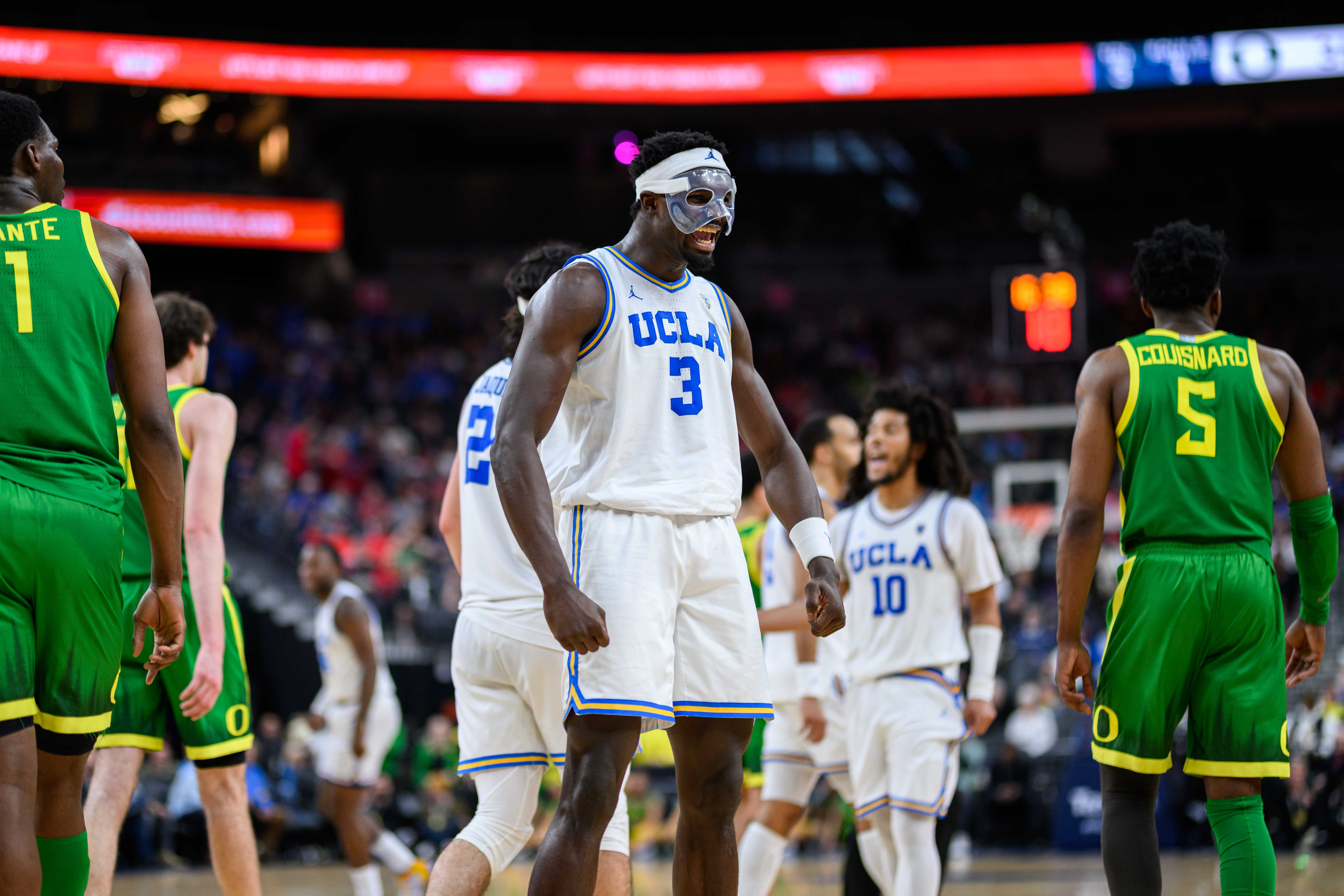 Freshman forward Adem Bona celebrates a defensive play. Bona was the starting big for UCLA men's basketball when healthy but often struggled to stay on the floor because of foul trouble. Nevertheless, Bona was named Pac-12 Freshman of the Year in 2022-2023. (Joseph Jimenez/Assistant Photo editor)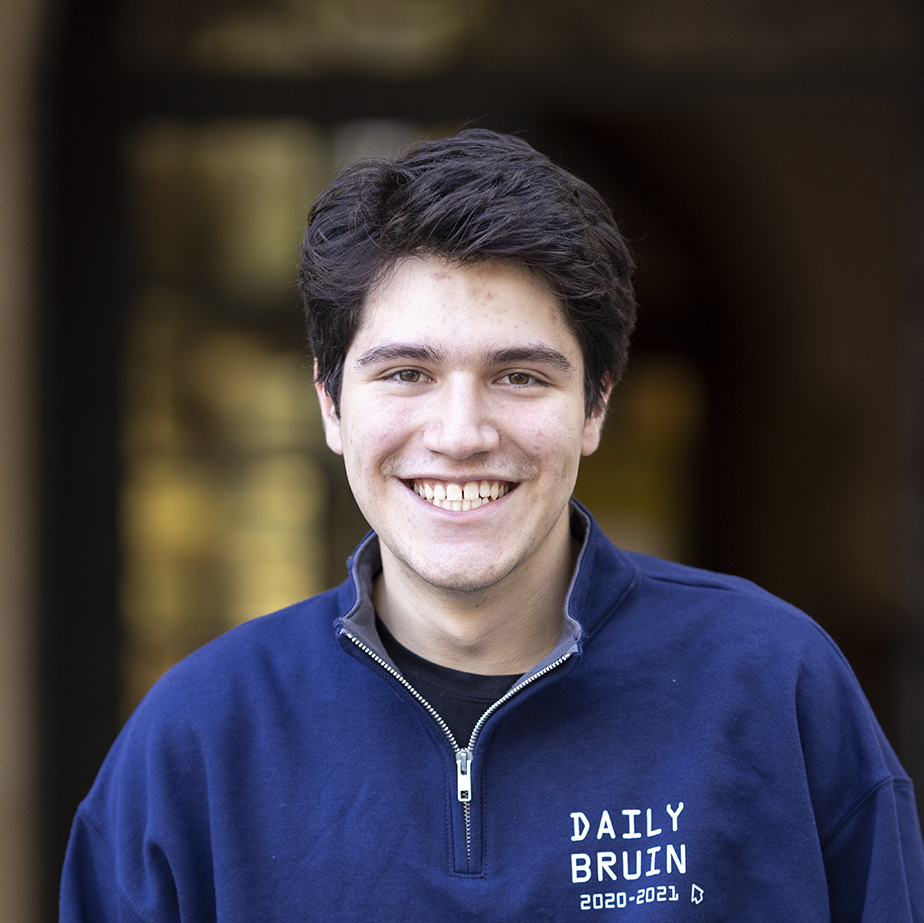 April 16, 2023 10:43 p.m.
While finals week is still a ways away, Daily Bruin Sports is dishing out grades – UCLA men's basketball player grades, that is. Senior staff writer Jon Christon hands out his marks for every Bruin rotation player based on preseason expectations, this time looking at the bigs. He graded the guards earlier in the week here and wings here.
Adem Bona
Season stats: 22.8 MPG, 7.7 PPG, 5.3 RPG, 0.7 APG, 1.7 BPG, 67.5/0.0/57.3%
Adem Bona is the best center UCLA has had in the coach Mick Cronin era.
It's too bad he wasn't on the court enough for the Bruins to feel the full magnitude of his impact.
The forward had a standout freshman season in Westwood, winning Pac-12 Freshman of the Year while anchoring the best defense in the conference. Bona was arguably the most impactful Bruin when he played, with the team 22 points per 100 possessions better with the freshman on the court compared to when he was off – the best net rating on the team.
Bona's value primarily came from the defensive end. Cronin has been desperate for a rim-protecting big since he arrived in Westwood four years ago, and he finally found one in Bona. The freshman ranked fourth in the conference with 1.7 blocks per game.
But Bona's defensive presence went beyond rim protection. Bona showed superb versatility on that end of the floor, able to hold his own against wings and occasionally guards when needed. His effort translated to a number of offensive rebounds, alley-oop slams and fast-break finishes on the other end, too.
Put simply, nobody tried harder than Bona when he was on the court – with "on the court" being the key modifier.
Bona's effort was often too much, leading to far too many fouls that forced the freshman to the bench. Bona paced the Pac-12 in fouls with 109 despite playing just 22.8 minutes per game, and his 3.3 fouls a night ranked in the second percentile of forwards nationally.
His overzealousness reared its ugly head in the postseason. Bona dove for a ball 40 feet from the basket and dislocated his left shoulder in the Pac-12 tournament. He played just one game the rest of the way because of the injury, missing the two most important games of UCLA's season: the conference championship game against Arizona and the Sweet 16 loss to Gonzaga.
Bona ended his freshman campaign having played just 50.9% of UCLA's available minutes on the season – the lowest mark of the Bruins' top six rotation players. He was far too impactful to be on the bench as much as he was, especially considering who played when he didn't.
He more than lived up to his five-star billing when he was on the court.
But an old adage in sports is that the best ability is availability – and Bona simply was not available enough to make the impact he should have on this UCLA squad.
Grade: B+
Kenneth Nwuba
Season stats: 12.5 MPG, 1.3 PPG, 1.7 RPG, 0.3 APG, 0.6 BPG, 62.5/0.0/63.6%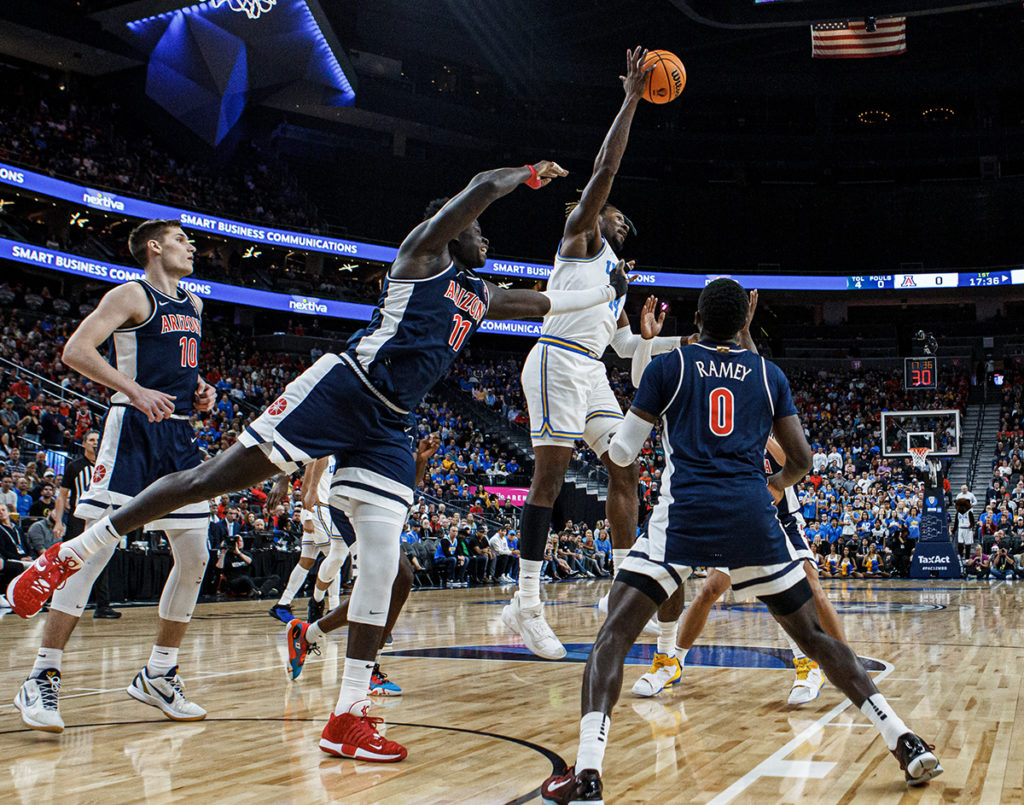 Kenneth Nwuba looked surprisingly serviceable in his first season of consistent playing time as a Bruin early in the season.
The redshirt senior entered the campaign as the team's backup center after four relatively uneventful seasons in the program. Many thought Nwuba's role was just the result of redshirt freshman forward Mac Etienne's injury and a recruiting snafu with Turkish recruit Ege Demir, but Nwuba looked effective to start the season.
He did what he needed to do: deterring shots at the rim, boxing out and finishing efficiently when the ball found him next to the rim.
When the competition got tougher, though, Nwuba's effectiveness waned, and his role lessened. He played just 9.1 minutes a night in the regular season after December, eventually falling out of the rotation by the end of the regular season.
A particular struggle for Nwuba was rebounding. He grabbed just 2.8 defensive rebounds per 40 minutes, an astronomically low number that marked the worst on the team and ranked in the second percentile nationally among forwards.
But even with his deficiencies as a player, Nwuba's role shot back up with the injury to Bona late in the season.
And there is perhaps no better microcosm to Nwuba's season than his play in the NCAA Tournament. Against mid-major No. 15 seed UNC Asheville, Nwuba had arguably the best game of his career, scoring a career-high 10 points on a perfect 4-of-4 from the field while adding a pair of blocks.
He fell back down to Earth facing better competition, however. Against No. 3 seed Gonzaga, Nwuba had just two points and, somehow, only one rebound in 32 minutes as the team's starting center. He posted a team-worst -11 in the three-point loss.
Is it Nwuba's fault that he was forced to play a bigger role than he was capable of on the biggest stage? No.
But Cronin needed competency with Bona's struggles to stay on the court, and Nwuba was stretched a bit too thin at times to reach that low bar.
Grade: C+
Mac Etienne
Season stats: 6.8 MPG, 1.3 PPG, 1.9 RPG, 0.2 APG, 0.5 BPG, 44.7/0.0/37.5%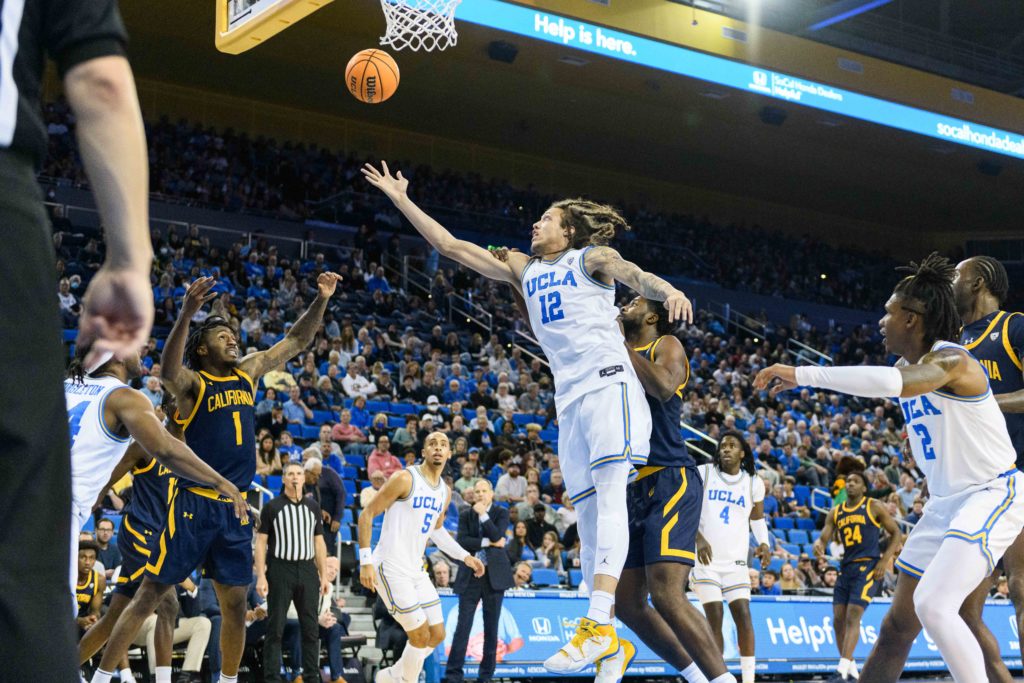 Mac Etienne had a tough go of it in 2022-2023.
The redshirt freshman forward's role was unknown entering the season after missing all of last year with a torn ACL. Eventually, Etienne found his footing as the team's third big, but he struggled.
Etienne looked a step slower than the reclassified freshman that won over fans with his effort in 2021, an understandable result of not having played a meaningful game in a year and a half and coming back from a significant knee injury. He racked up foul after foul, eventually playing himself out of the rotation for not being able to stay on the court consistently. The big averaged 7.5 fouls per 40 minutes, the highest mark on the team by nearly two fouls.
As a result, he could never quite find his rhythm offensively. Etienne was a below-average finisher from the painted area, and his midrange jumper never fully developed.
And by the end of the year, Cronin could never quite trust Etienne. He played just five minutes against Gonzaga despite being one of two healthy centers on the roster.
Still, though, Etienne showed enough promise to potentially add value next season.
His defensive instincts and positioning were sound, with most of his fouls the result of adapting to slightly lessened athleticism from the torn ACL. He still posted a relatively high block rate, so it's fair to assume he'll be a plus defender once his legs come back fully.
Torn ACL recovery is a two-year process, all in all, so getting back on the court was always the most important step for Etienne this season.
Now, he'll have to build on that to become an impact player in 2023-2024.
Grade: C
Christon is currently a Sports senior staff writer. He was previously the Sports editor on the men's basketball and football beats and the assistant Sports editor on the women's basketball, softball, men's tennis and women's tennis beats. Christon was previously a contributor on the women's basketball and softball beats.
Christon is currently a Sports senior staff writer. He was previously the Sports editor on the men's basketball and football beats and the assistant Sports editor on the women's basketball, softball, men's tennis and women's tennis beats. Christon was previously a contributor on the women's basketball and softball beats.