UCLA men's basketball 2022-2023 player grades: Guards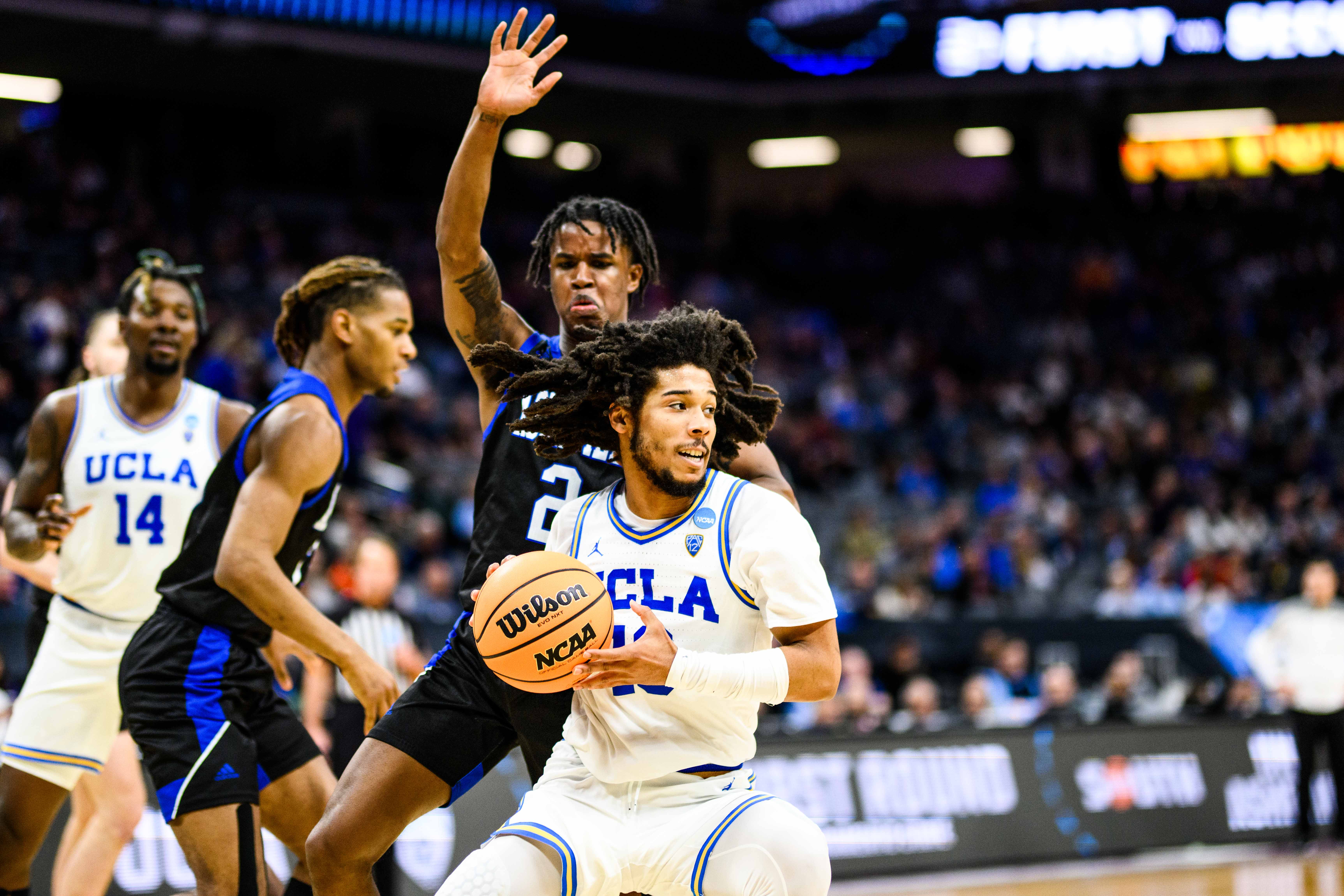 Redshirt senior guard Tyger Campbell pivots in the paint. Campbell ranked third in the nation in assist-to-turnover ratio in his fifth season with UCLA men's basketball. (Anika Chakrabarti/Photo editor)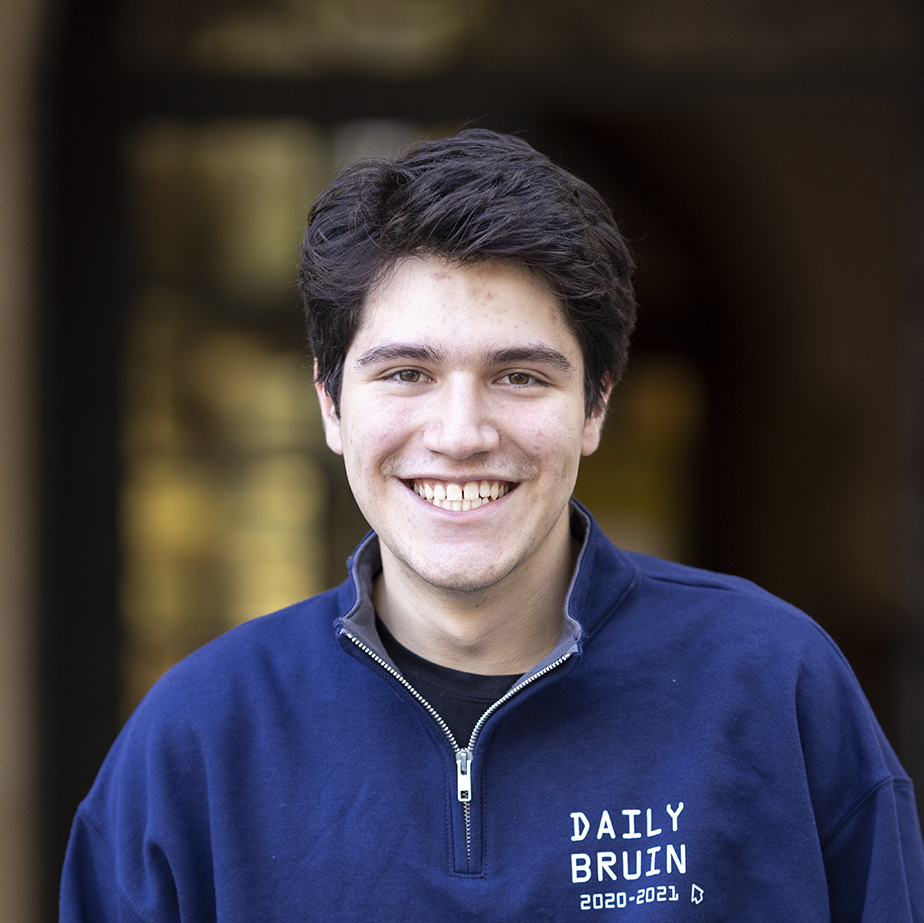 This post was updated April 11 at 11:12 p.m.
While finals week is still a ways away, Daily Bruin Sports is dishing out grades – UCLA men's basketball player grades, that is. Senior staff writer Jon Christon hands out his marks for every Bruin rotation player based on preseason expectations, starting with the guards.
Tyger Campbell
Season stats: 32.1 MPG, 13.4 PPG, 2.6 RPG, 5.0 APG, 1.2 SPG, 37.8/33.8/85.6%
Tyger Campbell did just about everything reasonably expected from his fifth and likely final year with the Bruins.
The redshirt senior guard was his usual steady hand leading the UCLA offense, playing the second-most minutes of anyone on the Bruins while ranking third in the country in assist-to-turnover ratio. He was also an above-average defender at his position despite his height and his athletic limitations.
But despite the consistent play, he still left you wanting more – particularly on the offensive end of the floor.
Campbell's 13.4 points per game were a career high, though his efficiency night to night was among the worst of his career. The loss of Johnny Juzang and Jules Bernard put more of a scoring burden on Campbell's shoulders, leaving him mildly overtasked as the offense's second option.
After a standout offensive campaign a year ago, Campbell shot 37.8% from the field this season – the fifth-worst mark among qualified scorers in the Pac-12. That number plunged to 21.9% in the NCAA Tournament. His 49.2% true shooting mark was his worst since his redshirt freshman season, partly because of his abysmal 38.3% clip from within the painted area.
In addition to his struggles down low, Campbell lost his touch behind the arc as his volume went up. He shot 41% from 3-point range a year ago on 3.7 attempts per game compared to just just 33.8% on 4.2 attempts a night this season. He kept defenses honest, for the most part. But for a player who was supposed to go "Steph Curry mode" – per his coach – it's hard to see this season as anything but a disappointment on the scoring front.
Still, much of what Campbell does cannot be quantified on a stat sheet. While the offense might've faltered from time to time because of his deficiencies as a scorer, it would have fallen off a cliff without him there on a regular basis.
Overall, Campbell turned in a solid season – but it's fair to wonder what UCLA's ceiling could have been if the guard was just a moderately efficient scorer as the second option.
Grade: B-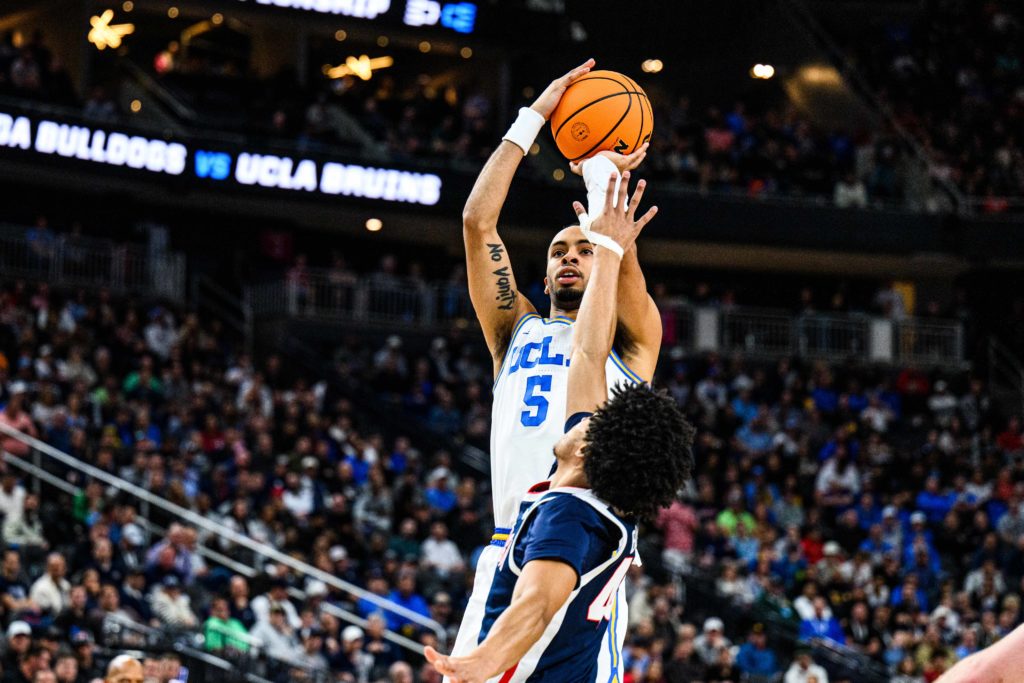 Amari Bailey
Season stats: 26.9 MPG, 11.2 PPG, 3.8 RPG, 2.2 APG, 1.1 SPG, 49.5/38.9/69.8%
Amari Bailey, as most freshmen do, struggled to start his college career.
But once he found his footing, the guard became indispensable for UCLA.
The expectations were high for Bailey, a former five-star recruit and McDonald's All American who was a rare day-one starter for Cronin. He had his moments early – notably a breakout performance versus Oregon in December – but appeared to be forcing things, especially in big games. In UCLA's four nonconference contests against Power Five teams, Bailey averaged just 3.3 points per game on 21.7% shooting.
Upon return from a foot injury that cost him seven games, Bailey settled in. His efficiency increased across the board, letting the offense come to him instead of the other way around.
And before long, the freshman proved no moment was too big for him.
Bailey arguably had the best postseason of any Bruin, averaging 17.3 points per game across six contests. He was one of the few Bruins who was able to consistently get to the rim in tournament play, with his paint attempts second to only senior guard/forward Jaime Jaquez Jr., and he was the team's best shooter from deep at 46.7%.
A national audience watched as Bailey emerged as a high-flying slasher with a 3-point shot to match.
He hit the biggest shot of UCLA's season, a go-ahead 3-pointer in the Sweet 16 against Gonzaga. While that shot was quickly spoiled by Julian Strawther, it still highlighted the full growth of Bailey's play across the season.
If Bailey is to return to Westwood, he could build off his stellar postseason and catapult himself into college basketball stardom.
Should this be Bailey's only season in the blue and gold, though, it stands on its own as a success.
Grade: A-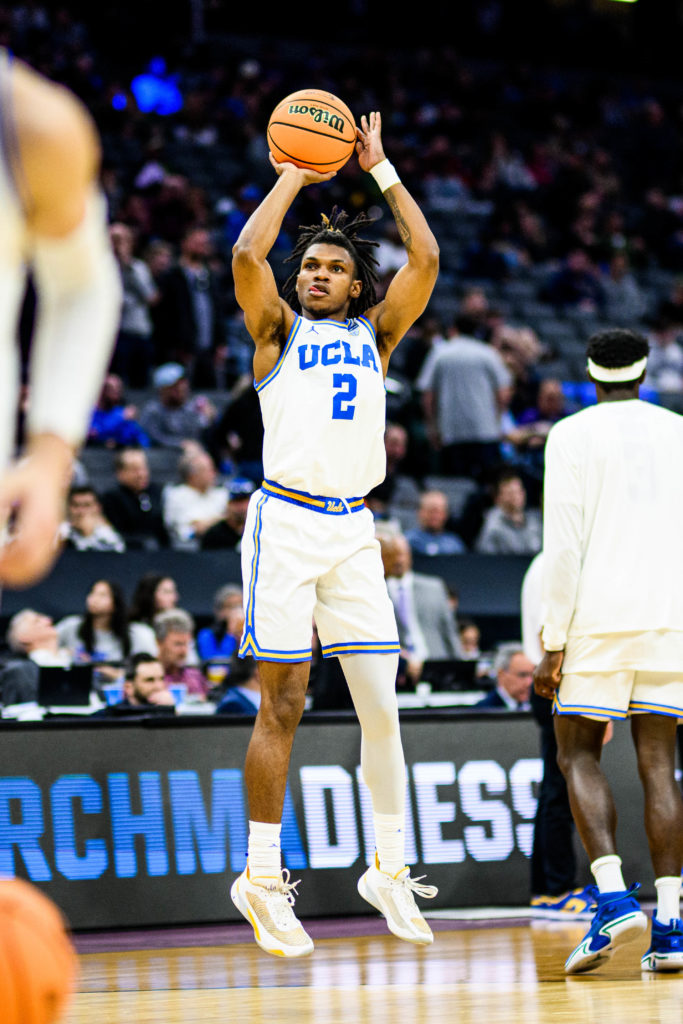 Dylan Andrews
Season stats: 10.8 MPG, 3.3 PPG, 1.1 RPG, 0.9 APG, 0.3 SPG, 43.0/31.7/66.7%
It's a shame Dylan Andrews was at the center of UCLA's two most consequential plays of the year.
The freshman guard missed a potential game-winning 3-pointer in the Pac-12 championship game and was defending Strawther when he drilled his 35-footer in the final seconds of UCLA's Sweet 16 loss.
But those moments are not indicative of Andrews' first season in Westwood – an otherwise very positive freshman campaign.
Offensively, Andrews was asked to shoulder the ball-handling responsibilities without Campbell on the court. A big ask, certainly, but Andrews was up to the task.
UCLA's offense didn't get worse with Andrews on the court. In fact, it got much better. Andrews boasted the best offensive rating on the roster, with UCLA scoring 119.1 points per 100 possessions with the freshman guard in the game. While some of that could be skewed by a limited sample size, Andrews' 394 minutes are not insignificant, especially considering he remained firmly in Cronin's postseason rotation.
Andrews took care of the ball, and his speed proved to be a welcome change of pace from Campbell's deliberateness. He finished effectively at the rim in spite of his 6-foot-2, 170-pound frame, and he showed enough from midrange to hint that his 3-point shooting will eventually come along.
On the other end of the floor, Andrews emerged as one of the team's best point-of-attack defenders, perhaps the best since junior guard Jaylen Clark went down with an injury. There was a reason Cronin chose Andrews to defend Strawther on the Bulldogs' final active possession.
It didn't work out, nor did the 3-point shot to win the conference tournament title. But Andrews' freshman season was still as good as could have been expected, and Cronin agrees.
"You could look at his numbers and say, 'Well, he hasn't had a great freshman year.' And I couldn't disagree with you more," Cronin said. "In what we've needed him to be this year, he's done a great job."
Grade: B+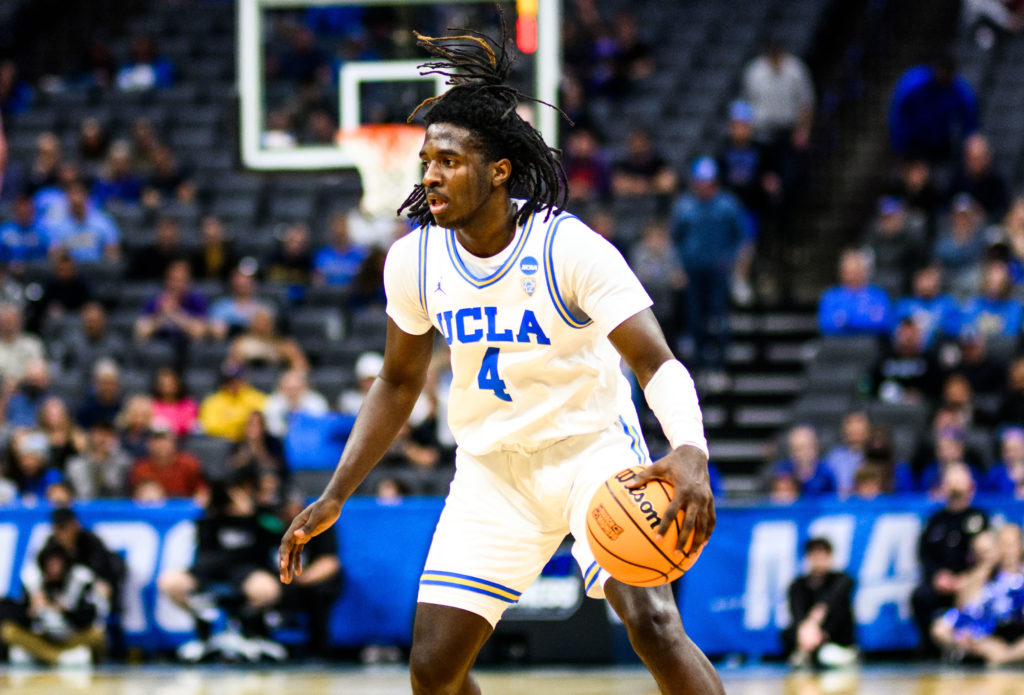 Will McClendon
Season stats: 9.3 MPG, 1.0 PPG, 1.1 RPG, 0.8 APG, 0.3 SPG, 20.4/7.1/60.0%
Will McClendon had plenty of challenges in his first year back from an ACL tear, and he arguably had a bit too much on his plate to make an impact.
The redshirt freshman's role changed throughout the season after he returned into the lineup in December. Originally recruited as a combo guard, McClendon increased his weight to 210 pounds this offseason and ended the campaign as a wing, even defending the paint in the postseason after Clark's injury.
Cronin, in particular, ushered in McClendon's name as a potential Clark replacement when the latter went down, but that proved a bit premature. McClendon certainly has the capability to be a versatile defender, but he had little time to adjust this season and struggled at times defending bigger players. He finished the year with the highest foul rate of any non-big on the roster, averaging 4.6 fouls per 40 minutes.
McClendon's offensive role similarly never quite materialized. He has the framework to be a 3-and-D slasher but was none of those things in his redshirt freshman season. He made only three shots from the painted area and two from beyond the arc despite opponents leaving him open consistently.
All of that is not to say McClendon can't turn into a productive player in the near future. He'll find his way defensively, and it can't get much worse on the offensive end of the court.
"He was known as 'Big Shot Will' (in high school), and I know he still has that in him," Cronin said. "I know the day is coming."
But Cronin needed production this season from McClendon's spot, especially given injuries late in the campaign. The guard wasn't quite ready.
Grade: C
Christon is currently a Sports senior staff writer. He was previously the Sports editor on the men's basketball and football beats and the assistant Sports editor on the women's basketball, softball, men's tennis and women's tennis beats. Christon was previously a contributor on the women's basketball and softball beats.
Christon is currently a Sports senior staff writer. He was previously the Sports editor on the men's basketball and football beats and the assistant Sports editor on the women's basketball, softball, men's tennis and women's tennis beats. Christon was previously a contributor on the women's basketball and softball beats.