UCLA men's basketball 2022-2023 player grades: Wings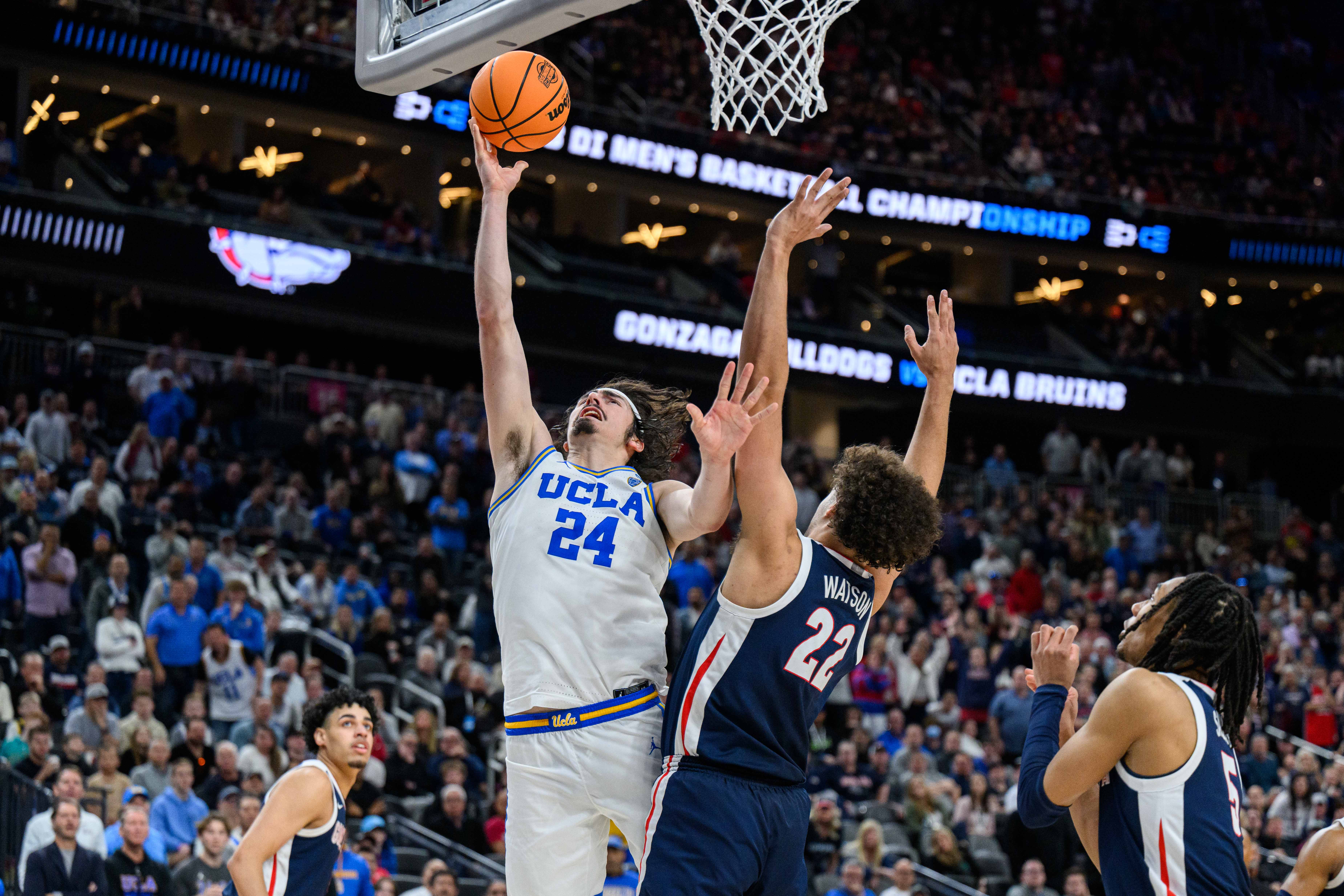 Senior guard/forward Jaime Jaquez Jr. puts in a layup through contact. Jaquez became UCLA men's basketball's first Pac-12 Player of the Year since 2008. (Jeremy Chen/Assistant Photo editor)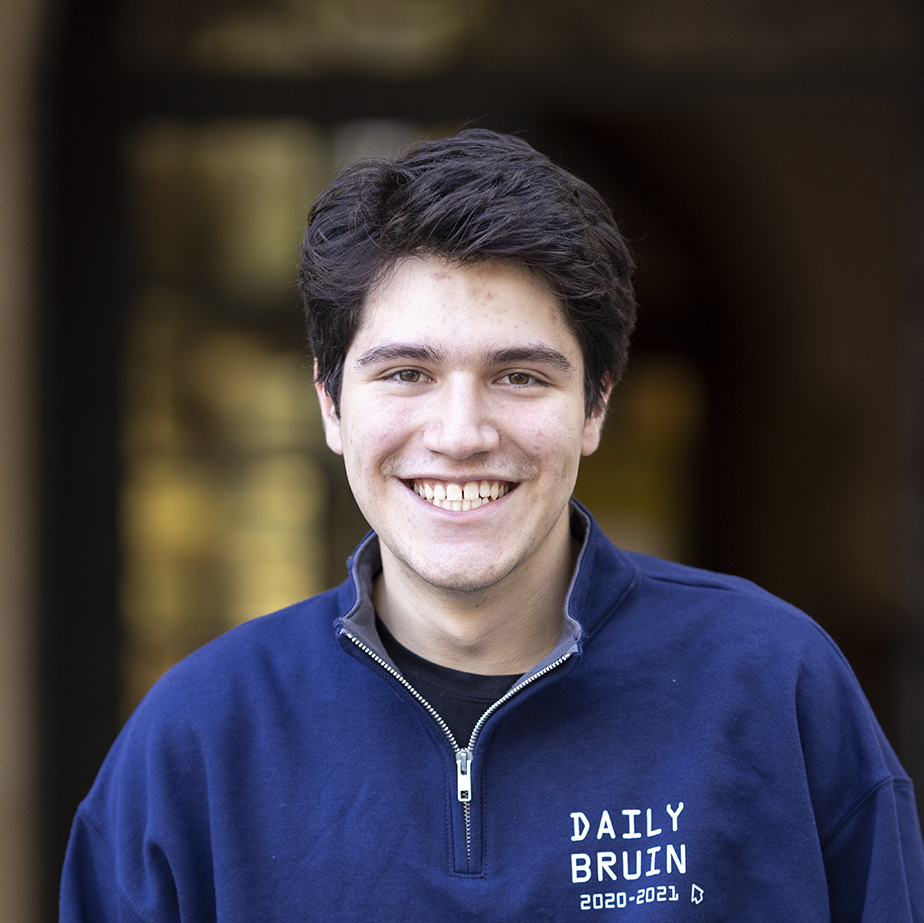 While finals week is still a ways away, Daily Bruin Sports is dishing out grades – UCLA men's basketball player grades, that is. Senior staff writer Jon Christon hands out his marks for every Bruin rotation player based on preseason expectations, this time looking at the wings. He graded the guards earlier in the week here.
Jaime Jaquez Jr.
Season stats: 33.2 MPG, 17.8 PPG, 8.2 RPG, 2.4 APG, 1.5 SPG, 48.1/31.7/77.0%
What is there to say about Jaime Jaquez Jr. that hasn't already been said?
The senior guard/forward had one of the best single seasons in recent UCLA history, becoming the Bruins' first Pac-12 Player of the Year award winner since 2008. Jaquez ended the season as the only player in the conference to rank in the top five in points, rebounds and steals per game.
He did it all for UCLA, emerging as the team's offensive focal point in 2023.
Most, if not all, of UCLA's offense revolved around a Jaquez post touch, where the senior became a more efficient paint scorer – particularly by drawing fouls and getting to the free-throw line – and a better passer.
The only fault with Jaquez's offensive production was his shooting from deep, which fluctuated throughout the season. When he was consistently hitting shots from beyond the arc, as he was in January and February, Jaquez was unstoppable. When his shot faltered, as it did in March, he was forced to bang down low more often to get his points. He is more than capable of the latter, but it's a more taxing style of play, especially when Jaquez was playing more than 35 minutes per game in the postseason.
Defensively, Jaquez was his usual self. He continued being one of the best help-side defenders in college basketball, pairing up with junior guard Jaylen Clark to create arguably the most formidable set of wing defenders in the country. The two combined for 135 steals on the campaign, the most of any pair of teammates in the Pac-12.
His team-high 8.2 rebounds were a noted constant on that end, too, helping UCLA limit opponents to just one shot on any given possession – a key to the Bruins' team success on defense.
Overall, the campaign was a marked success for Jaquez, who played well enough to warrant serious first-round consideration in the 2023 NBA Draft.
Grade: A
Jaylen Clark
Season stats: 30.5 MPG, 13.0 PPG, 6.0 RPG, 1.9 APG, 2.6 SPG, 48.1%/32.9%/69.8%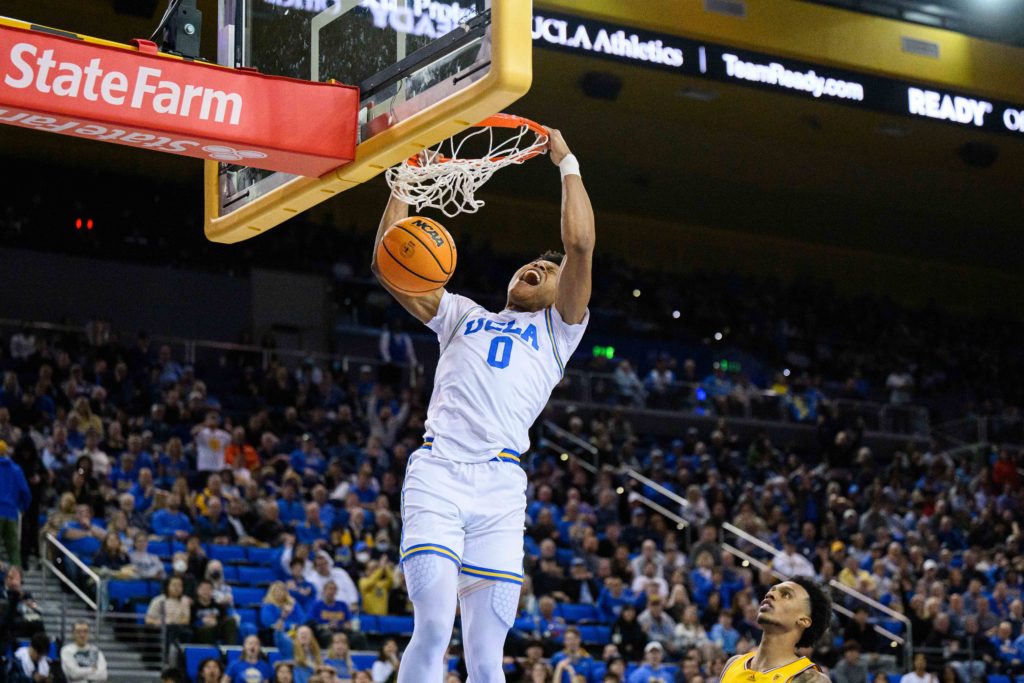 Jaylen Clark said before the season that this would be his "Westbrook" break-out year, a reference to UCLA Athletic Hall of Famer and former Bruin guard Russell Westbrook.
It was a lofty goal, but anybody who watched Clark in his freshman and sophomore campaigns knew the guard had Westbrook's tenacity. The only thing missing was the subtle nuances that made Russ, Russ – among them, the awareness of how to utilize that aggressiveness for a whole 40 minutes.
Clark finally put it all together this season, and what a sight it was to behold.
The junior guard was the best defender in college basketball – full stop. Not only did he match Westbrook in winning Pac-12 Defensive Player of the Year, but Clark also won the first Naismith Defensive Player of the Year award in program history.
Opposing offensive players had zero margin for error when Clark was on the court. If you made a lazy cross-court pass, Clark would pluck it out of the air and start a fast break. A reckless drive into the paint would be met with a Clark swipe down. A millisecond of lost focus, and Clark would simply snatch the ball straight from your hands.
He finished with 78 total steals, good for 2.6 per game – tied for the fourth-best mark in the nation.
And that level of play translated to the other end, too. Clark, time and again, set himself up for his – and Westbrook's – signature two-handed slams in transition that would send Pauley Pavilion into a frenzy.
But in between his fast-break outbursts, Clark also became a well-rounded and nuanced offensive player to earn Cronin's trust in the half court.
Clark has always had a nose for the rim, but this season he was more creative in how to get there. He showcased more as a ball handler, becoming the Bruins' best driver from the perimeter, and also was a smarter cutter from the dunker's spot. He shot 74.5% at the rim, the highest of any non-big on the roster.
He started to keep defenses honest from deep, too. Clark shot a career-high 32.9% from 3-point range this season, a figure that is surely nothing to write home about, but is a notable improvement for a career 24.3% shooter entering the campaign.
In the end, though, Clark's season – and perhaps career – will be remembered more as a "What-if?" than anything else.
Clark injured his Achilles in early March and missed all of the postseason. He declared for the draft early in the offseason, and though he has retained his collegiate eligibility, it's fair to wonder if he has played his final game for the blue and gold.
One thing is clear, however: When Clark was on the court, he was dynamite.
Grade: A-
David Singleton
Season stats: 28.2 MPG, 9.0 PPG, 2.8 RPG, 1.1 APG, 1.1 SPG, 42.7/42.4/84.9%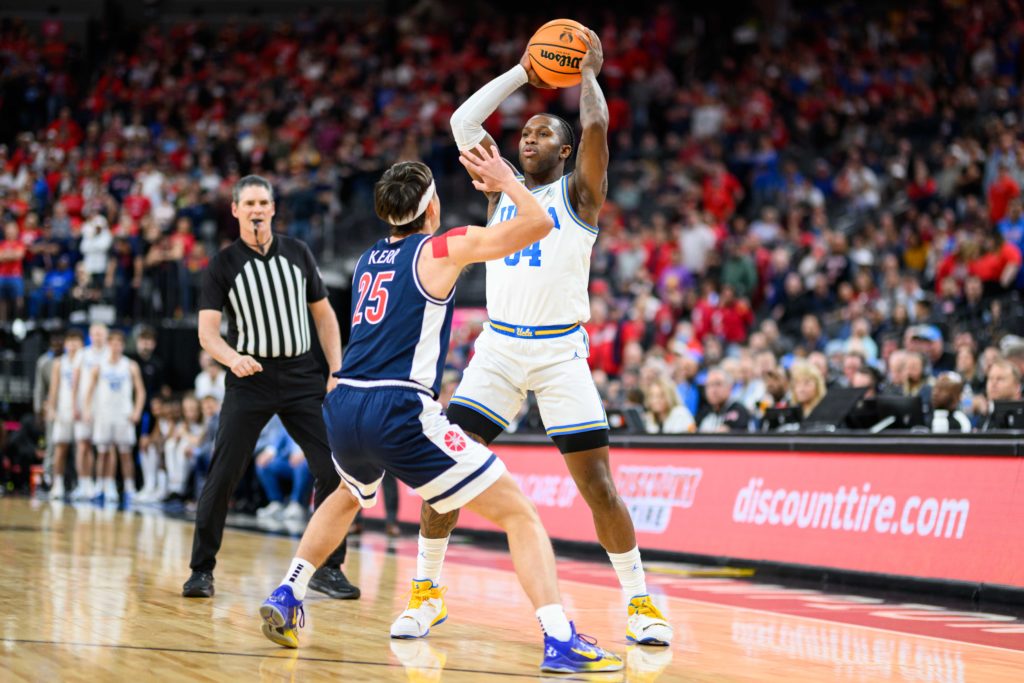 Not many fifth-year seniors would accept a bench role in this day and age of college basketball, especially not on a team with two freshmen in the starting lineup.
But David Singleton did just that – and it proved crucial for the Bruins.
The guard was UCLA's steady hand off the bench, proving to be exactly what the Bruins needed in his role. He would have won Pac-12 Sixth Man of the Year had he not started eight regular-season games because of freshman guard Amari Bailey's injury.
Singleton, one of the few true wings on the roster, slid up and down positions when needed, but remained a constant shooting presence wherever he played.
He shot 42.4% from deep, which, remarkably, was his second-worst mark as a Bruin but still was third in the Pac-12 and would have ranked eighth nationally had he shot more than five attempts per game.
Singleton never was able to generate his own shot – over 80% of his field goals were assisted, the most of anyone on the team – but was about as efficient as they come as an offensive role player. He was highly effective at the rim when he got there, was solid from midrange and was the team's second best free-throw shooter. All of that contributed to his 60.4% true shooting percentage, a truly elite figure for a non-big.
However, Singleton wasn't quite as efficient when asked to play a bigger role, as was the case when Clark and Bailey sustained injuries.
In his bench role, Singleton shot 50.7% from the field and 47.4% from 3. When starting in placed of injured players, those numbers fell to 41.4% and 36%, respectively. In a bigger role, Singleton's efficiency waned.
When that role presented itself again come tournament time, Singleton couldn't quite take advantage of the opportunity. He averaged just seven points in the postseason despite playing 33.2 minutes per game, and UCLA could have used his shooting to break up its frequent offensive slumps.
Regardless, Singleton was on the court when it mattered most and hit plenty of big shots, most notably a dagger 3-pointer against Northwestern in the second round of the NCAA Tournament. He competed on both ends, never getting played off the court defensively with value as a leader that went beyond the stat sheet.
For all intents and purposes, Singleton was a sixth starter, and the Bruins will greatly miss having that luxury next season.
Grade: B
Christon is currently a Sports senior staff writer. He was previously the Sports editor on the men's basketball and football beats and the assistant Sports editor on the women's basketball, softball, men's tennis and women's tennis beats. Christon was previously a contributor on the women's basketball and softball beats.
Christon is currently a Sports senior staff writer. He was previously the Sports editor on the men's basketball and football beats and the assistant Sports editor on the women's basketball, softball, men's tennis and women's tennis beats. Christon was previously a contributor on the women's basketball and softball beats.