2023 #SpeechMatters conference examines campus protections of democratic freedom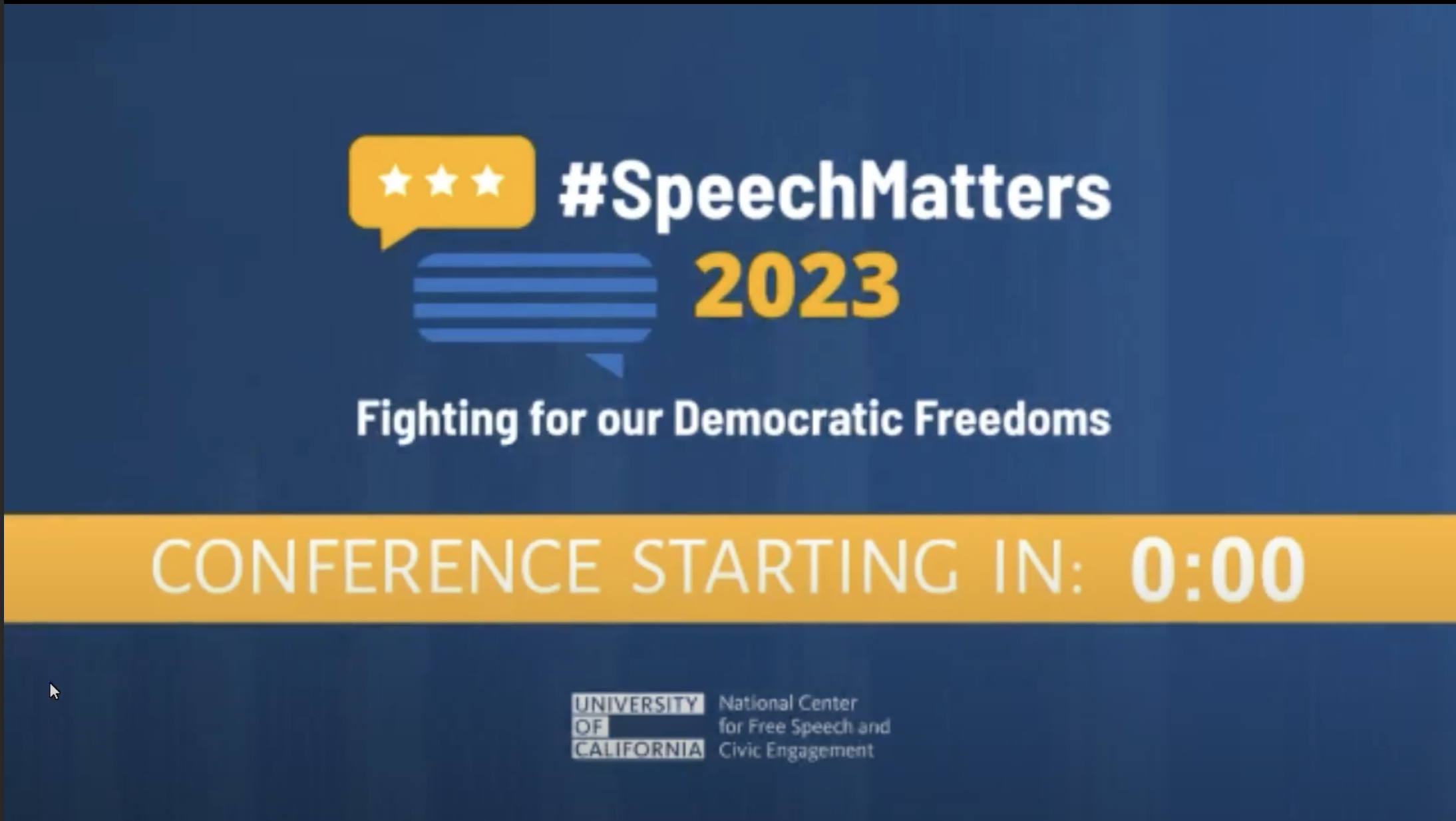 The start of the UC National Center for Free Speech and Civic Engagement's #SpeechMatters conference is pictured. Panelists discussed threats to free speech and how academic freedoms may be impacted. (Constanza Montemayor/Daily Bruin senior staff)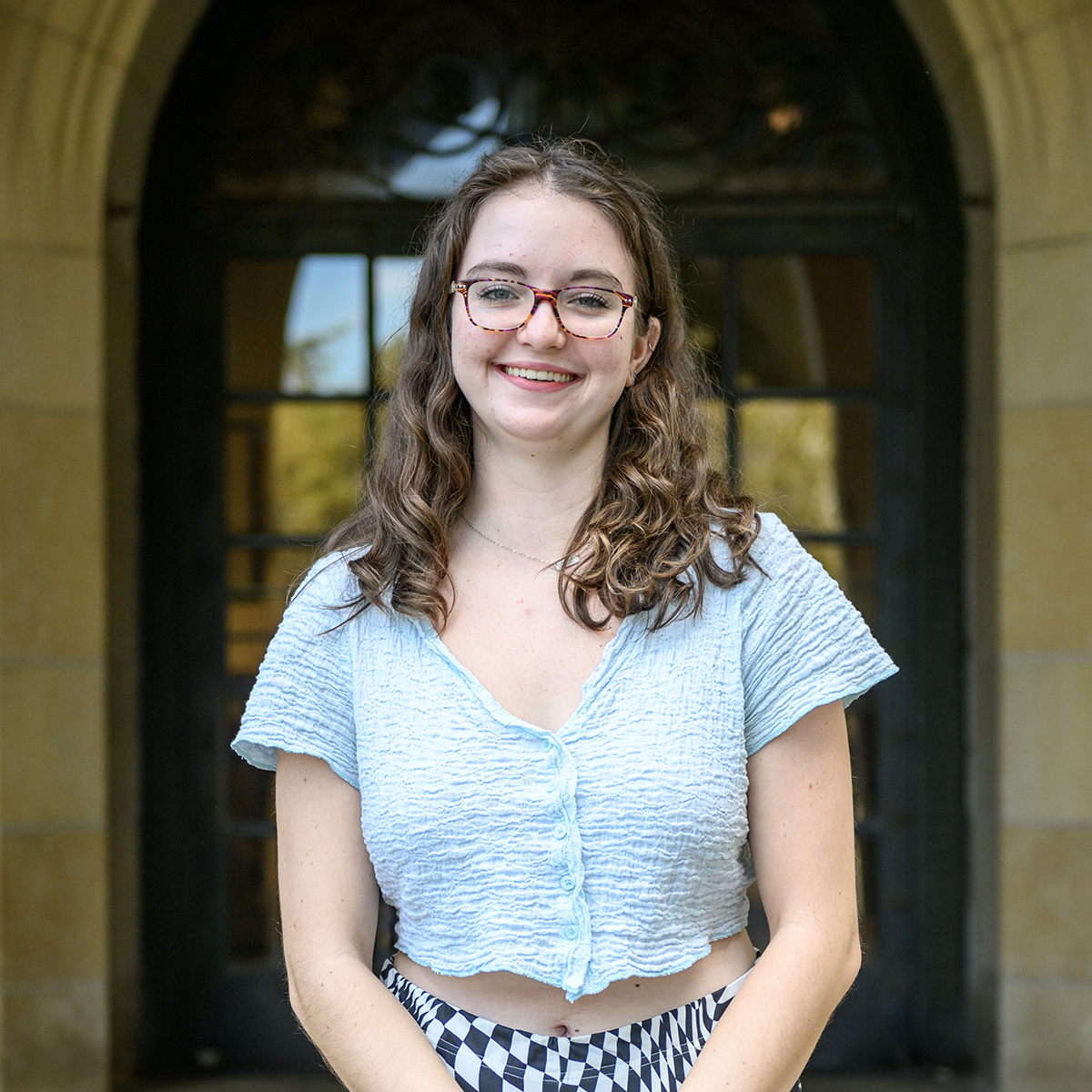 This post was updated April 12 at 12:13 a.m.
The UC National Center for Free Speech and Civic Engagement hosted its fifth annual #SpeechMatters conference on March 23.
The event – which was held virtually – focused on democratic freedoms and included remarks from 19 speakers. The center engages with conversations on the scope of and threats to the First Amendment through research, discussion and advocacy work, according to its website. The former #SpeechMatters conferences have involved dialogue on free expression on campus, campus protests and democracy.
The center's executive director, Michelle Deutchman, opened the conference by discussing universities' increasing role in debates on democracy.
"Higher education has been drawn deeper into the culture wars," she said. "Instead of being associated with phrases like reasoned debate or access to knowledge, higher education is often said in the same breath as indoctrination and partisan."
She added that, alongside the general public's skepticism of the economic worth of a degree, the academic world has been threatened by attempts to ban books and spread misinformation.
Next, a panel of speakers discussed whether social media ultimately helps or harms democracy. A poll of the audience found 17% of participants believe it hurts democracy, 8% believe it helps and 72% believe it does both.
Jessica González, a panel participant and co-CEO of Free Press – a media reform organization – said social media allows people to debate issues, learn from others with different experiences, and raise awareness on issues such as police violence and women's health.
However, she added that a small number of people use social media in negative ways.
"White supremacists, white nationalists, conspiracy theorists are using social media to sow chaos, normalize bigotry and undermine democratic institutions," González said. "This is a desperate attempt to hold on to power as the United States transitions to a minority majority country within the next 20 years."
Next, Erwin Chemerinsky, dean of the UC Berkeley School of Law, talked about pending Supreme Court cases that could affect democratic proceedings within higher education. One case, Counterman v. Colorado, will allow the Court to decide what true threats to safety aren't protected by the right to freedom of speech, he said.
The Court is also considering two other cases that could likely overturn the right to affirmative action because of the Court's conservative majority, he said. Another will likely end President Joe Biden's attempts to forgive student loans, Chemerinksy added.
[Related: For UCLA community members, delay of student loan forgiveness poses challenges]
Monroe Gorden Jr., vice chancellor of student affairs, also contributed to the panel discussing whether attacks on academic freedoms are a threat to democracy. He said the general implications of academic freedom are not broadly understood, which is important for educators to keep in mind in their pursuit of knowledge.
"We're all about knowledge," Gorden said. "We're all about making sure we're providing an educational basis for not just the students who are here, not just for the faculty and staff, but for the community."
He added that higher education needs to be inclusive when trying to educate the community on what academic freedoms and free speech look like.
Finally, Tamara Keith, a National Public Radio White House correspondent, moderated a discussion from student newspaper leadership on the role of student media in navigating free speech on campus.
Amitka Iyer, editor in chief of UC Santa Barbara's student newspaper, the Daily Nexus, said they have worked on how to report instances of hate on their campus, particularly with framing these stories not just as a struggle but as a highlight of communities' resilience.
Sommer Ingram Dean, a staff attorney for the Student Press Law Center, added that there's often a struggle between objective reporting and not perpetuating power imbalances. Telling both sides of a story equally can obscure deeper nuances, she said.
"Figuring out in the context of being a reporter, in a community that is facing very visible harm, how do we sensitively and appropriately report on issues of discrimination?" Iyer said. "We can, as journalists, say this is what this person was espousing without necessarily getting into … the harmful things they said about marginalized communities."
UC President Michael Drake also offered his input by pointing to a survey by Freedom House, a nonprofit political advocacy organization, that showed the number of countries experiencing democratic declines is currently the lowest it has been in 17 years. Despite this, he said, free speech, academics and elections are still at risk of being undermined.
"That's why the UC – and every institution represented here today – is engaged in the pursuit of truth," he said.
Hamilton is the 2022-2023 national news and higher education beat editor. She was previously a national news contributor. She is also a second-year English and political science student.
Hamilton is the 2022-2023 national news and higher education beat editor. She was previously a national news contributor. She is also a second-year English and political science student.