The Quad: After spending a year interacting with peers online, Bruins are looking for love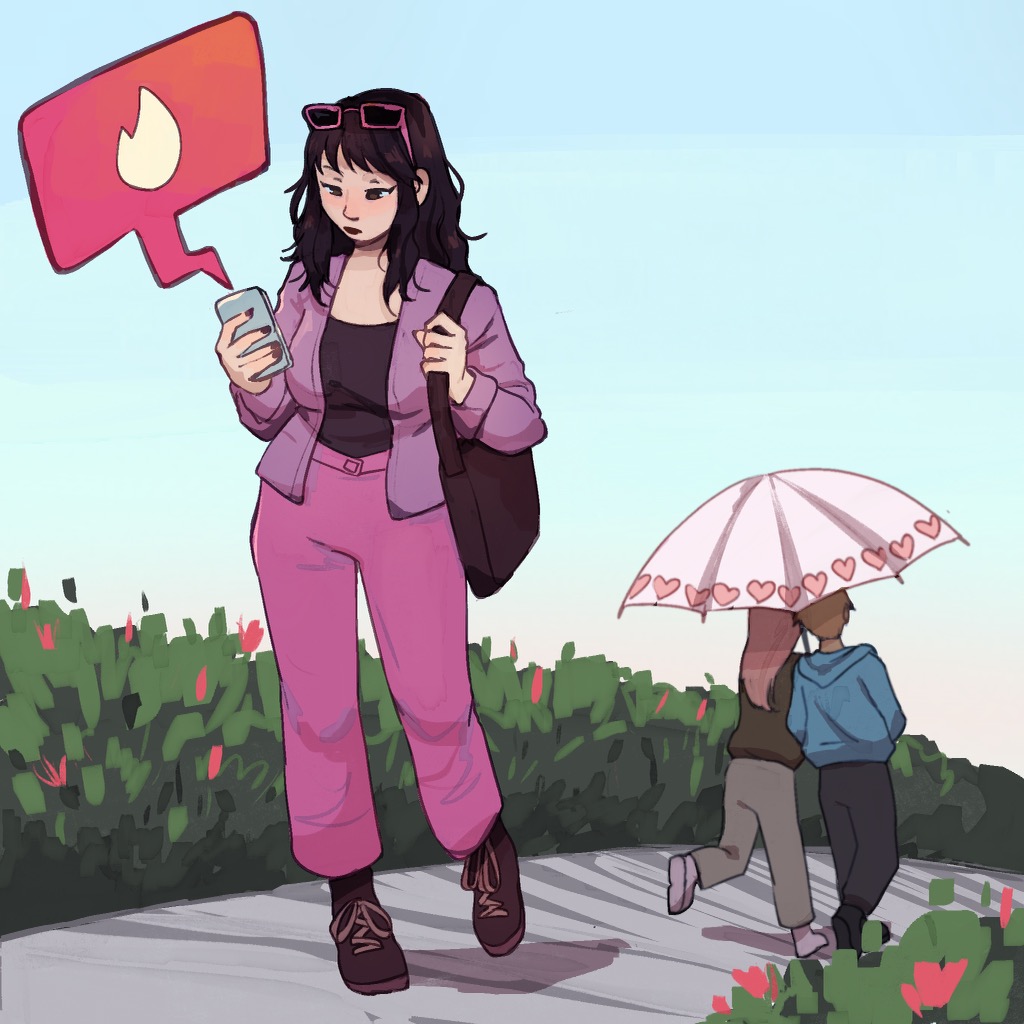 (Anna Richardson/Daily Bruin)
For decades, students have met their significant others through classes, clubs or mutual friends.
However, things changed in 2020 because of COVID-19; many Bruins were not able to participate in the typical UCLA festivities for new students, such as Bruin Bash and the Enormous Activities Fair, at the start of their UCLA experiences.
According to a study conducted by The Knot in 2017, 15% of people met their long-term significant others while in college.
Griffon Shen, a third-year physiological science student, said the class of 2024 was uniquely impacted by the pandemic, as many students were unable to meet and mingle with their peers in their freshman year of college.
"During our first year at UCLA, I was in LA for the first time ever, but we were in lockdown. And I downloaded Tinder and Bumble, which I never thought I would," Shen said. "I didn't get much success from it personally."
Despite Shen's use of dating apps during the early days of the pandemic, he said he has formed most of his romantic relationships through in-person interactions.
"I've met probably half the people that I've interacted with romantically at parties and get-togethers and stuff and the other half, I'd say more organically, via discussion section or sitting next to someone in lecture," Shen said.
Pew Research Center released data revealing that 37% of single American adults between the ages of 18 to 29 are not looking for a romantic relationship for the time being. Many adults in the study claimed they enjoyed being single and were prioritizing other aspects of their lives over romance.
Annie Kramer, a third-year gender studies and global studies student, said she chose not to focus on dating apps during the pandemic. Instead, she learned the importance of connecting with individuals platonically before considering the possibility of dating.
"I kind of focused that first year on just reaching out to people and making online friendships. And so I think that influenced me when I came to school to approach dating with a friendship mindset," Kramer said.
Kramer added that she also used her time in lockdown to narrow down more of what she was looking for in a romantic partner.
Helen Fisher, the chief scientific adviser at Match, said while sexual attraction is still greatly important in the start of a relationship, many people have recently cited honesty, emotional maturity and communication as the most important characteristics in a romantic partner.
"I wrote down a list of qualities in a person that are my ideal qualities, and I wrote some that are nonnegotiable and some that are things that I can let slide," Kramer said. "(Setting) boundaries with yourself before you enter a relationship so you're really clear on what you want is important, and it will help you find the best person."
A study done by Match showed similar revelations, stating that 53% of singles in the study said that they found dating to be a helpful way of learning how to improve themselves.
Guinevere Silva-Deaton, a third-year theater student, said the time she spent in Zoom classes during the pandemic altered the way she approached dating when going into in-person classes.
"I think there's a kind of a romanticism of meeting someone in college, and I definitely feel the year on Zoom just made everything a lot more, almost realistic," Silva-Deaton said. "It kind of made me a little more deterred from dating. … It was like, I just need to focus on what I'm doing, this is overwhelming enough as it is."
For Silva-Deaton, meeting people through online classes was not the best way to gauge personalities and friendships.
"I would look at my classes and be like, 'Oh I could totally see me being close with this person and that person,'" Silva-Deaton said. "And then it would come to in-person, and I just would kind of be thrown by … the actual in-person vibe that I would get from people."
A study done at Virginia Tech found that many college students gained a better understanding of what they needed and valued within a romantic relationship.
Despite Silva-Deaton's underwhelming transition to in-person meet ups, she said her biggest advice to incoming freshmen is to go out and interact with as many other students as possible.
"Really getting yourself out there and trying goes a really long way, … even if you're not looking immediately for romantic relationships," Silva-Deaton said. "Once you feel like you've gotten a good grasp on things, go out, socialize … go to the party, don't say no to things. Try to experience what UCLA has to offer."
Kramer said her advice to new Bruins is to establish healthy friendships with romantic interests before dating as a way of forming stronger bonds.
"Start out with a flirty friendship to test the waters, and then once you can kind of get a gauge, then go ahead and shoot your shot, and don't be afraid to shoot your shot and don't be afraid of rejection," said Kramer. "The worst that's going to happen is they say no."