Bruins earn points to close season at NCAA swim and dive championships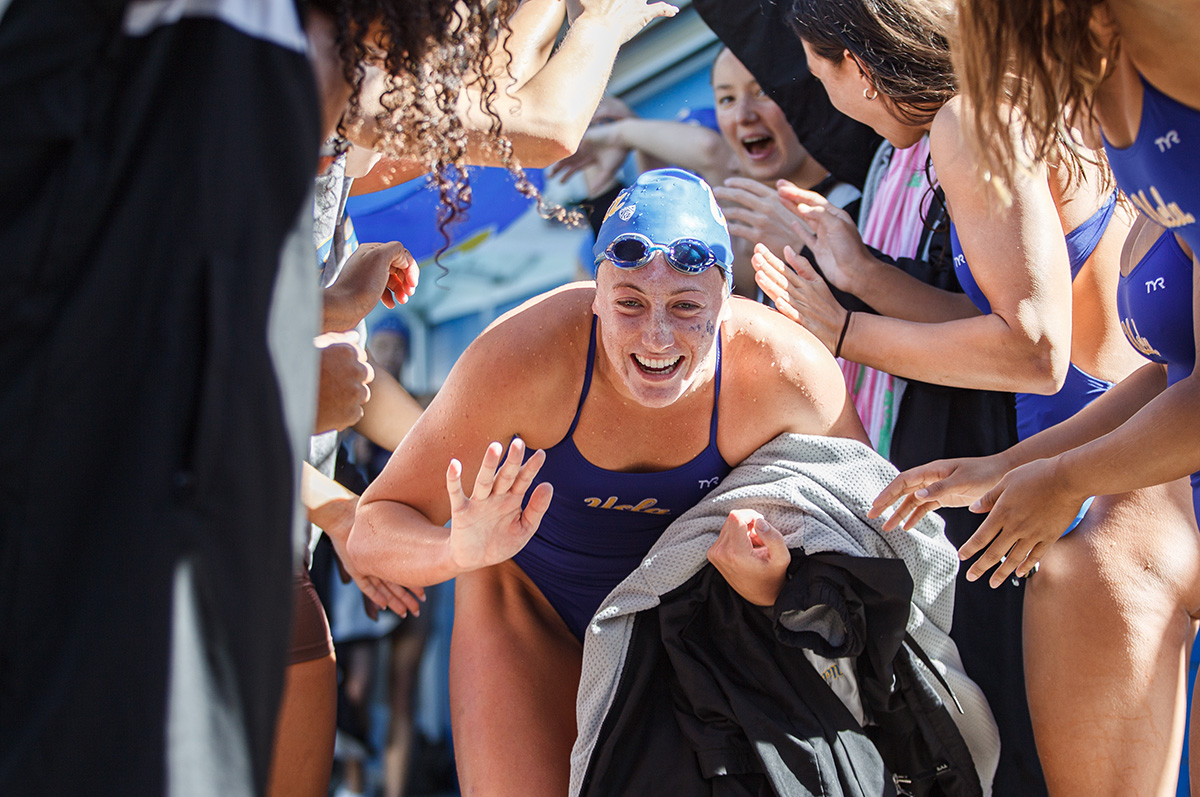 Paige MacEachern runs between her teammates. The sophomore notched 15th place at this year's NCAA championships, making her the only individual swimmer to score points. (Joseph Jimenez/Assistant Photo editor)
The sun set on the Bruins' season Saturday as underclassmen picked up points at the NCAA championships.
UCLA swim and dive (6-3, 3-3 Pac-12) finished off its season over the weekend, bringing 10 athletes to the NCAA championships in Knoxville, Tennessee. The blue and gold scored points in the 800-yard freestyle relay, the 400-yard medley and the platform diving competition.
[Related: UCLA divers Hannah Butler, Eden Cheng secure bids to NCAA championship]
The 15th-place result in the 800-yard freestyle – clinched by senior Rachel Rhee, sophomore Gizem Guvenc, freshman Katrina Bellio and senior Brooke Schaffer –marks the Bruins' first points in a relay at the NCAA championships since 2018 and the first of coach Jordan Wolfrum's tenure.
Wolfrum called the relay an all-around solid effort from her team.
"The best thing about that relay is that it was not a single leg of the relay, it was not a single exceptional moment," Wolfrum said. "It truly was four legs of a relay that were just really good. It was a true team effort, and I'm really proud."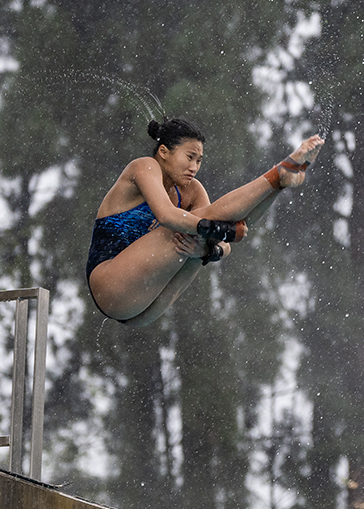 Freshman diver Eden Cheng picked up a 15th-place finish in the platform diving event with a score of 253.20 in the consolation final. Previously this season, she notched a school-record score in this event at the Pac-12 championships with a 324.60.
[Related: Swim and dive takes 4th in Pac-12 tournament with school records, podium finishes]
Sophomore swimmer Paige MacEachern brought the team its only individual swimming points of the week in the 400-yard medley, following trend with another 15th-place result.
MacEachern said picking up the points felt great, especially as an underclassman.
"I've worked really hard throughout the year, so to see the hard work pay off is really exciting," MacEachern said. "I'm excited to keep up the work and keep hopefully getting better and see where I go."
Senior diver Hannah Butler finished 19th in the 1-meter dive, and fifth-year swimmer Claire Grover picked up a 21st-place showing in the 50-yard freestyle, 36th in the 100-yard breaststroke and 43rd in the 100-yard freestyle as Butler and Grover capped off their UCLA careers.
With finals coming up this week for UCLA students, members of the blue and gold squad said they had to balance focusing on the end-of-year meet and studying.
[Related: Sister duos from UCLA swim and dive strengthen bonds with shared experiences]
Defining the term student-athlete, Wolfrum said the dedication the swimmers had to both their studies and their athletic pursuits was admirable.
"There were two women who were finished up today, who were so studious for three hours over at the pool waiting for our last relay to go," Wolfrum said. "That shows a lot of discipline. It's really impressive."
MacEachern added that her teammates have meant so much to her this season.
"I could not have asked for a better group of girls to be loved and supported by," MacEachern said. "I really, really love this team."
As the six-month season comes to a close for the Bruins, Wolfrum had a message to the team's graduating seniors.
"In the end, you'll walk away and you won't remember the times, you won't remember the scores," Wolfrum said. "What you will remember, crystal clear, is the relationships, the bond and that togetherness, and there's something really special in that, and I hope they hold on to that as we finish out yet another season."