Sister duos from UCLA swim and dive strengthen bonds with shared experiences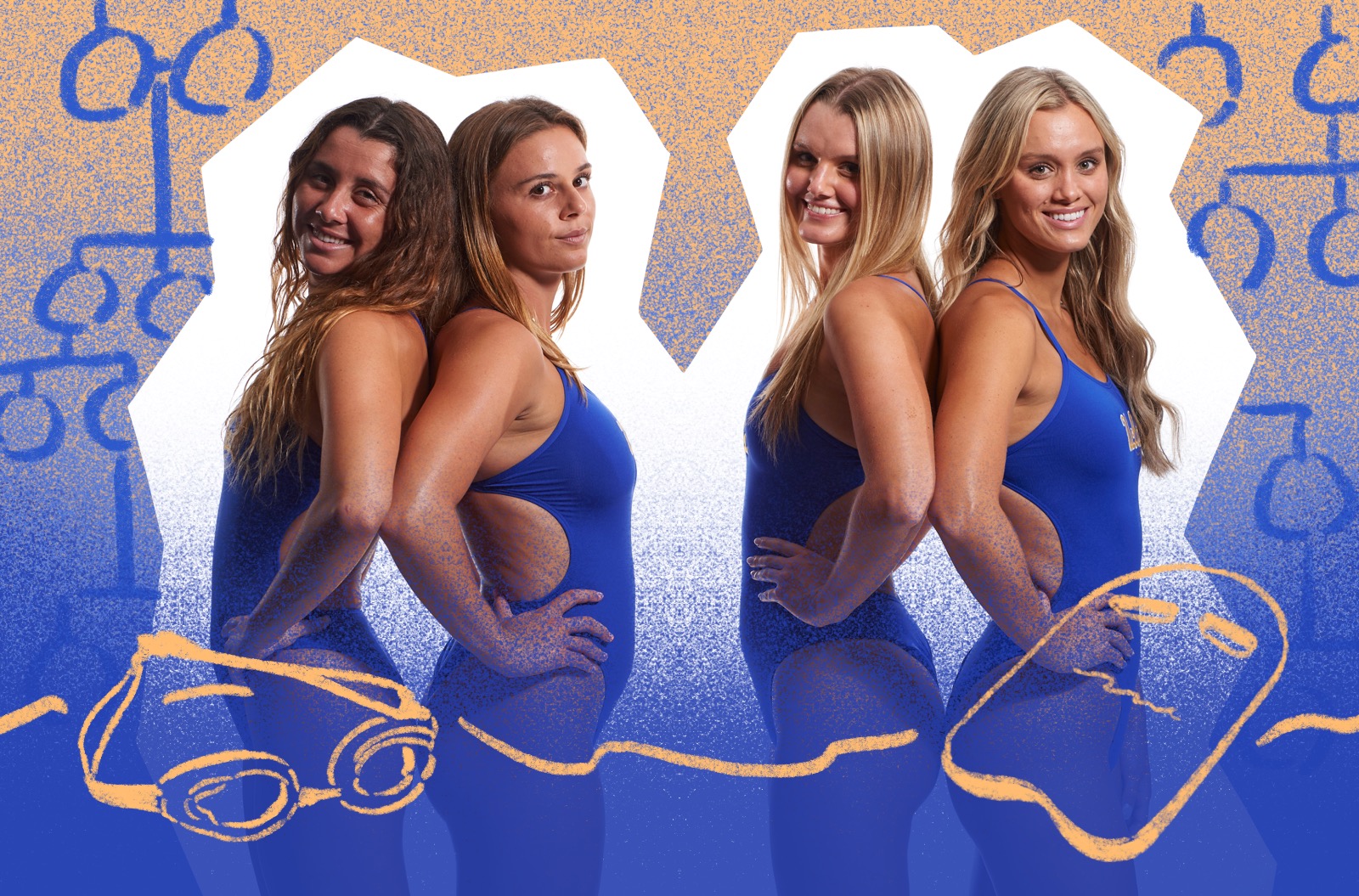 Pictured are both sets of sisters on the UCLA swim and dive team posing back to back. (Courtesy of Don Liebig/ASUCLA via UCLA Athletics. Photo illustration by Isabelle Lee/Illustrations director)
In the face of swimming's individual nature, two sister duos are solidifying the meaning of togetherness and family.
The Schaffers and the Stenstroms are two tandems composed of UCLA swim and dive sophomores Ashley Stenstrom and Taylor Schaffer and seniors Lindsay Stenstrom and Brooke Schaffer. The Stenstroms come from Highlands Ranch, Colorado, whereas the Schaffers call Mountain View, California, home. Regardless of their different hometowns, both pairs have similar reasons as to why they decided to come to UCLA.
Lindsay said when the Bruins' previous coach Cyndi Gallagher recruited her, it felt like fate because of her long-standing family history with Gallagher.
"Our mom got recruited by Cyndi Gallagher back when she was in high school," Lindsay said. "And then Cyndi also recruited our older sister – also Brooke. Cyndi then recruited me, and she always joked, 'The third time's the charm,' so I committed because I just love UCLA."
Like the Stenstroms' familial roots with UCLA swimming, the Schaffers share a history with the program.
Taylor said their dad swam at UCLA back when the Bruins had a men's program – a guiding factor in both sisters' commitment to the blue and gold.
"We would grow up going to football games with him at the Rose Bowl, and so I always wanted to be a Bruin," Taylor said. "When (coach) Jordan (Wolfrum) offered me the spot, there was no way I was going to turn it down."
Prior to collegiate swimming, both sister duos competed together on their separate high school swim teams. However, both the Schaffers and the Stenstroms used to train together on the same club swim team in California before the Stenstroms moved to Colorado.
Because of their two-year grade difference, the sisters only got to spend two seasons swimming together in high school and the same amount swimming together at UCLA.
Ashley said the fact that she could continue swimming with her sister at UCLA was a major factor in her commitment.
"I didn't feel like I was done swimming with her," Ashley said. "I had done it my whole life. It was kind of my comfort blanket that she was always on the team that I was on."
As the older sisters, Lindsay and Brooke spent two years at UCLA without a younger sister, learning about the balance between collegiate athletics, academics and social life. Then, when their sisters arrived during their junior years, Lindsay and Brooke aided in their transitions into college life.
Yet both Ashley and Taylor agreed the best part of having their older sister already at college was knowing they already had a friend at UCLA.
"Just knowing that Brooke could help if I needed a ride somewhere or an apartment to hang out at, somewhere to feel at home because my dorm felt so foreign," Taylor said. "Just being around her, I felt a lot more comfortable."
Although all four sisters are freestylers, they specialize in different distances, allowing them to shine in their own spotlights rather than competing against each other for the limelight. The sisters work to uplift each other and cheer each other on during their different races.
Lindsay said she loves that she gets to be the one to experience the thrills of swimming alongside her sister.
"We have pictures of me hugging Ashley because I saw the time she went, and I was so thrilled, and I didn't even look at my time," Lindsay said. "I was so excited because she broke a barrier or something that I knew she was trying to get. Same goes for me. I love the ability to support her as my best friend."
Just like Lindsay and Brooke got to experience their first two years of collegiate swimming without their sisters, the next two seasons will be time for Ashley and Taylor to swim without them.
Brooke said she thought she was going to have to help her sister out more during her freshman year but is proud to say that she didn't need to.
"This may sound corny, but I feel like she doesn't need it," Brooke said. "I thought I was going to need to do a lot more hand-holding her freshman year, but I feel like she transitioned a lot easier than I did."
Although they share the same last name, both sister duos have been able to carve their own paths, not just on the swim team but also around campus.
Taylor said being able to share her experience with Brooke while also becoming her own person is the best part of having a sister on the team.
"Although we are in the same spot, we have had different journeys coming here and different experiences now that we are here," Taylor said. "It's not like I feel like I am her sister on the team. I'm just Taylor, she's Brooke. We are sisters, but I'm not just Brooke's sister."
Ashley – who is currently dealing with an injury that has kept her out of the pool – said she loves having her sister here because Lindsay helps remind her to live in the moment as her undergraduate years dwindle.
Ashley reiterated the importance of individualism coexisting with her familial ties.
"I don't feel like I am just Lindsay's sister because that's what I have kind of done my whole life," Ashley said. "We've both done something different throughout our college careers. We've both loved those moments and made our own memories, and I think that's been really important."
The sisters are looking forward to finishing out their sophomore and senior seasons together, cheering each other on at meets and being able to spend time together beyond the pool.
Lindsay summed up the sisterly collegiate athletic experience in one word: special.
"People don't get to experience this," Lindsay said. "People don't get to experience going to college with their sister, let alone living together, being teammates, seeing each other every day and sharing these memories you are going to have forever."
Baker is currently a Sports contributor on the swim & dive beat.
Baker is currently a Sports contributor on the swim & dive beat.