UCLA divers Hannah Butler, Eden Cheng secure bids to NCAA championship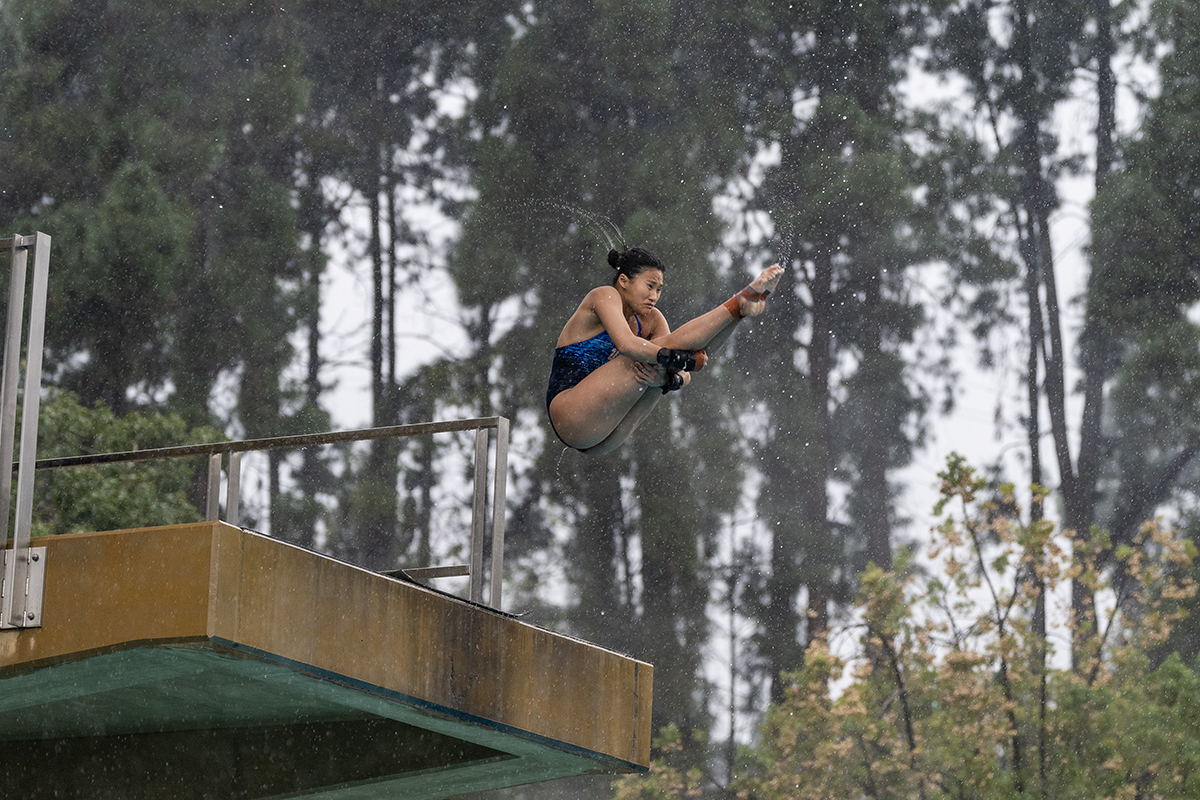 Freshman diver Eden Cheng holds her legs as she dives. Cheng is the first Bruin to triple-qualify for the NCAA championships since 2019. (Brandon Morquecho/Daily Bruin)
With several top-10 finishes, two UCLA divers have qualified for the NCAA championships.
No. 21 UCLA swim and dive (6-3, 3-3 Pac-12) saw three divers compete in the Zone E Diving Championship in Federal Way, Washington, from Monday to Wednesday. Both senior diver Hannah Butler and freshman diver Eden Cheng secured bids to the NCAA championship with their performances.
A sixth place or better finish in the 1-meter diving event or an eighth place or better finish in the platform and 3-meter diving events grants the divers an automatic bid to the NCAA championship. Butler and Cheng both secured an automatic bid on the first day of competition in the 3-meter diving event.
Butler said that out of the events she competed in, she was most proud of the outcome in this event.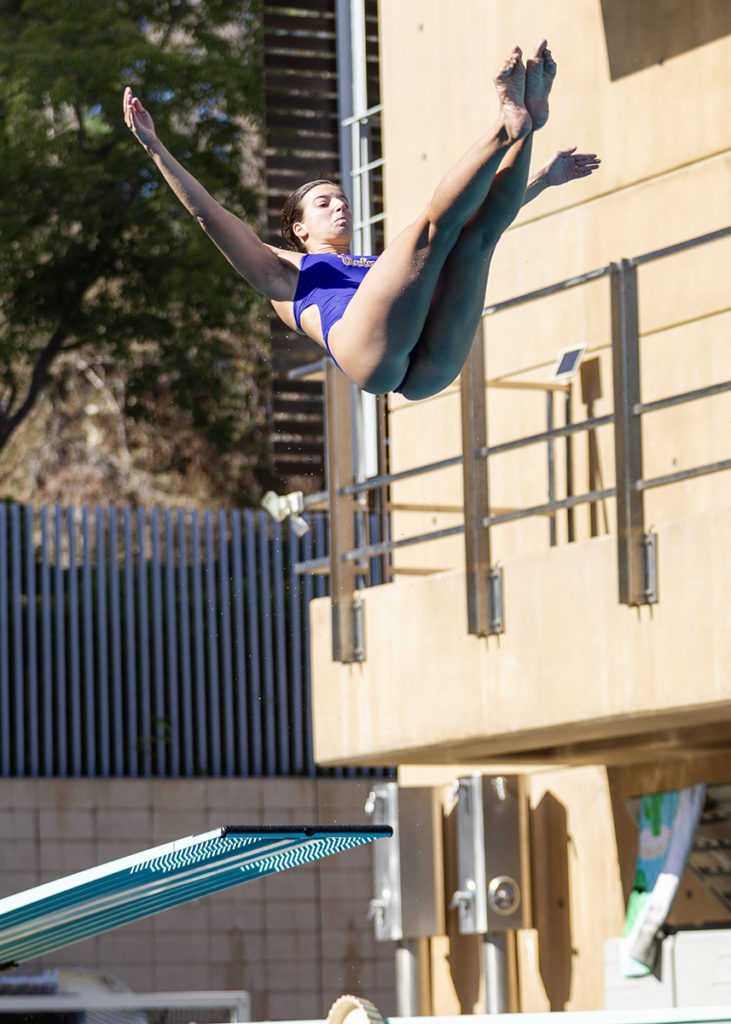 "I was able to perform how I do in practice," Butler said. "I was able to jump up quite a few spots from the prelim and add 20 or 30 points to my score. It is always nice when you are able to improve and you get a second chance to dive again in a final and it pays off."
The finals round of the 3-meter event saw improvement from two of the Bruin divers. Butler jumped from ninth place to third – her first podium finish at Zones. Sophomore diver Zoe Jespersgaard improved from 17th place to 10th place in the finals.
All three divers secured Zones-personal-best finishes. In her first Zones, Cheng finished the finals round in sixth place.
Diving coach Tom Stebbins said he was impressed with how maturely Cheng handled her first Zones experience.
"That's a lot for her," Stebbins said. "To have to do that schedule on back-to-back weeks, coming out of the conference meet and having such a good conference meet, and digging in and finding out how to make it work for her – I was just really impressed by the management on her part."
Cheng also automatically qualified in the platform diving event. She finished in second place behind Arizona's Delaney Schnell and ahead of USC's Nike Agunbiade. In last week's Pac-12 championship, Cheng placed third in this event behind both Agunbiade and Schnell.
Cheng said her ability to place higher than Agunbiade was not a result of changing a physical technique, but rather about how each diver performed on that given day.
"It's more of what happened on the day. How did I present myself on the day? How did I go about this competition? And how did I perform to my best ability on this day?" Cheng said. "It's not to do with, 'Oh, I am going to change this and this."'
On the final day of competition, Butler, Jespersgaard and Cheng finished eighth, ninth and 11th in the 1-meter event, respectively. Because of Butler and Cheng's automatic bids from days prior, their finishes above 12th place also granted them a bid to the NCAA championship in this event.
With this final bid, Cheng became the first UCLA diver to triple-qualify for the NCAA championship since 2019.
Cheng said she had a plan of what she wanted to accomplish in before competing at Zones.
"I already had an idea of what I really wanted to qualify in, which was 1-meter and platform," Cheng said. "3-meter was just a bonus. I am very happy that I did manage to qualify for that one as well."
As a senior, Butler double-qualified for the third consecutive year in a row. The veteran said she felt a lot of gratitude throughout the Zones competition.
"I am very grateful to have made it all the way to the end of the four years," Butler said. "It was definitely a lot of hard work, but also a lot of fun. Now that it is the end, it is a nice time to reflect on all of the good parts and have a last hurrah."
Butler and Cheng will return to competition, alongside five UCLA swimmers, on March 15 in Knoxville, Tennessee, to compete in the NCAA championship.
Baker is currently a Sports contributor on the swim & dive beat.
Baker is currently a Sports contributor on the swim & dive beat.