Labor Center celebrates Lola Smallwood-Cuevas' election to state Senate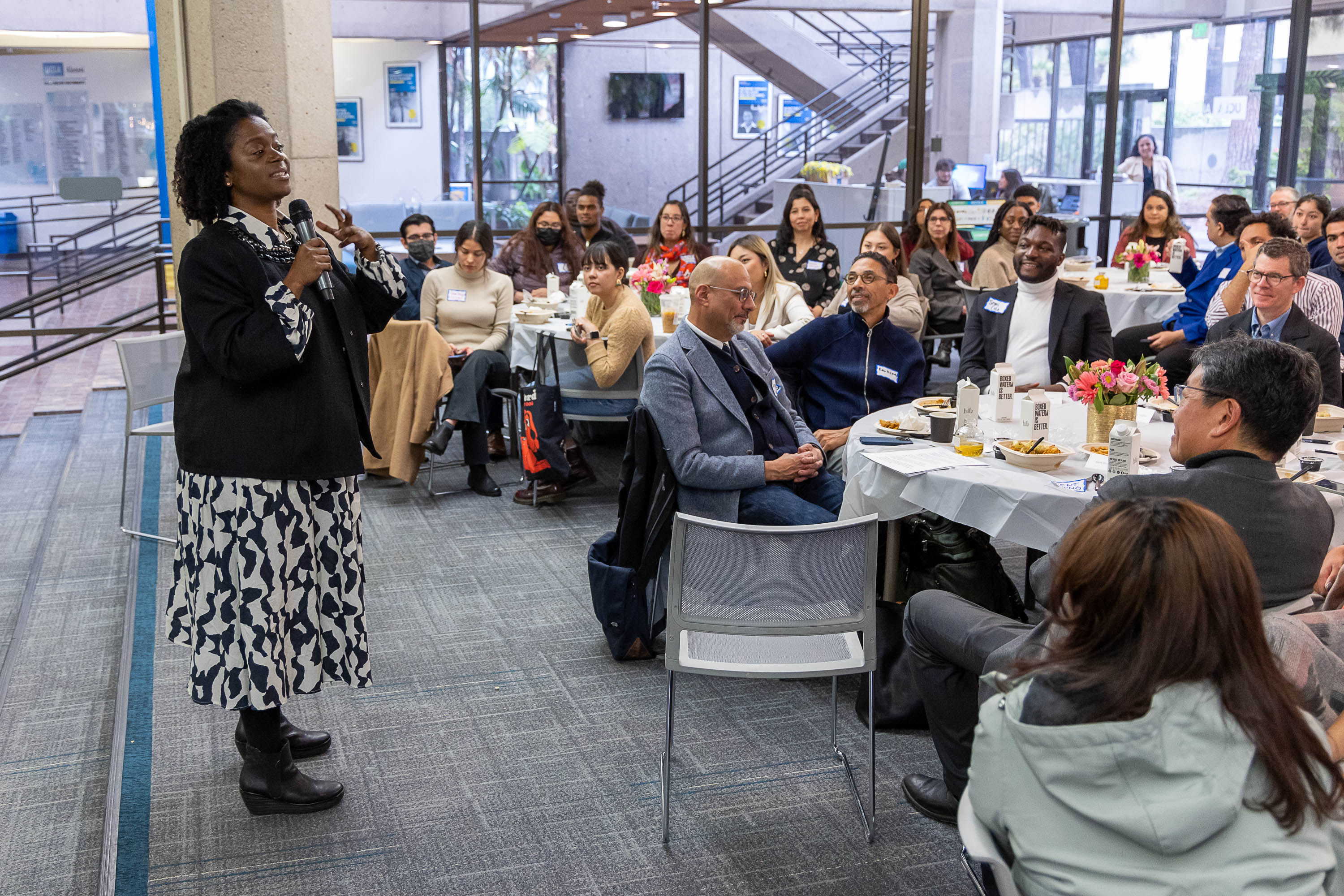 Lola Smallwood-Cuevas speaks at a celebration commemorating her recent election to the California state Senate and her legacy as former project director of the Labor Center. (Courtesy of Reed Hutchinson)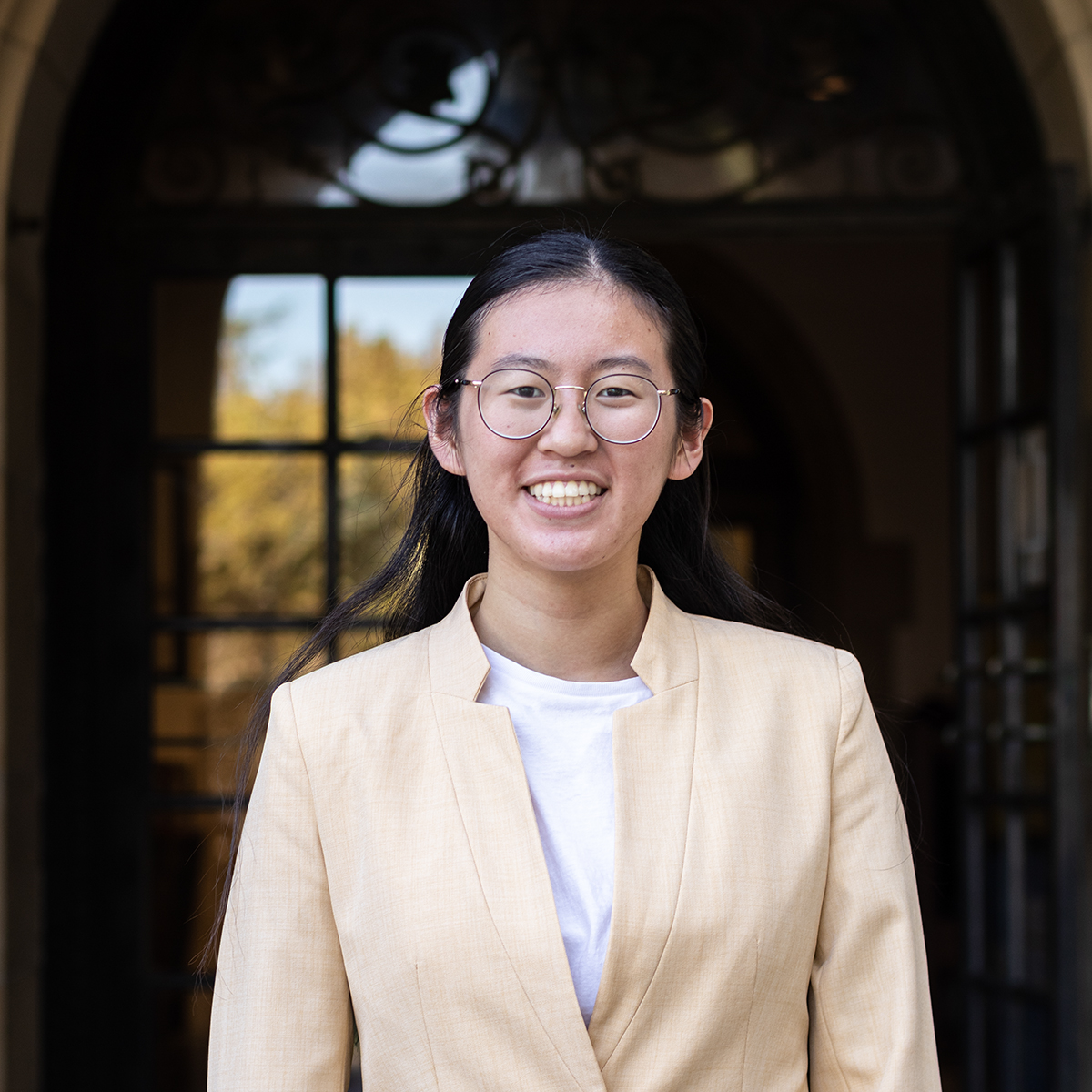 March 14, 2023 11:21 p.m.
The UCLA Labor Center hosted a homecoming celebration Friday afternoon to commemorate former project director and current state Sen. Lola Smallwood-Cuevas' recent election to the California state Senate and honor her legacy.
Around 70 people gathered in the James West Alumni Center to celebrate Smallwood-Cuevas, who was elected to represent California's 28th state Senate District in November. The district includes neighborhoods such as Century City and Ladera Heights and extends into downtown Los Angeles. In her time as a project director at the Labor Center, Smallwood-Cuevas co-founded the LA Black Worker Center – the first Black worker center in California – and led the Center for the Advancement of Racial Equity at Work.
The event featured a performance by hip-hop artist Sugi Dakks and speeches from UCLA faculty, including Labor Center Director Kent Wong and interim Dean of Social Sciences Abel Valenzuela. Robin Kelley, a distinguished professor of history, then moderated a Q&A session with Smallwood-Cuevas.
Smallwood-Cuevas, who was a project director for 15 years, said after the event that being able to bring her experiences and knowledge from the Labor Center to the state Senate is an honor.
"It (the celebration) was definitely a homecoming," she said. "It just made me feel so good to be welcomed by my family and really to have a conversation about how we collectively ensure we move policies that will make a difference on the ground."
During the Q&A, the newly sworn-in state senator said growing up with a single teenage mother showed her how women of color, particularly Black women, often have to face difficult situations. After becoming a reporter and seeing people face similar challenges in the workplace, such as losing their jobs and working for low wages, Smallwood-Cuevas became a researcher for Service Employees International Union Local 1877's security campaign, she said in the Q&A.
Smallwood-Cuevas eventually joined the Labor Center as a project director in 2004 and said in the Q&A that her previous experiences inspired her in forming the LA Black Worker Center, which seeks to increase job access and reduce employment discrimination through advocacy and unionization.
"We felt that if LA was going to be the ground zero for this transformative political power that's being built, we have to center Black people in the conversation," Smallwood-Cuevas said in the Q&A.
Smallwood-Cuevas added that her time at the Labor Center has informed the approach she takes as a legislator as she directly works with impacted communities to address challenges. She has introduced 16 bills in the state Senate so far, including bills to protect workers from retaliation, guarantee sufficient severance pay, and require companies to provide a 60-day notice before shutting down operations, she said.
Wong said the Labor Center is excited to work with her on these bills, adding that since the University of California labor centers are funded by and work closely with the California state Legislature, the event was also an opportunity to strengthen their relationship.
"Our celebration today is to let Senator Lola Smallwood-Cuevas know that we are here to continue to work with her, to support her, and to advance a comprehensive agenda for worker and racial justice," he said after the event.
Members of the UCLA student community were also present at the event. Kenneth-Alan Callahan, a third-year labor studies and pre-psychology transfer student, said he came to the event to support the CARE at Work program. Callahan, a recipient of the CARE at Work fellowship, added that he believes it is important for students to attend events such as these to stay educated about politics and remain actively involved in the democratic process.
"Being students and having this voice, this power to vote – we should be involved in this process," Callahan said.
[Related: UCLA Labor Center program advocates for Black equality and career excellence]
Smallwood-Cuevas said she hopes UCLA students will become more involved in state policymaking, adding that it is state-level legislation that directly shapes the economy and communities that students will eventually work in.
"It starts with recognizing your sole force, that you are the difference," Smallwood-Cuevas said. "And to plug in to those passions and know that that can be a career – that can take you a long way and make transformative difference right in your community."
Contributing reports by Matthew Royer, city and crime editor.
Dai-Liu is the 2023-2024 science and health editor and Copy staff member. She was previously a News staff writer and is currently a third-year neuroscience and comparative literature student.
Dai-Liu is the 2023-2024 science and health editor and Copy staff member. She was previously a News staff writer and is currently a third-year neuroscience and comparative literature student.