Student Jasmine Gomez sells designed Slayed Sets to accessorize nails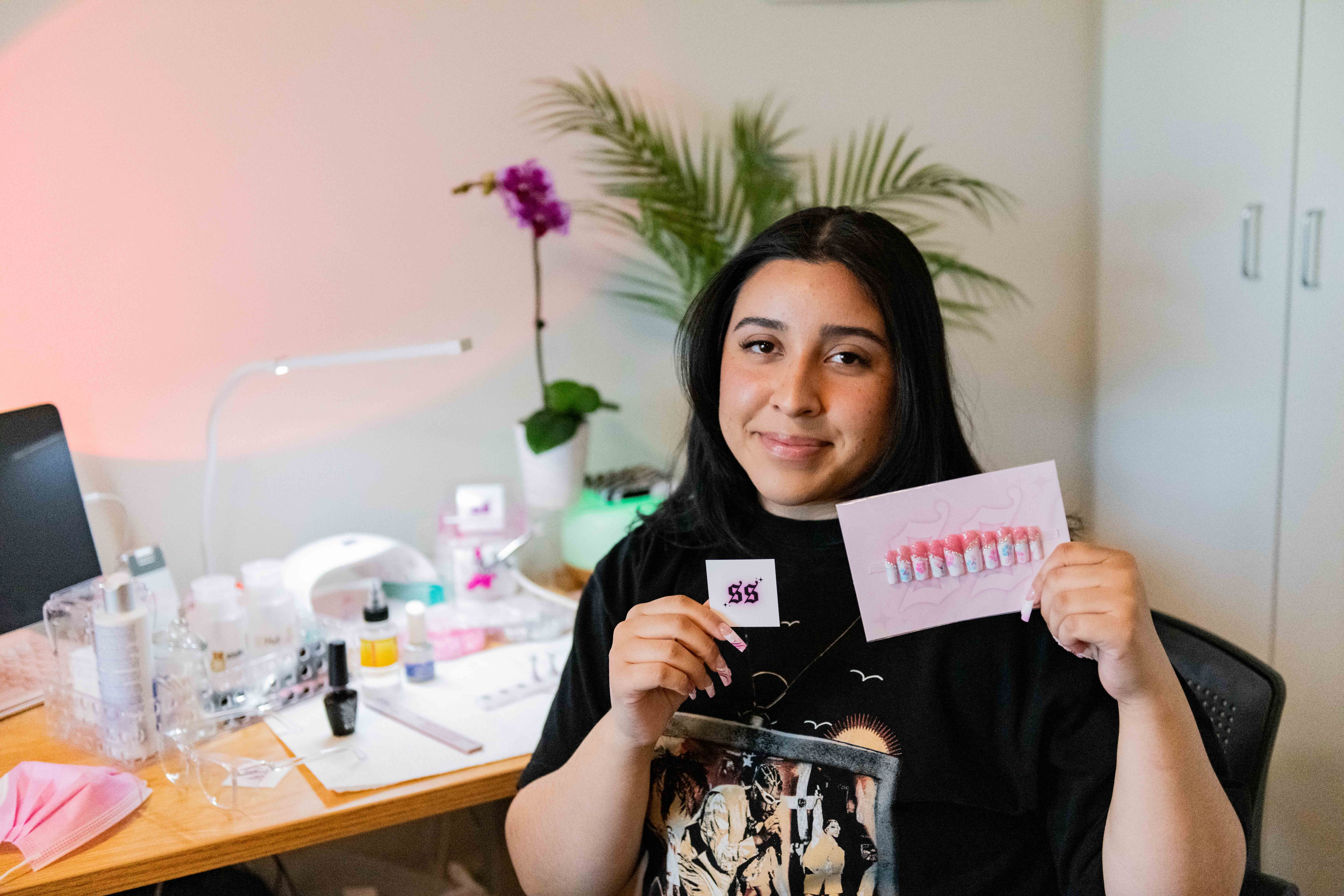 Jasmine Gomez holds up one of her press-on nail sets and the logo of her business Slayed Sets. Gomez said she started doing her own nails during her freshman year of college and came up with the idea of Slayed Sets after diving deeper into nail art at the onset of the COVID-19 pandemic. The (Myka Fromm/Daily Bruin)
Jasmine Gomez's Slayed Sets is nailing what it means to be a small business.

In August 2021, the fourth-year Chicana and Chicano studies and education and social transformation student launched Slayed Sets, which sells custom ready-to-wear press-on nails. Gomez said she started doing her own nails during her freshman year of college and came up with the idea of Slayed Sets after diving deeper into nail art at the onset of the COVID-19 pandemic.
"I got to a point where I was almost practicing (nail art) every day, and I had bought so much stuff," Gomez said. "(I thought) I should start a business at that point because I just had so many things, and I feel like I had a lot of ideas."
When designing a new set, Gomez said she finds inspiration from her childhood. She said she grew up surrounded by Sanrio items, and her bestselling sets often feature Hello Kitty. Her other designs include one inspired by Bad Bunny's 2022 album "Un Verano Sin Ti" as well as patterns with holographic polish and 3D stars, flowers and bears. Gomez also includes extra tools and accessories on her website such as an application kit, a card clip and a pack of stickers.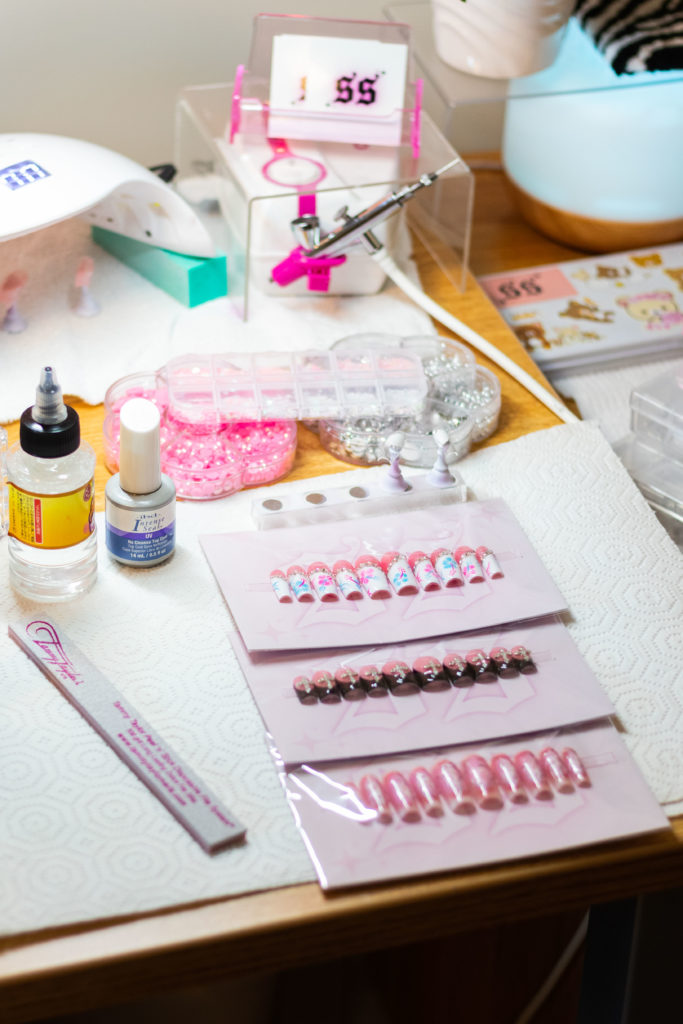 [Related: UCLA student sells custom art through small businesses Onsen Soup, Slow Bump]
Gomez said she also takes inspiration from other nail artists and friends in the community who encourage each other to create different designs. Growing up in Compton, she said going to nail salons was a memorable part of her childhood. Esmeralda Gomez, Jasmine's sister, said she particularly loves Jasmine's Y2K-influenced designs, which are reminiscent of the nail shops they visited when they were younger.
While in school, Jasmine Gomez said she releases new collections roughly three times a year in line with the school breaks. Creating a design takes her between 30 minutes and four hours, and she said the most difficult part is coming up with an idea. She said her favorite designs to make are ones that require using an airbrush because they remind her of the cultural significance of nails in her community.
"(Nail salons) have a distinct aesthetic, and I think that's what influences the type of vibe I give off," Jasmine Gomez said. "A lot of the '90s and 2000s designs were done with airbrush, and nails are almost cultural in Black and brown communities. It's not just designs – it's an art, and it's cultural art."
Jasmine Gomez said she decided to have a few ambassadors for Slayed Sets so that she could better balance her academic workload and continue to branch out with her business. Natalie Vasquez, Jasmine's client, was an ambassador for Slayed Sets and said she prefers press-on nails because they are reusable and the patterns do not fade. Her favorite designs are metallic, and she said she loves Jasmine's work because of her creativity and dedication.
"(For my nails,) I like going extra, for sure. I don't like going simple," Vasquez said. "When I asked her to do something for me extra, she actually does it. She takes her time to do it, (and) she's so creative with it."
Jasmine Gomez said the ambassador program she created allowed her to bring different people onto her Instagram page to advertise her products and make connections with her dedicated clients. In addition, Vasquez would send Jasmine Gomez mood boards for what her next products should look like. Vasquez found it fun to participate in the design process and said it was nice to see her ideas come to life with Jasmine's creativity.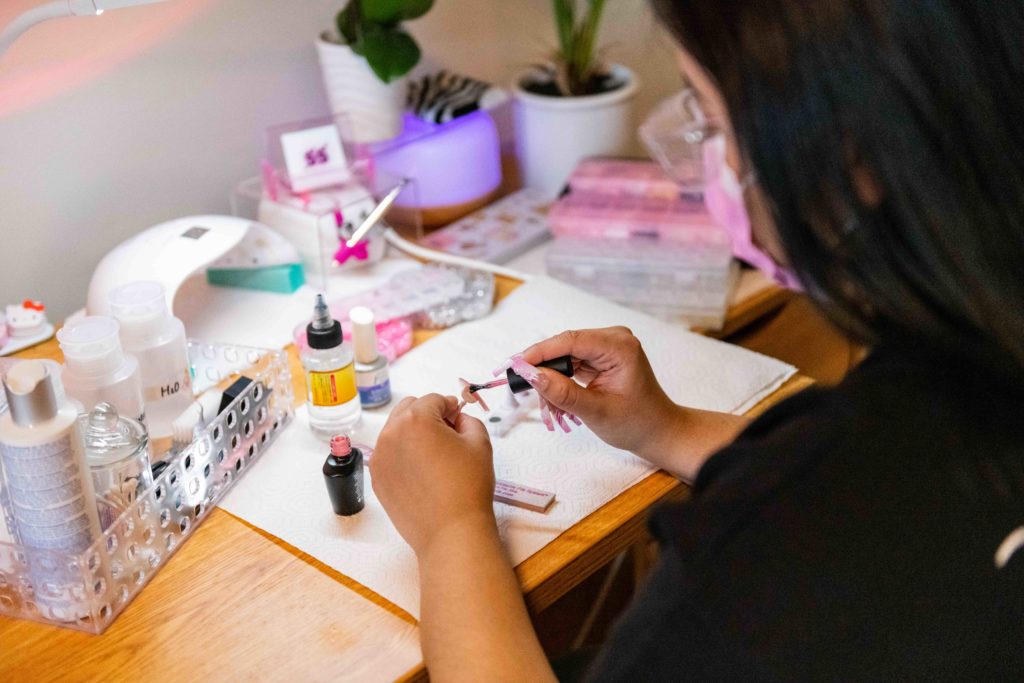 [Related: Q&A: Nail artist Helena Marimon touches on intricate designs for LA Fashion Week]
Soon after creating a new Instagram account dedicated to Slayed Sets, Jasmine Gomez said she got more opportunities to market her business, including learning about using hashtags and running ads on Instagram to reach more people. Jasmine Gomez said she connected with Nazjaa, a YouTuber focused on fashion, travel and lifestyle, of whom Jasmine is a fan. After Jasmine Gomez sent Nazjaa some nail sets, Nazjaa reposted them, and Jasmine Gomez said she felt that this was when her business got more engagement. She soon received orders from across the country, and she said the states she ships to the most are California and New York.
Furthermore, Jasmine Gomez said she applied to be a vendor at Hot Girl Market, a flea market that specializes in Y2K items and features women-owned businesses. She said it was the first time she had ever done a pop-up shop where she had to talk to strangers and tell them about her nails and her business. Reaching out to people and talking to clients in person were both the most challenging and most rewarding aspects of owning a business, she said.
"I feel like I've definitely grown a lot from having a business in a lot of different areas. And I feel like I've been forced to step out of my comfort zone," Jasmine Gomez said. "I feel like it's challenging to step out of your comfort zone, but at the same time, it's made me feel more confident not only in my work but as a person."