Oscar nominees express importance of costume – Sketch to Screen Costume Design Panel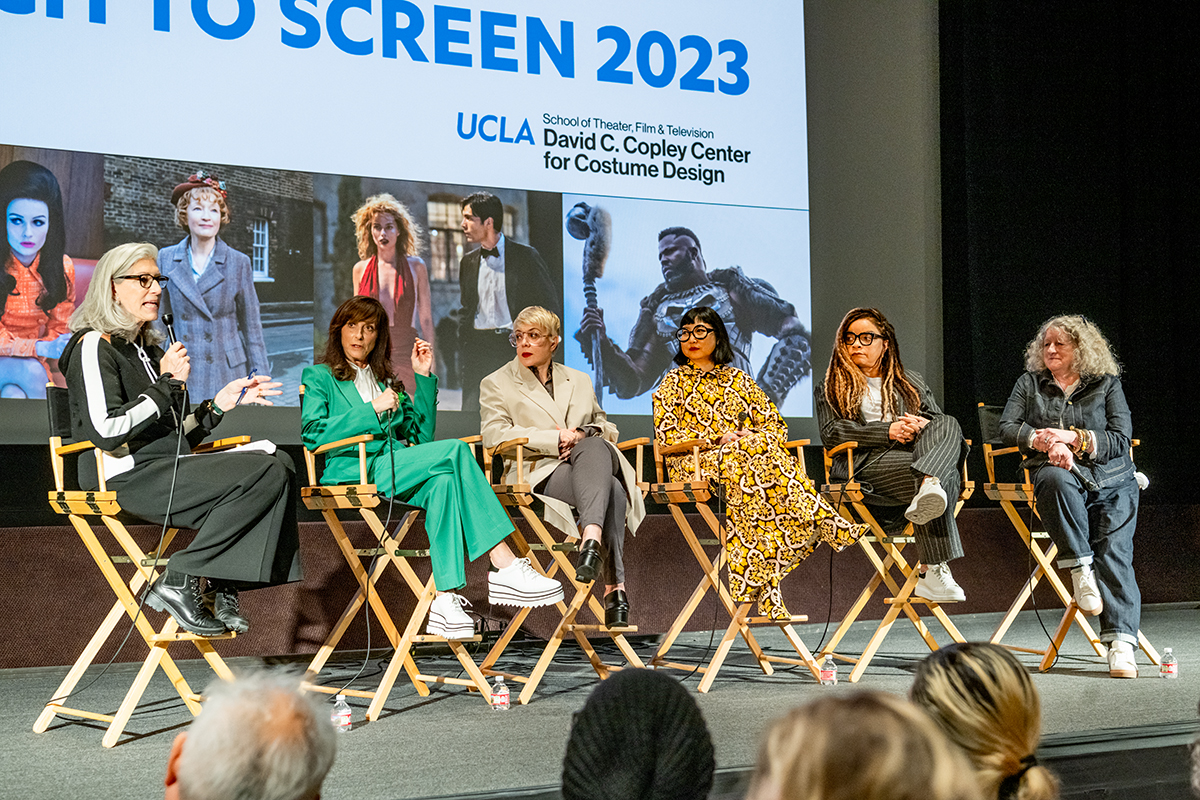 Distinguished professor and chair and founding director of the David C. Copley Center for Costume Design, Deborah Nadoolman Landis moderates UCLA School of Theater, Film and Television's David C. Copley Center for the Study of Costume Design held its 13th annual Sketch to Screen Costume Design Panel with panelists Mary Zophres, Catherine Martin, Shirley Kurata, Ruth E. Carter and Jenny Beavan from left to right. (Amelie Ionescu/Daily Bruin senior staff)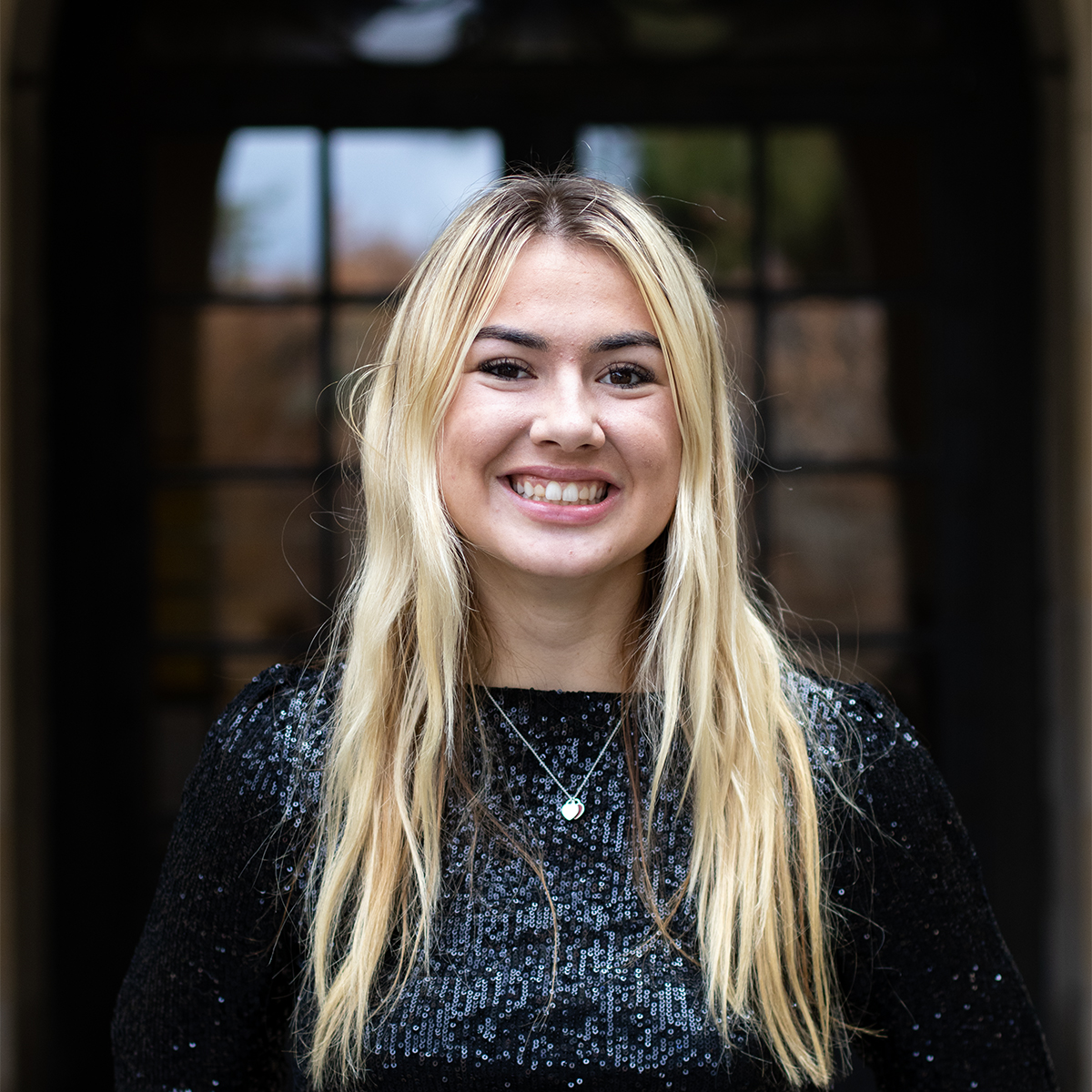 This year's Best Costume Design Oscar nominees are boldly weaving scripts into reality.
On Saturday, the UCLA School of Theater, Film and Television's David C. Copley Center for the Study of Costume Design held its 13th annual Sketch to Screen Costume Design Panel, returning to an in-person format for the first time since 2020. With the films of this year's Best Costume Design Oscar nominees ranging from sci-fi spectacles to gargantuan period pieces, the discussion included Mary Zophres, Jenny Beavan, Ruth E. Carter, Catherine Martin and Shirley Kurata. Before moderating the panel, distinguished professor, chair and founding director of the David C. Copley Center Deborah Nadoolman Landis said costume designers play an essential role in storytelling, as they interpret and translate text into practical pieces.
"Costume designers are artists who use clothing to manifest new personalities," Nadoolman Landis said. "It's true that we love fabric, we love color, we love cut, we love silhouette and we love style. But our role, our responsibility is so much more profound than that. It's going to be substance over style as well every single time, every film."
[Related: Oscars 2023 Q&A: Oscar-nominated alumnus balances realism, fantasy in 'Avatar' production design]
In addition to discussing the challenges and creative experiences of their nominated works, the panelists reflected on the fluidity and range of their respective careers in terms of each project's genre and scope. While logistical differences such as financial constraints and varying textile needs inform each design experience, Zophres – who is nominated this year for her work on "Babylon" – said her approach to each script primarily remains the same across projects. When comparing her experience serving as the costume designer for "Fargo" with that of the larger-scale nature of "Babylon," Zophres said in the case of both films – the former directed by the Cohen Brothers and the latter by Damien Chazelle – each writer-director's innate understanding of their script and vision allowed for a more fruitful creative process.
Nominated for "Mrs. Harris Goes to Paris," Beavan said the greatest design challenge of the film – which centers on a widowed housekeeper from London who accrues her savings to fulfill her dream of traveling to Paris to buy a Dior gown – was realistically recreating the brand's haute couture dresses. Despite having the support of Dior, Beavan said she had to compose the movie's grandiose gowns based on Dior's archives, rather than creating the pieces directly alongside the companies' designers. While stylistically the film's designs greatly contrast with the more rugged nature of her work on projects like "Mad Max: Fury Road," Beavan said both films represent how costuming at its core is a form of storytelling.
After spending a significant portion of her design career working on commercials, editorial style shoots and music videos, Kurata said her longing for the familial nature of film sets led her to return to cinematic costuming with "Everything Everywhere All at Once." Because of the film's nonlinear structure and fast-paced cuts between contrasting settings, Kurata said she analyzed the story's costume needs by breaking the multiverse epic down into its worlds, or alternate universes, rather than taking a scene-by-scene approach.
Particularly in designing the costumes of actress Stephanie Hsu, who alternates between the more reserved role of Joy Wang and the film's primary antagonist as the nihilistic, boldly styled Jobu Tupaki, Kurata said the universe-jumping character's outfits were often developed without explicit instructions from a script. While certain designs were specifically described in the film's screenplay, such as Tapaki's glittering Elvis-inspired suit, others like her brightly colored Jeremy Scott x adidas teddy bear jacket were improvised.
Carter, who began her costume design career with Spike Lee's "School Daze" and is nominated for "Black Panther: Wakanda Forever," said the project's greatest difficulty was its water-based aspects. Specifically for the costumes of the Talokan kingdom, she said she needed to ensure that each piece was able to flow through water gracefully, as well as withstand the wear of liquid conditions. As for budgeting resources, Carter said she often had to devise alternative methods of bringing pieces into fruition, like creating a headpiece from the base of a placemat from Pier 1 Imports, for example.
"I find that you can really get some wonderful things out of layering and the vision of painting or putting it together in a unique way and then it really becomes all yours," Carter said. "Don't let the cutting of the budget cut the idea or your dream."
Nominated for both the costume design and production design of "Elvis," Martin said particularly in the case of costuming historical figures like Elvis Presley, people often incorrectly assume the garments in films are pre-made pieces that were rented or purchased by the designer. Rather, she said the specificities of each project's aesthetic and script regularly require costume designers to compose entirely new items.
[Related: Oscars 2023: Daily Bruin staff predicts 95th Academy Awards winners for film's biggest night]
Acknowledging the level of precision and amount of time that goes into each design, Martin said every costume from each nominee represents hours of work and preparation. In addition to the physical elements of costume design, she said the intimate relationship between people and cloth is what draws her to the craft, as it is the root of this connection that fuels costuming's deep impact on cinematic storytelling.
"There's an alchemy between an actor, a piece of fabric, a story, an idea, a dressing room that just can't be managed. It can't be avoided," Martin said.
Paxton is the 2022-2023 music | fine arts editor. She was previously an Arts contributor from 2021-2022. She is also a third-year psychobiology student from Morgan Hill, California.
Paxton is the 2022-2023 music | fine arts editor. She was previously an Arts contributor from 2021-2022. She is also a third-year psychobiology student from Morgan Hill, California.