Oscars 2023: Lack of Oscars recognition for 'Nope' nods to neglect of genre films, BIPOC talent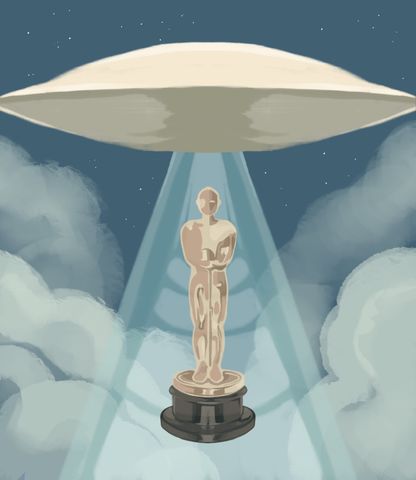 (Ayumi Bergan/Daily Bruin)
March 11, 2023 12:54 p.m.
Once again, the Oscars said "Nope" to genre films.
The Academy Awards' lack of diversity has been a perennial topic each year, rooted in the awards show's 95-year history of exclusion. This year is no different, with not a single female director nominated for a directing award, and Viola Davis and Danielle Deadwyler notably shut out of lead actress nominations. "The Woman King" director Gina Prince-Bythewood penned a compelling op-ed expressing how difficult it was to even get voters to give her film a chance. Amid the recurring snubbing of BIPOC talent, the Oscars also have a similar genre problem on their hands. By focusing on dramas, war epics and biopics, the awards show continues to overlook genre films – and no snub better exemplifies this issue than that of Jordan Peele's "Nope."
"Nope" was the long-awaited third film from Academy Award-winning director Peele, who was the first Black writer to win an Oscar for Best Original Screenplay. And yet, the film came and went without a single awards nod. "Nope" is one of the worst instances of an impeccable film getting no recognition from the Academy. One can speculate as to why, but the film has a diverse cast and is a science fiction-horror genre blend – two things the Academy is often guilty of brushing off. For example, Collider's analysis of nominations by genre found science fiction came dead last in over 80 years of Oscars awards shows.
[Related: Film review: Jordan Peele's 'Nope' provides unsettling social commentary with strong execution]
"Nope" follows the Haywood siblings, OJ (Daniel Kaluuya) and Emerald (Keke Palmer), who become owners of a horse ranch that rents animals for films after their father's sudden death. As their profits dwindle, Emerald and OJ devise a plan to capture footage of a strange monster prowling in the skies and sell it to keep their ranch afloat.
Peele's film presents not just a compelling story of a brother and sister's dedication to family, but comments on the concept of spectacle and the lengths people will endure to capitalize off of something. It's also allegorical for Hollywood itself – an industry built on selling spectacular sights, often at the expense of people's lives and well-being.
Although billed as a horror, the film blends science fiction, thriller and western genres. Peele wrote, produced and directed a genre-bending blockbuster of massive proportions, which generally received critical acclaim. For instance, "Nope" earned an 83% on Rotten Tomatoes and an average 3.9/5 rating on Letterboxd.
But it's not just good reviews that should have earned "Nope" a spot on the Academy Awards nominations list. "Nope" is a masterclass in production visually and sonically, which makes its omission from craft awards egregious. For example, the score composed by Michael Abels begins as orchestral and science fiction-esque. But by the third act, it turns and dives headfirst into the western genre with companions like "The Run (Urban Legends)" and "Nope." Accompanying the climax of the film, where OJ leads the alien dubbed Jean Jacket out into the open, the score sets the awe-inspiring tone for the film.
Then, there's the cinematography, which also received no nominations. In an age where muddy film and television are common – as with Disney's "The Little Mermaid" trailer or HBO's "House of the Dragon" – "Nope" proves even scenes set in darkness can and should be visually stunning, or at the very least visible. Cinematographer Hoyte Van Hoytema engineered a method for shooting night scenes during the day, resulting in glowing blue-toned night sequences. Additionally, the cinematography capturing the landscape of Agua Dulce, California, is bright and vibrant and the magnificent mountainous landscape becomes an unassuming setting for an alien thriller to take place.
Craft awards aside, not even Daniel Kaluuya and Keke Palmer's standout performances earned either actor any awards recognition. While the film excels in so many respects, its snubbing points to the Oscars' habitual blind spot when it comes to horror and genre films.
Horror fans have often lamented the exclusion of outstanding horror films in recent years, like Toni Collette's snub for "Hereditary" (2018) and the overall shutout of Ari Aster's "Midsommar" (2019) from the awards. Mia Goth, who starred in Ti West's 2022 film "Pearl," said in an interview that the Academy could benefit from nominating more horror films. True horror such as these two films don't seem to win over Academy voters often, and neither do science fiction films, with a few exceptions.
Some can argue that perhaps "Nope" simply wasn't good enough in comparison to the other nominees. After all, Peele's debut film "Get Out" earned him a statuette of his own and two other nominations. But the buck stopped there, with his second film "Us" also receiving no Oscars nods, shutting out even Lupita Nyong'o's haunting performance in the film.
[Related: Second Take: Studios fail to uplift people of color in true crime miniseries]
It's possible "Get Out" and the handful of other award-winning genre films succeeded as exceptions to the norm. But it's difficult to accept the assumption that a thoughtfully crafted film directed by a Black man featuring a cast of BIPOC actors didn't win over Academy voters – 81% of which are white – on the basis of quality.
The Oscars continue to make bare-minimum strides toward diversity each year. From raising the percentage of underrepresented nominees from 8% to a whopping 17% to Michelle Yeoh becoming the first Asian-identifying female actress nominee, the Oscars are barely inching toward representing the landscape of film for what it is. Making a film that scares and captivates requires the talent of production designers, composers, cinematographers and more. To shun entire genres of films from these awards is neglecting the artistry of so many.
It's high time the voting body looks beyond biopics and dramas alone to recognize the talent involved in films of all genres by all kinds of creators.