Tulsi Indian Eatery serves up Rangeela Thali in celebration of Holi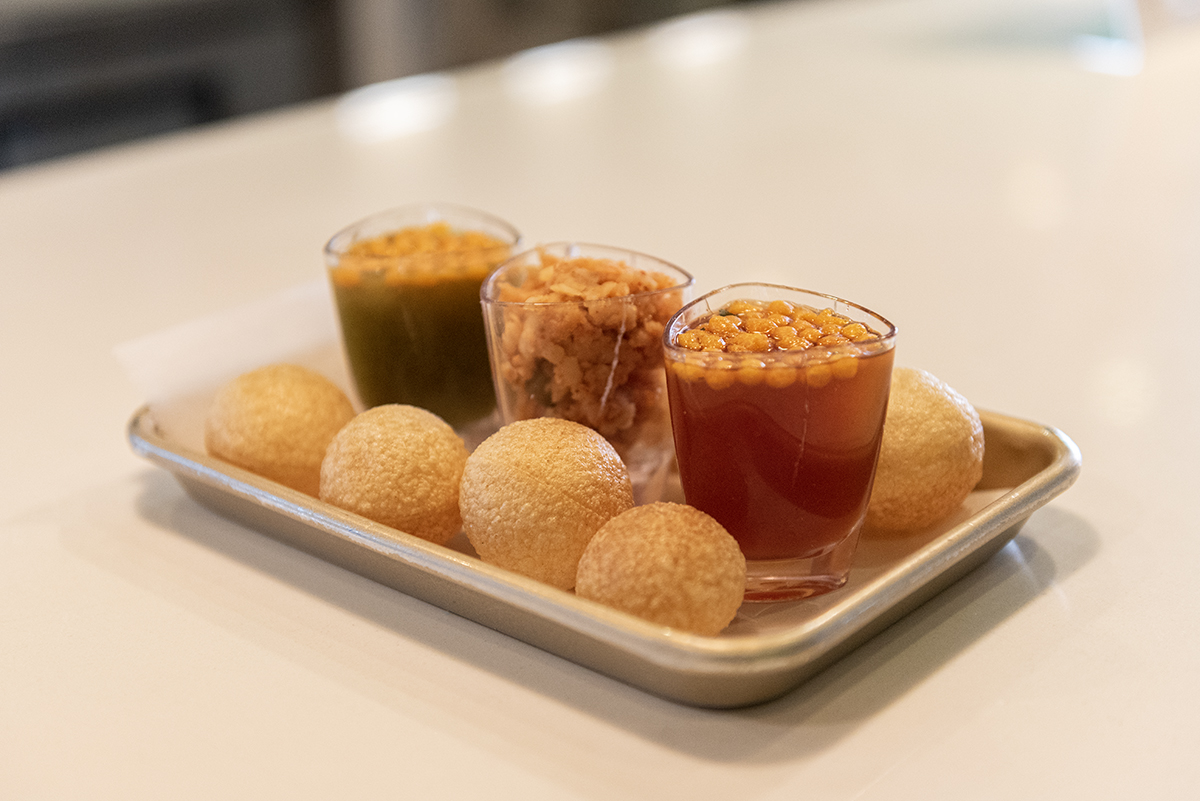 Three pani puri shots are plated on a table. Tulsi Indian Eatery introduced the Rangeela Thali combo to celebrate Holi, the Hindu Festival of Colors. (Elisa Lopez Rochin/Daily Bruin)
Tulsi Indian Eatery is welcoming Holi with a colorful, celebratory menu addition.
Tulsi, which has locations throughout Southern California, including one in Westwood, has introduced the Rangeela Thali combo – available until Sunday – to celebrate Holi, the Hindu Festival of Colors. CEO Chirag Shah said the executive team at Tulsi envisions the curation of a large menu of 85 dishes, including vegetarian and vegan options and specials for Indian festivals such as Holi, which will be celebrated Wednesday. He said the team aims to capture the diversity of Indian traditions for an equally diverse audience.
"About four years ago, we (at Tulsi) were doing research and development for about a year into what a modern, futuristic Indian restaurant that captures the future, the present and the past and celebrates the rich heritage and diversity of Indian culture might look like, (so) we could bring (that) to the mainstream and potentially use as a catapult to bring Indian food to every home in the United States," Shah said.
The menu recipes are designed by regional chefs who specialize in North Indian, West Indian, South Indian, fusion and Indo-Chinese cuisines, incorporating aspects of Indian flavors from various regions and appealing to a modern audience with creative takes on traditional food. Shah said the Tulsi team hopes the Rangeela Thali combo encourages customers of different backgrounds to learn about Holi and Indian culture.
"Holi is all about diversity because it's the one festival where, regardless of culture, everybody comes together and celebrates," said director of operations Antonio Kanickaraj.
[Related: UCLA student cooks up traditional recipes with vegan spin]
The annual celebration of Holi incorporates traditional Indian food. The team at Tulsi aims to capture this in their new menu item, the Rangeela Thali, which was first introduced during Holi last year and was brought back this year because of its positive reception, Kanickaraj said. Thali, which directly translates to plate, is an Indian meal consisting of a region's delicacies. Kanickaraj said Tulsi adds its own flair to the traditional meal with 12 dish options, including choices of appetizers, curries and desserts that encapsulate flavors from across various Indian regions.
Chief marketing officer Amjadkhan Pathan said rangeela, meaning colorful, represents the diverse options for the Rangeela Thali at Tulsi. Similarly, Holi brings people of all different backgrounds together to celebrate color. Pathan, who manages the visual aspects of the menu and marketing, said Tulsi also unifies these different cuisines in one plate with a complementary and aesthetically conscious presentation.
Kanickaraj, who is head of menu design, said the team selected items for the combo that are crowd favorites in the current menu from each regional category and the recipes created by regional chefs. Made with milk, sugar, dried fruits, and cardamom and other Indian spices, Thandai is a popular drink during Holi festivities that is also a part of the Rangeela Thali.
[Related: UCLA student channels passion for cooking into apartment pop-up restaurant]
The menu items, Kanickaraj said, are unique to Tulsi because they are not only based on traditional Indian recipes, but also modernized to appeal to a contemporary audience. For example, Kanickaraj said the Sandwich Dhokla appetizer showcases a modern blend of flavors packed into the traditional Western Indian appetizer, dhokla. Kanickaraj also said the Rangeela Thali options include familiar and traditional favorites, such as saag paneer, garlic naan and carrot halwa.
In addition to fusing modern trends with traditional flavors, Kanickaraj said he and the regional teams design intercultural fusion recipes for the menu by blending Indian flavors into Mexican or Chinese dishes, for example. Pathan said the team at Tulsi designs menu options in hopes of spreading the experiences of Indian cuisine to people of all cultures. As such, Shah added that he hopes the Rangeela Thali's diverse menu items will allow people to experience and learn about Indian culture in an accessible manner.
"I see this as a gateway – for people who know Holi, it's an opportunity to remember Holi," Shah said. "But for people who don't know about Holi, it's an opportunity to learn more about it, starting with the food. Food is always a great place to start to talk about any cultural issue."