Community discusses report on youth voter turnout for 2022 midterm elections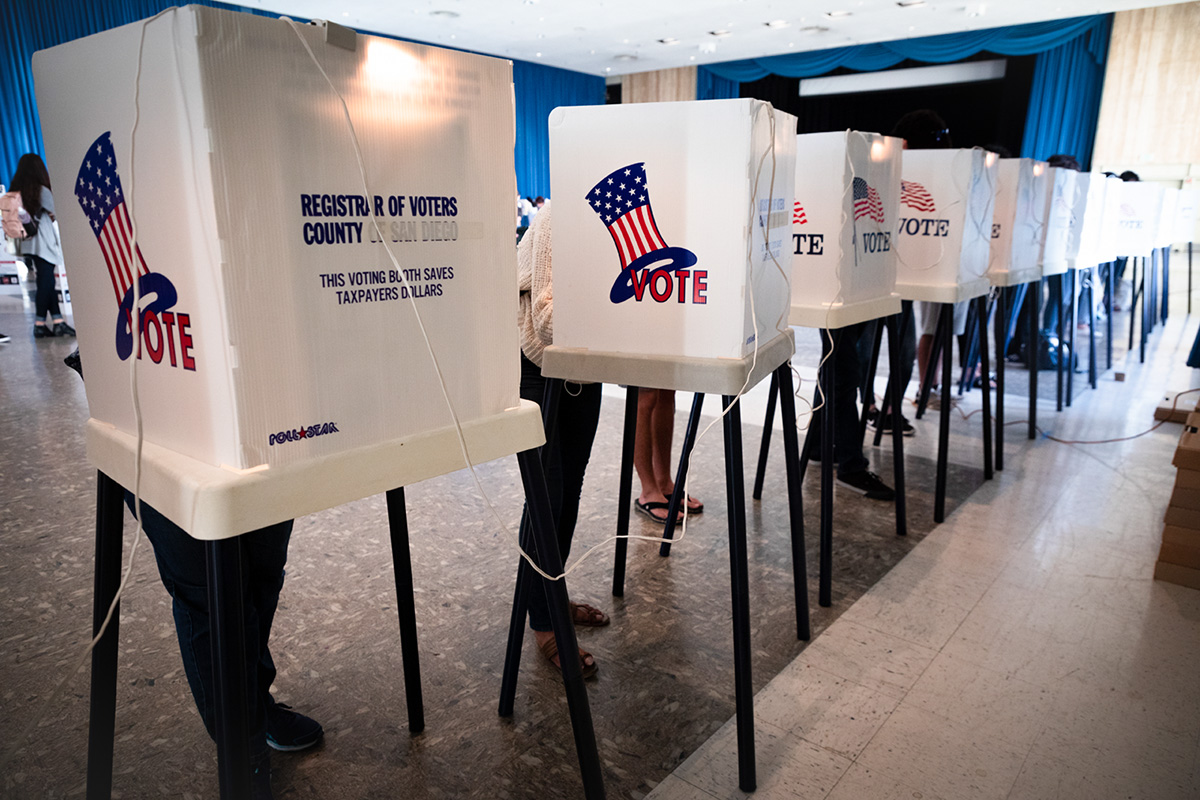 People vote at ballot boxes. Students discussed youths' recent trends of political participation following a Tufts University report that found a significantly high percentage of young people participated in the 2022 midterm elections. (Daily Bruin file photo)
Following UCLA leading the University of California as the campus with the most students newly registered to vote leading up to the 2022 midterm elections, a Tufts University report has found young people across the nation are casting their ballots to ensure the voices of a new generation are heard.
The report found that turnout for voters aged 18 to 29 for the recent 2022 midterm elections was likely the second highest in the last three decades. According to the report, an estimated 27% of that age group voted, compared to 31% in 2018, which had the highest recorded youth turnout in the last 30 years.
BruinsVote, a nonpartisan coalition of student organizations with the goal of increasing voter registration at UCLA, got 817 UCLA students newly registered to vote leading up to the 2022 midterms, the most of any UC campus, according to California Ballot Bowl.
[Related: Youth voter turnout increases for 2020 election, playing role in key states]
Voting is a means for young people to express themselves and their concerns to make a positive impact on their future, said Carmen Le, a fourth-year public affairs student and head of BruinsVote.
Youth voters said they cared most about the issue of abortion when voting last year, the report found. In mid-2022, the Supreme Court overturned Roe v. Wade – the ruling that guaranteed the constitutional right to abortion.
Laura Brill, the founder and CEO of The Civics Center – a nonpartisan organization dedicated to increasing youth civic engagement – said it is important for young people to vote to help serious issues, such as mental health or racial and gender equality, be addressed in a way that resonates with them.
Le said she felt issues like these can mobilize young people to vote, especially when they concern important values.
"The general political turmoil recently has inspired and radicalized a lot of people to get involved in politics and to reclaim their voices," Le said.
Alex Valdivia, a fourth-year labor studies and political science student, said he feels young voters can change the outcome of an election, especially in swing states where every vote makes a difference.
"Look at how some elections have been won by like 15, 20, five votes, even," he said. "I don't think people understand how close elections are in some states."
Valdivia added that Maxwell Frost was elected during the 2022 midterm elections, making history as the first member of Congress from Generation Z.
"That's the first of many, but there's not very many people that represent our values," he said.
Digital platforms such as Instagram and TikTok are also making the voting process more approachable and digestible to young voters, Le said.
Social media has become a powerful tool for promoting civic engagement and maintaining the political momentum of young people, she added. Even though election guides can be lengthy, Le said she feels social media can help young people who often have little time to spare find digestible information on candidates, ballots and other resources.
Brill said the recent increase in programs helping students register to vote is another major factor contributing to high youth voter turnout during the midterm elections.
She added that in every presidential election from 2004 to 2020, more than 75% of young people who registered to vote participated.
Voting enables young people to shape their future, Le said.
"If you don't vote, someone else is going to speak for you," she said.