Youth voter turnout increases for 2020 election, playing role in key states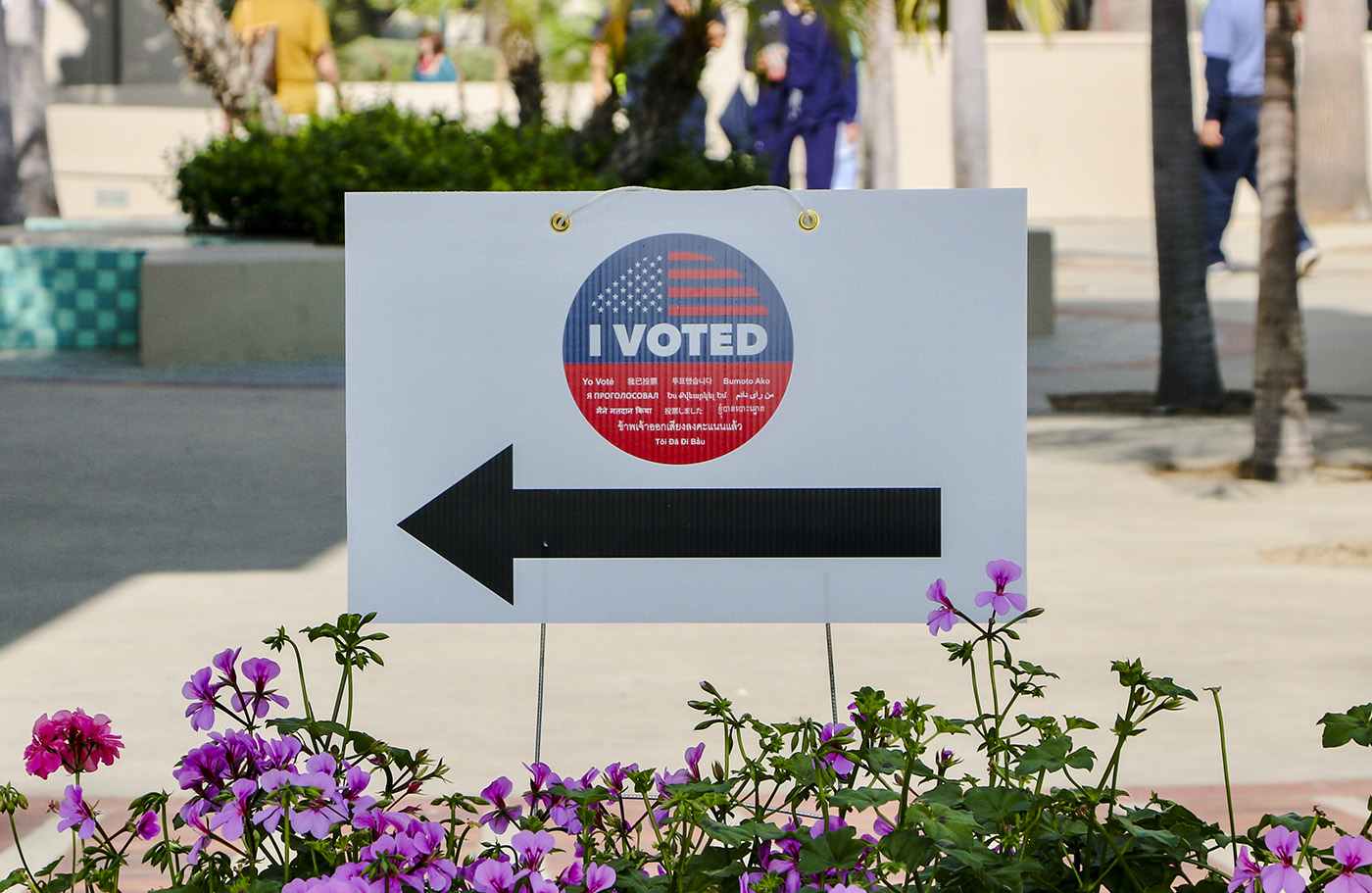 Across the nation, the youth voter turnout increased in the 2020 election, impacting the election results in some battleground states, researchers, UCLA faculty and students said. (Noah Danesh/Daily Bruin)
A nationwide increase in youth voter participation impacted the presidential election in some battleground states, researchers, UCLA faculty and students said.
The youth voter turnout in the 2020 election is projected to be somewhere between 53% to 56% of all eligible young voters ages 18 to 29, according to election data by the Center for Information & Research on Civic Learning and Engagement. Based on CIRCLE's projections, the youth voter turnout will increase by almost 10% from the 2016 election, when around 46% of young people turned out to vote, according to the data.
Youth voter registration in California increased by 26% in the 2020 election compared to the 2016 election, according to CIRCLE.
Kristian Lundberg, an associate researcher at CIRCLE, said the youth vote contributed to either making the race close or flipping states in favor of President-elect Joe Biden. Lundberg said 18- to 29-year-olds were the deciding factor in battleground states like Georgia, Arizona, Pennsylvania and Michigan.
"Had young people not voted in these numbers, it's likely that President-elect Biden might not have won those states and therefore might not have won the election," Lundberg said.
Young people turned out in record numbers to vote this year, accounting for 17% of the overall voting population and flipping key states like Georgia and Pennsylvania for Biden, who got the support of 61% of voters ages 18-29, according to CIRCLE.
Several organizations at UCLA made efforts to get students to register to vote before the 2020 election.
Nic Riani, the state board chair of the California Public Interest Research Group Students, said CALPIRG members went to Zoom lectures and walked students through voter registration forms, and they worked with faculty and administrators to send emails to students encouraging them to register.
Riani, also the campaign coordinator for CALPIRG's New Voters Project at UCLA, said CALPRIG called students to help them make a plan to vote.
CALPIRG's New Voters Project worked remotely with organizations like Bruins Vote and more than 70 other student groups to help UCLA and other California students register to vote and overcome voting barriers.
Sonni Waknin, a managing law fellow for the UCLA Voting Rights Project, said there have been many education campaigns to get younger voters to vote. A lot of money has been invested in the education campaigns to try to surpass many barriers that young voters face, she added.
"In California, for example, when you sign your ballot it has to match your voter registration, and for some voters, especially younger voters, your signature can change a lot," Waknin said. "That's a barrier because you might have younger voters getting flagged more often for a signature mismatch and (they) might not be able to be easily contacted."
Riani said CALPIRG helped around 10,000 students in California register to vote, compared to about 6,000 in 2018.
"Young people want to vote, we care about our futures, and, you know, there can be some challenges to navigating the voting process" Riani said. "As the largest generation alive, we have the ability to either let other people make decisions that impact us, or to, you know, vote and get a future that works for us."
Lundberg said young people have different reasons for voting. This is evident in Georgia, he said, where the majority of young Black voters voted for Biden while the majority of young white voters voted for President Donald Trump.
Laura Wray-Lake, an associate professor of social welfare at UCLA, said issues like racial injustice, the environment and the pandemic encouraged younger people to vote.
"The racial injustice, police violence, the uprising around Black Lives Matter, George Floyd and Breonna Taylor and all the other cases, I think partly motivated youth of color and other youths," Wray-Lake said. "Youths of color especially made a huge difference for Biden because … the proportion for the youths of color, Black youth, Latinx youth and Asian youth were hugely in favor of Biden compared to Trump."