UCLA student Connor Gilbert unites passion for film, music through score writing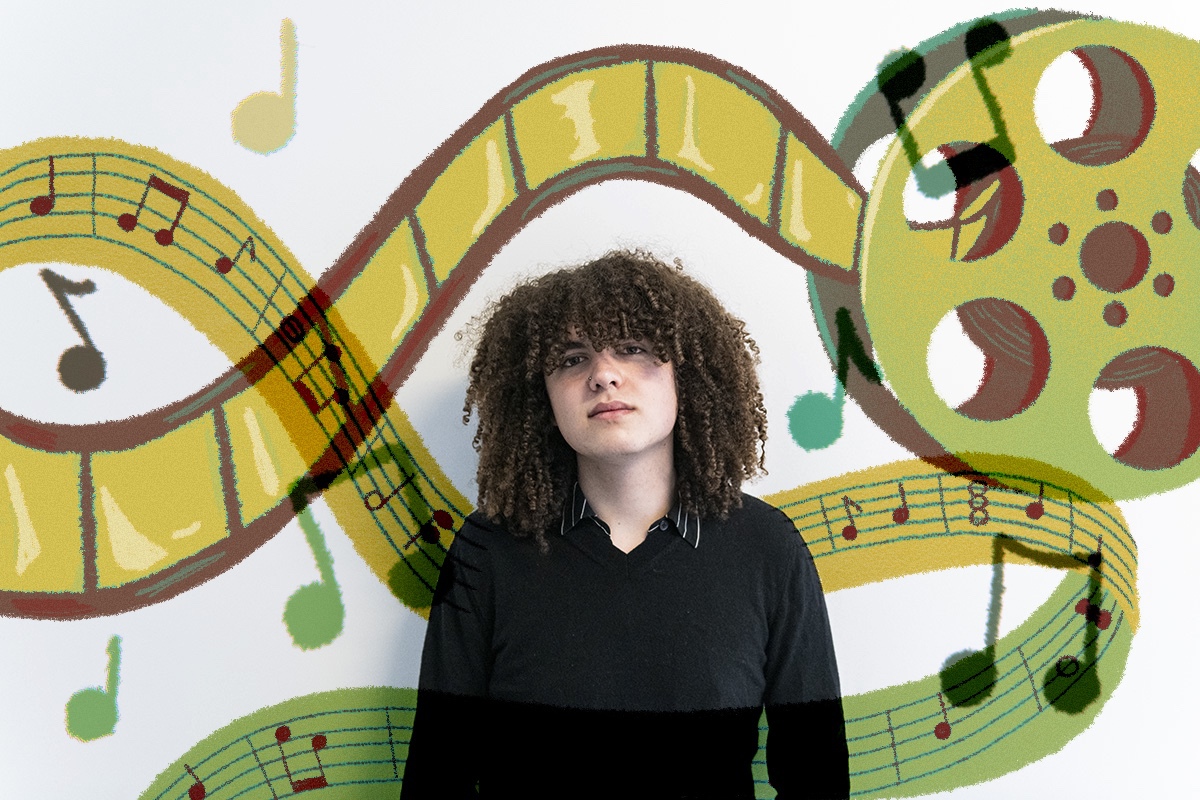 Connor Gilbert stands against a white wall. The second-year global jazz studies student said they are interested in both filmmaking and score composition. (Photo by Shane Yu. Photo Illustration by Amber Lee)
This post was updated Jan. 24 at 9:13 p.m.
Connor Gilbert is determining what is instrumental to film composition.
The second-year global jazz studies student is combining their passions for both film and music in the world of film composition and filmmaking. Gilbert said they started their music career with their high school's jazz program, where they gained experience performing and collaborating with other musicians as an upright bass player. They said they became used to being in the background, learning how music contributed to the atmosphere of any given event.
"I didn't really start as a film composer," Gilbert said. "I started as a jazz composer composing individual songs, and then from there I tried to compose suites, … and I realized that I could translate that into film."
[Related: UCLA student creates film to share personal, relatable experiences]
When composing for a film, Gilbert said they try to pick up on certain themes and communicate with the director to determine what kind of score fits the movie. They said that, similar to characters, some scores are so quiet that they almost go unnoticed, and other bombastic scores can become another main character in the films that feature them. Gilbert added that they aim to let the film work alone where it may, but allow the music to aid the film's message and contribute to the overall film and its themes.
Gilbert said their interest in filmmaking stemmed originally from critiquing films. During their junior year of high school, they said they realized that they could extend auteur theory – the idea that directors have distinctive styles or thematic focuses – to writing and composing for film as well. They said they want to challenge themself to develop their own style of filmmaking and film composition.
"I'm really interested in studying film because I think that understanding the medium can create great scores if you really know what the director is going for or what the scene looks like," Gilbert said. "They (the directors) want to bring this out in the score that is definitely subtext in the film that is not as loudly spoken."
Most of Gilbert's work has been featured in short films for students, but they said they hope to eventually write for narrative films and shoot their own films. Gilbert's friend and second-year musicology student Benicio Corona de Flores worked with Gilbert on a short film about depression called "The Cure to Loneliness." He said he has been inspired to take on more musical projects and help other artists maximize their opportunities because of the creative individuals like Gilbert whom he has met through the Herb Alpert School of Music.
Gilbert enjoys experimenting across multiple genres, citing films such as "Neptune Frost," which features an untraditional, digital, Afrofuturist score composed by co-director Saul Williams, they said. They said they are drawn to scores that explore new genres as well as films that have received criticism to see the merit behind them. Though filmmaking brings about its own challenges, Gilbert said their musical background has prepared them to create outside of the traditional ideas of what a film score should sound like, yet still support the film's messages and themes.
"I love the art of collaboration, … and I think being a jazz musician has really helped me out in that and trying to see exactly what each member of a crew or on a film set, or musician is going for," Gilbert said.
Nonetheless, Gilbert is prepared to navigate the art of filmmaking, and as an experienced musician, they are interested in experimenting with new ideas and techniques. Their friend and bandmate, Yerry Wright, a fourth-year ethnomusicology student, has collaborated with Gilbert in jazz groups and on compositions. Wright said Gilbert is a steady and reliable musician with the ability to play by ear. After bonding last year when they worked on an Esperanza Spalding arrangement together, Wright said they have since collaborated on more compositions and often play together, and he hopes to work with Gilbert on a film project in the future.
[Related: UCLA student turns emotions into motion pictures with help of film crew friends]
After college, Gilbert said they hope to have a career in film composition, but they want to have a full understanding of film and score composition before professionally making their own films. Academically, Gilbert is taking classes that will teach them more about filmmaking and score composition, such as global jazz studies professor Terence Blanchard's film composition class. As someone who is constantly learning from other composers and filmmakers of many different genres, they said they hope to be a versatile artist in the world of both film and music.
"Film is a balancing act in a way, and I think that music generally can be a great grounding force," Gilbert said. "If there's a score that really ties in all the themes together, it can really make something that would usually not work, work."