Student Becca Marcelo channels vulnerabilities into original music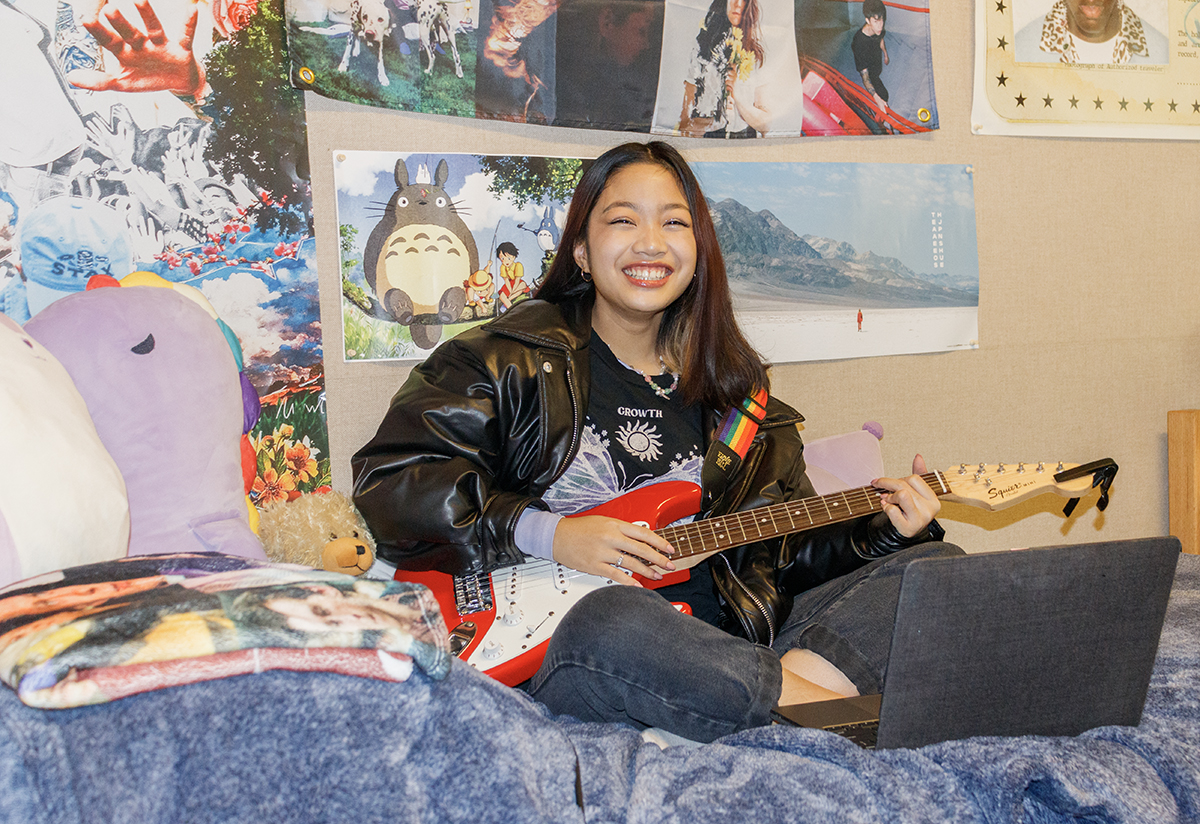 Becca Marcelo sits in front of colorful posters with a guitar in hand. The second-year musicology student said writing songs has helped her translate emotions and experiences they weren't originally comfortable sharing out loud. (Eden Yu/Daily Bruin)
Becca Marcelo started creating music to sing what she couldn't say.
Justeen Rebecca Marcelo, whose stage name is becca !, said she has been exploring her passion for music and writing songs since she was 13. Marcelo, a second-year musicology student, said she initially started to write music to work through her feelings of loneliness and has since experimented with multiple genres to find the one that truly suited her. Through somber bedroom pop-style tracks with a dreamlike aesthetic, Marcelo said she aims to explore feelings of loss, love and trauma.
"I write these songs because I want my work to be filled with passion," Marcelo said.
After a few years of writing, Marcelo said her music felt more authentic to herself once she stopped following mainstream pop trends. Over time, she said she was able to find her own voice to create music that contains more honest lyrics and incorporates less of what is popular and more of her personal indie sound.
"I used to try and fit the mold of like, 'Oh, a song is supposed to sound like this,'" Marcelo said. "I've realized I shouldn't have to make it seem like it's a quote-unquote 'authentic song,' (even) if it doesn't really fit the mold of what I've been hearing on the radio."
[Related: UCLA student Jack Drinker strikes a chord with authentic songwriting skills]
Early in her songwriting journey, Marcelo said social anxiety and a fear of public speaking restricted her from clearly expressing her emotions. However, songwriting has become a satisfying outlet for her to communicate her feelings. Marcelo's friend Ethan Jefferson said her songwriting puts a positive spin on difficult moments from her life, enabling her to grow from those experiences. Specifically, her personal experiences with romantic heartbreak allow her to create a theme of love as well as emotional pain and joy throughout her music, Marcelo said.
In addition to finding her voice through songwriting, Marcelo said she experimented with lo-fi, pop and R&B sounds before deciding she felt most aligned with melancholic acoustic indie pop. She said her inspiration comes from the likes of dodie, Clinton Kane and Conan Gray because she feels their discography reflects the type of music she wants to create as they write about very personal experiences.
While her early tracks take on a more angsty tone, her current style has grown to employ a more conversational voice that has simpler lyrics to share details of her life more accurately, Marcelo said. This is a departure from when she said her songwriting used to be more poetic and sounded very theatrical compared to her recent, more forthright works.
"It (songwriting) was a therapeutic coping mechanism for me, for me to be like, 'Oh, I can't really tell people. So, I might as well write about it,'" Marcelo said.
William Kwak, a second-year bioengineering student and friend of Marcelo, said her music has improved over time in terms of sound quality and songwriting, which created opportunities for her to perform publicly. Marcelo said her experiences opening for artists such as The Hit Makers and Pops Fernandez and performing gigs for UCLA have allowed her to grow as a performer and musician and instill confidence in pursuing her music.
"Over time, you can see her dream being fulfilled, and she's definitely pursuing every opportunity that's given to her," Kwak said.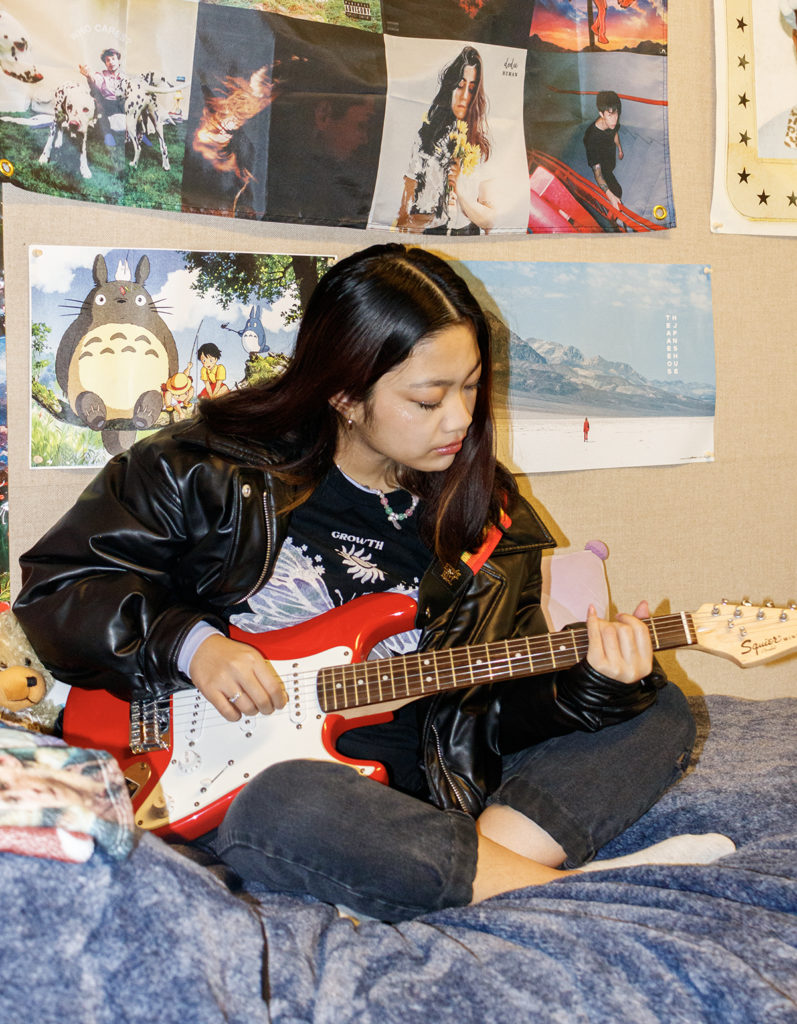 [Related: Flamango Bay explores youthful, personal themes in debut EP 'The Fool']
As she performs more, she said she hopes her music will inspire others to pursue their dreams and relate to her struggles, like with her recent song, "Stuck," in which she shares her melancholic feelings of navigating girlhood. Considering her works tackle more somber experiences, Marcelo said she hopes writing about these personal feelings with openness and clarity can provide solace to others facing similar experiences.
"It (songwriting) made me realize, I need to tell people about how I feel more," Marcelo said. "It definitely made me more open and vulnerable with the people in my life. Because in my head, I was like, 'Are they going through this too?' and if so, I want to be able to help in some way."