Short film "Dogwood" spotlights Native representation on both sides of the camera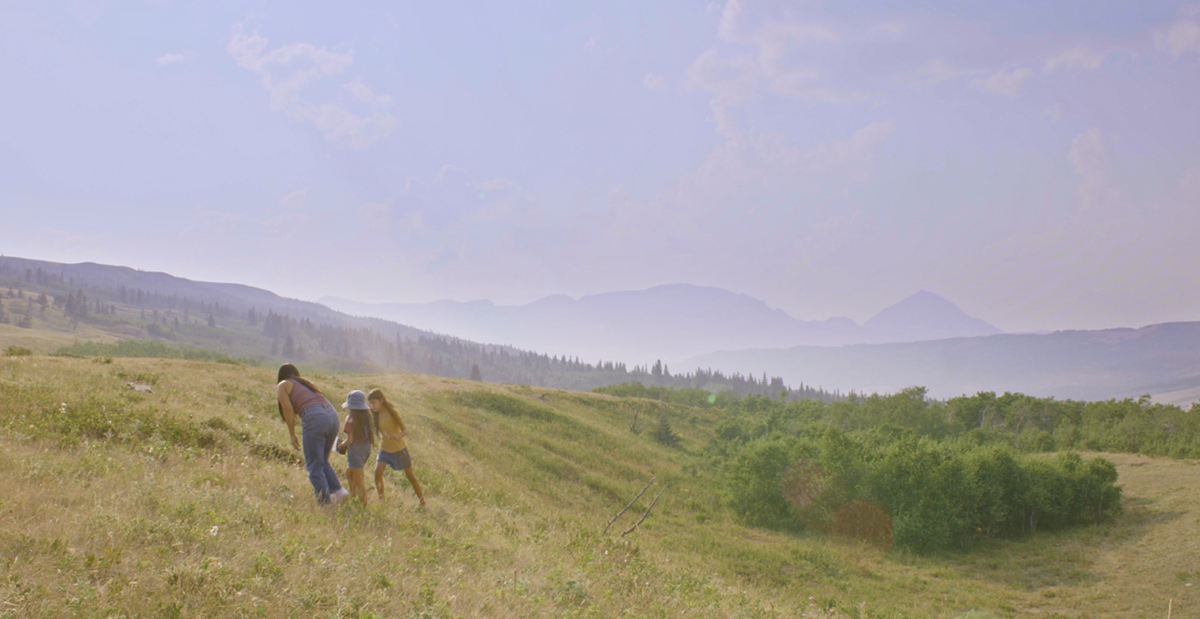 Three girls walk along a field in alumnus Maya Rose Dittloff's film "Dogwood." Presented at the imagineNative Film + Media Arts Festival, the short follows Rose Home Gun as she goes on an adventure to harvest medicinal plants. (Courtesy of Dogwood)
Maya Rose Dittloff is embracing Native tradition on the path toward increased representation in film.
The alumnus's short film "Dogwood," which was presented at the imagineNATIVE Film + Media Arts Festival in October, tells the story of a young girl named Rose Home Gun as she embarks on a treacherous mission to gather medicinal plants. The project is led by an Indigenous cast and crew, which Dittloff considered to be of utmost importance as an activist striving for Native inclusion in film and television, she said.
"(I wanted) to make sure I was doing everything I could in order to figure out how can I, as a Native person, work to indigenize filmmaking, which is a big through line in everything I do, everything I write," Dittloff said.
[Related: UCLA alum's short film 'de closin night' tackles questions of identity, belonging]
Dittloff said she recognized there are a variety of factors that prohibit Native people from working in the film industry, such as the fact that many do not live in major cities. Therefore, in addition to shooting "Dogwood" entirely on the tribal territory of the Blackfeet Nation in Montana, she said she sought to differentiate her short film from typical portrayals of Native communities by developing a team of Indigenous creators both on and off camera.
Moreover, the majority of the film's crew consisted of Dittloff's own family members, she said. Her mother, Annie Belcourt, said she took on an assortment of responsibilities while working on her daughter's short, including producing, catering, and operating the team's shuttle bus. The family's reunion in their homelands helped establish the cultural grounding of the film's story, Belcourt said. For instance, before the shoot, she and Dittloff harvested berries to use in an opening prayer of guidance, which they invited a tribal elder to lead, she said.
"It (the film) really provided me a way to start to become more active in our ceremonial ways," Belcourt said. "That's been really meaningful for me and my whole family, looking at how we can look at both investing in and benefiting from their ceremonial ways in our language."
Dittloff's partner, fellow alumnus Cole McCarthy, also wore many hats as the film's cinematographer, gaffer, assistant editor and colorist. Knowing that Dittloff's story was closely tied to the land the short was filmed on, he approached his work with the intent to convey Montana's significance through its visuals on screen, such as with strategic lighting and coloring, he said.
"This surrounding area on the Blackfeet Nation is one of the most beautiful places I've ever been," McCarthy said. "I really just had to focus on making sure that everything was well represented and that the culture was represented."
This cultural authenticity was particularly important to Dittloff because she grew up with a wariness of Indigenous representation in the media, she said. She said she felt that historical depictions of Native communities came across as harmful and failed to properly reflect the way she perceived her environment. She added that this inspired her to incorporate elements of magical realism within her short film.
"I was raised listening to traditional stories, stories from tribal elders and even ghost stories around a campfire with my family, and that shaped the way that I think about the world," Dittloff said. "Having content that portrayed the world as I saw it and as I was raised to believe it operated would have been very valuable."
This clear vision that Dittloff intended for "Dogwood" was executed through effective collaboration on set, she said. She invited all team members to the family atmosphere by valuing comfort on set, Dittloff said, regardless if they had worked together before. She said while directing the cast, for example, she aimed to prioritize the actors' safety by having thorough discussions addressing the script's more delicate themes, such as domestic violence, and closing the set when necessary for their reassurance.
[Related: Sundance 2022: 'Every Day in Kaimukī' explores meaning of home, complexities of heritage]
Ultimately, Dittloff said she strove for "Dogwood" to be an operation that could reach a large number of people willing to recognize the future of Native filmmaking. She said she hopes the short joins the conversation of encouraging progress for Indigenous representation in the media and wants viewers to understand the significance of having Native contributions throughout the film industry as they take on a wide range of roles.
"I think that's important as we consider the stories we're telling and how they move us forward," she said. "It isn't focused on the past, but it is a bridge into the future."