Album review: Weyes Blood transports listeners to a world of ethereal loneliness in new album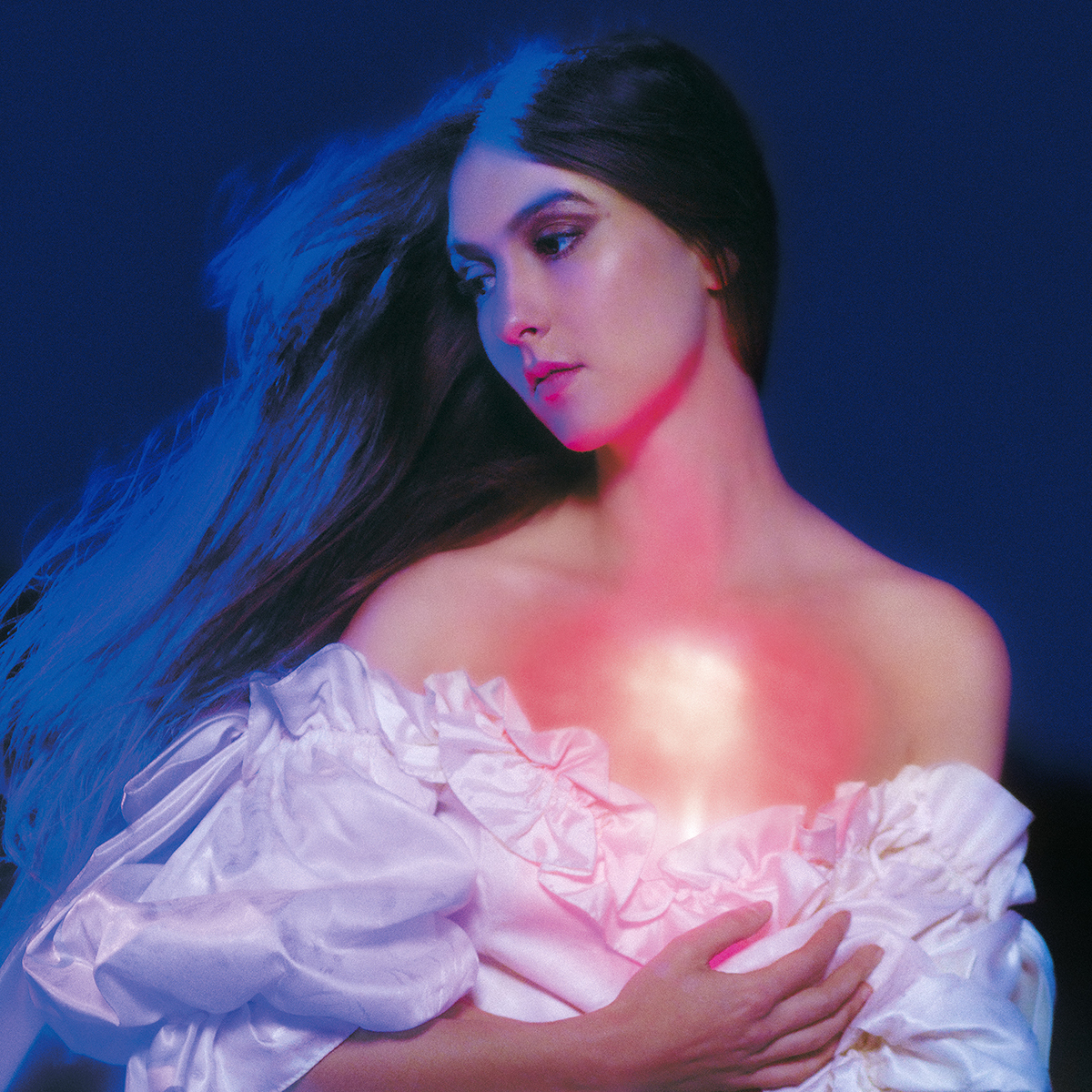 Weyes Blood is lit by blue and purple lighting and appears to glow from within on the cover of her fifth album, "And in the Darkness, Hearts Aglow," which released Friday. (Courtesy is of Sub Pop Records)
"And in the Darkness, Hearts Aglow"
Weyes Blood
Sub Pop Records
Nov. 18
Weyes Blood is assuring listeners they are not alone in feeling alone.
Three years after "Titanic Rising" was released, the artist – whose real name is Natalie Mering – dropped her newest album, "And in the Darkness, Hearts Aglow" on Friday. With an otherworldly aesthetic that makes listeners feel they are entering the gates of heaven, Mering's fifth album captures the powerful desire for human connection in a pandemic-ridden world through profound lyricism and magical instrumentals.
With all eight vocal tracks lasting more than four minutes, Mering uses the lengthy runtimes to completely capture her thoughts on different types of loneliness. She impressively incorporates traditional orchestration and more electronic beats to transport listeners to an ethereal, dream-like world. However, the unique sound never overpowers her lyrics, which allows listeners to quietly process her internal turmoil and ponder it long after the album ends.
[Related: Concert review: King Princess fights for her claim to the throne in Los Angeles show]
The album's first and strongest track, "It's Not Just Me, It's Everybody," perfectly introduces the theme of accepting solitude in "And in the Darkness, Hearts Aglow." The track opens with Mering singing about feeling alone at a party as a simple piano and understated drum beat plays in the background. As the song progresses, she realizes everyone around her feels the same. The instrumentation also becomes more prominent, letting listeners empathize with her feelings of isolation through mesmerizing violins and harp.
The following track, "Children of the Empire," continues the theme of struggling to express a sense of isolation. Set against the backdrop of thundering drums and harmonizing vocals, Mering vividly paints a portrait of a king and queen who are lonely, but refuse to admit it. Yet their children can see how they feel, and insist they open up. The powerful imagery and Mering's distinct storytelling will have listeners forget whether they are in the year 2022 or 1422.
Expanding upon her feelings, Mering introduces the interconnection between isolation and romantic love in "Grapevine." As the track opens with the elegant strumming of a single guitar, Mering remembers loving a man who has hurt her and is no longer in her life. Not once in the track does she struggle to let go of her feelings and instead opts to accept them. In addition to its lyrical intimacy, the track's strength lies in its more stripped-back production, as it creates an aura of raw sadness that will surely make listeners shed a tear or two.
While "God Turn Me Into a Flower" is the album's weakest entry for being overly long, the track still has its strengths. Composed solely of three verses and no chorus, Mering sings about how she wishes she could open up about her feelings. Given the difficulties of being vulnerable, she begs God to turn her into a flower, as flowers are lauded for being delicate. While the lyricism is strong, the song fades out in a three-minute-long outro bound to make some doze off.
However, listeners will awaken after hearing the next track, "Hearts Aglow." Employing refreshing instrumentation through the vibrant sounds of the organ and harpsichord, Mering has grown accustomed to her loneliness and is afraid of the uncertainty a relationship brings. The song unfolds like a romantic drama, as listeners eagerly anticipate whether she will accept this new love or not.
Dominated by more modern and electronic sounds, "Twin Flame" details the collapse of a relationship. The lively instrumental juxtaposes with Mering's wistful lyrics, creating a gripping track. The concept of soulmates is one constantly illustrated in the media, and Mering passionately captures her heartbreak for losing hers through raw vocals.
[Related: Album review: Death Cab for Cutie explores new and old roads in "Asphalt Meadows"]
In the penultimate track of the album, "The Worst is Done," Mering subtly references the pandemic and end of quarantine as she melodiously sings the lyric, "But they say the worst is done/it's time to go out and see everyone/They say the worst is done/But I think it's only just begun." Similarly to "Twin Flame," Mering utilizes a lively sound to contrast her morbid lyricism, further hammering in her grim point.
"And in the Darkness, Hearts Aglow" finishes strong with "A Given Thing." In the final track of the album, Mering finally accepts her love for and pursues the mysterious person she sang about in "Hearts Aglow." Mering's character development and the classical production reminiscent of the opening track bring listeners full circle on her emotional journey.
With her first album post-pandemic, Mering lets listeners remember what makes her music so special: strong lyricism and captivating instrumentation that transport them to a whole new world. After finishing "And in the Darkness, Hearts Aglow," one will be left in silence, quietly wanting to take another journey with Mering.
And hopefully, she will let them.