UCLA academic workers form picket lines across Charles E. Young Drive East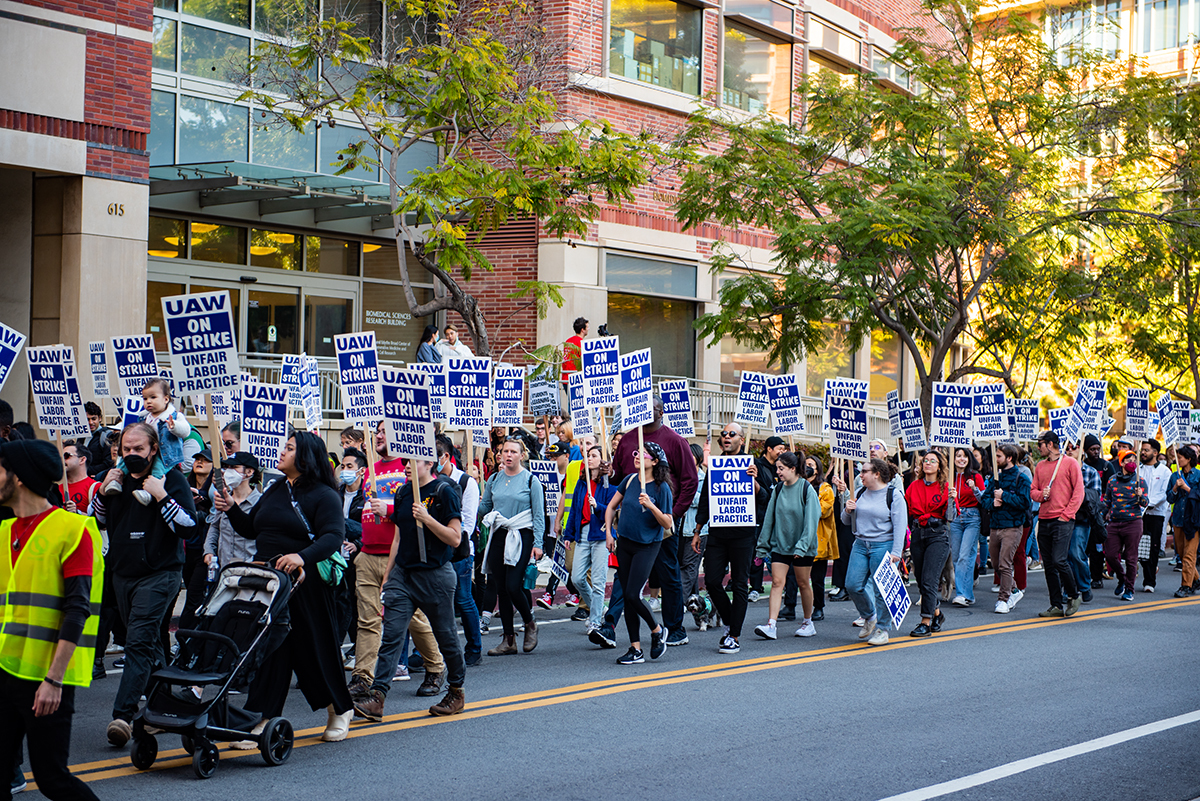 Hundreds of UCLA academic workers form rallies and picket lines in a strike for higher wages and improved working conditions by academic workers across the University of California system. (Alice Yang/Daily Bruin)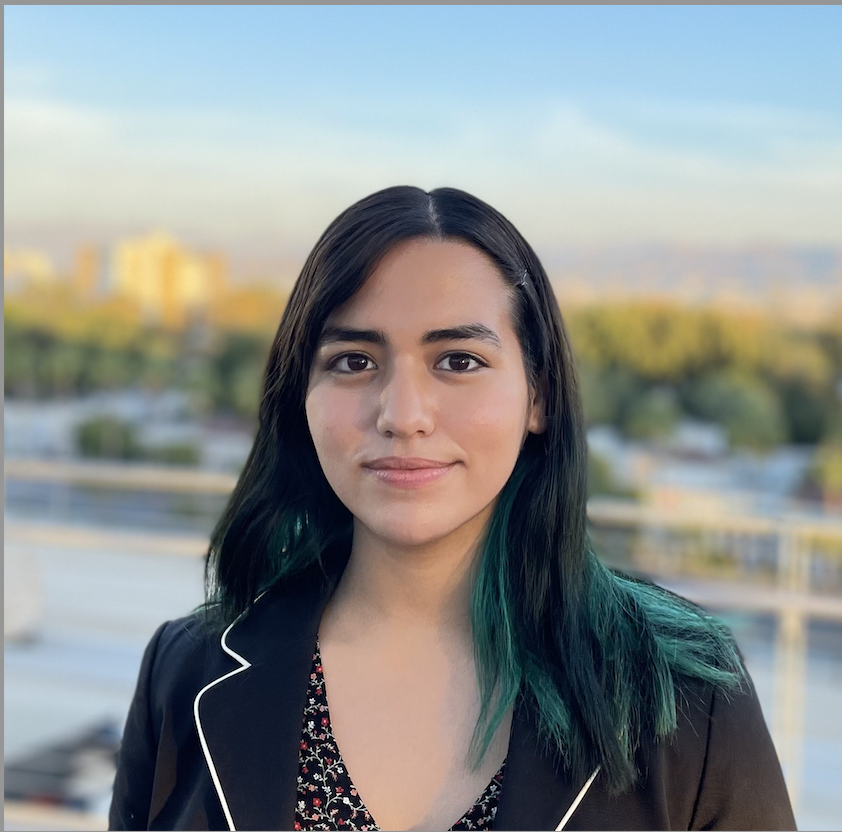 Dozens of UCLA academic workers blocked the passage of vehicles along Charles E. Young Drive East on Thursday morning on the fourth day of a union strike across the University of California system.
Picket lines formed at the Lu Valle Commons and Macgowan Hall bus turnarounds around 5:30 a.m., blocking worker and delivery entrances to construction sites near the Franklin D. Murphy Sculpture Garden and to the campus restaurant in Lu Valle Commons as well as redirecting multiple bus routes. Academic workers represented by a coalition of unions under the United Auto Workers, which represents postdoctoral scholars, teaching assistants, student researchers and others, carried signs protesting unfair labor practices and chanted phrases such as "union power" and "shut it down!"
Thursday marks the fourth day of a UC-wide UAW strike by tens of thousands of academic workers demanding higher wages and improved working conditions, which has led to student discussion section and exam cancellations. Large crowds resumed picketing at 8 a.m at various other locations across campus that have seen protests since Monday, including the Inverted Fountain, Bunche Hall and in front of the Broad Art Center.
(Videography and Editing by Crystal Trinh and Zoë Busenberg)
[Related: UC academic workers walk out in largest US strike since 2019]
Rafael Jaime, the UAW 2865 president and a doctoral student in English, said the University has acted unlawfully in its bargaining practices with academic workers, which have been in progress for about a year.
The unions previously filed 27 charges with the Public Employment Relations Board, and the Board returned six complaints back acknowledging unfair labor practices. Union members overwhelmingly voted to strike on Nov. 2, with over 97% of almost 37,000 ballots in favor.
[Related: UC academic employees vote to strike for better working conditions, wages, housing]
Jaime said the morning's picketers came out to different intersections to talk to other unionized workers and promote collaboration and solidarity with the movement.
"Workers became really frustrated with the bargaining process and finally decided to walk off the job in order to compel the University to bargain in good faith," Jaime said. "We're going to be out here as long as it takes."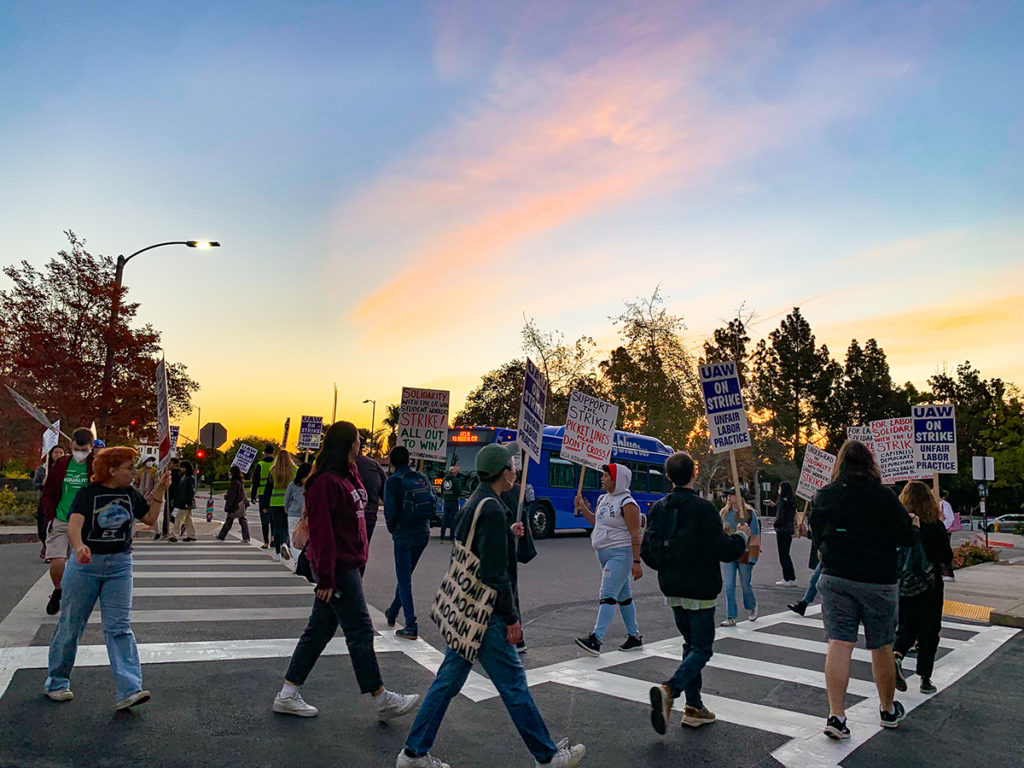 In a letter addressing updates in the bargaining process Monday, UC Provost and Executive Vice President for Academic Affairs Michael Brown said the UC has been bargaining in good faith, and current proposals would make UC academic student employees some of the most compensated among top public research universities in the United States.
The high cost of housing in California has been felt by many academic workers struggling to pay their bills, with some paying up to 60% of their salaries for rent with little help from the University, Jaime added.
Student researchers met with the UC officials to continue bargaining Wednesday night, but the University's pay raise proposals have been insufficient to significantly decrease rent burdens, Jaime said, adding that current proposed raises could only account for about $150 more a month.
Thursday's picketing also followed protests from UCLA Health employees represented by the Committee of Interns and Residents, who on Wednesday participated in a Unity Break outside the Ronald Reagan UCLA Medical Center with similar demands for fairer compensation and working conditions. CIR is a union bargaining for 22,000 resident physicians, fellows and interns.
[Related: UCLA Health workers protest for improved working conditions, more equitable pay]
Omer Sohail, a union member and graduate student researcher at the UCLA Labor Center, said he has had to take out tens of thousands of dollars in loans and take on a second job to make ends meet and be able to live closer to his workplace.
The solidarity shown by academic workers and turnout to the strikes have remained strong, Sohail said, adding that academic workers need the support of undergraduate students and faculty as well.
UC Student Association president Alex Niles said in an emailed statement that UCSA stands in solidarity with the striking academic workers, adding that the strike is in undergraduate students' best interest as potential future graduate students within the UC.
"I came to the UC to broaden my horizons, and I'm a product of the UC. That's why I'm here today," Sohail said. " … This level of solidarity is going to be crucial to winning the demands we want not just for us but for the people who come after us."
Contributing reports from Catherine Hamilton, national news and higher education editor.
Montemayor is the 2022-2023 News editor. She was previously the 2021-2022 features and student life editor, a News reporter, Photo contributor for the news beat and Arts contributor. She is also a third-year global studies student at UCLA.
Montemayor is the 2022-2023 News editor. She was previously the 2021-2022 features and student life editor, a News reporter, Photo contributor for the news beat and Arts contributor. She is also a third-year global studies student at UCLA.