UCLA Health workers protest for improved working conditions, more equitable pay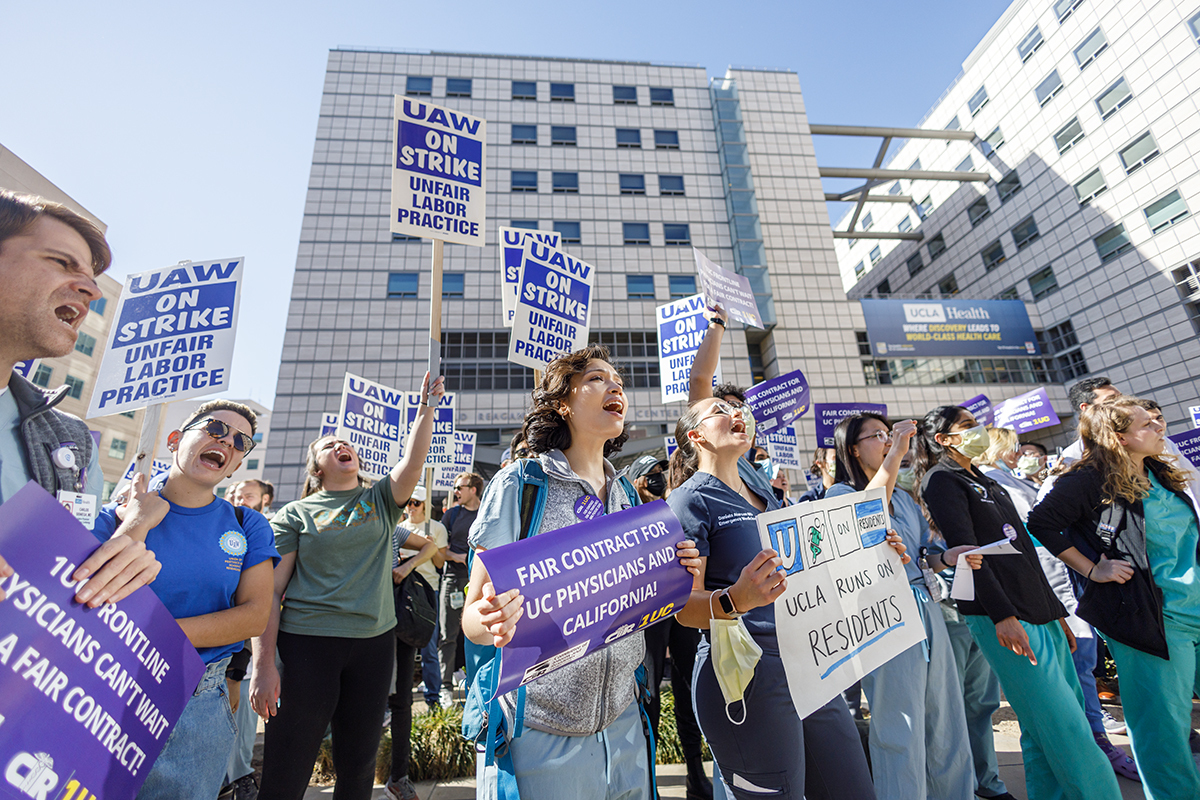 UCLA resident physicians and fellows participated in a Unity Break outside Ronald Reagan UCLA Medical Center on Wednesday afternoon, demanding better working conditions and fair compensation. (Shengfeng Chien/Daily Bruin staff)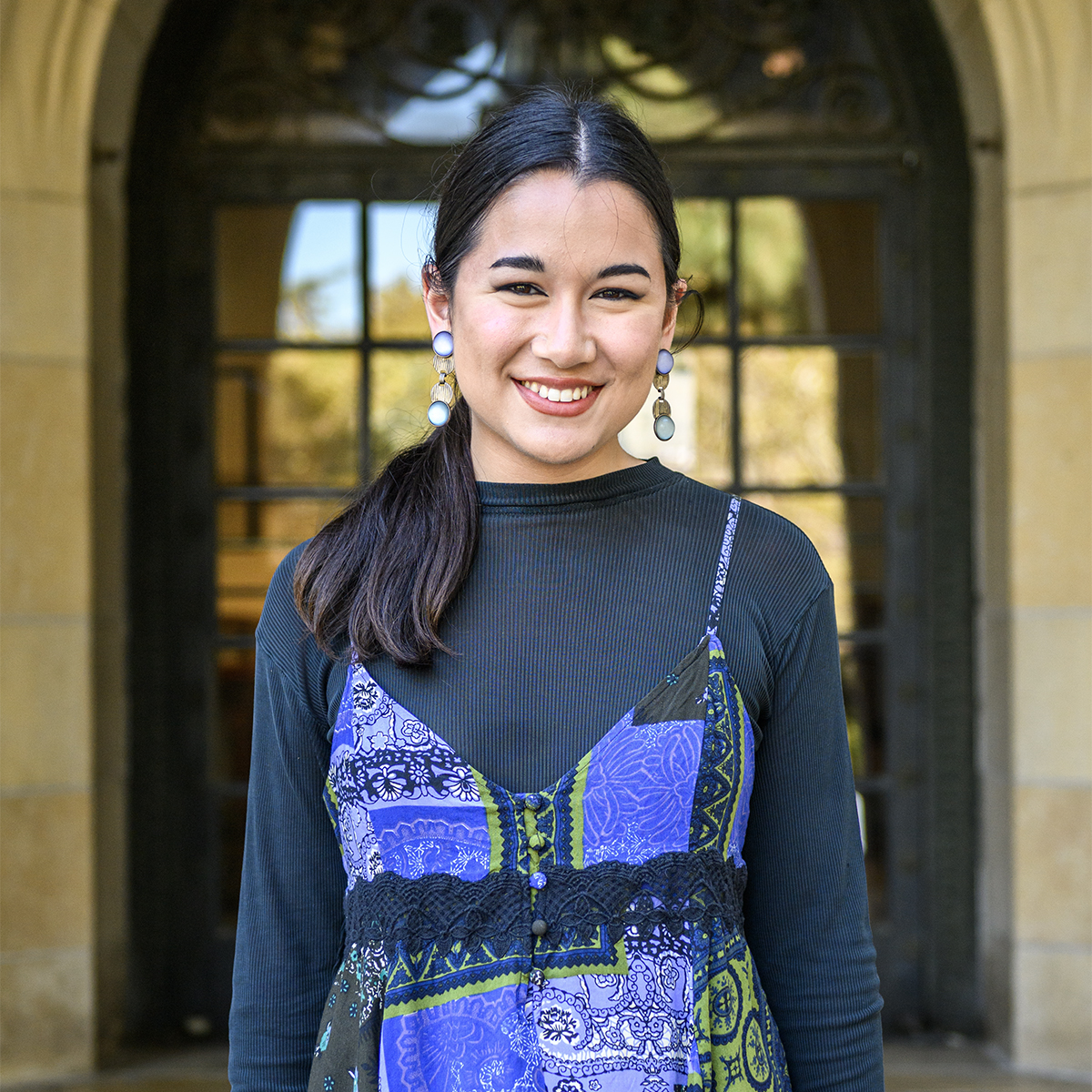 Correction: The original version of this article incorrectly stated Taylor Howard was an organizer of the protest. In fact, she was only a participant. The original version of this article also incorrectly misquoted Howard as saying the university has begun to address the union's concerns through communication with a representative who has been bargaining on the hospital's behalf. In fact, the union is currently conducting bargaining sessions with the hospital to come to an agreement in a new contract.
This post was updated Nov. 17 at 8:02 p.m.
Around 200 UCLA resident physicians and fellows gathered outside the Ronald Reagan UCLA Medical Center on Wednesday to demand better working conditions and more equitable pay from UCLA Health.
UCLA Health employees represented by the Committee of Interns and Residents – a union that bargains for 22,000 fellows, resident physicians and interns – participated in a Unity Break from 12:00 p.m. to 12:30 p.m. The protestors held signs reading phrases such as "UCLA runs on residents" and "fair contract for UC physicians and California" and chanted, "Let us rest! Let us eat! Let residents make ends meet!"
Many workers said they were protesting strenuous working conditions and low wages they experienced while working at the medical center.
Daniel Gonzalez, a second-year resident in internal medicine and member of the bargaining team, said poor compensation, such as getting paid below the Los Angeles minimum wage, motivated him to participate.
"A lot of us are stressing about paying rent and being able to afford food," Gonzales said. "It hurts us as physicians to have to worry about those things, when we should really just be focusing on good patient care."
Gonzalez also said that the protestors have tried to negotiate with UCLA's administration but have not made much progress. The administration did not respond to questions about the current status of negotiations.
In an emailed statement, a representative from UCLA Health said that the university is committed to negotiating in good faith with their union representatives on a new contract
Gonzales added that the Unity Break is coordinated across the entire University of California hospital system.
"The Unity Breaks that are taking place today across California … is one of the largest physician-led advocacy movements that has taken place in the history of the U.S.," Gonzalez said.
Kathryn Champ, a second-year resident in radiology and a member of the bargaining team, said LA's high cost of living has led some residents to live further away from the hospital, creating long commutes to and from the hospital. She also said some have taken to working second jobs, such as driving for Uber Eats to make ends meet.
Ariel Wu, a second-year emergency medicine resident, said at this point in her career, she expected better financial compensation. Wu added that the hospital schedule strains the physical health of residents, many of whom sacrifice eating and sleeping for their patients. The COVID-19 pandemic only exacerbated tensions in the hospital, she said.
"To get to this place in my training and to not have the things that I've worked for, like the ability to support my parents or the ability to support a family …, makes me really realize that the state of medical training and medical education is broken," Wu said.
Dayna Isaacs, an internal medicine resident, said that many residents have experienced tolls on their mental health. She added that she struggles to process losing half of her patients in the intensive care unit on a weekly basis.
Carlene Samuel, a pediatric rheumatology fellow, also said the pandemic revealed UCLA Health's reliance on trainee labor.
"Some of us … sacrificed our social lives just so we can put our patients first," Samuel said. "We just want our efforts to be recognized by UCLA."
Samuel added she hopes the Unity Break will demonstrate solidarity between residents and fellows and lead to action on UCLA's part.
Some residents saw a connection between the Unity Break and ongoing strikes by academic workers across the UC.
[Related: Academic workers walk out in largest US strike since 2019]
Taylor Howard, a second-year pathology resident and participant in the protest, said the Unity Break and United Auto Workers strikes both support fellow workers in their search for fair wages and deserve the attention of the administration.
Howard added the union is currently conducting bargaining sessions with the hospital to come to an agreement in a new contract and that the hospital has a representative who conducts those meetings with the union.
"We definitely want our voices to be heard," she said. "We feel that what's going on with our union is really an integral part of bettering the lives of all future physicians."
Contributing reports from Constanza Montemayor, news editor.