Concert review: Conan Gray's upbeat, heartfelt performance leaves crowd joyous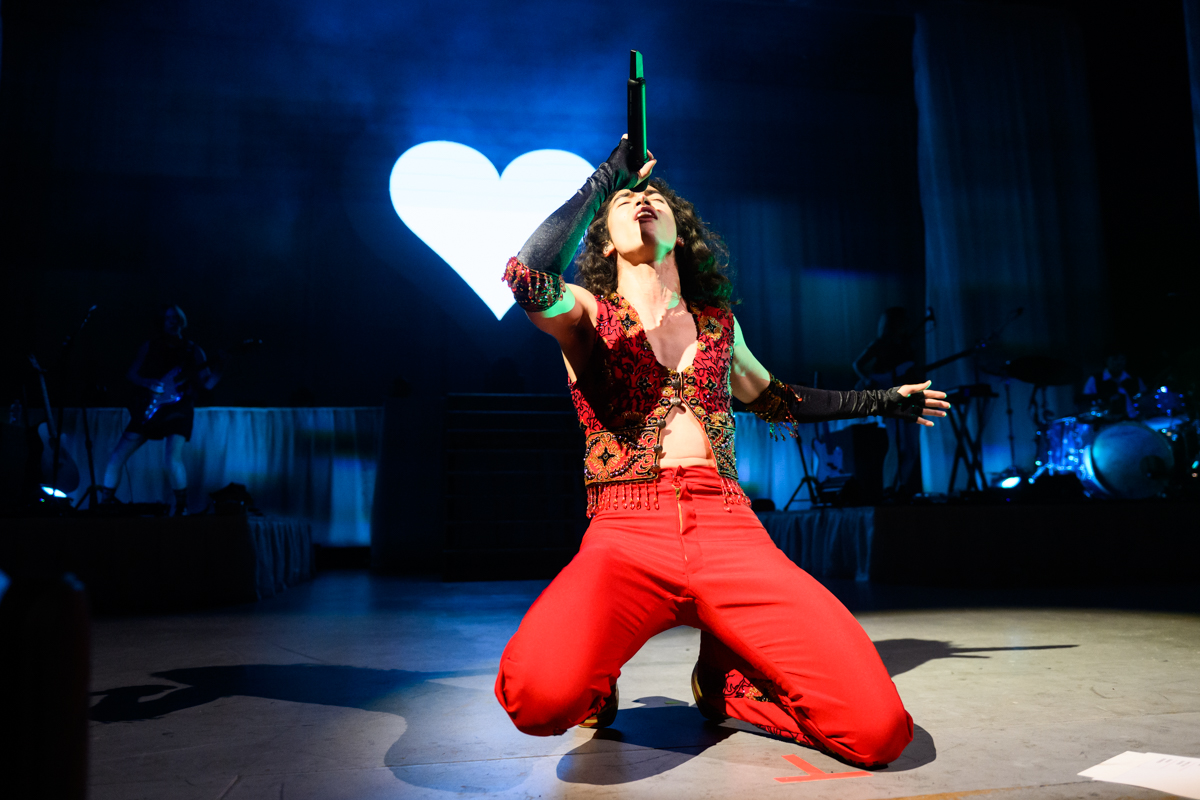 Dressed in an all-red ensemble, Conan Gray sings on his knees, looking up toward his microphone. The alumnus performed at the Greek Theatre Wednesday. (Anika Chakrabarti/Photo editor)
"Superache Tour"
Conan Gray
Greek Theatre
Oct. 19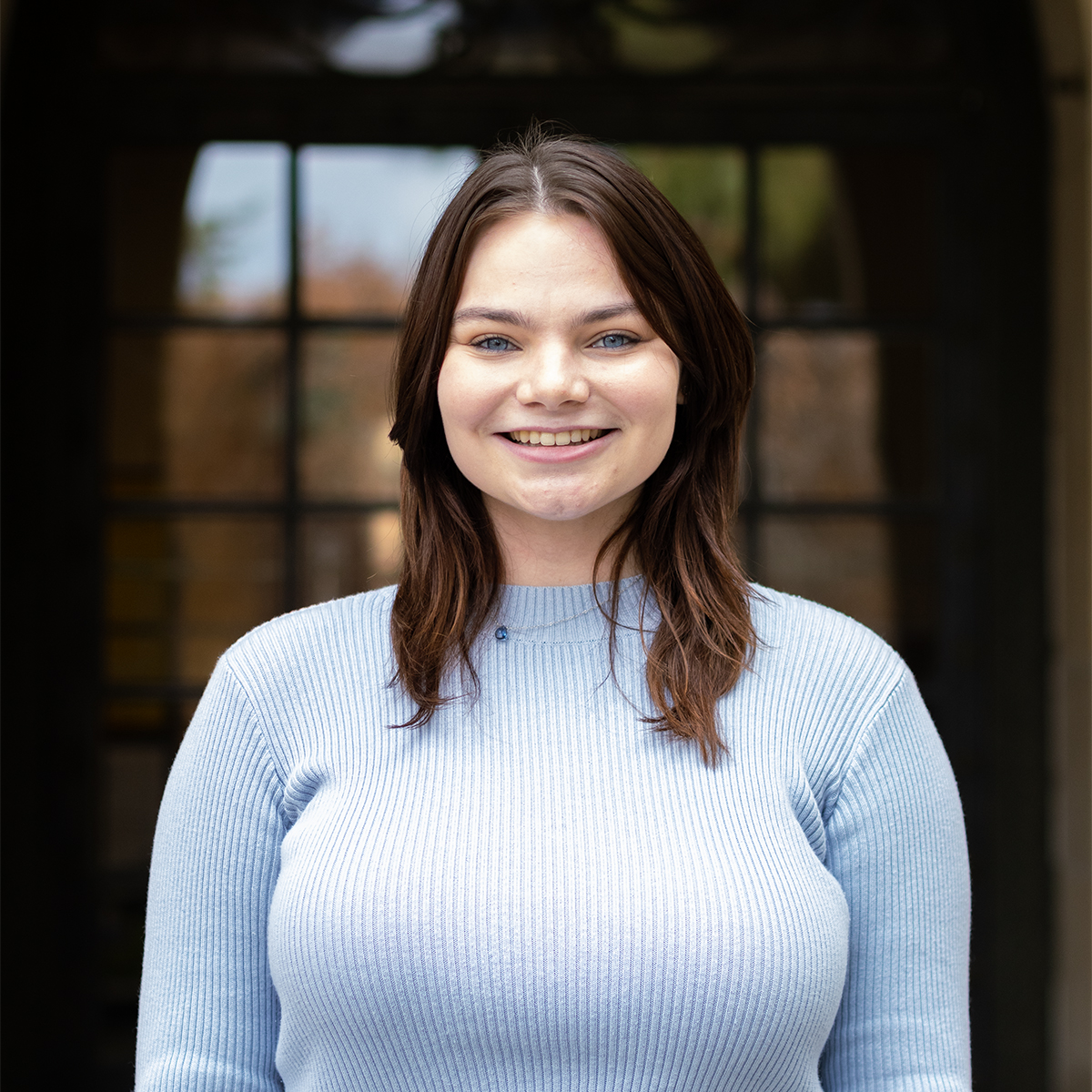 Conan Gray was everyone's favorite musical best friend last night.

The alumnus performed at the Greek Theatre on Wednesday, touring for his sophomore album, "Superache." With vocals identical to his recordings, Gray took the audience through a thrilling wave of emotions, even in songs about more somber subjects. With visually dynamic and conceptually fitting animations, the pop singer illustrated how heartbreak can be the most unifying feeling, as fans filled the venue with the sound of them singing Gray's lyrics unprompted and their laughter from his spoken segues.
Projected onto the curtain, a large spinning rose under a spotlight, engulfed by red flames, served as a satisfying dramatic setup for the curtains to draw back and reveal Gray in a sassy, confident stance. The musician successfully commanded the audience's attention as he sauntered on the stage's elevated platform during his upbeat dance single, "Disaster."
Keeping spirits high, Gray launched right into the fast-paced electronic track, "Telepath," brilliantly illuminated by a green background and purple strobes. The crowd cheered when he walked onto the lower level of the stage and waved hello during the song's first instrumental break. After demonstrating his impressive vocal abilities, finishing the song on a sustained high note, Gray welcomed his audience and thanked fans for being there, saying, "This is a really emotional night for me. I've dreamed of this for many, many years." He also joked that if the crowd sees him cry throughout the night, they were most definitely mistaken.
For a reinvigorating change of pace, Gray dipped into his debut album, "Kid Krow," with the groovier bass of "Fight or Flight." The singer fully leaned into the melodrama of the song, flipping his hair and sinking to his knees as he bent backward to belt the bridge. Masterfully harnessing the energy into a more vulnerable ballad, Gray then serenaded "The Exit" from the stairs, clearly proving he doesn't need autotune when singing live.
The artist ran offstage as soon as the song ended, leaving audiences wondering what was next for a bit, until Gray made clear from a clip of his "Today" show segment that this was just an amusing transition to fan favorite, "Wish You Were Sober." When the curtain closed, Gray excited the crowd by calling out to each section of the venue, further interacting with them by singing "Happy Birthday" to a fan. Strumming an acoustic guitar, Gray performed "Astronomy," a song he said was "about growing apart from people," during which he both literally and figuratively struck a chord with as he visibly wiped away his first tear of the night.
Throughout the night, Gray broke up his set by humoring fans when he addressed them between songs. He asked the crowd if they were with a friend to give them a hug, or perhaps a kiss, quipping, "some of y'all are definitely in love with your best friends." For audience members attending alone, he endearingly said he would be their friend for the night.
Gray delivered stunning and well-designed visuals effectively capturing each song's concept, all inside a white cutout heart extended from the back wall. For "People Watching," a black-and-white aerial view of people walking on the street played, while a clever tile overlay of clips from old films moved up the screen like rolling credits for "Movies." Bringing technicolor back not a moment too soon, Gray had different moving chess pieces for "Checkmate" and red lights flash above him for "Overdrive" – playfully ironic when he sings, "I don't wanna see no red light, red light."
In between these tracks, Gray expertly approached slower ballads with a more stripped-back approach, as he sang "The Story" on the guitar from a velvety gray divan. He introduced vulnerable tracks "Footnote" and "Family Line" with a graceful sense of humor, touching fans when he said playing at the Greek Theatre was his manifestation realized of not believing people when they told him he would never amount to anything.
For the final serenade of his set, Gray performed his breakout hit, "Heather," and transferred that high energy into his headbanger, "Maniac." Teasing fans that the latter track would be his last, he then came out once more for the catharsis-building "Memories," met by an explosion of red confetti to end the night.
Gray said it best when he called his performance "a dream come true." In addition to engaging technical aesthetics, the alumnus delivered on all fronts with live vocals, infectious energy and entertaining audience interactions that were equal parts hilarious and poignant, as well as all-around heartwarming.
More sweet than bitter, Gray left fans with the memories of the bond only a superache can form.
Jones is the 2022-2023 Arts editor. She was previously an Arts staff writer from 2021-2022. She is a fourth-year psychology student from Las Vegas.
Jones is the 2022-2023 Arts editor. She was previously an Arts staff writer from 2021-2022. She is a fourth-year psychology student from Las Vegas.