Concert review: Wallows delivers slick visuals, dazzling performance in hometown show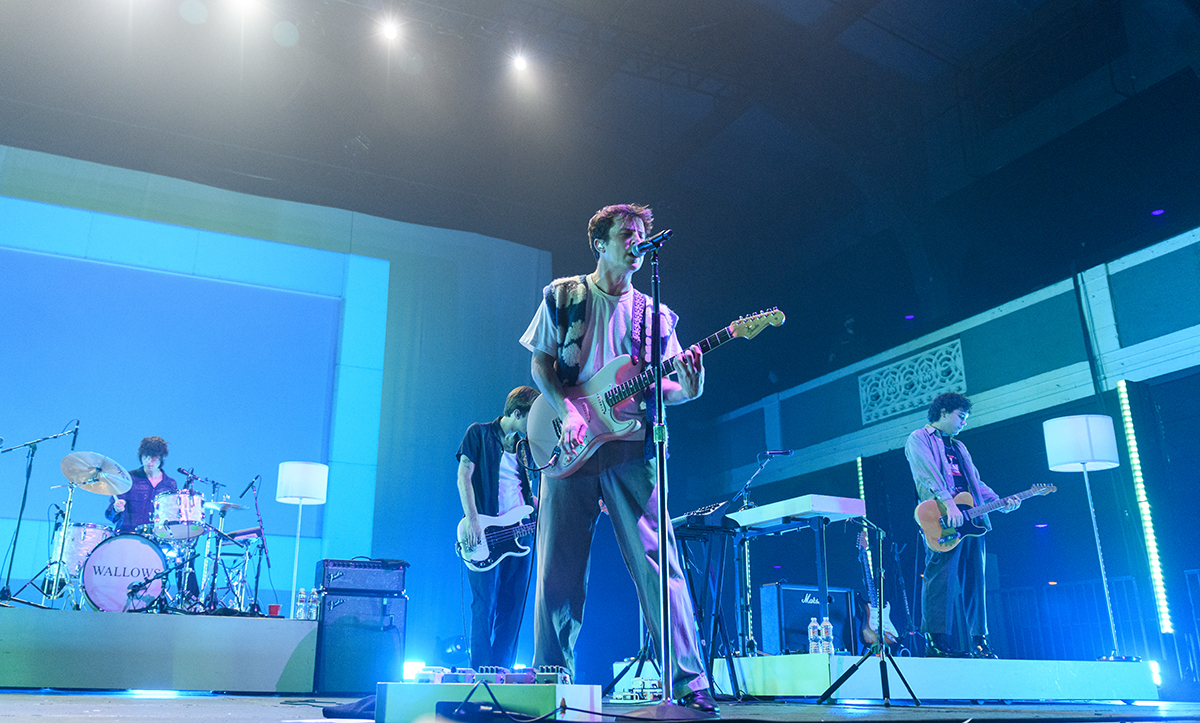 Lit by purple and teal lighting, Wallows member and main vocalist Dylan Minnette sings into a standing mic. The indie rock band, composed of Minnette, Braeden Lemasters and Cole Preston, played the first of three hometown shows as part of their "Tell Me That It's Over Tour" Sunday at the Shrine Auditorium. (Jeremy Chen/Assistant Photo editor)
"Tell Me That It's Over Tour"
Wallows
Shrine Auditorium
Sep. 25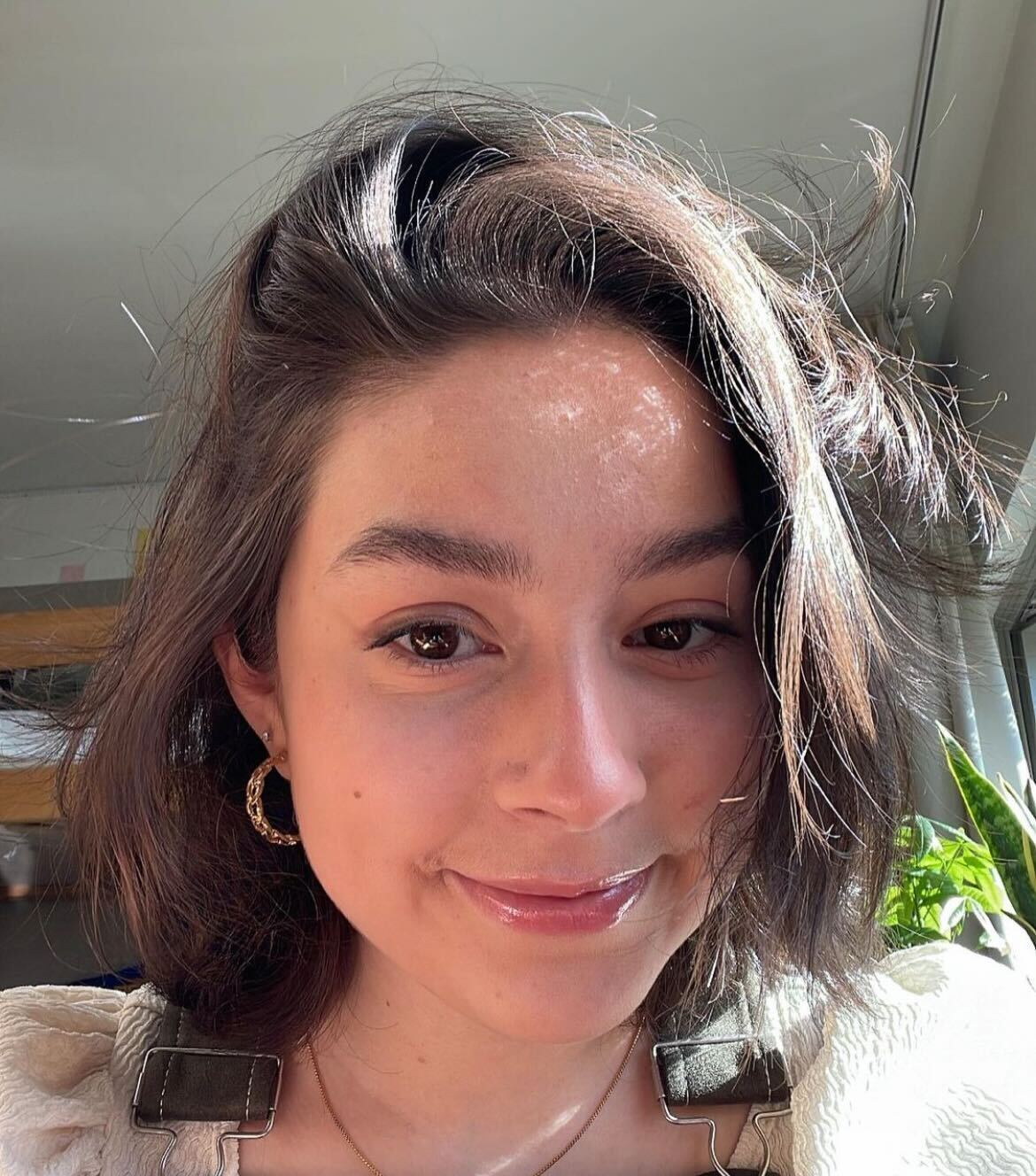 This post was updated Sept. 27 at 9:39 p.m.
Wallows is making sure fans aren't bored yet.
The indie-pop band performed on Sunday at the Shrine Auditorium, kicking off its hometown shows in Los Angeles this week. Fresh off of the release of its sophomore album "Tell Me That It's Over," Wallows focused on playing tracks featured on its latest project, but also mixed in some old favorites. The musical trio composed of Dylan Minnette, Braeden Lemasters and Cole Preston delivered an energetic performance with crisp vocals and booming instrumentals that left an enthralled audience asking for more.
Minutes after opening act Wallice left the stage, the room was momentarily bathed in darkness when the crowd began screaming as the lights slowly turned bright red and Wallows took the stage. As the opening bars of "I Don't Want To Talk" played, Minnette slyly revealed a harmonica and began deftly alternating between singing lyrics and playing the instrument.
[Related: Q&A: Wallows returns to Coachella, discusses making of 'Tell Me That It's Over']
Wallows proved itself to be very adept at maintaining the audience's attention through captivating multi-colored light shows on stage as well as by interacting with crowd members. This was most prominent during "Talk Like That," when Minnette took a break from singing and presented the crowd with a test to see how rowdy they could get during the last half of the song. After informing the audience of this challenge, he returned to performing the track and fans exhibited revitalized energy, jumping to the beat and singing louder than before.
Accompanying the trio on stage were several other musicians, including a trumpet player who added more soul to the live rendition of "Sun Tan," which also featured yellow, pink and red lights that mimicked the appearance of sunrise. To the audience's delight, the song transitioned from a trumpet interlude into a cover of One Direction's "What Makes You Beautiful," sung by Lemasters.
As the night progressed, it was clear that the LA-grown band felt especially at home at the Shrine, with the group frequently expressing warm sentiments regarding being back in Southern California. This was evidenced by Minnette when he proudly announced "We're home" early on in the set and later declared that the show was one of his favorites he has ever played.
Moreover, the audience was absolutely electric, with certain fast-paced songs eliciting particularly strong reactions from the crowd. Perhaps some of the loudest cheers and singing were heard in response to Lemasters' guitar solo in "Pictures of Girls," as well as when the band played old favorites from its 2019 album "Nothing Happens" throughout the night such as "Scrawny," "Remember When" and "Are You Bored Yet?" as Minnette encouraged the crowd to sing Clairo's verse.
The group's performance of "Remember When" was positively vibrant and full of life. The track was clearly a crowd favorite as a sea of phones emerged to record the song. Adding to the thrillingly loud and lively vocals from the band members were the confetti cannons that went off as "Remember When" was coming to a close.
However, the most beautiful, visually pleasing part of Wallows' performance was when it played "Guitar Romantic Search Adventure." As the song was ending, Minnette's silhouette, illuminated by bright lights, was accompanied by leftover confetti still floating down over the crowd, who were swaying their phone flashlights to the beat. This picturesque visual accompanied by his soulful vocals and lonesome guitar strumming was truly a marvelous audiovisual experience.
[Related: Concert review: Glass Animals brings epic visuals, electrifies audience on 'Dreamland Tour ']
After "Guitar Romantic Search Adventure," Minnette exited the stage as the lights dimmed, but the crowd passionately called for an encore. The audience was thus ecstatic when, after a short break, green lights began to flash to the tune of "Hard to Believe" reverberating through the main stage speakers. During the encore, Wallows enthusiastically performed a total of three tracks, including "Ice Cold Pool," a request from a fan in the pit area that the band agreed to play.
Closing with "Are You Bored Yet?," Wallows proved to have an undeniable stage presence. Even during slower tracks like "1980s Horror Film," their performance was consistently dynamic and exciting, which the crowd reciprocated by matching the trio's lively energy. Full of surprises and audience interaction, the group demonstrated that it truly care for its fans' concert experiences and knows how to deliver an entertaining show.
One thing is certain: Wallows' electrifying performance left fans not wanting the band to tell them it was over.
Gonzalez is a national news and higher education contributor. She is a first-year transfer student at UCLA majoring in political science and minoring in Chicana/o and Central American studies.
Gonzalez is a national news and higher education contributor. She is a first-year transfer student at UCLA majoring in political science and minoring in Chicana/o and Central American studies.