UCLA student's diverse art portfolio champions sensitivity, reminisces on memories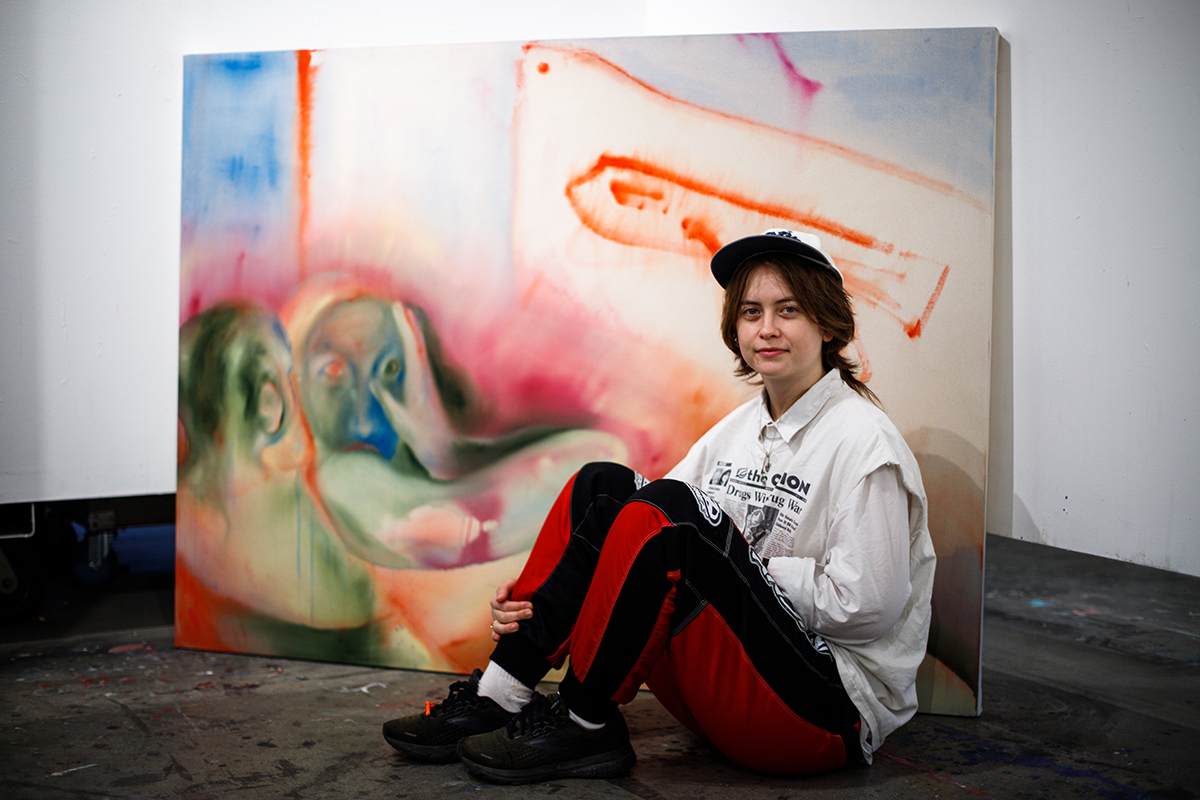 Third-year art student Violet Treadwell Hull paints, writes, photographs, creates films and acts in order to pursue their creative expression. (Grace Wilson/Daily Bruin)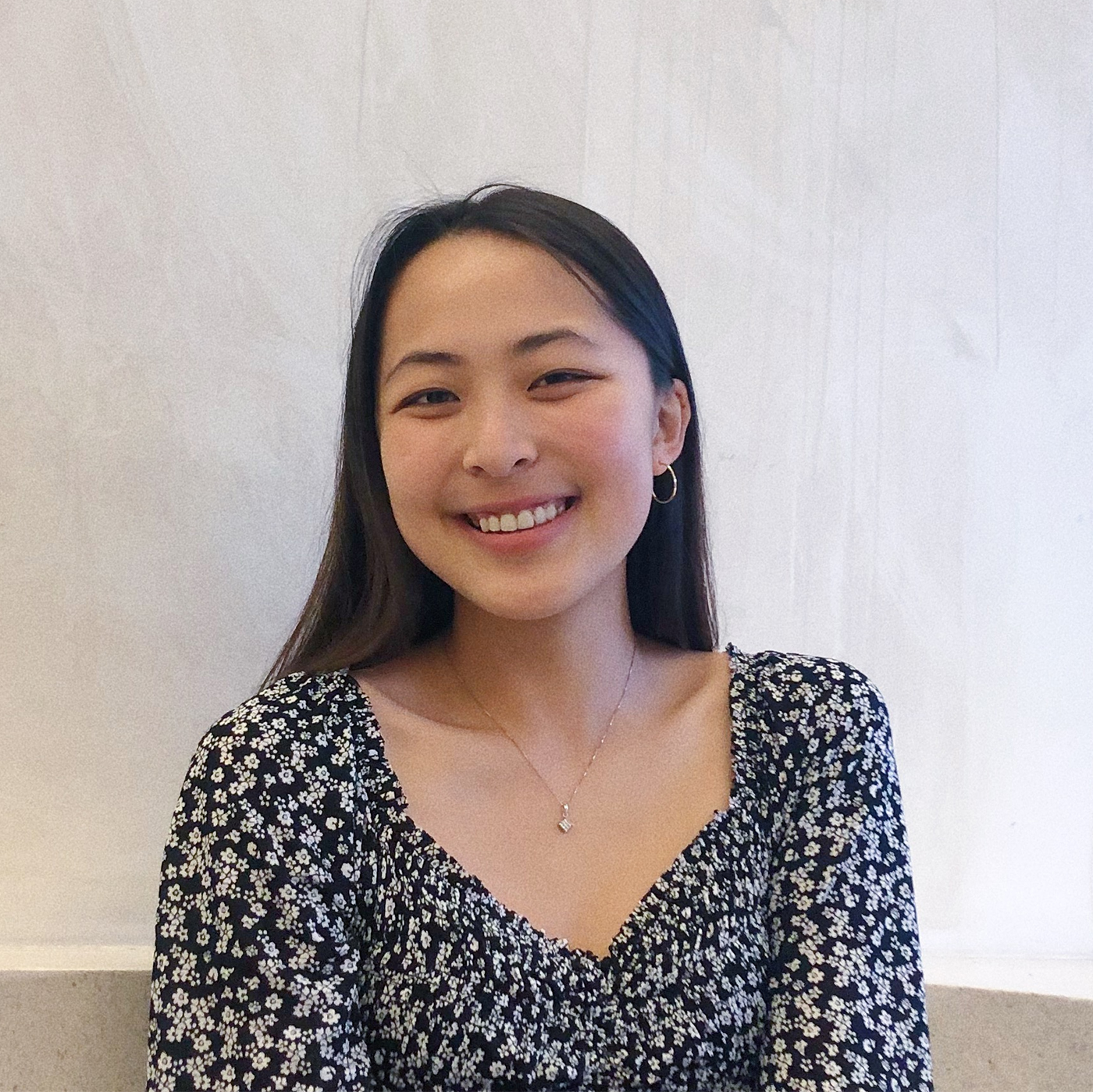 Editor's note: The Daily Bruin removed a section of this article that contained information that was provided off the record.
This post was updated Jan. 27 at 5:47 p.m.
With a spotlight on the human form, Violet Treadwell Hull's art is at once sensitive and visceral.
After exploring multiple artistic avenues in high school, such as graphic design and commercial filmmaking, the third-year art student said they felt constrained by the formulaic nature of those environments. Instead, Treadwell Hull said they turned to painting, drawing and more experimental film supported by elements of animation, not restricting themselves to one medium but using the form that would fit each piece best. But the artistic practice that has the most influence on Treadwell Hull's work is writing, which they said informs everything they do.
"Often, I'll paint based on stories that I've written, so you'll see some characters that pop up more than once in my paintings, and usually those are characters from my writing," Treadwell Hull said. "And at my show 'Working Dog,' I performed a monologue that I wrote. So that (brought) back my acting into my practice right now."
The intersection of multiple disciplines is visible in all of Treadwell Hull's artwork, such as in their most recent film titled "Pools Above Ground," which is based on a novel they are writing. In playing synthesizer music for the soundtrack, experimenting with font design and meticulously layering video footage to create a double exposure effect, Treadwell Hull said they were engaged in every aspect of the filmmaking process. The project deals with the power dynamics in interpersonal relationships, they said, specifically concerning those in play when people touch each other.
[Related: UCLA student uses creativity, graphic design skills to create zines]
Treadwell Hull said this particular focus on the human body has also translated to their more traditional visual artwork, such as their paintings. These pieces will hopefully not only inspire curiosity in their audience but also propel people to reflect on their own experiences in their bodies, Treadwell Hull said. Their work grapples with uncomfortable narratives and memories, which they said are meant to display the interactions between bodies and visualize the constantly evolving nature of memories.
"​​The more that you reflect on those memories, the more that they do change," Treadwell Hull said. "I want to put those memories down on paper or canvas so that I know that they're there and they're not going to go anywhere."
As an interdisciplinary artist, fourth-year art student Lucas Bjelos said Treadwell Hull's artistry is present in their photography as well. In contrast to the magnetic humanoid figures that are reduced to barely recognizable forms in Treadwell Hull's paintings, their photography often features their siblings, Bjelos said. The photographs exude warmth and peace, he said, a tenderness reminiscent of the richness of childhood memories.
[Related: Bruin creates space for herself, Black women through fine art]
This attention to detail and artistic generosity is a major aspect of Treadwell Hull's life and practice said third-year art student Karina Remer. Treadwell Hull's sensitivity and meticulousness are key to their abilities as an artist, she said. Additionally, Bjelos said Treadwell Hull's technique of building up color and impressions through layers of paint and dye give each piece depth.
"The scale is what really pulls me in because you get in front of the paintings and they have this watery texture (from) the way that (the paint) seeps into the canvas, so you get up close to admire that grain," Bjelos said. "And then there are these sparks of pure chroma that leave these impressions of the chalky nature of the paint trying to do more than seep into the canvas but sit on top of it."
Though they are open to many careers, Treadwell Hull said art is something that they need to stay alive. Becoming a painter or a filmmaker was never in their plans, but rather occurred naturally from the manner in which they processed the world, Treadwell Hull said. They want to keep making new things for the world and for themselves as they move forward, they said. Most recently, Treadwell Hull's new experimental film titled "Steves Jobs Jr." has been released throughout this week in segments with the script set to be published later this week.
"I know that if I'm going to be somebody in this world, I'm going to be making art because it's just what I have to do," Treadwell Hull said.