Student organization empowers pediatric patients, families through storytelling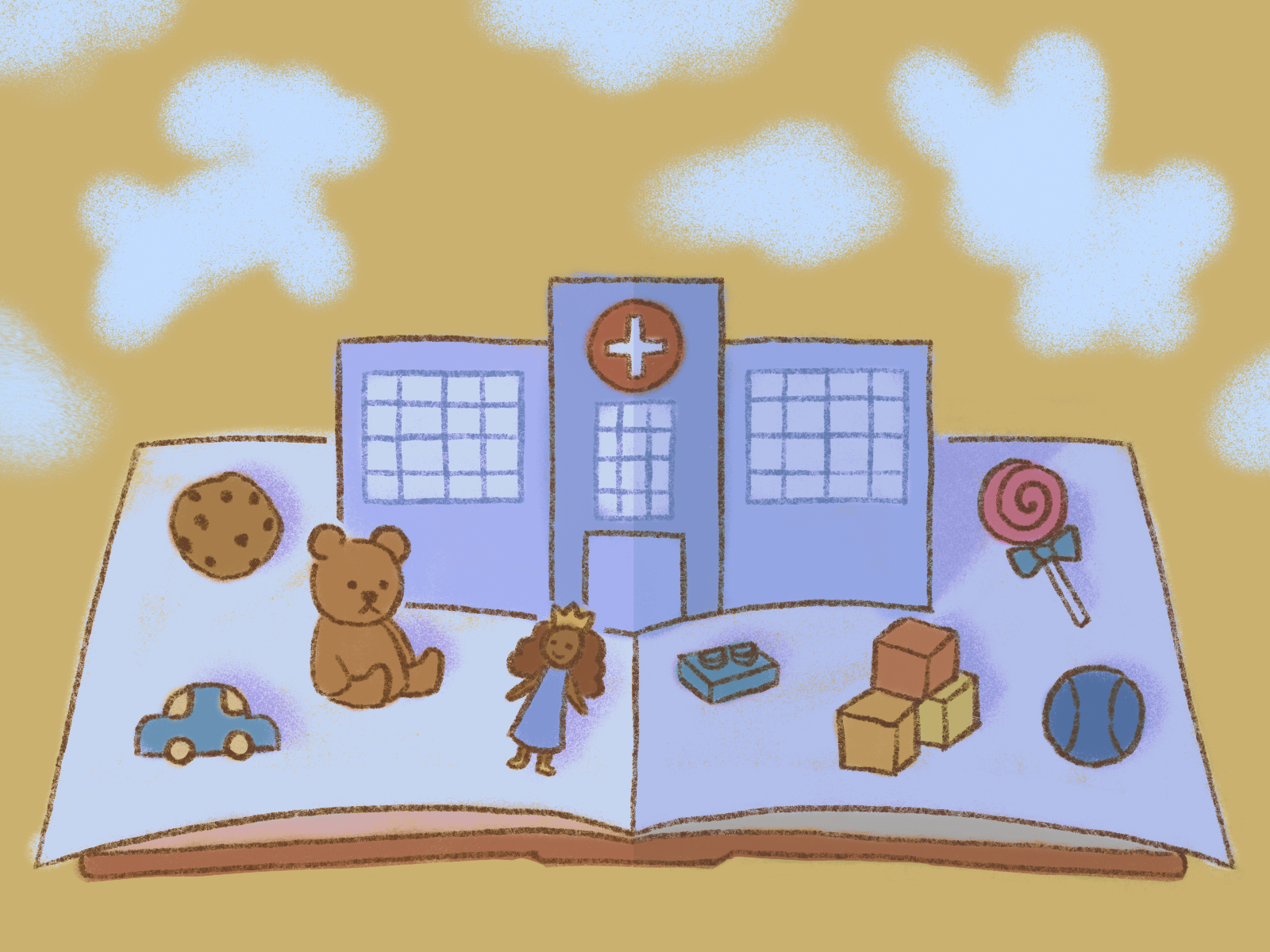 By Isabella Lee/Illustrations Director
Through colorful children's storybooks, Pages for Pediatrics is drawing inclusivity for young patients.
Founded in spring 2021, Pages for Pediatrics is a student-run organization at UCLA that aims to write and illustrate original children's storybooks that focus on pediatric illnesses and disabilities, said president and founder Rujuta Sathe. The club uses child-friendly terminology and an appealing design, she said, to portray the realities of pediatric patients with certain illnesses. Sathe said their goal is to elicit hope and comfort in children and their families who might be experiencing anxiety and loneliness in the hospital environment.
"What we really want to do with our books is to advocate for disability representation within the pediatric community," Sathe said. "We want to normalize patient adversity and empower pediatric patients."
A visual learner growing up, the rising fourth-year molecular, cell and developmental biology student said she found the simple nature of children's stories to be a helpful medium for her to learn and understand her surroundings. Sathe said the children's books she read helped her find her voice, and so she wanted to raise awareness of pediatric disabilities through the creation of her own children's books, considering there is a lack of such content.
[Related: Student organization seeks to alleviate ailments through artistic expression]
To be more comprehensive about a patient's experience, Sathe said the writing and editing team does not base their stories on a single patient. Instead, they review multiple testimonies from patients, support organizations and family members. With the amount of research and drafting, it can take at least an academic quarter to write the manuscript for one book, said Isha Maniyar, the co-chair of the writing and editing committee.
A rising fourth-year molecular, cell and developmental biology student, Maniyar said their team sends completed manuscripts to experts in a specific pediatric condition that the book focuses on to ensure that their story respectfully represents the community. For instance, before Pages for Pediatrics completed their second book "The Giraffe That Stood Tall" this June, they consulted with Little People of America, a nonprofit organization that acts as a support system and resource for people with dwarfism and their families.
"(The organizations are) there to look over our story to make sure that it accurately represents disability, but also being mindful of being inclusive and using the right terminology when addressing it because it can be a very sensitive topic to write about pediatric conditions," Sathe said.
Since their stories focus on dismantling the stigma surrounding pediatric illnesses and disabilities, their books mostly revolve around the emotions and experiences that are specific to the community, said Joshua Binder, co-chair of the writing and editing committee and rising fourth-year neuroscience student. He said the team spends weeks researching the ins and outs of a certain condition, ranging from symptoms to its effect on a patient's social interactions.
The team also recognizes how the books are meant for a younger audience, said Valentin Nguyen, a rising fourth-year design media arts student and former creative design chair. For the art to be child-friendly, Nguyen said they try to make their illustrations as colorful as possible while avoiding the use of dark colors. Nguyen said in addition to the book's contents, her team is also responsible for designing the front and back covers as well as the book's copyright language.
Partnering with the self-publishing company BookBaby, Pages for Pediatrics produced a total of 45 copies for their first book and 66 copies for their second book, Sathe said. Depending on the topic of the book, Sathe said she would get in contact with a facility that specializes in the illness and disability that is being discussed to distribute the book to patients. For instance, she reached out to orthopedic centers at different hospitals to donate their first book "Tommy and the Twig" because it was about patients living with prosthetics, she said.
[Related: Dance Marathon 2022 fights pediatric AIDS with in-person fundraising event]
In terms of financing the book, Sathe said they relied heavily on fundraisers so that hospitals could receive their books for free. Pages for Pediatrics has donated to a variety of hospitals, but they usually donate to UCLA Health, Cedars-Sinai Medical Center, Lucile Packard Children's Hospital and UC San Francisco Health, she said.
To continue supporting pediatric patients and their families, Binder said the club has another initiative called "Pamphlets for Parents," which provides a list of resources, information and testimonies for certain pediatric conditions. He said the pamphlet is available through a QR code located on the back of their storybooks – this strategy ensures that the pamphlet is accessible to parents who need the information the most.
"Parents deserve the best too, because they're doing their best to give their kids the best support," Binder said. "So why not do the heavy research of trying to find the resources that are the most well established, effective and helpful and bring those directly to parents?"
As the organization continues its endeavors in promoting inclusivity for pediatric patients, Sathe said she hopes their books not only empower patients but also other children who could potentially become their peers and playmates. In expanding their reach, she said the organization aims to also distribute its books to schools to help inform and educate people on disability awareness among children.
"By teaching children to be more inclusive of these conditions as they grow up, we're ultimately helping future generations and future societies … to be more accepting of this topic," Sathe said.