The Quad: Bruins explore forms of self-expression through artistic endeavors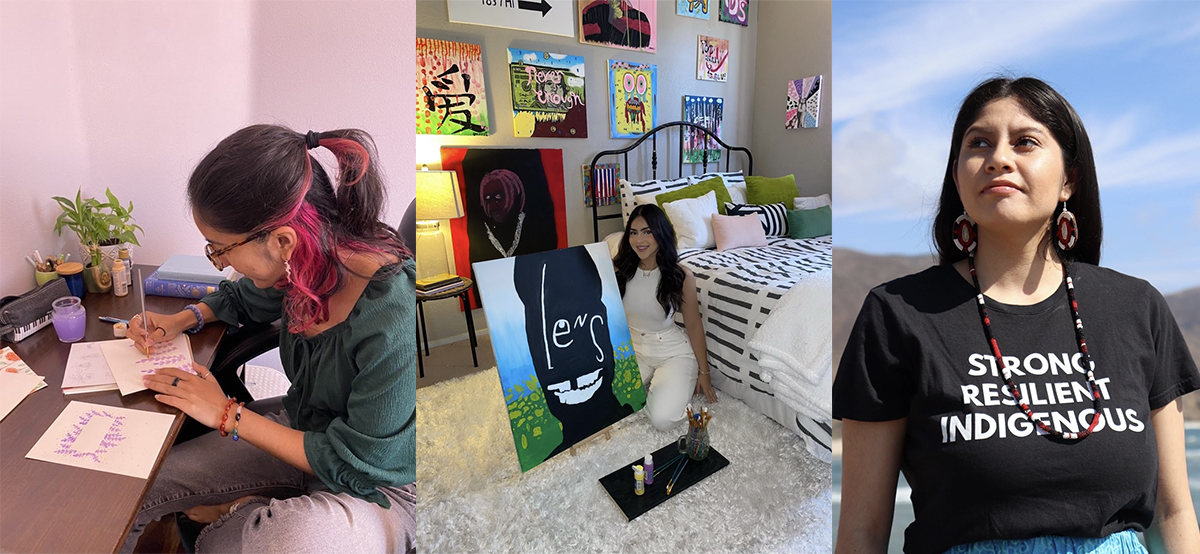 Student creators Sakina Rashid, Noora Mojaddedi, and Desirae Barragan reflect on how art has played a role in their lives. (Left to right: Courtesy of Munira Rashid, courtesy of Maleha Mojaddidi, courtesy of Edgar Barragan)
Discovering unique means of self-expression is often a central experience for Bruins. Some students utilize art in particular as a form of stress relief, a step to launching their own businesses or a way to channel their personal passions into tangible creations.s
Regardless of how long they have been creating art or what medium they prefer to use, many Bruin creatives have a unique and special relationship with art. To broaden their work's reach, some seek out opportunities to sell their art on Bruin Walk or Etsy.
Rising third-year neuroscience student Sakina Rashid said she recently created an Etsy shop called "Dream of Moonbeams," where she sells custom digital portraits and cards. Although her small business was launched just this year, Rashid said she has been creating art for a long time.
"I've been doing art for a really long time, but it's been hard for me to stick to one consistent medium," Rashid said. "So I've gone through a lot of things, but I've just enjoyed creating things traditionally, like with my hands, and painting."
According to a study conducted on first-year college students, making art can reduce anxiety levels before final exams.
Rashid added that art has had therapeutic effects in her own life.
"Art is mainly used for me as a break and an emotional outlet because it's nice to be able to have something to show at the end of my work," Rashid said.
Noora Mojaddedi, a rising third-year psychology student, said she dedicates time to painting canvases in a unique way, pursuing projects such as designing album covers outside of class.
"I know a lot of artists have only specific colorways or canvas sizes, but I feel that the different sorts of sizes and colors and textures that I use honestly are the main ways I portray my sense of creativity," Mojaddedi said.
Mojaddedi added art can serve as an emotional outlet for her and other students.
"I feel like (art) was just the best outlet," Mojaddedi said. "It's not an essay. It's not any prompt that you need. It's just your mind and your hands."
Students can also form intersections between art and other passions or causes they find important.
Before transferring to UCLA, Mojaddedi said she served as president of her college's art club, where she helped revive the club's "Art Walk" to give students the chance to showcase their work. The proceeds from her artwork went to the Mental Health Foundation.
"I decided to donate to the Mental Health Foundation, and I think that it was a full circle moment, " Mojaddedi said. "Investing my time in art throughout my life had pushed me to be interested in advocating for other things I'm passionate about, like mental health awareness."
For some Bruins, art and advocacy can be two sides of the same coin.
Desirae Barragan, a rising fourth-year American Indian studies and human biology and society student, created her small business Coastal Desires, inspired by her Native heritage growing up along the California coast. Barragan said the ocean holds strong significance for her as an enrolled member of the Gabrielino Band of Mission Indians of Southern California.
"The coast, ocean, has a strong significance within my upbringing, … my ties to my tribal community whose land occupies the Los Angeles region and the Southern Channel Islands," Barragan said. "With my jewelry, I like to incorporate the traditions and … cultural values that I've been taught and incorporate traditional materials."
For Barragan, making jewelry is not just a form of expression but also a way to pass on a greater sense of appreciation for Native American culture to the larger community. Amid cultural appropriation of Native American art by fast fashion brands, Barragan added the importance of honoring art's purpose and beauty is at the core of Coastal Desires.
"Sometimes Native American art can be a tricky subject because often fast fashion and mass production overseas can recreate Indigenous designs," Barragan said. "That art loses its purpose and connections that it has to many communities."
For some students, creative outlets can have a place both in and outside of the classroom. Belonging to a community of creatives may ignite self-discovery and produce extraordinary results, highlighting the value of art appreciation on college campuses.
"It's really great that UCLA feels like a space that really appreciates the arts," Rashid said. "I feel like even a lot of people I know that aren't artists do understand the value of art and different kinds of art."