The Quad: Summer break allows Bruins to explore hobbies, including added cognitive benefits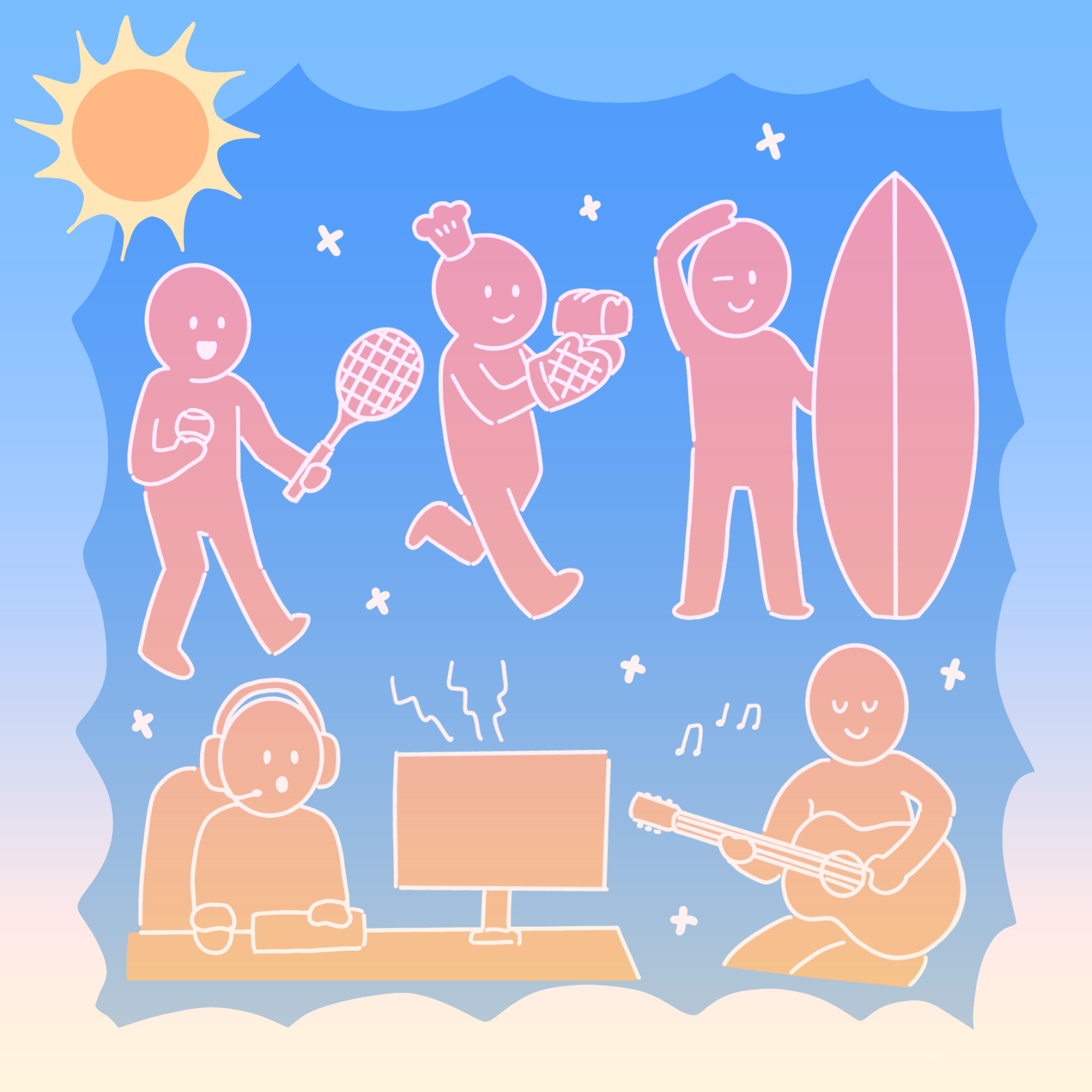 (Isabella Lee/Illustrations director)
This post was updated on 8/14/2022 at 8:03 p.m.
Between classes, jobs and extracurriculars during the school year, many Bruins can't catch a break – or at least one long enough to pursue hobbies. However, despite commitments continuing on into the summer, the season's calmer pace has allowed many Bruins to pick up new hobbies or continue old ones.
Rising third-year civil engineering student Kristine Ly said the summer's slower pace is a contrast to the hectic school year, and thus can open up more time for exploring interests.
"I think that when in the summer, it's really nice to kind of get away from just how bustling UCLA is and how it's very go, go, go," Ly said. "So I like these activities a lot because it kind of makes my life slow down a little bit, and I can feel fully relaxed when, whenever I'm crocheting or gardening, it's something very peaceful to me."
For Ly, her time off from work, along with the slower pace of summer, has allowed her to pursue fun projects with crocheting such as a Harry Styles-themed blanket.
Beyond serving as a fun pastime, hobbies hold a multitude of benefits ranging from overall peacefulness to boosting mental stamina.
Psychology professor Alan Castel, who directs the UCLA Memory and Lifespan Cognition Lab, said hobbies can improve cognitive function through the usage of different operators of the brain.
"I think we learned, especially during COVID, when we have free time, when we wanna change our routines, picking up a new hobby can be especially beneficial," Castel said.
According to The New York Times, chemicals such as endorphins, norepinephrine and dopamine are released in the brain when individuals direct their attention toward a hobby. This can lead to higher levels of energy and concentration carrying over to other aspects of life, such as work.
Some students find that balancing hobbies and their workload during the academic year can be challenging.
Rising second-year mathematical economics student Raymond Durr said high levels of academic rigor can make certain hobbies less enjoyable.
"Reading isn't a new hobby, but it's definitely not one that I would be doing in the school year, at least not consistently, just because there's just so much reading and general learning that you do in the school year," Durr said. "It feels like it's overblown."
However, amid an increase in free time during the summer, Durr said he began reading self-improvement novels such as "Atomic Habits" and "How to Win Friends and Influence People."
Although Ly and Durr have found joy in crocheting and reading, they also hope to add exercise to their list of hobbies. According to the Centers for Disease Control and Prevention, exercise improves the brain's cognitive ability. The CDC recommends at least 150 minutes or at least two and a half hours of exercise weekly in order to reap these benefits.
Playing a musical instrument is another activity that can boost the brain's ability to plan and process information, even in old age.
According to a study conducted by the University of Pennsylvania, playing an instrument can engage various parts of the brain, including the peripheral nervous and sensory systems.
Durr added that the summer is an opportune time to learn new hobbies, seeing as how Bruins are often left juggling multiple responsibilities during the academic year.
Once the school year returns, students will likely have less time to enjoy their hobbies or experiment with new ones. But in order to continue gaining benefits from summer hobbies, Castel said taking small breaks to pursue a hobby can ease feelings of stress.
"You can try and do something for 10 or 15 minutes as a study break and then come back to it a few hours later," Castel said. "Knitting, juggling, a musical instrument can be things that don't always require large amounts of time or moving to new locations."
On the bright side, there is almost an infinite amount of possibilities when it comes to potential hobbies for students to pursue.