The Quad: How Bruins balance being booked over UCLA's summer break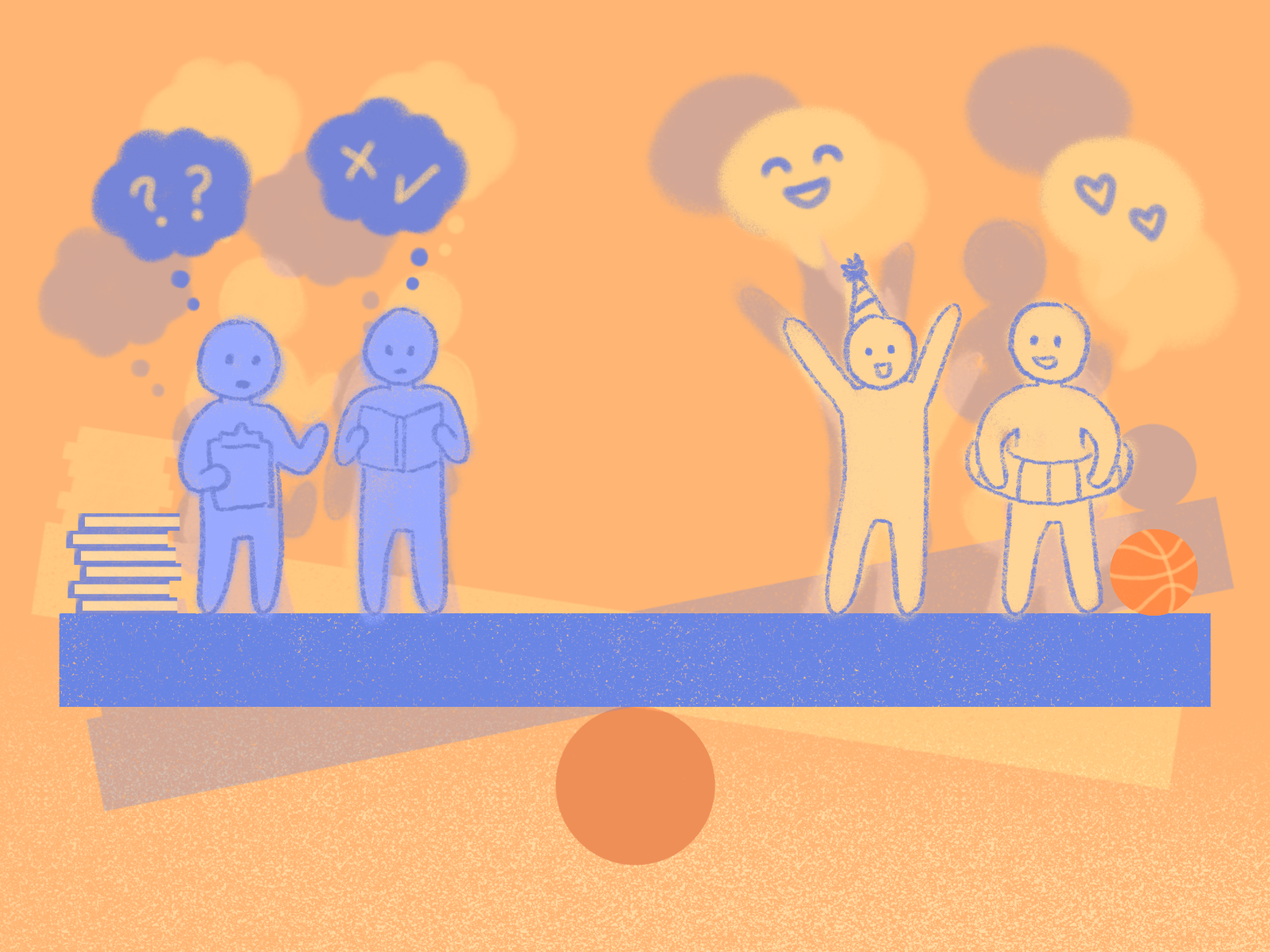 (Isabella Lee/Illustrations director)
This post was updated August 7 at 10:18 p.m.
While some students may take the summer to travel as far as they can from school, other Bruins are using the relaxing season to take on a variety of responsibilities.
Whether it is through research, classes, jobs or a combination of the three, many students are spending their summer days learning to balance a packed schedule.
Rising third-year human biology and society student Jenna Yao said managing her time with everything she planned for herself in the summer comes with its challenges.
"The hardest thing is obviously making time to relax and also not being too carried away by it because obviously there's still things to do," Yao said. "It's hard to find that balance between not overworking yourself but also trying to stay focused, trying to finish up what you have to do without falling behind."
For some Bruins, finding such a balance may involve taking frequent breaks, whether during studying or working.
According to a study conducted by University College London, taking breaks in between studying can increase students' memory, health, energy and ability to focus.
Furthermore, it is also important to recognize that quitting a certain activity doesn't equate to failure but can actually prolong better health, according to The New York Times.
Rising third-year communication student Zachary Ashkar said he has learned from past experiences how to manage his time more efficiently without dropping commitments like he did in the past.
"I think I learned a lot more about how to manage my time because … now I can apply that (what I learned) to not let the stress get to me," Ashkar said. "To make sure that … I'm not stressing myself out too much to the point where I'm … having to quit my job or drop out of the summer courses."
Juggling one's responsibilities can become overwhelming, but students said learning how to effectively do so can help avoid stress.
Rising third-year neuroscience student Pranav Kadiyala said prioritizing certain tasks can be an effective approach to managing multiple responsibilities.
"If you have a packed summertime, then come up with a bit of a schedule, or try to plan things in advance," Kadiyala said. "When you have a bit of a plan, you have an idea of how much time you're going to take, then you can start to budget."
For Yao, having a strong mindset and not taking on too many responsibilities helps her manage her workload while also enjoying the summertime.
"Getting rid of that mentality of having just to do as much as you possibly can … because you do burn out pretty quickly if you do that," Yao said. "I would say the best advice is just to kind of plan things out well and, honestly, just don't overload yourself."
Shannon Li, a rising third-year mechanical engineering student, said that while it has been strenuous to adhere to different deadlines and timelines in her research work, being open to more opportunities has been beneficial.
"You have more time than you think you do," Li said. "Sometimes, it just takes saying yes to a few things. … Then you start doing other things more efficiently, and then you end up having more time for everything."
Kadiyala said the expectations students set for themselves during the summer can determine how worthwhile their experiences are. For instance, some Bruins may find joy and excitement amid a busy summer, even if that means sacrificing some things.
"Part of it (balance) is managing your expectations. So if I came into the summer and was like, 'I'm going to travel all over the place, and I'm going to go out every weeknight and do this and that,' then of course I'll be disappointed by summer," Kadiyala said. "But I'm still getting fulfilled because I like my research. I like volunteering."
Li added that taking the time to enjoy hobbies is equally as important as studying as a way to focus on life outside of school.
"If I get a chance to doodle or do some painting or reading. Listening to music is always a good one. … Going to the gym, exercising regularly has been good," Li said. "Remembering that we can't do anything if your body is not taken care of – if you're not getting enough rest, if you're not doing things that make you happy on the side."
Spending time with friends and family may also provide support for students with packed schedules and minimal wiggle room, said Ashkar.
"It's really hard to find time for friends, but I would find, like, one day where … I would be able to finish all my schoolwork and didn't have work that day to go out and maybe just get a quick lunch or a quick dinner with them," Ashkar said. "I think just being able to see them even just, like, once a week, having that to look forward to made it easier to manage my time."