Student Lily Glantz warps reality with abstract, digital elements in artwork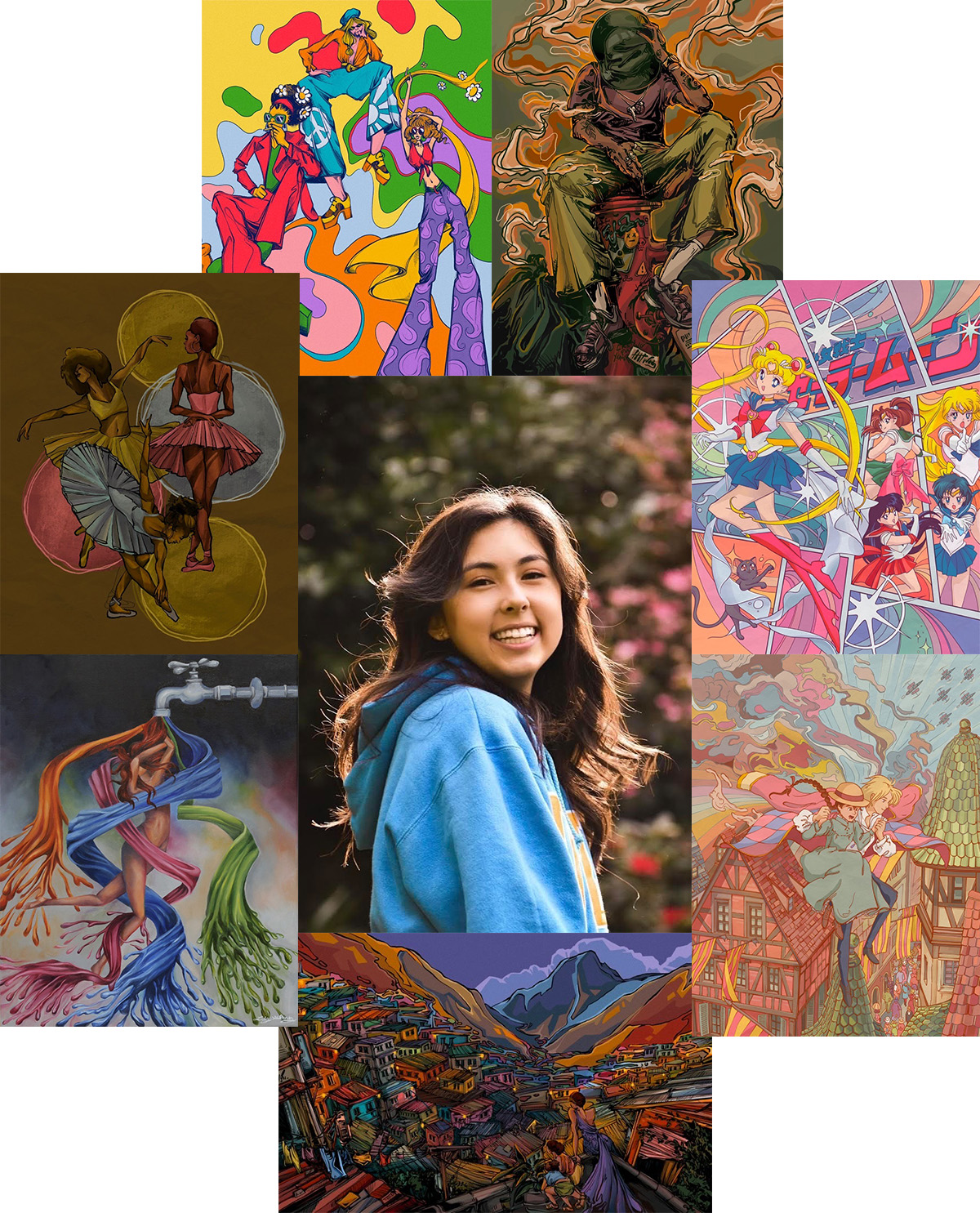 Rising third-year civil engineering student Lily Glantz is pictured surrounded by photos of her various artworks. With her digital works, Glantz creates pieces based in realism but that also feature abstract elements. (Courtesy of Lily Glantz)
This post was updated July 24 at 9:37 p.m.
Lily Glantz is broadening her paint strokes on a virtual canvas.
Through physical and digital mediums, the rising third-year civil engineering student offers a more abstract twist on traditional realism in her artwork. Originally trained in traditional art theory such as still life, which is realism that depicts inanimate objects found in the real world, Glantz said being in college inspired her to utilize the same artistic techniques but experiment with different styles, such as drawing and painting abstract facial expressions and exaggerated movements.
"Being exposed to the artistic community at UCLA, I feel like I was really inspired by other people's approaches to the same art technique that I had grown up learning, but they put their own twist on things," Glantz said. "Being surrounded by a creative community really helped me break out of my shell and helped me experiment with styles that are a little bit more abstract and strayed away from realism."
The medium that inspired Glantz to branch out from traditional styles was her exposure to different animes, including those produced by Studio Ghibli. Currently, Glantz is exploring a style that she said is defined by realism but adds an animated quality to the piece. She said she accomplishes this through either the color palette she uses or by exaggerating portions of specific images or details within the piece that resonate with her.
[Related: Alumna expresses her emotions through digital art on self-made website]
One of Glantz's most personally meaningful pieces is an experimental rendition of her own kitchen, she said. Although Glantz said she based the painting strongly on a realistic depiction of the kitchen, she distorted the visuals with a nontraditional color scheme and contorted depth. For Glantz, the thought process behind certain stylistic decisions in the visual distortions heavily relied on what she wanted to personally emphasize in the work.
"I wanted to put a twist on it by choosing my own entirely unrealistic color palette and warping the surroundings of it," Glantz said. "But if anyone were to look at the piece, it still looks like my kitchen. It's just my own artistic style applied to it. I feel like I express myself through my color palette and through my little twist on reality."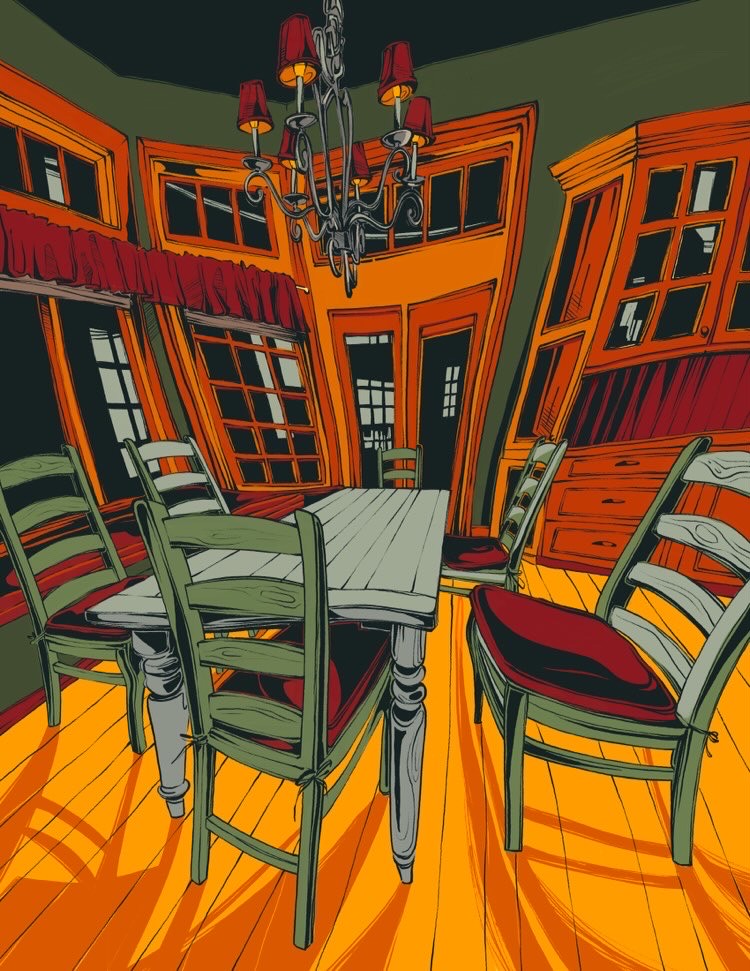 On a technical level, Glantz said one of her approaches to attaining a more animated quality is through her use of an iPad. She said the digital art she creates on the iPad allows her to effectively carry out her ideas by using the online software for different projects that could not be done on canvas because of expanded color palettes.
In addition to her experimental work, Glantz said the artistic community within fashion magazine META has also influenced her personal style with its opportunities to showcase her work and collaborate with other creative minds. Rising third-year history student Mia Fong – a friend of Glantz and a colleague in META – said Glantz's contributions to the magazine's biannual editorial publication saw the artist play with a wide range of color palettes for each illustration and its corresponding theme, demonstrating the flexibility of Glantz's signature style.
"Even though a lot of her more recent pieces are more digital, like done through Procreate on this iPad, (all of Glantz's works have) the same type of quality and the precision of her lines," Fong said. "She's able to create these realistic scenes that are also so immersive and dreamy and so true to the theme that she's trying to encapsulate."
[Related: Student crafts personal empowerment through fashion focused on the feminine]
Rising third-year bioengineering student Anna-Marie Guenther said Glantz's art goes beyond her pursuit of personal fulfillment. For instance, Glantz used her art to fundraise for many student events and causes on campus like Lunar New Year and Asian American and Pacific Islander Heritage Month, Guenther said.
Ultimately, Glantz said constantly working on her art gives her solace throughout the stress of college as she can always turn to it for recuperation. For Glantz, art creates a space where she can shape a reflective image of her life and experiences to share with others, as the subjects of her pieces are always inspired by photos that show something or someone deeply personal to her.
"Every single subject that I use in every single one of my pieces is inspired or is taken from either a photo on my camera roll or some photo that I've saved," Glantz said. "A lot of those photos are either photos of friends or photos of family members or photos of things that are just deeply personal to me, … and I think that it's very special to have."