Album review: Lizzo's 4th studio album 'Special' is ready 2 Be Loved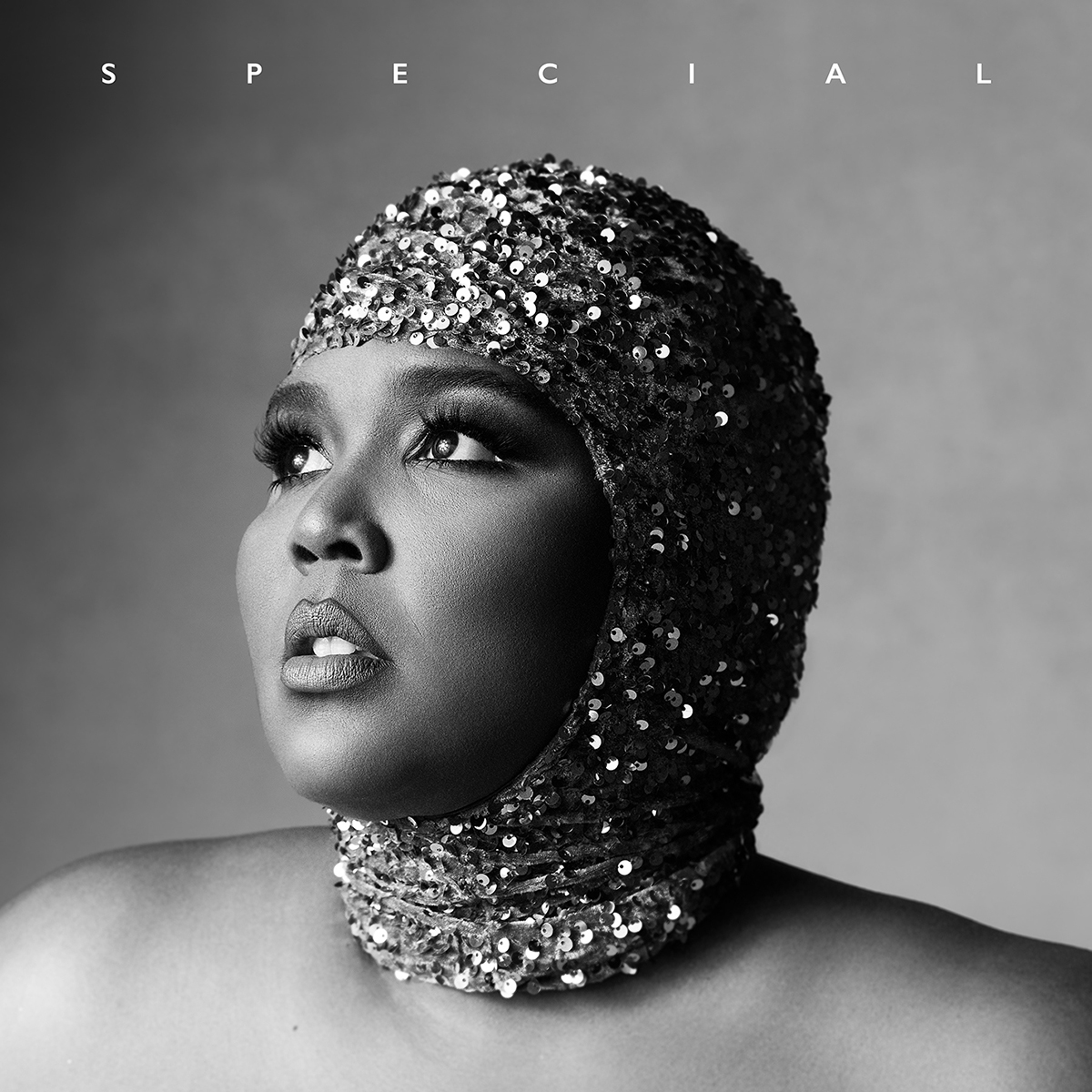 A black and white photo of Lizzo gazing upward serves as the cover for her latest album, "Special." The singer released her fourth studio album Friday. (Courtesy of Nice Life/Atlantic Recording Corporation)
"Special"
Lizzo
Atlantic Records
July 15
This post was updated July 17, 2022 at 10:45 p.m.
From reveling in holidays to embracing love in all its forms, Lizzo's latest album encompasses all that is special.
Three years after dropping "Cuz I Love You," the pop-R&B singer is back with her fourth studio album, "Special." With songs ranging from empowered anthems to vulnerable yet romantic confessionals, Lizzo hones in on the greatest loves in her life with endearing lyrics celebrating romantic partners, friendships and even herself. While some tracks feel more authentically tied to this narrative than others, groovy, genre-bending records set the soundtrack up for success as they accompany the singer's expansive exploration of themes such as self-worth, confidence and openness to love.
Beginning the album with an energetic welcome, Lizzo humorously asks, "Did you miss me?" as she begins to list her quarantine hobbies of dancing and making smoothies in the opening track, "The Sign." Initially dominated by a single echoing, unmemorable beat, the song's lackluster production feels less intentional in execution compared to other tracks' effective sonic blends. However, in line with Lizzo's campy greeting, the song's brazen lyrics and breathy, catchy bridge provide an engaging, high-octane introduction that foreshadows the energized nature of the rest of the album.
[Related: Album review: "CALL ME IF YOU GET LOST" explores chaos of introspection]
This high-spirited nature is maintained in subsequent tracks such as "2 Be Loved (Am I Ready)" as Lizzo sings honest, hopeful lyrics to an upbeat, nostalgic backing. While verses lack variety as Lizzo continuously asks if she is ready to be loved, the singer's relentlessly optimistic vocals paired with an elevating sound provide a track still worth dancing to.
However, the stylistic pairings found in "2 Be Loved (Am I Ready)" fall flat when mimicked in other tracks such as "I Love You Bitch." Serving as a backdrop to its verses of adoration, the record offers backing riddled with synth instrumentals that, while initially pleasant, lose their charm as the song progresses. By the arrival of the chorus, lyrics simply repeating the song's title set atop disco-inspired production leave the song feeling more akin to a late night parody of a love song rather than a genuine romantic ode.
While other early tracks such as "About Damn Time" and "Grrrls" offer memorable, empowered anthems, "Special" provides its most effective emotional punches in the album's slowed-down latter half. This style provides a renewed sense of vulnerability in Lizzo's narrative of self-worth, ultimately granting the singer more opportunities to showcase her vocal range, exuding ease as she alternates between mighty belts and more expressive crooning.
Through this emotive shift, Lizzo adopts a more sultry tone in tracks such as "Naked" and "Breakup Twice." Whereas "Naked" employs a more stripped-down feel, aside from a sensual guitar solo at the track's climax, "Breakup Twice" opts for funk-filled instrumentals. As she suavely sings, "Boy, you know you better/Watch out/'Cause boy you know me better," Lizzo inventively interweaves verses from Lauryn Hill's 1998 track "Doo Wop (That Thing)" with her own lyrics that focus on reviving a tumultuous relationship.
With "Birthday Girl" and "Everybody's Gay," Lizzo returns to the exuberant tone employed in the album's early anthems. Despite lacking the emotional depth of surrounding tracks, the songs remain fun and dance-worthy through their respective holiday-inspired elements. While "Birthday Girl" focuses on Lizzo's celebration of her longtime female friends, "Everybody's Gay" takes an unexpected Halloween-themed turn. Following an opening sonically reminiscent of Michael Jackson's "Thriller," Lizzo pays homage to the spooky season with clever puns interwoven throughout the LGBTQ+ anthem.
[Related: Album review: Drake displays stagnant artistry, overdone themes in "Certified Lover Boy"]
As the album reaches its closing moments, Lizzo finds her voice at its most vulnerable with "If You Love Me," the penultimate track. Through the use of raw lyrics and a less restrained vocal structure, Lizzo shifts between high- and low-pitched vocalizing, effectively communicating both tender pleas and confident declarations. Paired with less extravagant production than previous tracks, Lizzo instead provides sonic flare through emotionally charged runs as she sings of her partner truly loving her by recognizing and appreciating all parts of her.
In line with the authentic, romantic nature of "If You Love Me," Lizzo has saved the best for last with "Coldplay." While its opening – a sped up sampling of Coldplay's "Yellow" – is somewhat audibly jarring, Lizzo quickly transitions into her most descriptive lyrics yet, detailing her favorite memories with the love of her life alongside charming jazz piano. Through its ascensional nature and summative tone mirroring an epilogue, the track serves as a deeply satisfying and comprehensive conclusion to Lizzo's free and bold exploration of human connection.
As Lizzo retains her confident charm while offering new layers of vulnerability, there is much "2 Be Loved" about "Special."