The Quad: Students experience all Los Angeles has to offer in the summer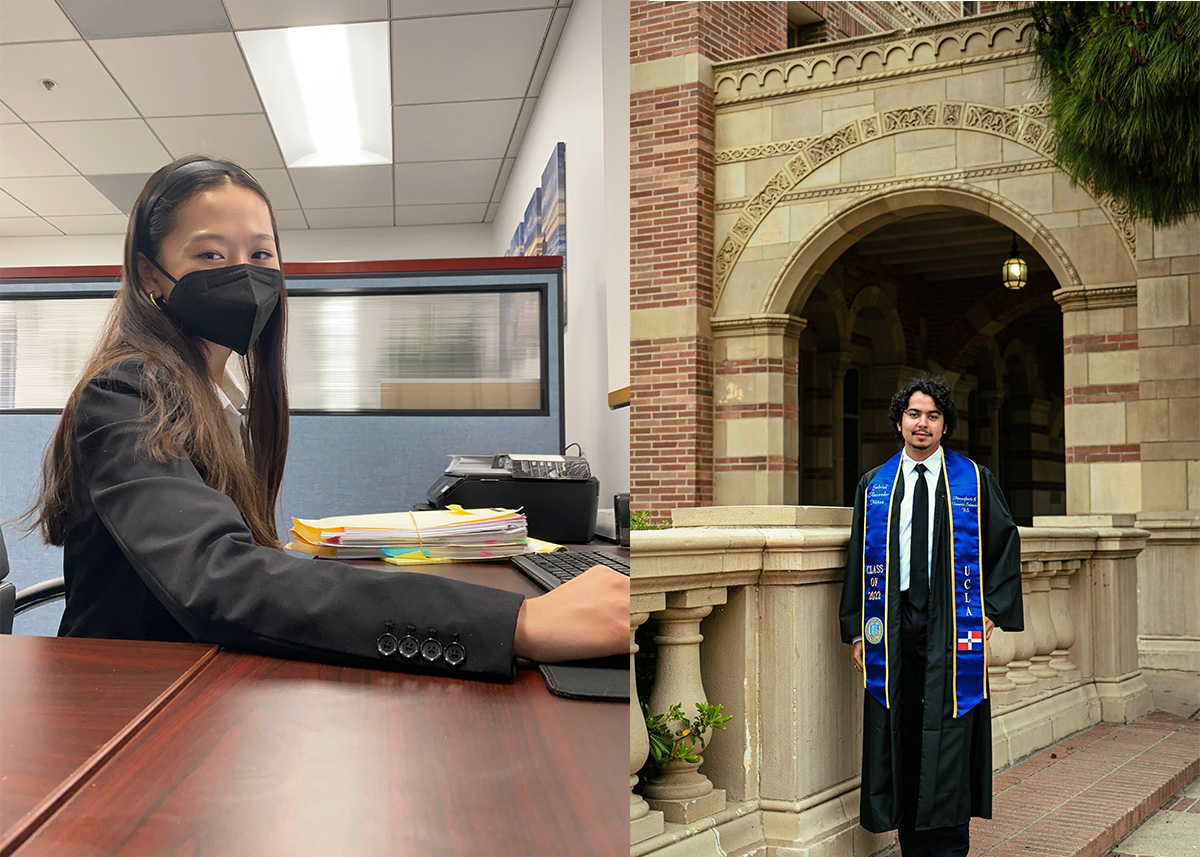 Students Allison Lee and Gabriel Nuñez reflect on their work opportunities and course load this summer in the greater Los Angeles area. (Courtesy of Allison Lee and Kayla Sanders)
This post was updated July 24 at 8:24 p.m.
Following the end of spring quarter, summer internships, classes and jobs kick into gear. While some students returned home for the break, others are sticking around to build their résumés and experience Los Angeles in the summertime.
LA and its surrounding areas present a unique opportunity for UCLA students, with their thriving entertainment, transportation and tourism industries, according to the LA County Economic Development Corporation.
But beyond just the fun, there are many professional and academic opportunities for students to take advantage of around the city.
Summer classes are another option for Bruins, who can complete course requirements to make their workload more manageable during the academic year or to simply explore novel courses and topics. UCLA offers more than 800 in-person courses during summer sessions, not including the many online courses also available for students outside the area.
Kevin Arifin, a rising fourth-year education and social transformation studies and psychobiology student, said taking classes over the summer helps alleviate stress for the upcoming school year.
"Because I'm a double major and a minor, just doing it now makes my life during the school year a lot easier and also solidifies that I don't have to take any (classes) next summer and stay over the four years," Arifin said.
Exploring future career paths and various industries through internships is another common reason UCLA students stay close by over the summer.
Some students may choose to take on unconventional internships to explore the convergence of their interests across multiple fields, such as rising third-year human biology and society student Allison Lee. Lee said she is interested in the intersection of law and biology and her internship in LA is helping her explore a career in public health policy.
"I see it as a really good opportunity to really decide on a career path and see if I want to attend law school after graduating from UCLA," Lee said. "For me, it was really important to be able to … try out working in a law firm so that I know now if I do like it or I don't like it."
Students staying in LA over the summer are also able to take advantage of the many experiences available to them throughout the city, including the 626 Night Market in Santa Monica and picnicking at the Hollywood Bowl.
Gabriel Nuñez, a rising fourth-year atmospheric and oceanic sciences student staying in LA over the summer, said he alternates the days on which he works and those on which he goes out with friends to make the most out of his time.
"One thing that I do is … oscillate the days that I do homework," Nuñez said. "So then I still have kind of that summer free time, but I'm also still doing what I have to do."
Nuñez added that during his free days when he isn't taking classes or working at his research labs, he enjoys going to the beach and spending time with friends.
"A bonfire at the beach sounds like a great time always," Nuñez said. "So many people also have bonfires so it's just like a whole beach bonfire party."
Likewise, Arifin said while his schedule is packed with extracurriculars, work and classes, he is still finding time to explore the city and fit in activities with friends.
"I'm hanging out with my friends that are still here," Arifin said. "The other day I … did some cooking with some friends. Last weekend I went to a night market with my girlfriend."
Some Bruins are also taking advantage of the city and its prime location to find ways to incorporate their academic endeavors and their extracurricular interests into their summer break.
Lee said she is occupied with her involvement in KBM Dance, a K-pop dance group at UCLA, and trying out restaurants around the area with her friends.
"Some of my UCLA friends and I, we have a shared Google Doc of a restaurant bucket list," Lee said. "So we've been going through that list and trying a lot of new food places, which has been really, really fun."
Lee reflected the sentiments of other students, saying that there is no place quite like Southern California to spend one's summer.
"I love being able to be close to so many awesome restaurants, and I feel like there's always so much to do here," Lee said. "You can go to the beach, you can go to Disneyland (or) Universal Studios, (or) try out a bunch of cool restaurants."