Graduate student discusses process behind multimedia art piece 'Golden Mountain'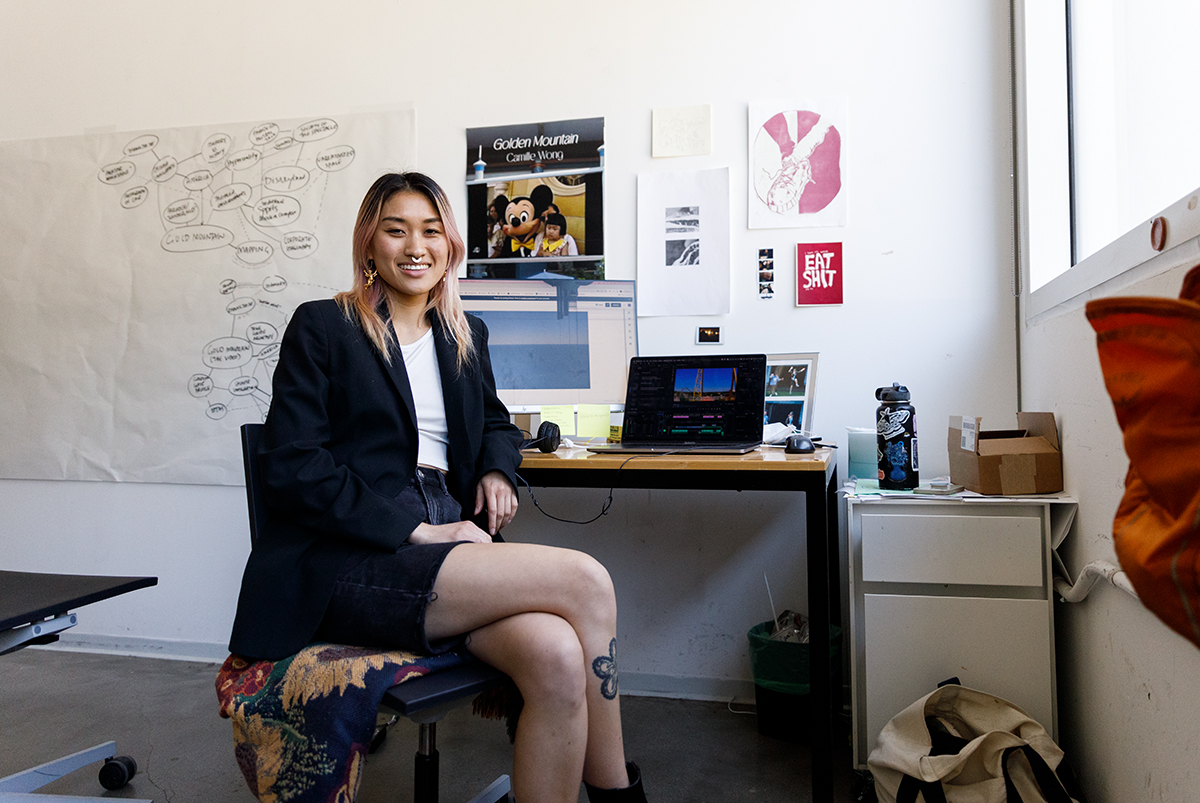 Design media arts graduate student Camille Wong sits at a desk with their computer. As a research-based artist, Wong develops interactive works that explore both digital and physical spaces. (Ashley Kenney/Daily Bruin senior staff)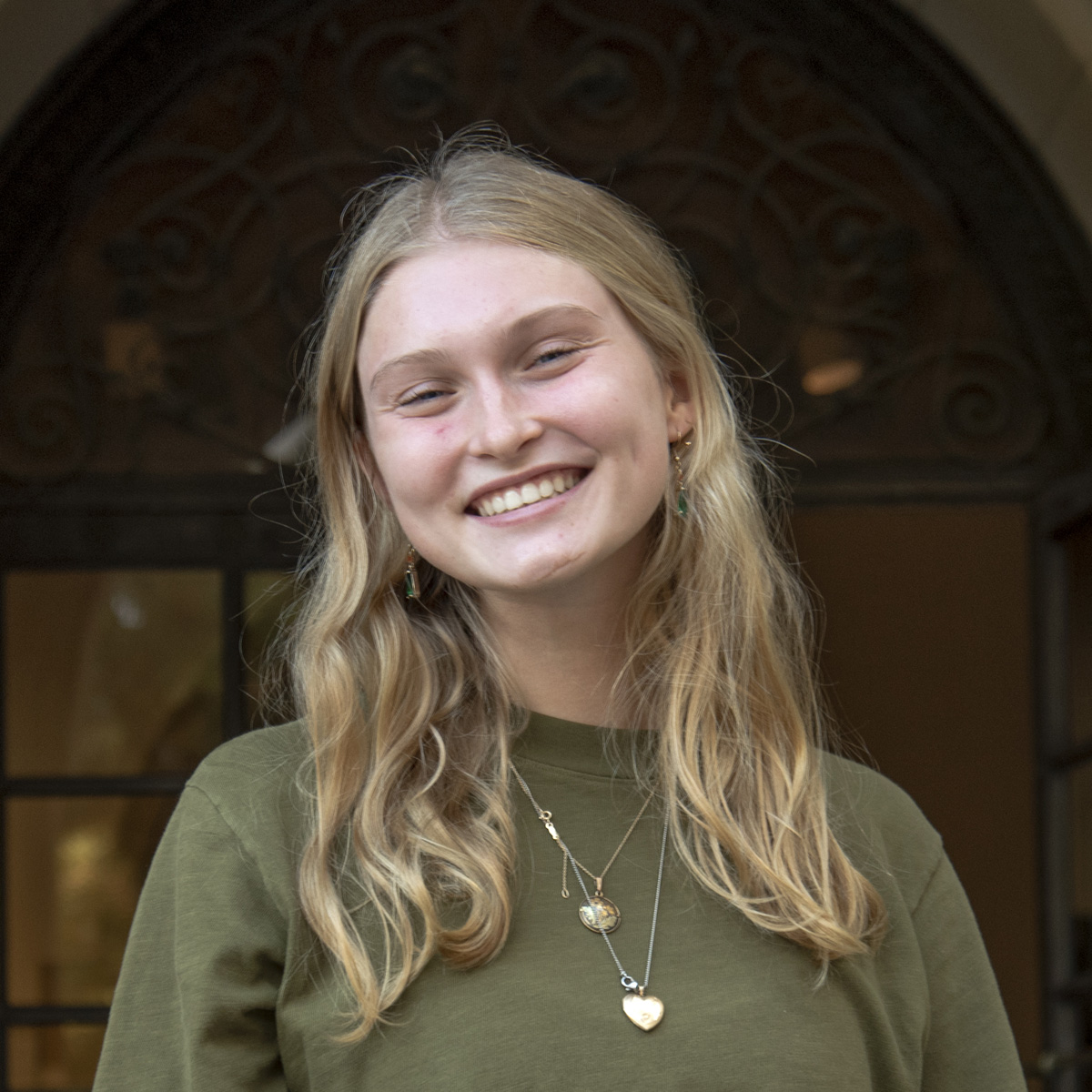 Camille Wong is deconstructing Tomorrowland.
The design media arts graduate student contemplates social spaces, race and class through mediums such as video installations and sculptures. Wong's work as a research artist has taken cues from their undergraduate background in art and environmental studies, influencing their interpretation of digital spaces. While the power pathways within virtual settings mirror those of the natural world, their human-crafted nature offers new avenues of exploration, she said.
"There's so much hidden meaning that goes behind object-making art that it becomes inaccessible for an audience, whereas (with) media-based art, everyone's mostly familiar with the language of the internet, with watching TV, with scrolling on your phone," Wong said. "You already have this knowledge of like, 'Okay, if I sit through this long enough, I might extract a meaning – I might be able to understand through linear storytelling what's happening.'"
As a child, Wong said they were exposed to the visual arts through their grandmother's landscape paintings and now continue their meditative practice in their own work. Wong said the onset of the pandemic led her to create code-based art, as she had the time to learn how to program while distanced from sculpting spaces. Now, Wong said their research dictates the media they employ, navigating interactive websites, writing, sculpture and experimental video pieces.
Wong blends the personal and digital with pieces like "Golden Mountain," in which Wong said she hones in on the power that corporations wield to shape the spaces around them. For the work, Wong said they began with a map-based piece of Anaheim and concluded with a more personal take infused into a three-channel video installation.
[Related: Graduate student commentates on rigid art world through experimental game design]
Instead of moving forward with maps, the finished April solo show was framed by the parallels between Wong's childhood and the history of the Disneyland Resort, considering how a family photograph fed into an idealized United States, similar to how the theme park constructs an American mythos that excludes race and social relations. The three-channel video begins first with Wong employing second-person language, shifting from a tour guide addressing viewers into speaking to herself, she said.
"You're taken on this existential journey of me questioning truth, memory and history," Wong said. "One of the questions that I'm asking you in this piece is, 'Is history that which is written, or is history that which is embodied and collective?' That sets the tone for the whole show because it's an introduction into this themed space in this ecosystem of symbols that I've created."
The subsequent video piece uses spoken word, written by Wong, that centers around the output of a Chinese internet-trained AI, which they said defines paradise as a theme park reachable by eight boats. Wong said she used this answer to draw in the experience of Chinese émigrés, their families and other diasporic communities who must research to fill in the holes of their history fragmented by geopolitical borders. On the other side of the wall, they said archival footage of themselves as a child with their mother plays as the pair navigates the whiteness surrounding them in a further critique of the Disneyland landscape.
For vice chair and professor of design media arts Peter Lunenfeld, "Golden Mountain" works as an extension of Wong's ability to inform without devolving into a didactic format. The dreamlike quality opens up the subject matter – whether that be Chinese American experiences and identity, racial and immigration politics or corporate spectacle – to resonate with various audiences, he said. Across the course of the year, fellow design media arts graduate student Bobby Joe Smith III said he has seen Wong merge through lines of power in social landscapes with more personal narratives.
"One of the big shifts that I've seen Camille go through this year is really embracing the title of an artist," Smith said. "A lot of her work is very heavily focused around research. She starts with research. A lot of artists might do research as a cursory thing to get things flowing, but I think for her, it's really about displaying the research that she has been doing."
[Related: 'Poetic Realities' exhibit to showcase graduate students' projects across mediums]
Considering Wong's background as a sculptor, Smith said he has seen Wong's attempts to physicalize their work through incorporating viewer interaction for video displays and through arranging gallery spaces. Wong said she hopes to engage with a new community in the future, such as diving deeper into the sports world or traveling to the Chinese city Zhangjiajie, which is now recognized by many as the setting of Pandora in the movie "Avatar" instead of for its other histories – a place of survival for Wong's grandmother during the Second Sino-Japanese War.
"Thinking about broadening my worldview, I'm interested in living abroad for a little bit," Wong said. "I've become really disillusioned with the U.S., and so I am thinking about how to expand beyond thinking about a capitalist ideology and framework, to what are other societal models that have existed and are successful and how can I learn from that."
Durgin is a senior staff writer for Arts & Entertainment. She previously served as the Music | Fine Arts editor from 2021-2022 and was an Arts contributor from 2020-2021. She is a third-year English and geography student from Meridian, Mississippi.
Durgin is a senior staff writer for Arts & Entertainment. She previously served as the Music | Fine Arts editor from 2021-2022 and was an Arts contributor from 2020-2021. She is a third-year English and geography student from Meridian, Mississippi.