'Poetic Realities' exhibit to showcase graduate students' projects across mediums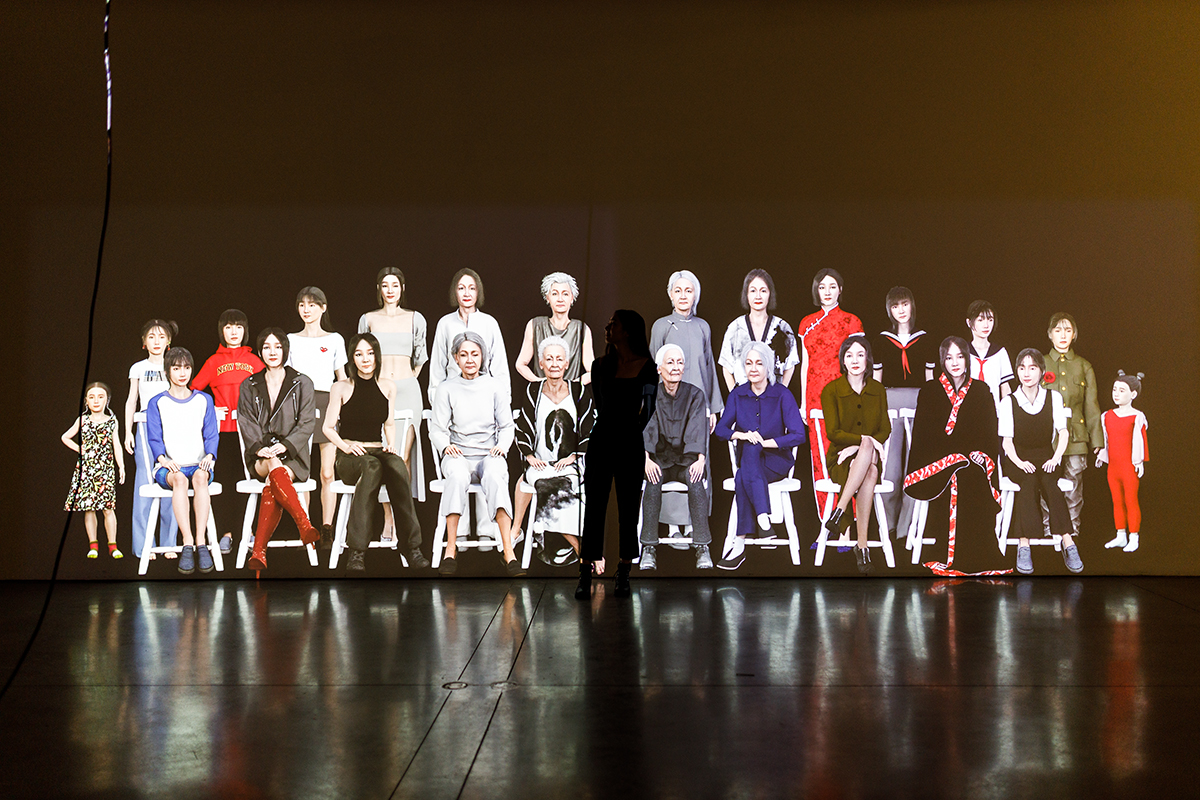 Graduate student Carrie Chen's piece, "Temporal Portrait," displays women of various ages sitting and standing in two rows on a screen. Chen said she used 3D technology and aging software to create versions of herself both young and old. (Shengfeng Chien/Daily Bruin)
"Poetic Realities"
UCLA New Wight Gallery
The Broad Art Center
May 12 to 16
Graduate students are sculpting, designing and building "Poetic Realities."
The UCLA Department of Design Media Arts is hosting its first annual exhibit on Thursday at the Broad Art Center. The exhibit – titled "Poetic Realities" – will feature various works across mediums from graduate students in the DMA Masters of Fine Arts program. Graduate student Leslie Foster said the exhibit is a final opportunity to showcase work at the end of the two-year program, which began with a push for experimentation.
"My practice tends to use film installation, and one of the things I wanted to do at DMA is do more object making," Foster said. "(I'm) combining those elements to create this piece that I'm hoping transports people into a space where they can stretch their imaginations."
"Poetic Realities" was a theme decided on by the cohort as a whole, and Foster said many of the pieces present in the exhibit explore some sort of alternate reality. However, in working through the process of creating an alternate reality, many of the artists had to tackle certain emotions when analyzing the potential futures that arose as a result of the theme, he said.
Conceptualizing his own piece, Foster said, came from the exploration of Afro-pessimism in his first year in the program. Themes of generational trauma are intertwined within the work, which he said is titled "Black Honey (Or An Exuberance of Drapetomania)." The technical aspect of the project combines both film and installation in which he explores the possibility of alternate futures in the Black and queer communities, he said.
"Every time I do a new project, it terrifies me," Foster said. "I was telling one of my professors that one day I'm going to create a piece that doesn't scare me. … But I was like, 'No, I'm not,' because if it's not scaring you, then why are you doing it?"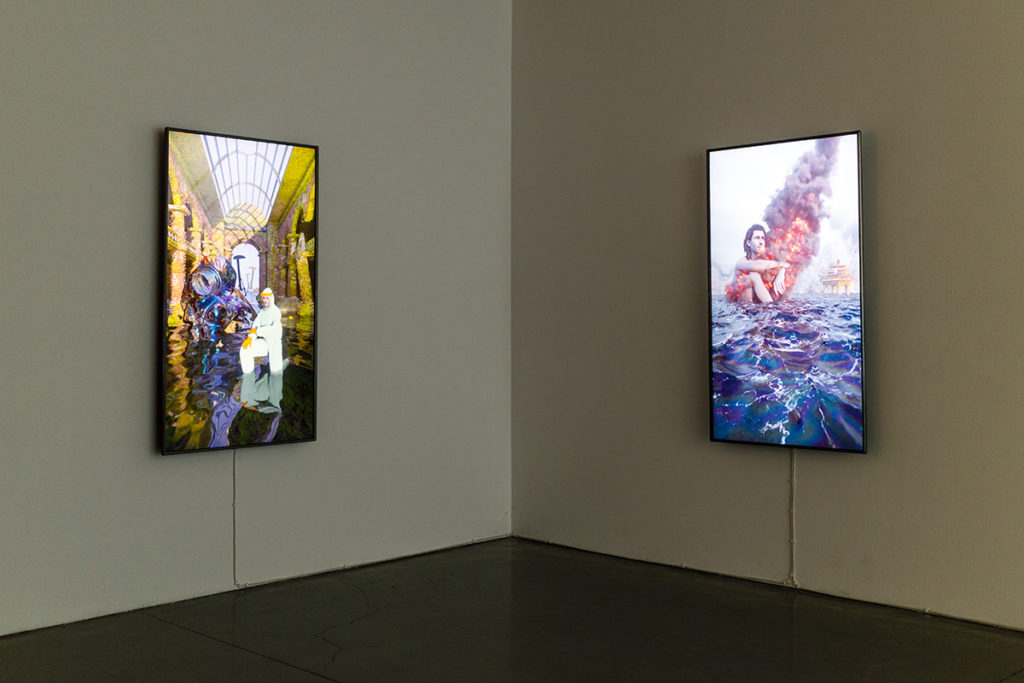 [Related: Virtual Design Media Arts exhibit explores realities, changes during pandemic]
Another artist, graduate student Carrie Chen, said her project "Temporal Portrait" explores the different possibilities of herself. Her piece, a form of self-portraiture, showcases different versions of herself growing up in the United States and China, she said. She created past, present and future versions of herself via 3D technology and aging software and said she pulled from old photographs of family members to imagine what she might have looked like in the past.
One noticeable challenge, Chen said, came from working with 3D models of herself. Since she was using a form of self-portraiture, she said she tried to be mindful when manipulating the models in the creation process. The process of physically manipulating her image via this 3D model became an empathy exercise for the virtual figures, she said.
"There are technical challenges along the way," Chen said. "If you want to search through tutorials of how (to) work with the 3D human character, there is this process where people drag the model around or augment the shape of the body. A lot of it is male YouTubers or male artists who try to demonstrate this process of manipulating the female body, and I always felt uncomfortable with that. It wasn't a process of care or consideration."
For graduate student Harvey Moon, the creation process of his piece "SOLID_VALUES" stemmed from the exploration of the role of artificial intelligence. Technology has expanded rapidly in the past 30 years, he said, and the discourse around what the future of technology can look like inspired him. He said the idea behind the piece was to create a permanent database of values that people add to as they view the exhibit.
"Each person would contribute one value and it gets grafted onto a wall," Moon said. "You'll see a constellation of the data that came before you."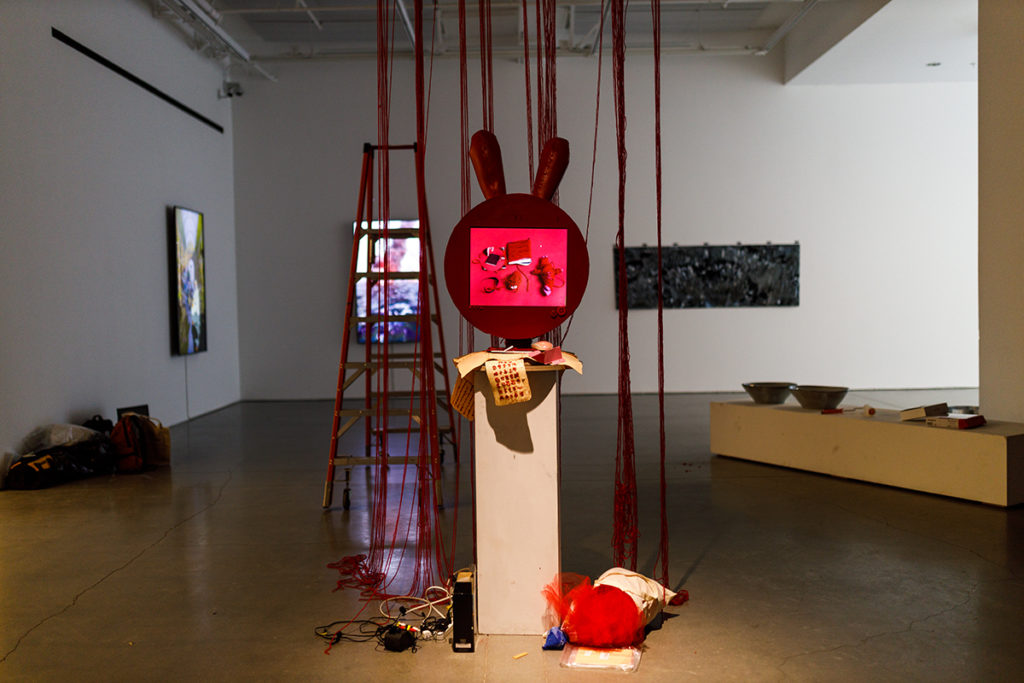 [Related: Graduate student's artwork harnesses hyper-femininity to comment on identity]
Another piece in the exhibit, created by graduate student Yuchi Ma, explores her childhood as a "parachute kid," she said. Parachute kids, Ma said, are minors who come to the U.S. unaccompanied to obtain an education. Using characters from The Sims 4, Ma said, she combines sculpture with the video in "Red Thread (我很爱你)". The Sims 4 video plays on a computer monitor that has a red bunny structure around it, which is then mounted on a pedestal that is covered by fake tattooed skin with a poem from the Chinese Tang dynasty sewn into it. The entire structure is positioned within red threads, which Ma said are a symbol of connection between people in Chinese culture.
Though the artists have created personal pieces that resonate with them, many of the works presented demonstrate similar experiences, Chen said. For Chen, many of the themes present in her piece that explore her identity as a Chinese American resemble themes in Ma's piece and those connections make the exhibit more cohesive without the works losing their individuality.
"There's all these themes of 3D avatars, self-portraiture and dialogue from time and space," Chen said. "Even though those are all really broad and expansive topics, it's (there's) a common theme that's woven together."