UCLA student finds passion for filmmaking process despite pandemic setbacks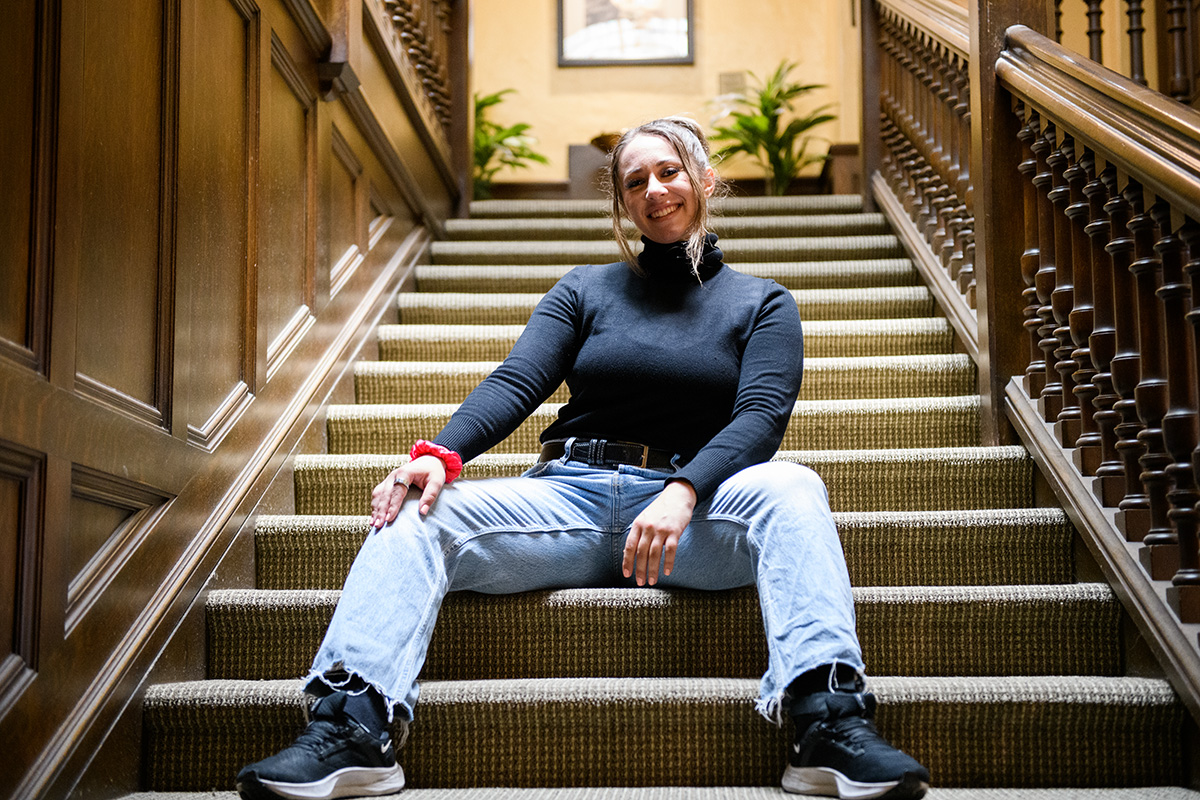 As a member of film fraternity Delta Kappa Alpha and fourth-year communication student, Caitlyn Ruggiero (pictured) said she wrote "Blocked" based off of her experience with a previous breakup. (Sakshi Joglekar/Daily Bruin senior staff)
Caitlyn Ruggiero is anything but blocked.
During her final quarter at UCLA, the fourth-year communication student said she was preparing her film, "Blocked." Graduating with a minor in film, television and digital media, the writer and director said she produced the short through her professional film fraternity, Delta Kappa Alpha. However, the project was shut down because of a crew member's case of COVID-19, as the time it would take to jumpstart production would have been too expensive for the organization to continue with the project. Despite this setback, Ruggiero said she has developed a foundational understanding of filmmaking by making "Blocked."
"(When) I entered UCLA, I had no idea I wanted to work in the entertainment industry, let alone film," Ruggiero said. "I had no idea how filmmaking worked, … and then I found the chapter (DKA), and I joined, and it started to give me a basic language. But I think my classes were really where I built a lot of my fundamentals, and then I was able to apply those fundamentals in this chapter."
Having gone through a breakup months ago, Ruggiero said she wrote "Blocked" – in which the protagonist processes the end of their relationship via a time loop – as an outlet to explore her emotions surrounding her personal experience more productively. Because DKA produces a short film every quarter, she said she also wanted to write her last film at UCLA. After the chapterwide selection process, Ruggiero said she felt honored when her script was chosen because it was a compliment to her writing that people wanted to be actively involved in the project.
[Related: Student film 'Bedtime' aims to put stigma surrounding female experience to bed]
Given that the film is a realistic portrayal of a human experience, fourth-year cognitive science student and DKA president Joycelyn Liu said "Blocked" resonated with many of the fraternity members. She said she enjoyed the main character's transformation through each time loop to represent how a breakup can change a person. As the makeup artist and costume designer on the film, Liu said Ruggiero's well-defined visual aesthetics helped guide the tone of the slice-of-life story when creating each character's lookbook.
"The way that she talked about it (the film) and the way that she did a lot of the work for it showed that it was something that she was very excited for," Liu said. "From what I understood, it was a more personal story to her, and she came into it with a very clear vision."
From serving as a makeup artist on a previous film to a director's chair of her own, Ruggiero's practical experience in a more focused and supportive role helped demystify and deromanticize the filmmaking process, Liu said. In addition to Ruggiero's work as a production assistant on outside projects, DKA has instilled confidence in Ruggiero to pursue opportunities on such professional sets, according to fourth-year art history student Danie Yerxa.
Involved in the logistics of filming as a DKA cinematic affairs board member, Yerxa said Ruggerio's willingness and work ethic was evident as the writer and director tried to troubleshoot several issues encountered in production, such as not shooting on a closed set. Though Ruggiero sought to have a hand in every departmental process, Yerxa said intricate processes, such as casting actors, taught Ruggiero how to delegate tasks and leave interpretations of the story open to other cast and crew members.
"She's in a position where she was forced to give other people responsibilities that she wanted to handle," Yerxa said. "It's an eye-opening thing because your film is like your baby. You know you don't want to give it to anybody else, but I tried to get her to trust me, and I think I did in the end."
[Related: Transforming Hollywood conference to explore evolution of entertainment industry]
While DKA will not move forward with "Blocked," Ruggiero said she has plans to revisit the film when she is more established in the industry. She added that in production, she realized there were holes in the critical and intimate details necessary for the time loop sequence in the short that she would have to rework. Ideally, Ruggiero said she wants "Blocked" to have the platform for its full potential to be realized in the future – whether that be revising the script in its current state or fleshing it out into a feature-length film.
For her next steps, Ruggiero said she will take six months off after graduation traveling to Palm Springs, where there is a budding film industry looking to hire locals. She said she will also try to become a writing assistant to one of the writers of her favorite shows and make as many connections as she can. Even though as a showrunner, she can prioritize helping emerging filmmakers, she said her dream is to write and direct her own television series. She said she most likely sees herself in the world of comedy since it is a genre in need of more female writers and where she thinks she will be the happiest.
"When I'm writing, … I can see the room the dialogue's happening (in) and imagine the characters and the flow," Ruggiero said. "When I apply that to my small experience in directing – I've already done so much work on the back end in writing and storyboarding, but when it comes to shooting, I can let it (the story) speak for itself."