Student film 'Bedtime' aims to put stigma surrounding female experience to bed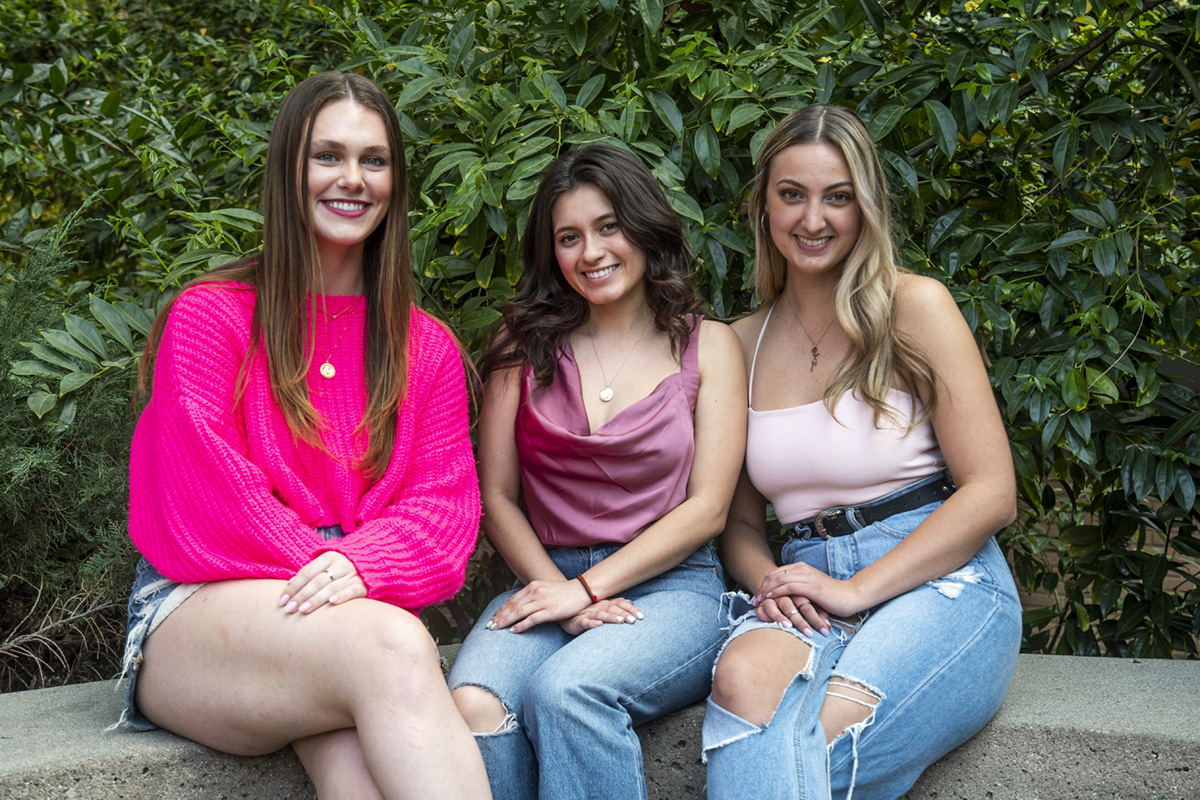 (From left to right) Emily Gibson, Alexandra Sophia Ruiz and Bri Lageyre's short film "Bedtime" follows two best friends getting ready for bed as they discuss their experiences as female college students. (Kyle Kotanchek/Daily Bruin)
"Bedtime" is tucking in the elephant in the room.
The short film is fourth-year sociology student and director Bri Lageyre's depiction of the female college student experience, shown through the lens of two roommates, Kenna and Carla, getting ready for bed. Through Kenna and Carla's respective experiences with anorexia and sexual assault, the film explores the discomfort that comes with discussing these heavy topics, Lageyre said.
"Both women in this story are really close to each other but are uncomfortable talking about these topics," Lageyre said. "You would think they'd be able to open up to their best friend about it, but there's still this societal shame around talking about these things."
The goal of the short film is to open up a conversation about eating disorders and sexual assault through subtle hints as the two roommates prepare for bed, Lageyre said. She said her film uses subtext in the form of body language to create a more organic narrative because other stories that more bluntly explore these difficult topics tend to come off as cliche. Finding a balance between explicit and implicit messaging surrounding either sexual assault or eating disorders was challenging, she said, as she wanted the experiences of both Carla and Kenna to feel honest.
To maintain the integrity of the story, Lageyre said she decided to set the film in a bedroom, a place of comfort that is relatable to many. Although conversations between roommates are often casual, getting ready for bed can transform casual conversations into deeper and sometimes darker discussions, Lageyre said.
"Growing up, I had a lot of … sleepovers where you end up staying up all night talking about your whole life," Lageyre said. "Then you wake up in the morning and it doesn't really matter anymore. So I was really interested in (recreating) that setting and feeling."
[Related: 'Love, Laugh, Doom, Tears' examines graduate student's experience with sexual assault]
Lageyre said the bathroom was meant to be a symbol for reality, with its aggressive lighting contrasting with the warm lighting of the bedroom to highlight the harsh and transparent world, which fails to be as comfortable as the bedroom. To properly juxtapose the bathroom and bedroom ambiances, Lageyre said she used her own apartment as a set for the film, redecorating the bedroom and bathroom to match the homey yet uncomfortable tone of the narrative.
Assisting Lageyre in bringing the tone to life, fourth-year political science student and producer Emily Gibson said her experience rooming with Lageyre in their sorority house helped her visualize the roommate dynamic of women. She said with about eight girls sharing one room, forming close-knit relationships with other women in the house created a safe space in an otherwise chaotic environment.
"As we were thrown into being roommates, we were also getting to know each other, which plays into the dynamic of the film," Gibson said. "But the experience of living together and being roommates instigates that closeness and forces you to be vulnerable."
This vulnerability is showcased through the interactions between Lageyre's characters, as alumnus Alexandra Sophia Ruiz, who plays the role of Carla, said she conveys the weight of sexual assault on daily routines in the short film. In order to realistically portray Carla, Ruiz said she focused on supporting the character Kenna when acting in order to make Carla's own discomfort from her sexual assault subtle.
"Throughout this whole film, there's a big elephant in the room, and no one's really talking about it," Ruiz said. "It's the subtle looks, the concerned expressions. It's what you would do when you're worried about a friend or you're worried about your roommate. You're just dancing around it."
[Related: Students embrace absurdity, foster arts community with their production company]
The bedroom setting's role as a safe space was not limited to the story, as Ruiz said she felt comfortable working on a thematically heavy piece with a primarily female crew. Having to explore and emphasize much of the deep subtext on her own, Ruiz said she was comfortable discussing components of the story with other crew members because of the shared female college student experience that connected them.
As "Bedtime" enters postproduction, Lageyre plans to submit her film to several film festivals and said she hopes to hold a screening and Q&A on UCLA's campus in March. Lageyre collaborated with other UCLA organizations such as the Student Wellness Commission's Body Image Task Force and the Bruin Consent Coalition, and she added she aspires to cultivate a more open space in which students feel comfortable talking about college-centered female issues.
"Even if one person feels a little bit less alone watching this, that would be perfect," Lageyre said. "That's all I could ever want from it."