Robby Good considers his journey as musical composer at UCLA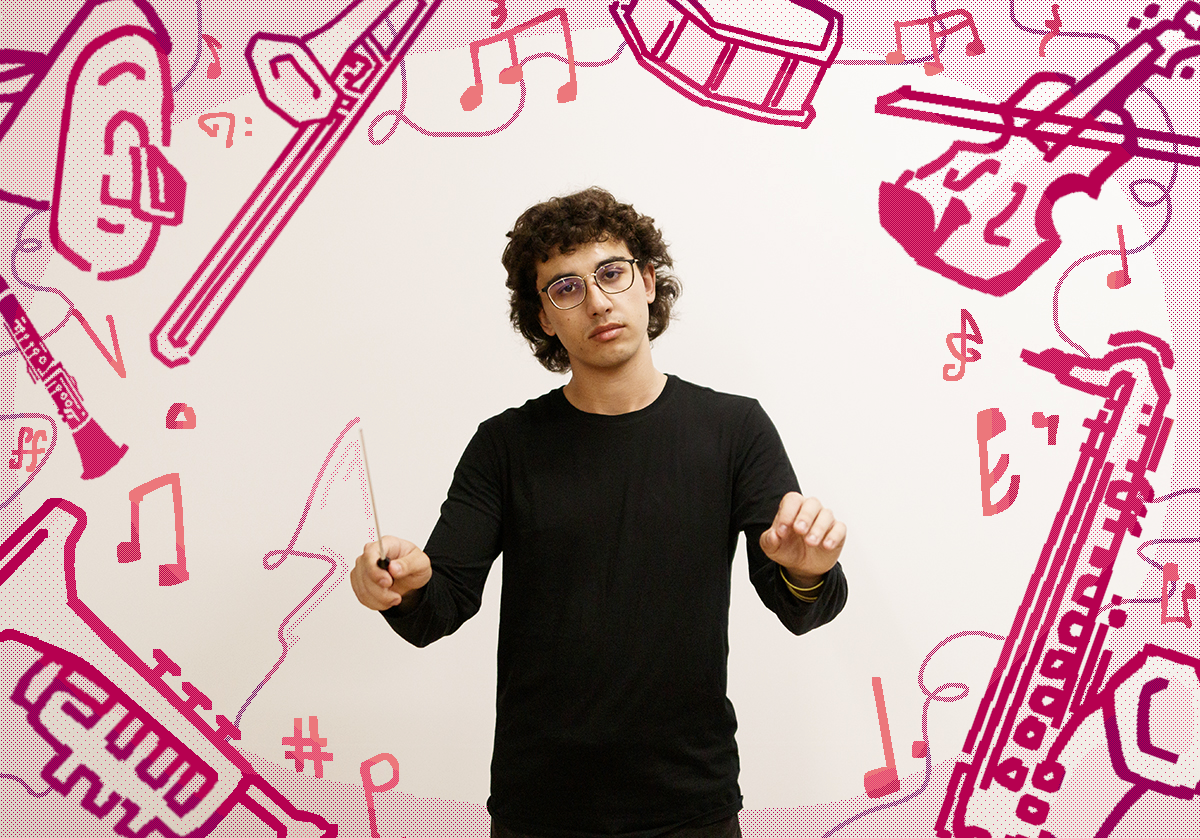 Fourth-year music composition and percussion performance student Robby Good stands with his conductor's baton in hand. Good said that during his undergraduate years, he has found joy in the collaborative nature of scoring projects such as video games and student films. (Photo by Esther Li/Daily Bruin staff. Photo illustration by Dani Nalangan/Daily Bruin)
Robby Good is composing the soundtrack to his own life.
The fourth-year music composition and percussion performance student said he spent his time at UCLA building his musical portfolio by scoring projects such as student and independent films as well as various video games. To mark the end of his time as an undergraduate student at UCLA, Good said he hosted his senior recital May 8, when he performed classical works and conducted original compositions with a student orchestra.
"Some of the most gratifying and wonderful experiences that I've had as a composer came from the preparation for that recital," Good said. "Having the orchestra being made up of my peers who wanted to support me through this … was a lot of fun."
Good said that in high school, he was drawn to music composition and knew he wanted to study it after participating in the Los Angeles Philharmonic Composer Fellowship Program. Even though he said he started the music composition program with the intention of composing video game music, he learned it was the collaborative creative process that moved him toward music composition. Good said his experience with percussion instruments also allowed for a broader knowledge of technique when composing and encouraged him to pursue both composition and percussion performance.
[Related: UCLA music lecturer thrives on collaborative process of film scoring]
For some students, such as animation graduate student Alex Voutsinas, creating projects for the Master of Fine Arts degree requires working with a composer on films. Voutsinas said she was drawn to Good's work after seeing a student film by a colleague in which his work was featured and was struck by his versatility and professionalism. Voutsinas said she then asked Good to compose music for her first-year film "Excuse Me." After a positive experience working with him on that film, Voutsinas said she enlisted his help on her film in the second year of the MFA program "Understanding."
Good said that when working on films, he takes a different approach than when taking on other projects such as video games. For composing a film, he said there is a limit on the amount of time music is played, which makes it easier to create pieces because they have a definitive end time. In contrast, he said for video games, the music has different requirements, such as the type of skills needed, because the music plays for an indefinite amount of time.
Creating music for different levels of production also affects the timeline and the nature of the piece, Good said. Each time he works on a project, he likes to change his approach depending on the communication style of each filmmaker since each film producer and video game developer has a different idea in mind for the project, he added. For example, he said working on student films allows for more creative freedom than other professional films, but student-led projects tend to come with a shorter window of time to compose the pieces for the work because ideas come from students closer to the final film deadline.
One such collaborative example was after fifth-year music composition student Kian Ravaei met Good in the music composition program, and because of its small size – where classes often have two to three people – the two became close friends and roommates, according to Ravaei. He said he ended up working on an orchestral arrangement of an electronic dance music song with Good, and the project was enjoyable because the pair played to their strengths, with Good assembling a rough first draft of the arrangement and Ravaei then refining smaller details.
"Robby is amazing at looking at the big picture," Ravaei said. "He was able to quickly put together a first-draft arrangement of the orchestration, and then I was able to go and make sure every note was exactly the way it needed to be."
[Related: UCLA student shows passion for piano through popular Instagram covers]
Good said that after graduation, he will return to UCLA to pursue a graduate degree in musical composition. In the meantime, he said he has some other projects lined up, including more student films and resuming work on a video game that is still in development. He said that because he is coming back to UCLA in the fall for a graduate program, he does not feel like his time as an evolving musician is coming to an end, and he is looking forward to continuing to compose music that resonates with audiences.
"The philosophy is if I'm not enjoying this music or finding something to appreciate, I don't think it's fair for me to release that," Good said. "I've found that, so long as my heart's in it, people are going to gravitate towards that as well."