FAST 2022: Caroline Hersman challenges gender binaries with new fashion line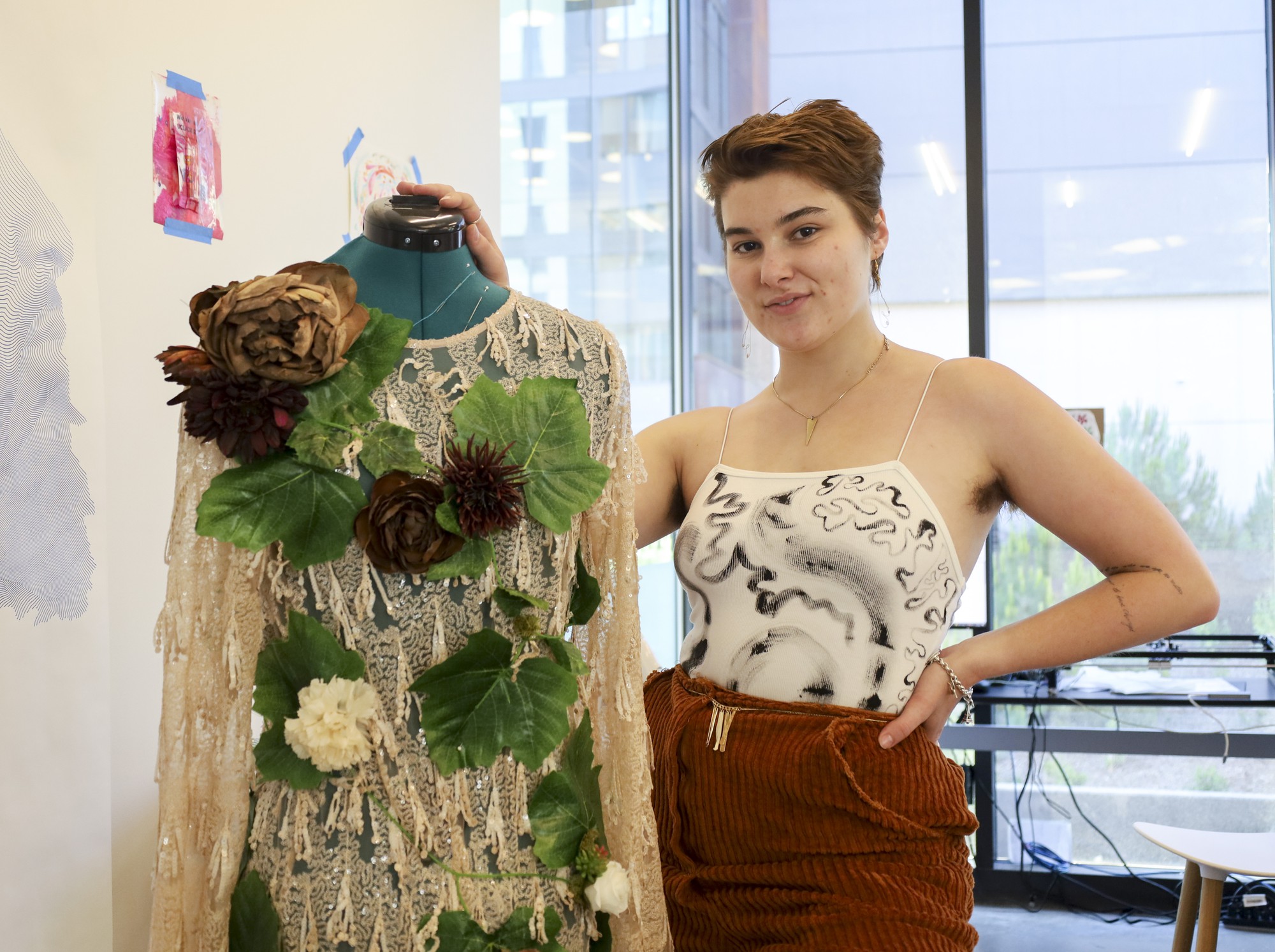 Caroline Hersman poses with a dress adorned in foliage and sprinkled with sequins. The third-year psychology student said her collection titled "Awakening" merges movie villains, queer themes and the '90s. (Neha Krishnakumar/Daily Bruin)
This post was updated May 25 at 10:06 p.m.
Misunderstood villains are getting a twist in Caroline Hersman's new collection.
On Friday, Fashion and Student Trends at UCLA's spring runway show will debut the third-year psychology student's line titled "Awakening." Hersman said she initially became interested in design in the fourth grade when she was first introduced to the mechanics of fashion by her dad, who taught her how to sew. She wanted to further her skills by enrolling in classes, yet she said she felt underwhelmed by the simplistic lessons that were taught.
"I (wanted) to learn and create actual professional-worthy pieces," Hersman said. "I think we don't take kids seriously enough when it comes to their artistic endeavors because genuinely, kids are some of the most creative people on this planet."
With a background in stage acting, Hersman said growing up, the theater community was composed of a binary environment with set gender roles. Wanting to appease the prototypical image of the ideal female lead, she never explored anything outside of what is considered conventionally associated with girls until she arrived at UCLA, she said. Putting together a variety of outfits, she said, allows her to convey parts of her personality that she wouldn't otherwise be able to display.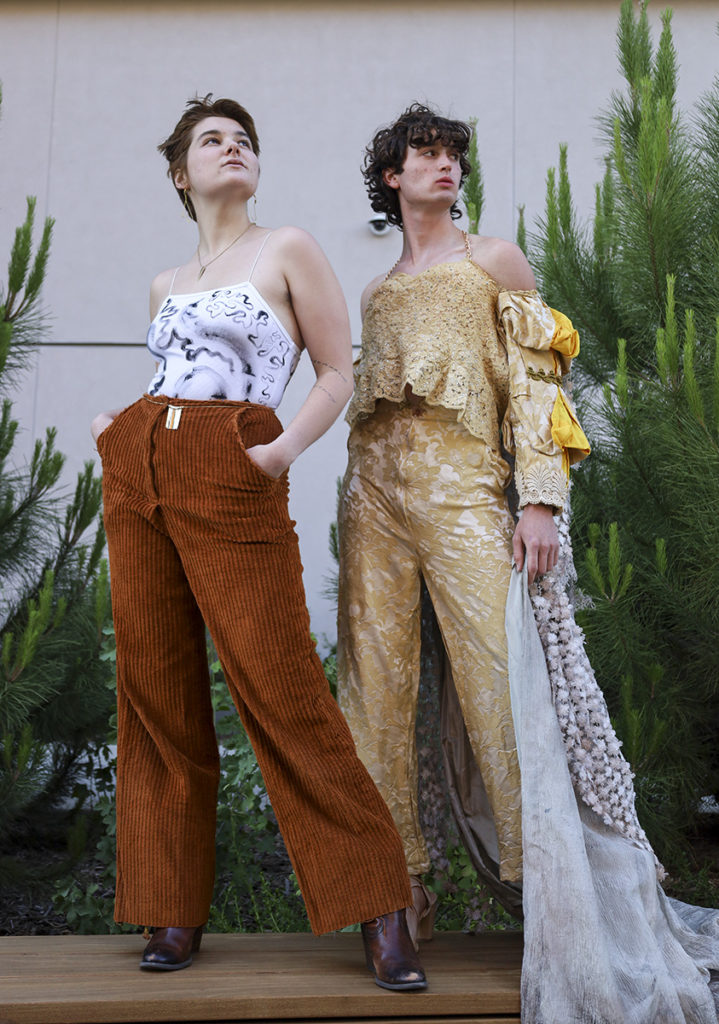 [Related: LA Fashion Week 2022: Humans' debut show styles sustainability in Southern California streetwear]
Inspired by her own self-identity journey, "Awakening" is based on a variety of popular villains with the incorporation of queer undertones, Hersman said. Last year, with the chaos and her reemergence into designing, Hersman said she decided on a simplistic '90s-influenced collection. Yet with her artistic progression and exploration of her own sexuality, she said she wanted to reflect her development by creating more extravagant and statement pieces for this year's show.
One piece she created is based on Marvel superhero Winter Soldier. Using elements from the original costume, she said in place of his metal arm will be a holographic, bedazzled leather arm strap paired with a sheer shirt underneath a corset top. To tie in queer themes, she is also adorning the outfit with a collar. She said the accessory serves as a representation of society's attempts to control and convert the LGBTQ+ community into being heterosexual, similar to the Marvel character whose actions are a result of being brainwashed.
"In regard to all of the queer pieces that I'm doing, we've been villainized for so long," Hersman said. "It's just now that we're starting to feel like queer people are accepted."
Opening the collection is a piece based around the biblical character Eve. Hersman said although Eve is an unconventional villain, her notoriety stems from biting into the forbidden fruit, symbolizing the patriarchal view of the dangers of women's curiosity. To convey Eve's corruption after gaining knowledge, Hersman said she covered the dress with flowers that slowly fade into dead ones. To tie in the queer themes, she said she connected Eve's hunger for knowledge to the discovery of one's sexuality.
Also included in Hersman's line is a gold, caped piece inspired by Queen Cersei from "Game of Thrones," modeled by first-year environmental science student Quinn Wynacht. Wynacht said while he was unfamiliar with the series, he researched more into the character to get a deeper understanding of her personality. Considering Queen Cersei's intense and cutthroat personality, he said he plans on incorporating her powerful characteristics into his walk.
"I'm not a woman and Queen Cersei is, so I think the biggest part of that, being queer, is that I am wearing feminine clothing and portraying a feminine character," Wynacht said.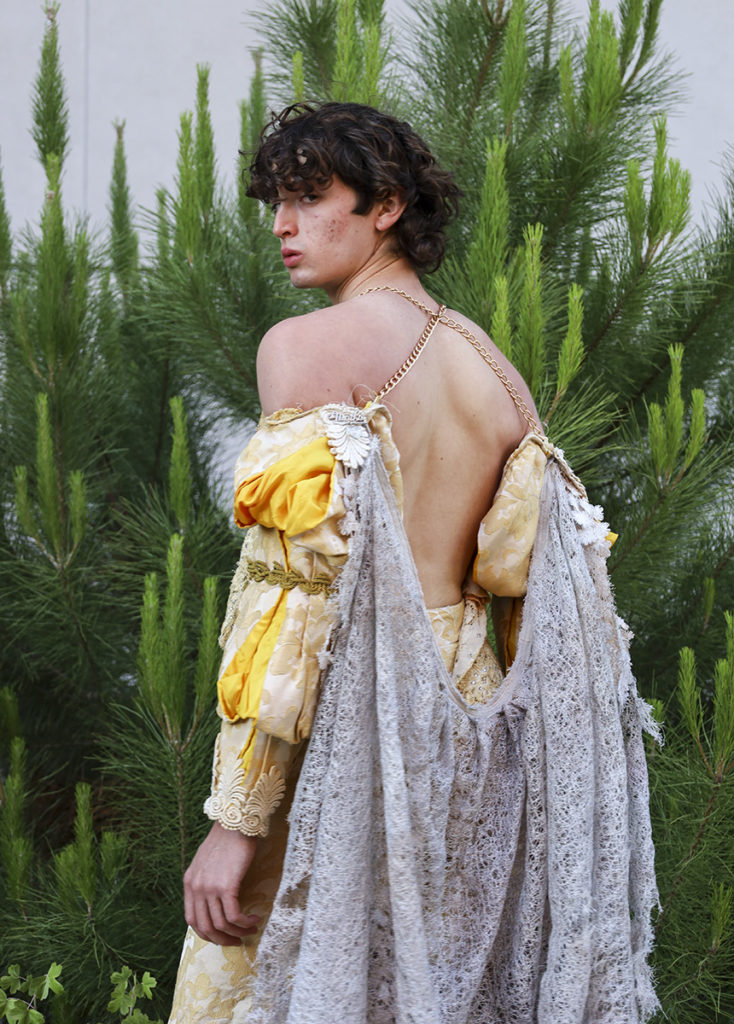 [Related: LA Fashion Week 2022: JimmyPaul highlights diversity of fashion with bright looks]
Collaborating with Hersman on the project is fifth-year mathematics student Alberto Mancia. As an artist himself, Mancia said Hersman first reached out to him about the project in hopes of replicating the style of art he makes for her collection. He said he is directly contributing to the line by creating the logo for the collection along with helping her navigate the intricacies of embroidery.
While Hersman has been engaged in the arts her entire life, she said she doesn't plan on pursuing a career within the industry. As the chances of partaking in high-profile shows are very low, she said she prefers the creative control she has with designing as a hobby, rather than working on pieces for big companies.
"Going forward, … I want to start an Instagram account," Hersman said. "I want to try and sell my pieces and really create what I love and what is really enjoyable to me."