FAST 2022: Spring runway show encourages creativity among student designers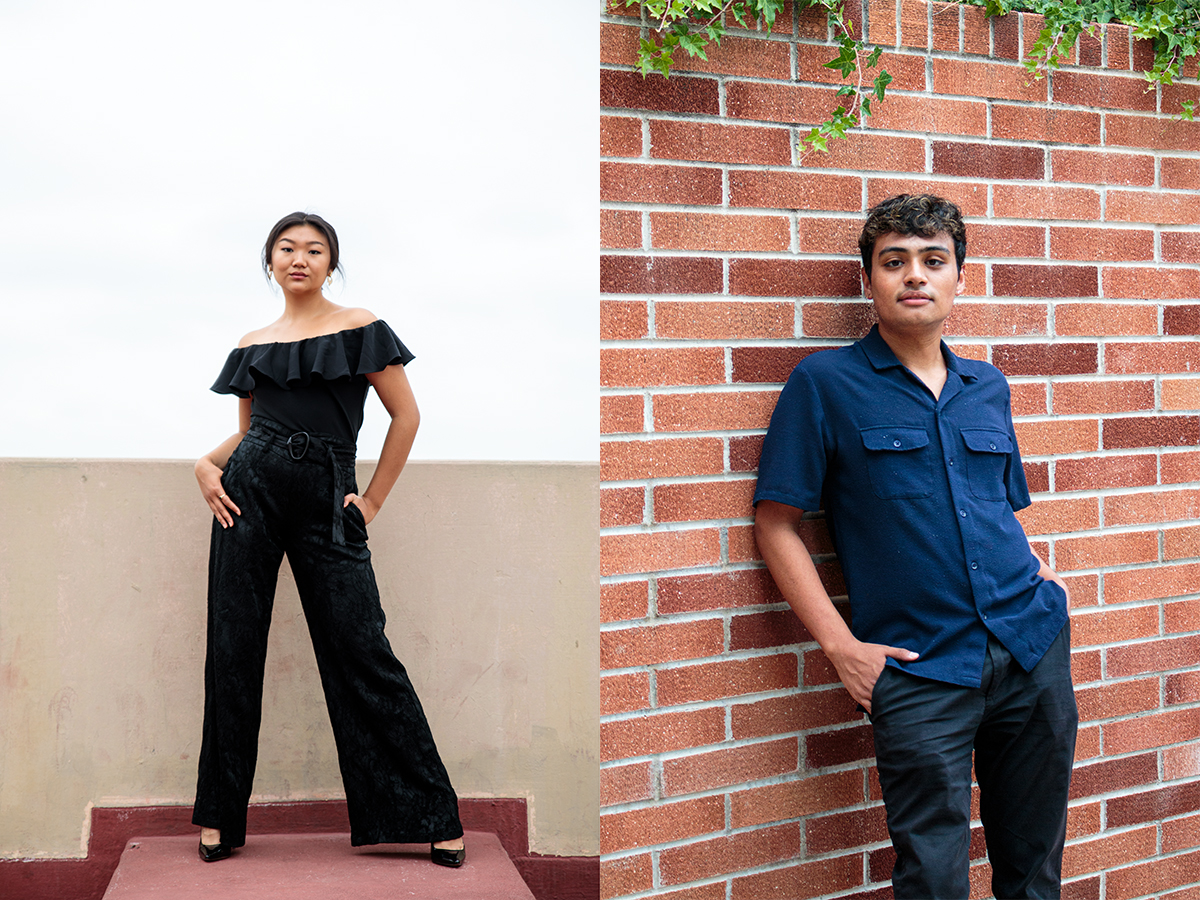 FAST President Meghan He (left) poses in a black outfit in front of a white wall, and FAST Vice President Hector Esparza (right) stands in a blue shirt in front of a brick wall. He said this year's runway show is the biggest production the organization has put on, and that much of the funds saved with last year's virtual format were able to help achieve this milestone. (Left to right: Bryan Palmero/Daily Bruin senior staff, Megan Cai/Daily Bruin)
This post was updated May 25 at 10:01 p.m.
Student fashion is making a FAST in-person comeback.
The annual runway show hosted by Fashion and Student Trends at UCLA will take place in Pauley Pavilion on May 27. Featuring student models, designers and debut collections, the time-honored runway show is a celebration of life, love and student diversity, said Hector Esparza, fourth-year linguistics and French and political science student and FAST vice president. Though the show has no overarching thematic concept, Esparza said this allows designers to create their own individualized themes and provide an element of surprise and mystery for the audience.
"We want to allow flexibility and the room for students to have their own creative input," Esparza said. "All of these designers have created these love letters to their culture or created some kind of social and political commentary (within) their work."
In particular, the collections presented this year will highlight sustainability and diversity within the fashion industry, second-year psychobiology student and FAST production committee member Jieun Seo said. The show is supported by local sponsors that help with hair, makeup and donations, she said. Esparza said FAST's show will also feature two designer lines by apparel brands Hunkemöller and Recycled Karma.
[Related: LA Fashion Week 2022: Puey Quiñones explores intricacies of femininity in debut gown collection]
The runway show is FASTS's most popular event of the year, Esparza said. As such, planning for the show's spring production begins in the fall, when models and designers are recruited in an application-based process. Anyone who has creative ideas or wants to sew and create clothing can apply to be a designer at FAST, they said. Looking for a mix of veterans and novices, the committee considers applicants on their commitment to the yearlong process, their creative vision and whether or not they have the time to attend workshops and build up their skill sets, Esparza said.
Planning for this year's show differs from last year's, which was presented on a digital platform because of the COVID-19 pandemic, fourth-year psychobiology student and FAST President Meghan He said. Much of the funding was thus able to trickle down and contribute to this year's runway show, she said. This has allowed the committee to make this year's event the biggest production FAST has ever had, with more than 930 audience members and 22 featured student designers.
"In addition, for the first time, we're showcasing pop-up booths," He said. "We (wanted) to be able to also have a shopping experience outside of the venue itself so you (audiences) can see … (the) different facets of fashion displayed within a single night."
As an organization, FAST operates with cross-committee collaboration throughout its 12 different departments, Seo said. The film committee, in particular, has conducted and created interview videos that are set to preface the runway show, He said. These videos will provide an inside look at designers and their inspiration – from a collection's beginning sketch work process to the actual construction, she said.
In preparation for the show, He said FAST's modeling department aims to help build confidence and support so models can find a balance between fashion and individuality. Essentially, she said the purpose of a model is to showcase the work of a designer and the story that they're trying to tell. As for the designers, He said FAST works closely with the UCLA MakerSpace and sponsors trips to downtown Los Angeles, where students can find the fabric and resources that they need for their collections. FAST also provides designers with a budget of around $150, Esparza said, which is allocated toward creating and outsourcing the material for a collection's looks.
[Related: Q&A: Nail artist Helena Marimon touches on intricate designs for LA Fashion Week]
On the production side, Seo said she and fellow commitee members have been working on the stage design of the show. The production team has plans for a T-shaped stage where audience attention can be concentrated to the models and designs in the middle of the set, she said. Though lighting and staging remains consistent throughout, He said the production facilitates individuality through personalized music and projected logos that are tailored to the designers themselves.
As the fashion show concludes FAST's productions for the school year, Esparza said that looking forward, FAST hopes to collaborate with the UCLA LGBTQ Campus Research Center to host a pride week and highlight the contributions queer artists have made in the world of fashion. In addition, He said she wishes to see FAST further explore the power of digital productions and ultimately give voices to creatives on campus who have been previously overshadowed in the fashion world.
"We're … promoting student work, highlighting diversity and (providing) a platform for people who have been historically marginalized by fashion or haven't been able to contribute to the greater fashion sphere," Esparza said.