Spring Sing 2022: Icarus Contemporary seeks to break free from isolation with comeback performance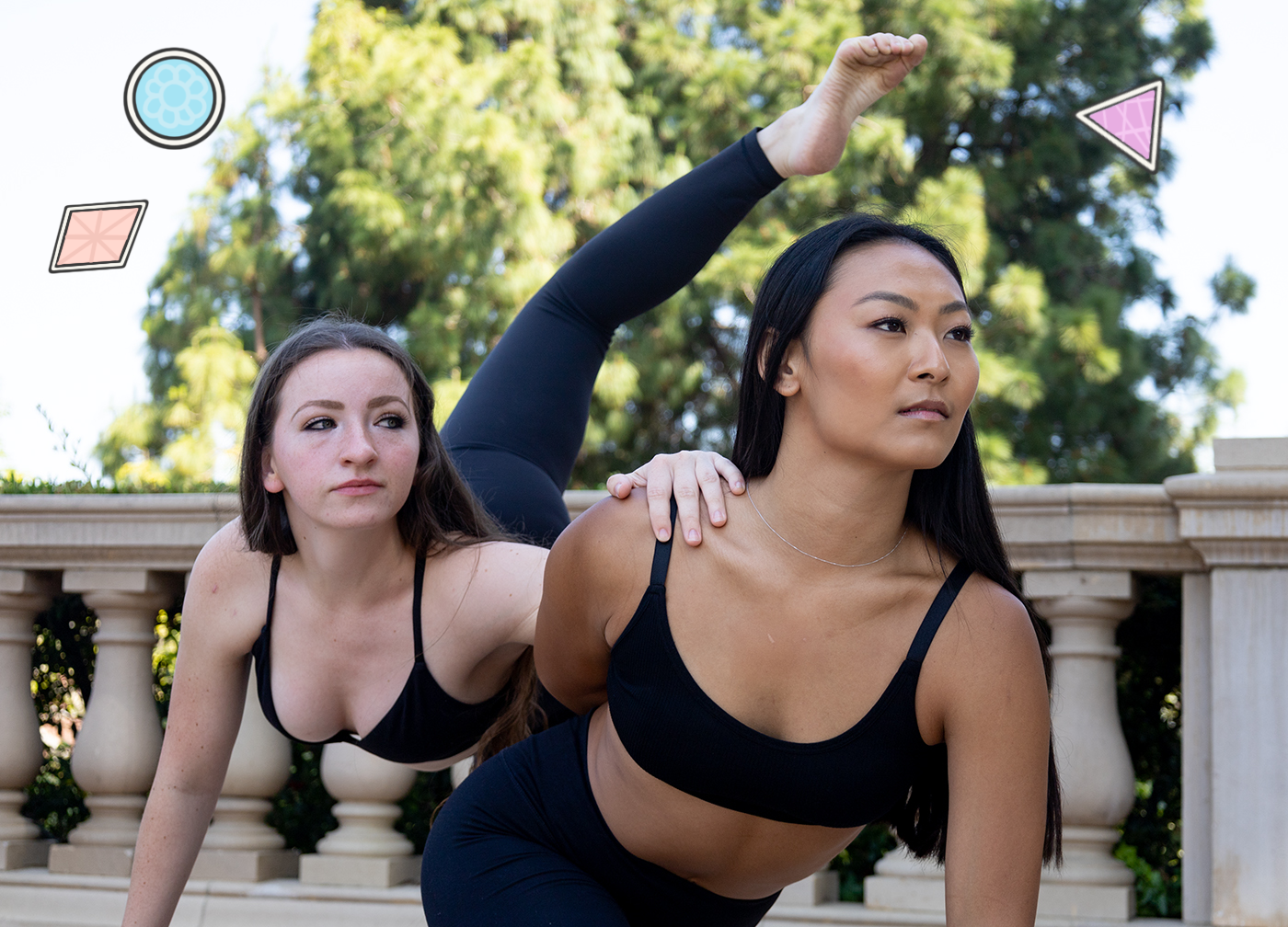 Fourth-year dance student Emily O'Rourke (left) and fourth-year business economics student Nina Choi (right) pose together low to the ground as O'Rourke lifts her foot above Choi's head. Icarus Contemporary will perform its piece, "Liberation From Loneliness," at Spring Sing. (Photo by Neha Krishnakumar/Daily Bruin. Photo illustration by Ashley Shue-Lih Ko/Daily Bruin staff)
After two years away from the stage, Icarus Contemporary will spread its wings at Spring Sing.
The annual event provides a space for UCLA students to showcase their work and will be held May 20 in the Los Angeles Tennis Center this year. Icarus Contemporary, a student-run contemporary dance company, plans on spotlighting themes of isolation, revival and togetherness this year through a piece titled "Liberation from Loneliness," fourth-year business economics student Nina Choi said. Less structured than other types of dance, executive director and fourth-year environmental science student Caroline Cheng said this style allows for more fluidity and expressiveness.
"When you're doing ballet or modern, there's very specific prescribed motions and steps," Cheng said. "Contemporary takes that base and allows the choreographer to do pretty much whatever they want with it."
As a pre-professional dance group, Icarus Contemporary takes on dancers with extensive experience, Cheng said. The choreography for its Spring Sing piece was created by dancers Choi and fourth-year dance student Emily O'Rourke and will show the progression of a cathartic emotional journey.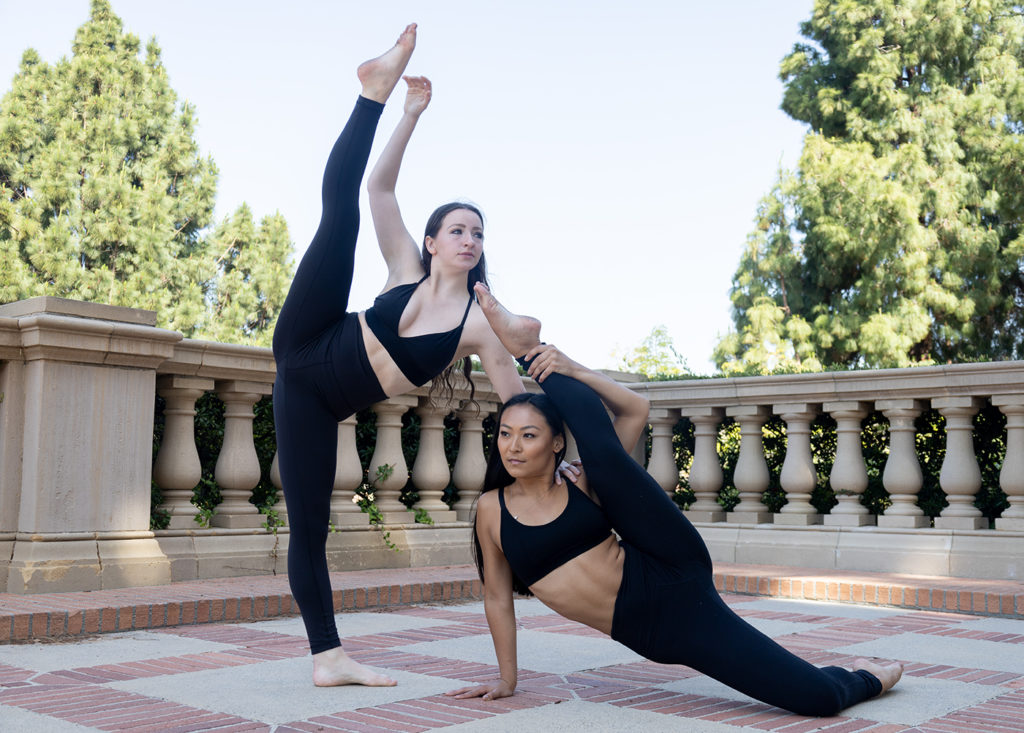 [Related: Student film grapples with grief, heartache as homesickness in 'Fragmentation of Home']
For this year's Spring Sing, Choi and O'Rourke created a performance that will thematically and visually stand apart from previous years' Spring Sing productions, Cheng said. While past performances tended to focus on smaller groups of dancers, this year, everyone from Icarus will be on stage at once, driving home the theme of community, O'Rourke said. Additionally, Choi said this year involved much more effort into perfecting the dance after their performances were forced to become virtual because of the pandemic.
"It (The 2020 performance) wasn't what we were most capable of because it had only been in rehearsal, and we hadn't had time to finish rehearsals before COVID hit," Choi said. "This year we put our all into it … because we wanted to make a really good comeback."
Visually, the performance will involve unconventional props that dancers each helped build and a costume change in the middle, Choi said. On top of that, the group hopes audience members can stay engaged throughout since there will be action on all corners of the stage with each dancer, O'Rourke said.
While the performance will focus on the world recovering after the COVID-19 pandemic, it also tells a story about loneliness, O'Rourke said. Choi and O'Rourke decided they wanted the themes of the dance, such as relief after a long period of solitude, to be something everyone in the audience could relate to, whether or not it was because of the pandemic, O'Rourke said. The most difficult part was choosing the music because it would set the tone for everything else, Choi said.
"We picked four songs that we thought would make statements and bring together a whole dance that's about this journey of being alone and not knowing how to get out of it and realizing that we are better together than apart," O'Rourke said.
Once the music was chosen for its emotional intensity and relatability, Choi and O'Rourke decided on the props and costumes, Choi said. From there, the choreography for the piece came easily since the two choreographers already had a clear-cut vision for the emotions of seclusion and recuperation they wanted to bring out through the dance, Choi said.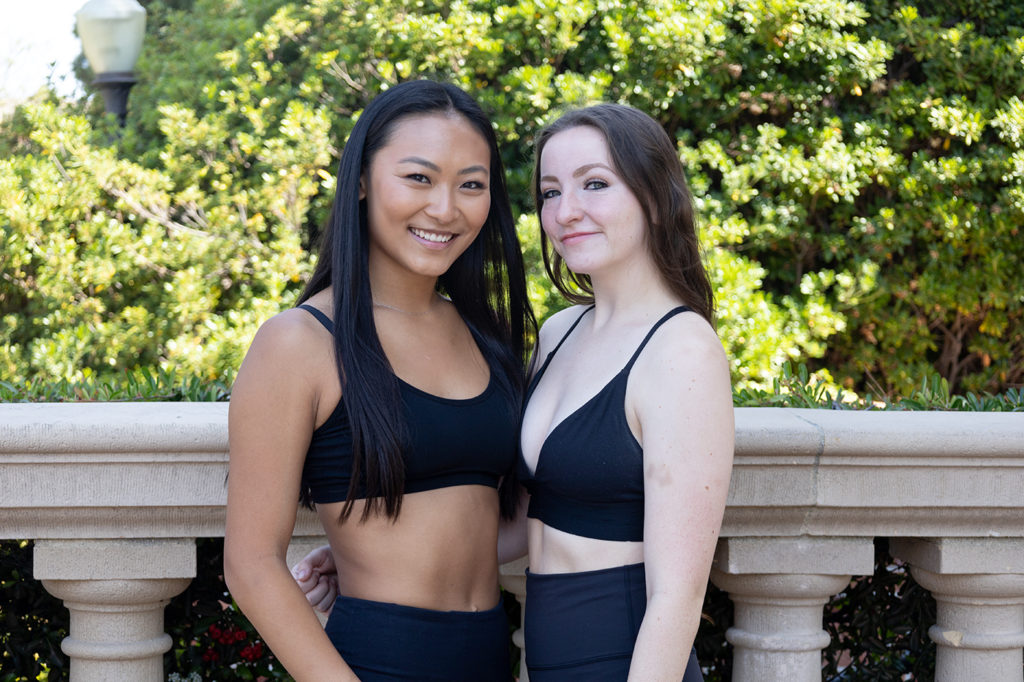 [Related: Dancers share personal stories, demonstrate skills in digital senior showcase]
For Choi, she said the piece spoke to her personal experience of being a senior whose college experience was cut short by the pandemic. It was also a way for her and her teammates to express the feeling that comes with a newfound freedom of being able to attend events and be together in ways they weren't able to during the pandemic, Choi said.
"There's been a lot of obstacles on how to … rebuild society, and find a new sense of belonging and peace," Cheng said.
The performance involves an emotional arc expressed through the order of the four songs, transitioning from a foreboding opening song to a liberating final song, O'Rourke said. With the theme of isolation being a widespread sentiment at this point of the pandemic, the piece was tailored to not only be something dancers and artists could relate to but also something the general audience would emotionally connect with, Choi said.
Along with fostering an emotional connection with the viewers, Choi said she also hopes that the performance will be able to inspire the people in the audience, many of whom haven't been exposed to contemporary dance. The dynamic and exciting performance will end on a fulfilling and striking note, and audience members will hopefully be able to take it all in and be left satisfied once it's over, O'Rourke said.
"You can go on a journey with this dance and experience it," O'Rourke said. "It is ambiguous in a way where anyone can put their own personal experiences to the journey of the dance that they'll see."