Spring Sing 2022: Company brings laughter to Spring Sing through relatable comedic sketches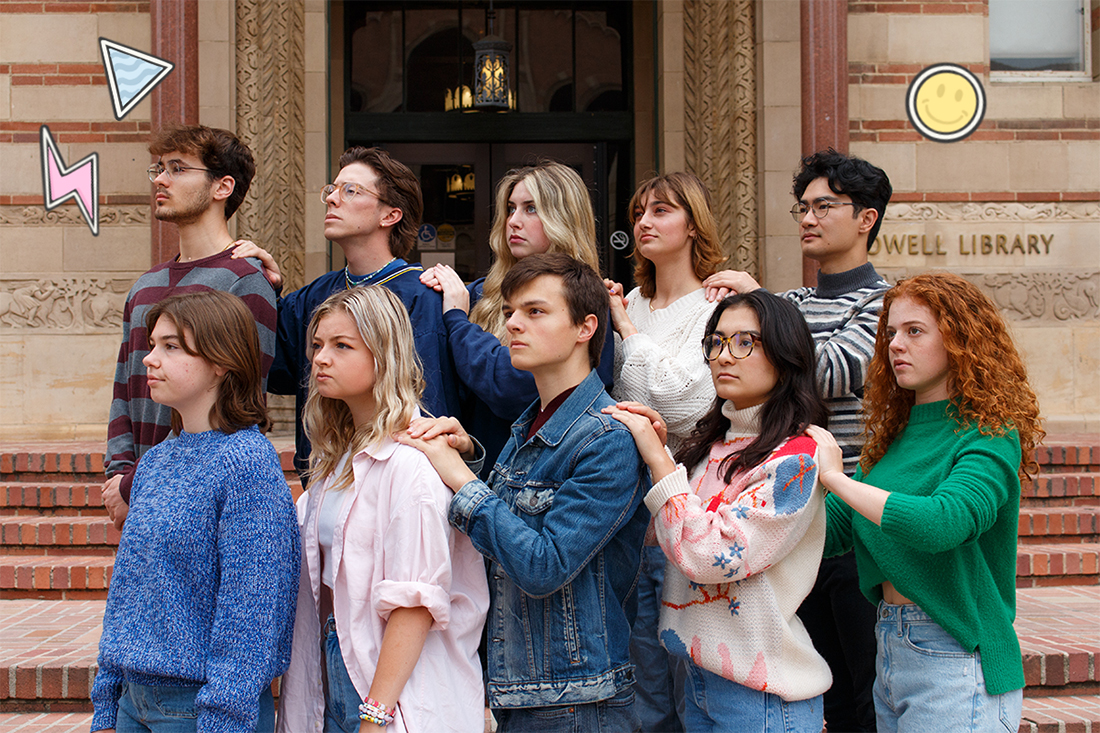 Company members stand in two tiered lines in front of Powell Library, facing away from the camera and placing their hands on each other's shoulders. The student sketch group will perform live and show their prerecorded skits at Spring Sing on Friday. (Photo by Megan Cai/Daily Bruin. Photo illustration by Ashley Shue-Lih Ko/Daily Bruin staff)
This post was updated May 19 at 12:28 p.m.
Spring Sing is more than music.
To engage the attendees with laughs, student sketch comedy group Company's mission revolves around creating and performing engaging sketches that poke fun at UCLA life in between Spring Sing acts, fourth-year theater student and Company member Jacob Cherry said. Because of the COVID-19 pandemic, Company's sketches were limited to a virtual format for the past two years, Cherry said. But this year, he said the sketches are reverting back to their pre-pandemic format, featuring live and filmed sketches.
"It's really fulfilling for me to finally do what Spring Sing is intended to do, which is be in person and to be live for the entire school," Cherry said.
[Related: Company aims to unite students with humor relevant to all in Spring Sing sketches]
Contrasting with previous years' live format at Pauley Pavilion, this year's Spring Sing will be held outdoors at the Los Angeles Tennis Center. Fourth-year human biology and society student and Company member Hanna Barlow said she is eager to return live, as this will be the biggest audience that she has performed for.
"I've heard (from Company alumni that) performing live and hearing 9,000 people laugh at a joke that you wrote or you said is a high that they've never experienced before," Barlow said.
While the group is performing in May, the collective's process begins in January when, Cherry said, each Company member writes two sketches a week for which they receive feedback from their peers. After the sketches have been fine-tuned, Barlow said six sketches are chosen to be filmed and nine are chosen to be performed live.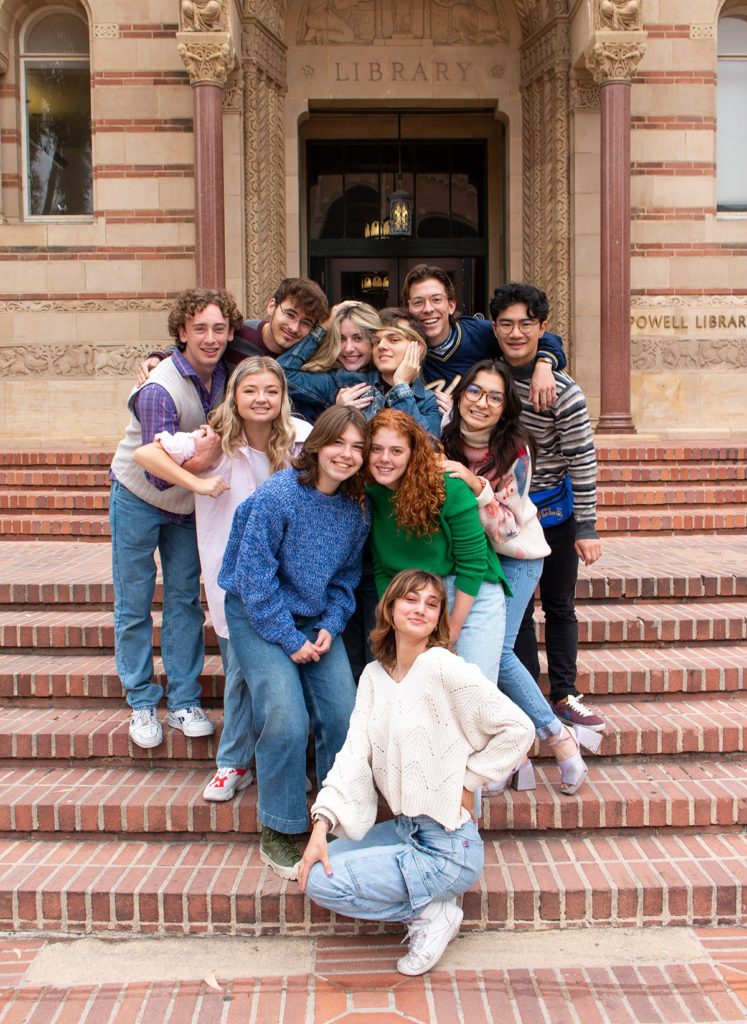 One of the sketches that was chosen to be filmed was written by second-year theater student and Company member Davide Costa. While stuck in quarantine with COVID-19 a few months ago, Costa said, he allowed his imagination to roam and came up with the sketch idea to explore the amusing mishaps of a student entering a bar in Westwood for the first time. When polishing his script, Costa said, he sought advice from senior Company members Cherry and Barlow, who helped enhance his script and furbish it for the camera.
"My ideas go rampant, and (Cherry) is very good at toning them down and creating them into something realistic, but also something that's still magical," Costa said. "(Barlow) pushed us in the right direction by (advising us) to get to the joke, and that completely upgraded the sketch to a really great level."
Since the sketch will be filmed, Costa said the ideal location for filming was Barney's Beanery in order to effectively illustrate the humorous bar scene for audiences. The sketch is one of many to be filmed on and near campus, and settings will include UCLA landmarks such as Ackerman Student Union, Janss Steps and the Bruin Bear, Cherry said. To capture the authentic humor related to the happenings on the Hill, first-year theater student and Company member Kathryn Steenburgh said the group also used her dorm bathroom for a sketch.
Aside from honing in on UCLA life, Barlow said the sketches do not share an overarching theme, as Company aims to avoid featuring sketches with similar plots or characters in order to dodge portraying UCLA student life as homogeneous. In addition to the bar scene sketch, Barlow said others will involve common South Campus experiences and a sprinkle of pop culture.
[Related: Comedy ensemble Company fuses individual talents for Spring Sing 2016]
While capturing the entertaining realities of UCLA's student body, Steenburgh said, Company strives to build a community aspect within the group. Steenburgh said she was unfamiliar with UCLA events and traditions such as Spring Sing, but she discovered Company through a posting in her friend's RA group chat. Her sporadic decision to apply helped her find her place at UCLA through bonding with her fellow student Company members, she said.
Since she has been a part of Company for three Spring Sing cycles, Barlow said she still remembers her first time watching Company perform during her senior year of high school. As she was involved with theater and comedy in high school, she said she was impressed by their performance and auditioned during her second year at UCLA. Now, four years later, Barlow said she hopes Company can instill those same spirited feelings in audience members during this year's performances.
"Spring Sing is the time of year that I feel so grateful and excited about UCLA and the student experience," Barlow said. "I hope it's a fun reminder of what being a Bruin means."