Virtual Design Media Arts exhibit explores realities, changes during pandemic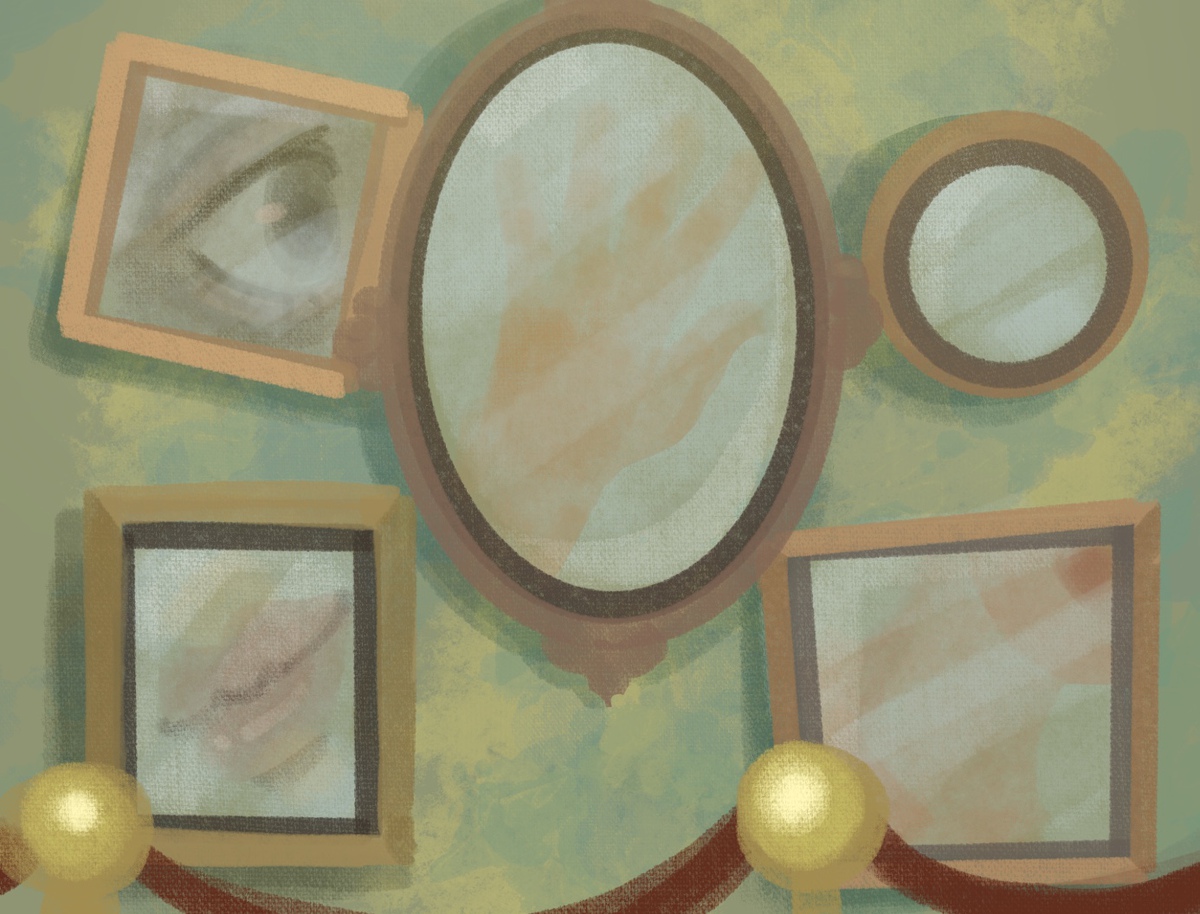 (Katelyn Dang/Illustrations director)
"Fill in the Blank: I am ___" urges audiences to slow down amid the illusion of fast-paced normalcy.
Curated by the Design Media Arts student council, the student-run show premiered online Jan. 27 with the help of the department's faculty and staff. Inspired by moments of self-reflection throughout the COVID-19 pandemic, its theme was chosen by the show's curatorial team of DMA undergraduates, who then gathered student submissions throughout fall quarter. But with the sudden shift to online learning, the curators and participants had to make several adjustments to premiere at the set date, including fourth-year DMA student Ainsleigh Douglas, who said this prompted her to make the last-minute decision to turn her art into a performance piece.
"(My piece) is an automaton to replicate how humans interact with a device," Douglas said. "I wanted to learn how we function and why we flip switches that way, but also learn about the design of the switches themselves: Why do we have buttons that work the way they do? Why are we moving away from this analog realm of flipping a switch or clicking a button (to using) touchscreens? What are we losing in that transformation?"
For second-year DMA student Amie Xiu, the adjustment to the show's virtual exhibition did not involve much stress, but she was still disappointed by having to display her work virtually since she was looking forward to seeing its final outcome . She said the pages of her artwork — a book — was first rendered digitally via Adobe Illustrator, and she wanted to work on its physical texture along with various elements.
In the newly changed format, some of the pieces' meanings are lost through the screen, Douglas said. She initially planned on installing a switch meant for the audience to flip, which she said prompts them to reflect on the purpose of various objects' functionality. Despite the importance of physical interaction, she said the adjustments she made for the virtual exhibition still impart a similar narrative.
"This piece is not a direct reflection of myself, but it's a reflection of how we all are processing the world around us through this digital space," Douglas said. "If I were to fill in the blank, it would be: I am not a robot, I am not a machine. I am a human."
Nevertheless, the show still presents an opportunity for students to get more involved within the DMA community, said second-year DMA student Aileen Oh. Having spent her first year in college online, Oh said she was less involved last year because she was grappling with the difficulties of virtual learning, and was eager to make up for it.
"I just wanted to find all the resources that I could to get more involved," Oh said. "(Then) I saw the email (asking for students to apply). I wasn't going to because I didn't think I would get in. It was actually an hour before it was due that I was just like, 'You know what? Let's do it. Why not?'"
With the resources available to her as a DMA student, Oh said she wanted to challenge herself in the show by experimenting with different mediums. She said she opted to submit an installation work – now a video of the piece – although her forte is photography. It was out of her comfort zone, but she said moving forward, she is considering creating more art in this medium.
"It's made out of books," she said. "It's practically a literal swing just made out of rope. I glued together some childhood books that my grandpa gave me when I was younger and I painted that white. "
For Oh, the piece is meant to memorialize her solitary and solemn childhood where time seemed to be endless. She said she installed it in a park to pay homage to the days she spent there, reading in silence and riding the swings. Now that she is in the fast-paced college environment, she said she no longer has the opportunity to revel in those small moments.
In keeping with the show's reflective theme, Douglas said her piece is an exploration of the machines people interacted with during the course of the pandemic and how they affected their day-to-day lives. For Xiu, her piece encapsulates the memories she had with her grandfather, who passed away across the ocean from her. She said his death during the pandemic led her to reflect on her true values and desires, which also allowed her to sort out what things she should cherish while they are still there.
"The pandemic brings along very unique circumstances, especially in the year 2020 when everyone was sitting at home," Xiu said. "You really took the time to learn about who you actually are."