Alumnus's film 'w(HO)' showcases personal journey through mixed-media animation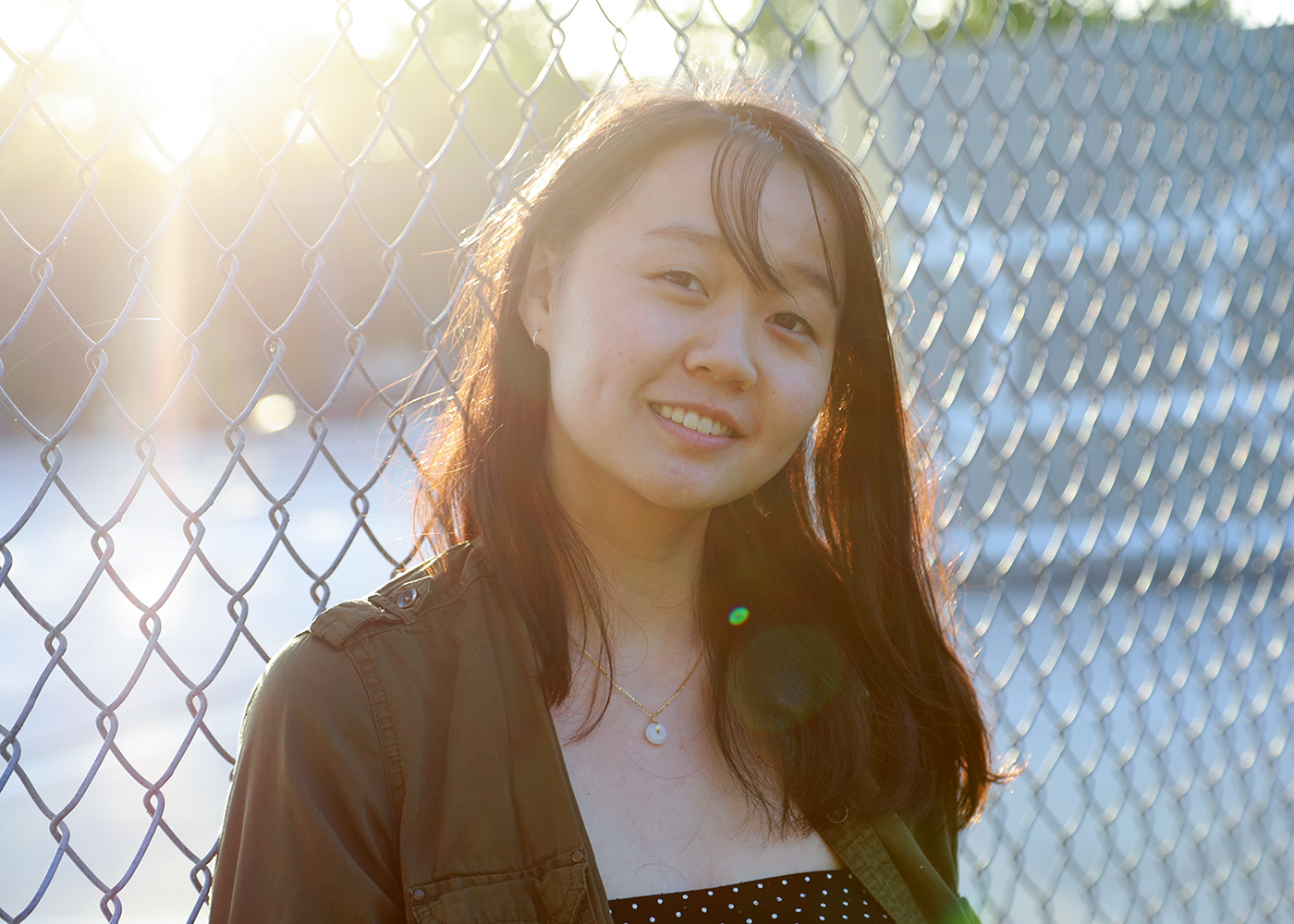 Alumnus Candace Ho premiered her original mixed-media animation short film, "w(HO)," at
the Los Angeles Asian Pacific Film Festival. The short follows five chapters of her life and her journey with womanhood and discovering her sexuality. (Courtesy of Candace Ho)
Candace Ho is reanimating her story.
Premiered at the Los Angeles Asian Pacific Film Festival under the Armed With a Camera Fellowship, "w(HO)" is a mixed-media animation short film documenting director, writer and co-producer Candace Ho's experience discovering her womanhood and sexuality. The alumnus said the film encapsulates five chapters of her life, starting from the sixth grade when she first heard somebody laughing at her because of her last name and its sexual connotations.
"It (the film) is about unpacking one Ho's journey and unpacking her internalized misogyny," Ho said.
"w(HO)" stemmed from ideas of sexual inexperience and a lack of sexual education, Ho said. Each chapter of the film, she said, is a different vignette of where she was in a certain phase of her life. For instance, one section centers around dating apps and her college experience, while another highlights her efforts to reclaim her last name and use it as a joke in the way her classmates did in middle school.
[Related: 'Sing (to me)' harmonizes theme of understanding others with humorous style]
Having previously focused on narrative film projects, Ho said she knew she wanted this film to have more personal touches to add a layer of middle school relatability. Ho said a big part of her shame regarding her sexuality stemmed from childish perceptions of what the words "sex" and "slut" meant, and, because of this, she wanted the piece to revert back to that childhood projection.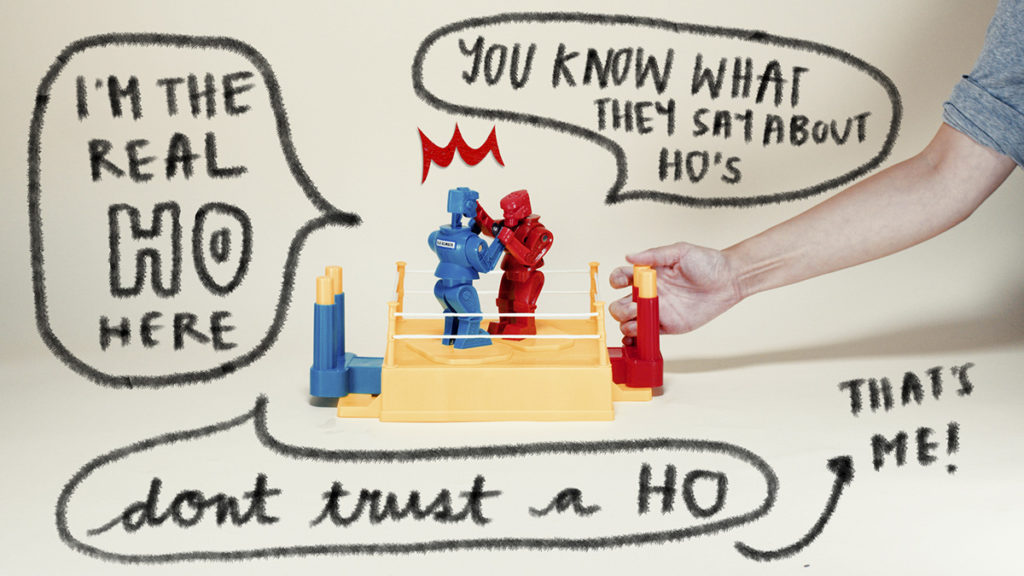 After coming across Sean Wang's film "H.A.G.S." – which is colored with yearbook pictures, animations and scribbles – Ho said she knew she wanted her film to be presented in the same personable way. With a mix of stock and personal photos, "w(HO)" participates in collage animation and was inspired by the Burn Book from "Mean Girls," she said.
"(The Burn Book) is so indicative of woman-on-woman violence and the mean things that we say to tear each other down, even though … when you grow up, you realize … that that's not the way to go about it," she said. "I wanted it (the film) to be a learning journey in that way because it takes you through the lens of this person who is still trying to learn from her middle school past."
Co-producer Noah Feldman said the project initially was intended to only include portraits of metaphorical objects, so a list of objects was put together following Ho's script that represented what she was saying, including a pencil sharpener and balloons. After doing so, however, Feldman said because the shots all had the same background, they felt so similar that Ho began to entertain the idea of incorporating mixed-media animation, which was when animator and alumnus Sabrina Ashleigh Tan was introduced to the crew.
Tan worked on the collage animation, which manifests itself within the film through drawings, textures, photos and doodles. She said Ho had visually referenced Olivia Rodrigo's "SOUR" album cover and wanted the film to feel as though the viewer was picking through someone's school notebook. To visually portray the separation between the five chapters of the film, Tan said she incorporated more doodling, wide-ruled paper and messy handwriting into the earlier parts of the film to present an innocent and youthful tone.
"Each section, each chapter, is tonally different in her (Ho's) narration as she brings up progressively more aged and serious insights, … subsequent insecurities, but also empowerment," Tan said. "So I thought the tone of the chapters .. should also reflect (the narration) and become more serious. By the end, … there's less of it (the animation) using doodling and it's more using images of real things."
With a small crew, Feldman said the process was an intimate one, in which Ho, Tan and himself were the primary members working on the film. Thus, collaboration was key, as he said he had to learn how to operate lighting equipment and assist with camera work when filming. In post-production, Feldman said Ho and Tan worked on the animation for eight to nine months after filming had ended, discussing how to make the photos and animation seamless yet interactive.
[Related: UCLA Film & Television Archive, Farhang Foundation celebrate Iranian cinema]
Though a collaborative process, Ho said the personal nature of the film meant that writing the script was one of the tasks she reserved for herself. Drawing on inspiration from her own life, Ho said sex was something that was never discussed in her household, which led her to feel shameful of her sexuality. This lack of sexual education and the hypersexualization of Asian women within society ultimately influenced the story within "w(HO)," she said.
Thematically, she said she wanted to focus on the ways in which one uses language to oppress others and how language can perpetuate violence and shame within people. The word "ho" would not mean so much, she said, if it wasn't always used in a context to shame others. She said she hopes the film can not only start a bigger discussion on sexuality and sexual education, but also highlight language and its role in contributing to divisiveness, such as in the hate crimes seen during the pandemic.
"I wanted to look at language violence but also womanhood," Ho said. "It's always going to be controversial to talk about sex as a woman, but I just hopefully wanted to open up a door of conversation for that."