Theater review: 'Who's Afraid of Virginia Woolf?' leaves audience captivated by twisted marriage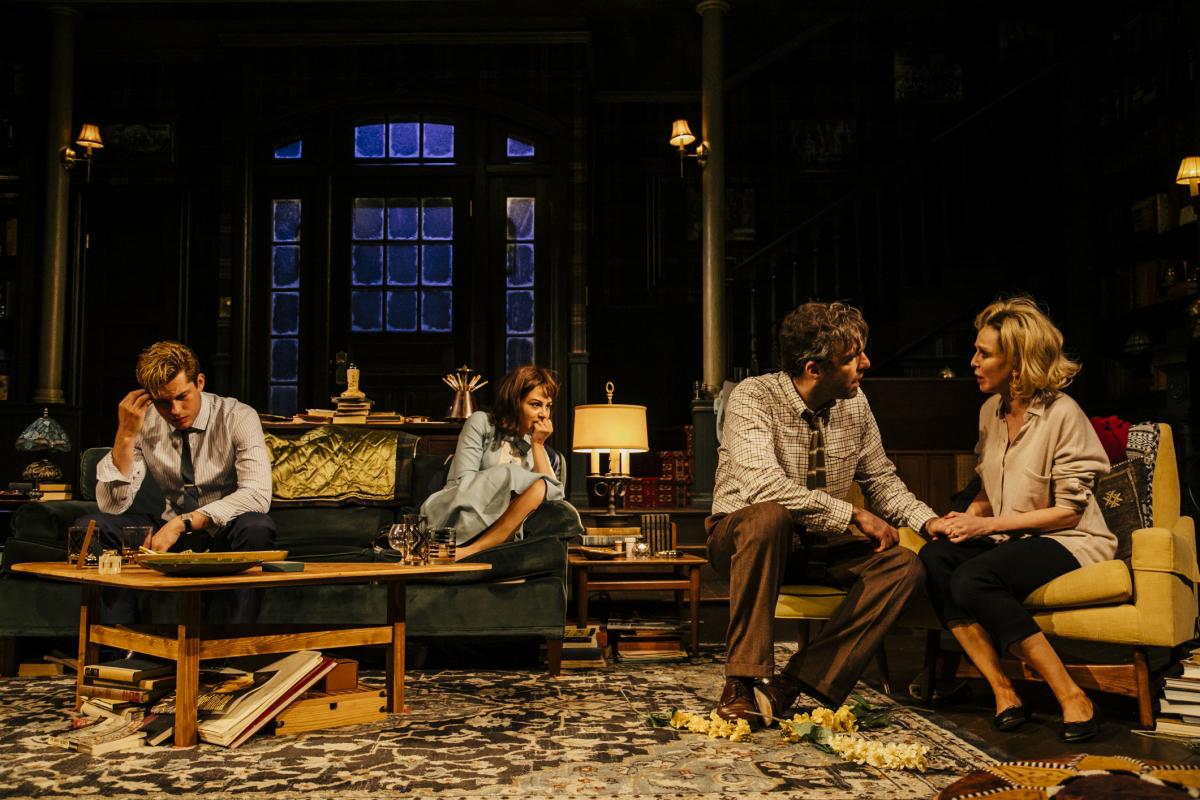 (Left to right) Graham Phillips, Aimee Carrero, Zachary Quinto and Calista Flockhart play Nick, Honey, George and Martha in Edward Albee's "Who's Afraid of Virginia Woolf?" at Geffen Playhouse. (Courtesy of Jeff Lorch)
"Who's Afraid of Virginia Woolf?"
Directed by Gordon Greenberg
Geffen Playhouse
April 19 – May 22
Warning: spoilers ahead.
Fun and games can be terrifying in Edward Albee's "Who's Afraid of Virginia Woolf?"
Running at the Geffen Playhouse through May 22, the vintage American play portrays one tumultuous night at the home of university couple George (Zachary Quinto) and Martha (Calista Flockhart). Having invited young partners Nick (Graham Phillips) and Honey (Aimee Carrero) for a post-party drink, George and Martha envelop their guests in the chaos of their violent relationship. While three hours and two intermissions certainly require emotional endurance, the captivating performances and masterful attention to tension and tone make "Who's Afraid of Virginia Woolf?" a thrilling theatrical voyage through a deeply twisted marriage.
Each act begins with a menacing music cue – a well-engineered cacophony of horns and atonal percussion that potently sets the scene for an unrelenting night of conflict. With their initial entrance, George and Martha seem like a somewhat average, albeit maladjusted couple. While George's sardonic diatribe over the merits of history and science echoes dully in a modern rendering, the more subtextual exploration of toxic masculinity and gender normativity piercingly resonates through today from its roots in the social turbulence of Albee's 1960s.
However, the act's initially hospitable tone climaxes to a heart-stopping moment of terror. While Martha gleefully berates George for his ineffectual performance as a husband and academic, George suddenly fires a shotgun loaded with a frilly red umbrella. He and Martha both dissolve into diabolical laughter, as their guests and the audience come to grips with the fearful realities of this household. With the specter of violence looming over the room, the moment underscores the play's masterful tonal shift from screwball comedy to something immensely darker.
[Related: Theater review: 'Power of Sail' at Geffen Playhouse deftly conveys harmful effects of ignorance]
The play's sharply eerie tone arises in part from the detailed scenic design, complete with towering bookshelves, a jaggedly steep staircase and a dramatically slanted ceiling. A masterstroke of coordination between costume and scenic artistry, Nick and Honey feel intentionally out of place against the ominous backdrop of George and Martha's lair, with their youthful powder-blue outfits contrasting the living room's shadowy gravitas. Their visual innocence reinforces the play's theme of generational divide, inviting fraught interpretations of parents and children that creep uncomfortably into the play's psychosexual framework.
For a script filled with verbal convolution and layered characterization where casting bears immense consequence, the star-studded cast of four dutifully delivered. Quinto deftly oscillates between whimpering emasculation and manic rage as an abusive and exhausted George. Phillips' Nick feels appropriately virile and masculine, especially when he ignores his wife in his dogged panting for Martha. Even Honey, whose drunken jokes and interpretive dances could cheaply be played with comic infantilism, is given heartbreaking richness by Carrero.
Even so, the reason to return to the Geffen Playhouse's production must be Flockhart, whose snarling, cackling and weeping Martha fuels the play's churning engine. While Quinto certainly presents a menacing George – one believably wonders in later acts if he'll return to the stage with a gun loaded with bullets instead of an umbrella – Flockhart's poison tongue and plaintive tears fully crystallize the terror of the marriage.
One of Flockhart's shining moments comes at the beginning of the third act, with Martha angelically descending an illuminated staircase after having sex with Nick. Alone on stage for the first time, she delivers an intoxicating soliloquy, affirming that she does, indeed, love her husband. After Nick joins her, Flockhart's delivery of the iconic "I am the Earth Mother, and you're all flops" line not only cements Martha's hallowed position in the pantheon of the American characters but Flockhart's near dominance over others who have embodied the role.
[Related: 'Red Bridal Veil' reflects on familial relationships, conventions]
Toward the play's end, the off-limits subject of George and Martha's son brings the night to a smoldering catharsis. The revelation is a stomach-turning final belch of smoke from the spent exhaust pipe of a night – and now morning – gone so horribly wrong. At the end of the game, the pair may now embark on the tortuous journey of rebuilding a marriage, with the audience left branded by the vivid images of Quinto and Flockhart's fire-breathing, nightlong combat.
A dazed comprehension of George and Martha's marriage will keep the audience from regaining their breath until long after they have left the Geffen Playhouse. The must-see night of exquisite blood sport, composed of a sharp-tongued script and agonizingly persuasive performances, makes it imperative to ask "Who's Afraid of Virginia Woolf?" even after knowing the heartbreaking answer.
A trip to George and Martha's promises an unforgettable night of fun and games.