Odd Flower Creations sculpts sustainable accessories for social justice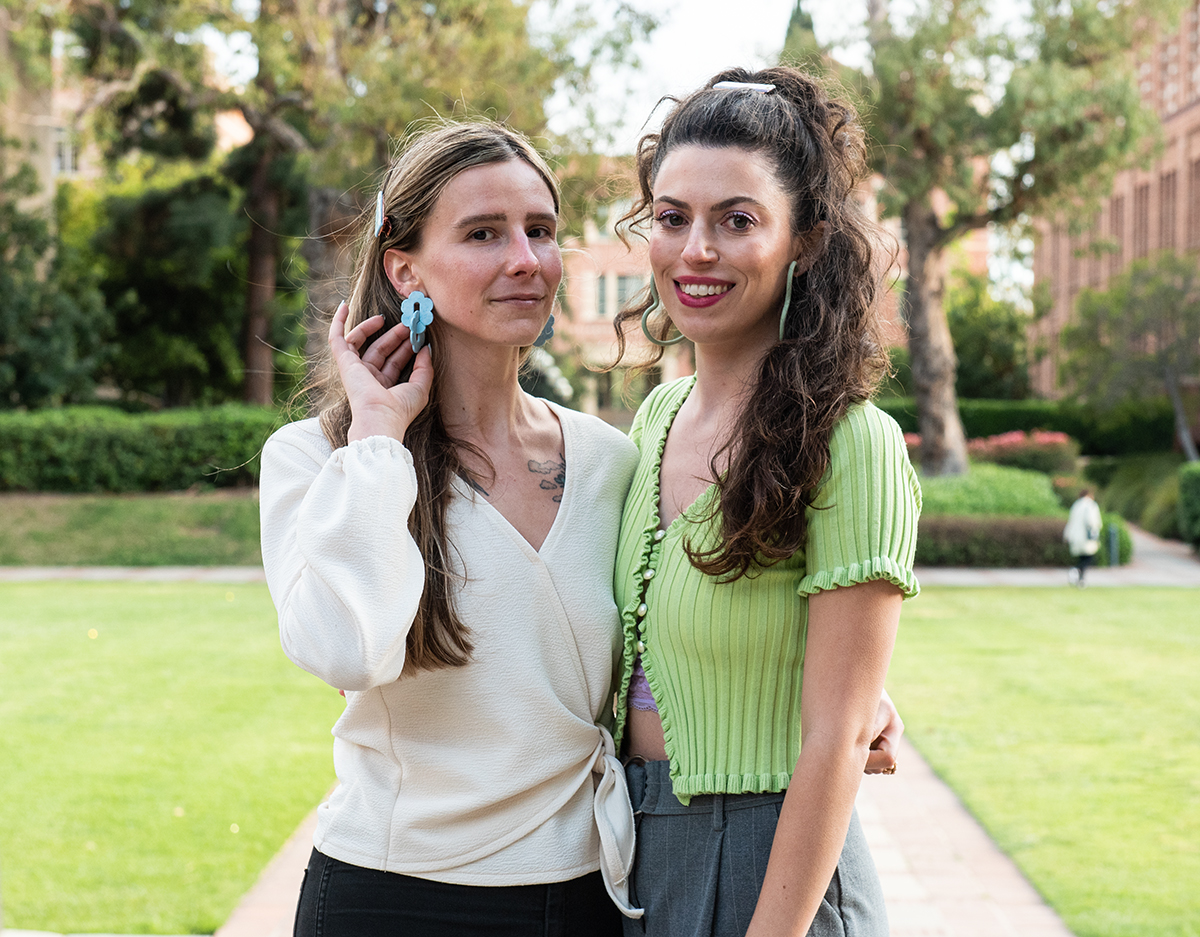 Amber Sackett (left) and Kelly Roso (right) pose with their handmade jewelry from Odd Flower Creations. Sackett said the company's designs are inspired by nature and the landscapes of California. (August Suchecki/Daily Bruin)
This post was updated May 4 at 8:32 p.m.
Odd Flower Creations is blooming with botanical accessories and homeware.
Amber Sackett, a French language and culture doctoral student and the original founder of Odd Flower Creations, said she started the business in December 2019 as a project to encourage individuals to support social justice organizations. She said she asked people she knew to donate to institutions that help dismantle white supremacist systems, and in exchange, made them pairs of clay earrings. After about 10 months, she said she became more familiar with the artistic techniques and turned the project into a business.
"I decided that the best way for me to start was to create a business that was as ethical and as sustainable as possible, so that way I could build a foundation to contribute to society in positive ways," Sackett said. "My inspiration is always nature. … I just love plants."
In starting the company, Sackett said she was influenced by her own sensitive ears, as she cannot wear heavy or large earrings. However, she enjoys styling statement earrings, so she learned to make her own with polymer clay and hypoallergenic materials. Since all of the products are handmade, Kelly Roso, an Italian language and culture doctoral student and co-founder of Odd Flower Creations, said she started to help Sackett, who she met at UCLA, make the products, and now they both work together to grow the business.
[Related: Student-run business Jewels by Jocy brings beaded accessories to buyers]
To make its items, Roso said the company uses resin, clay and jesmonite, which ensure durability as well as sustainability. Though the materials are nonhazardous, eco-friendly and longer-lasting, she said they can also be more difficult to work with because they dry quickly. Odd Flower Creations also has a commitment to fair and local labor, as Sackett and Roso create the products and they encourage people not to support fast fashion by instead supporting their local business, she said.
"When you're working with these more eco-friendly materials, they have a personality of their own, and you have to let them guide you in certain ways. So that in and of itself makes our products look unique," Roso said.
As part of its focus on sustainability, Odd Flower Creations also aims to have as little waste as possible, Roso said. The company uses leftover jesmonite, an environmentally-friendly polymer similar to concrete, in its resin so none of it is thrown away, she said. All of the resin is used as well, she said, because there is usually enough left over to make a keychain after making a product.
In addition to sustainable materials, Odd Flower Creations maintains its focus on nature, Roso said. From embedding dried flowers and plants into hair clips to creating propagation vases, she said the company encourages others to connect with the outdoors. In designing the products, Sackett said she was inspired by her love of plants and gardening as well as the natural landscapes of California.
Regarding products, customer Akhila Jerripothula said she enjoys wearing the hair clips because they do not rip her hair out, and she uses them the most often of all the products she has from Odd Flower Creations. She said she also likes the earrings because they are eye-catching and make a statement but do not weigh down her ears.
"I enjoy that these are practical, everyday products that will stand the test of time," Jerripothula said. "They work throughout the years without having to be tossed out just because it's not in trend anymore, which makes me feel better because you're creating a capsule wardrobe of products you actually love and help you feel uniquely confident."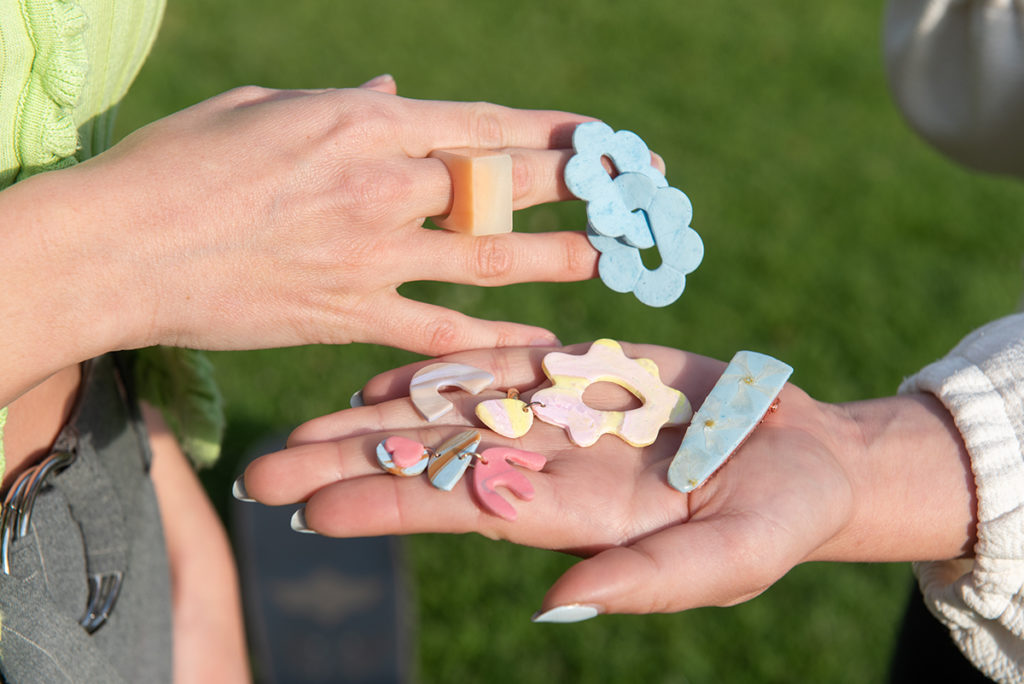 [Related: Killer Sweetss jewelry business delivers eye candy with a personal touch]
A customer for more than a year, Jerripothula said Odd Flower Creations' pieces are eye-catching as they display the biodiversity in Los Angeles by using flowers and plants to construct handmade, conscious creations. The brand helps her stand out in a city where many people dress the same, and she is able to support a small business with her purchase, she said. Jerripothula also works with the brand to commission custom designs and colors, and she said it is rare to find a company with which she can make her own creations without spending a lot of money.
In the future, Sackett and Roso aspire to grow Odd Flower Creations into a collective where they can work with other local makers and support each other, Roso said. As of now, the company sells its products at the Westwood Village Farmers' Market, Melrose Trading Post and The Cook's Garden in Venice, Sackett said, and will have its hair clips featured in UCLA Zero Waste's gallery. Eventually, the duo hopes to continue their small pop-ups and eventually have a store and collaborative space with other local businesses, Roso said, and they would also like to teach other makers how to support themselves.
"I would love to just continue to grow and do collaborations with other makers and artists alike," Roso said. "We can just expand into every type of art, every type of design, and ultimately have enough money to give back to other makers (and) creators."