Killer Sweetss jewelry business delivers eye candy with a personal touch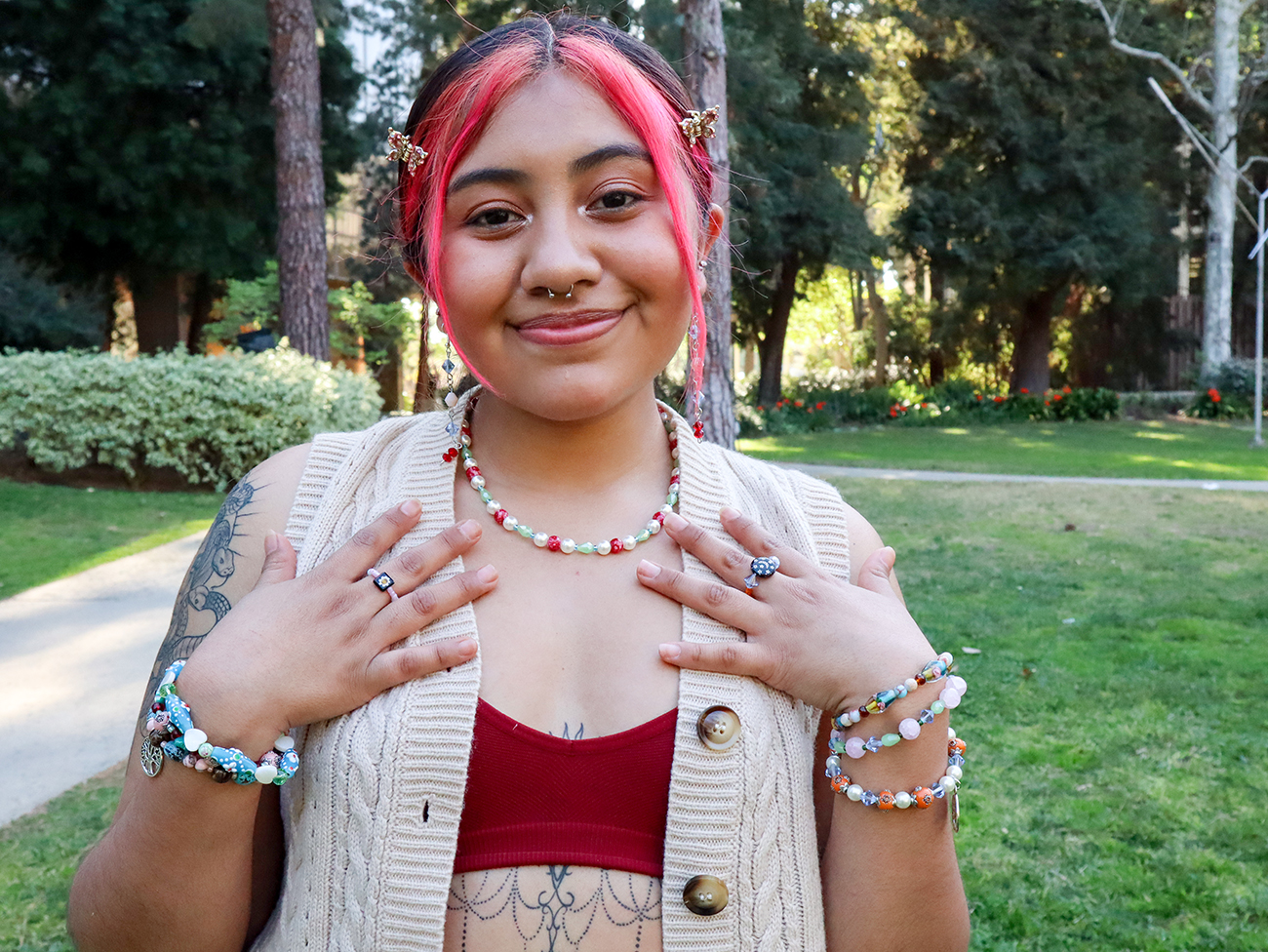 Second-year education and social transformation and psychology student Luz Martinez founded Killer Sweetss with her customers and culture in mind. She started the business over the pandemic and said the jewelry business draws inspiration from nature, spirituality and her heritage. (Sandra Ocampo/Daily Bruin)
This post was updated March 9 at 10:33 p.m.
Killer Sweetss' candy-colored jewelry is handcrafted with care.
Founded by second-year education and social transformation and psychology student Luz Martinez, the small business sells an array of colorful and customizable jewelry pieces through its website and social media platforms. Her designs incorporate elements of nature and spirituality, and she is set to launch in-person sales at the Westwood Village Farmers' Market on March 24. When she began selling earrings two years ago and noticed customers wearing her pieces, Martinez said she felt motivated to branch out and added necklaces and bracelets to her collection.
"When we were at home and it was lockdown, I wanted to find more hobbies to do," Martinez said. "I started exploring. I opened up a podcast, and although I liked that, I started making jewelry, and I felt like I liked it a lot more."
When experimenting with new projects, Martinez said she first crafted butterfly earrings, which entailed a simple task of clipping the charms to bindings. Assembling pieces was initially a trial-and-error process, as she had to restart an entire necklace if she did not properly attach the ends, she said. Since then, she has gained experience with making different types of jewelry, and she said her designs have evolved to include more elaborate pieces, such as beaded necklaces and bracelets.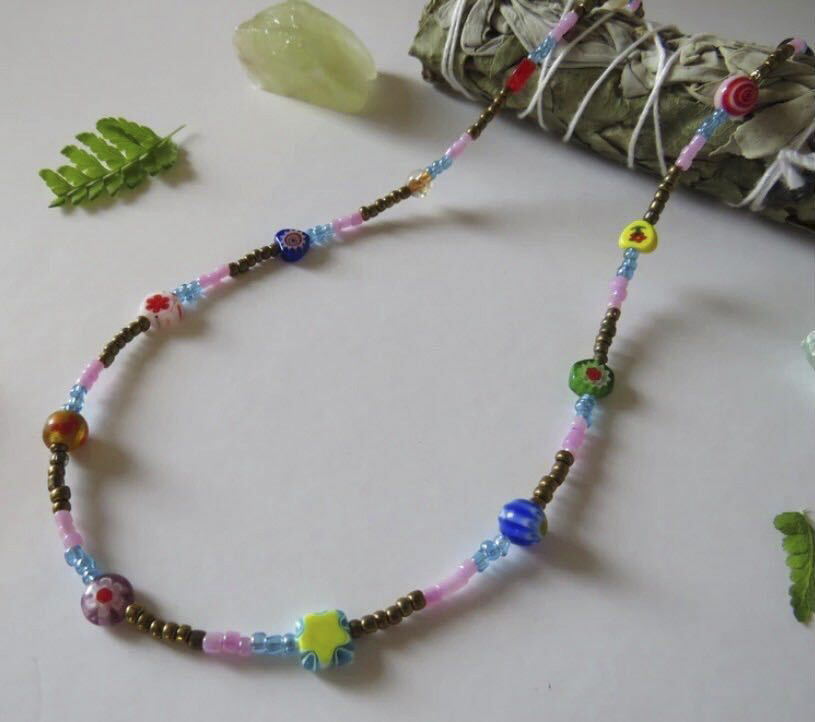 [Related: UCLA student celebrates Indigenous heritage through handmade beadwork business]
In particular, Martinez said she enjoys the intricate nature of beading and strings mosaics of crystal beads onto necklaces and bracelets, a style she said is often worn by folklórico dancers in Mexican culture. Martinez also draws inspiration from nature and spirituality, and she said she weaves these elements into her pieces by using soft colors as well as sun, moon and evil-eye pendants.
"In my culture the evil eye – in Spanish we say 'mal de ojo' – is a big thing, and I've been hesitant about whether I should include it or not," Martinez said. "But by mom was telling me (I) should. It's something that we were taught about since we were small."
Martinez first established her business while working at another job, which she said enabled her to purchase supplies to make jewelry. When her art began turning a profit, she was able to shift her focus exclusively to building her brand, Martinez said. Initially, she handled purchases through her Instagram profile and delivered pieces to local buyers, but Martinez said she has since gained exposure and receives orders from outside California.
For customer Vanessa Rivera, Martinez's attention to detail feels heartfelt. Martinez enjoys the creative process of filling mystery box orders, as she said each contains a specially curated set of jewelry. When Martinez knows the purchasing customer, she designs a collection that aligns with their style, and Rivera said her order incorporated pieces with her favorite color.
"The two main things that I wear the most out of it (the mystery box) is the earrings and the necklace," Rivera said. "The necklace is really cute because it has a lot of little pearls (and) a butterfly in the middle, and it's purple and blue."
When creating her brand, Martinez said shipping to customers and the launch of her website were two milestones that expanded her reach. In light of starting Killer Sweetss' site, Martinez said she invested in a high-quality camera and complementary props to photograph jewelry for the product listings. Arranging her studio setup has allowed her to shoot aesthetic photos, and Martinez said she often lays the pieces on a mirror placed under her tilted laptop, which then reflects any background of her choice.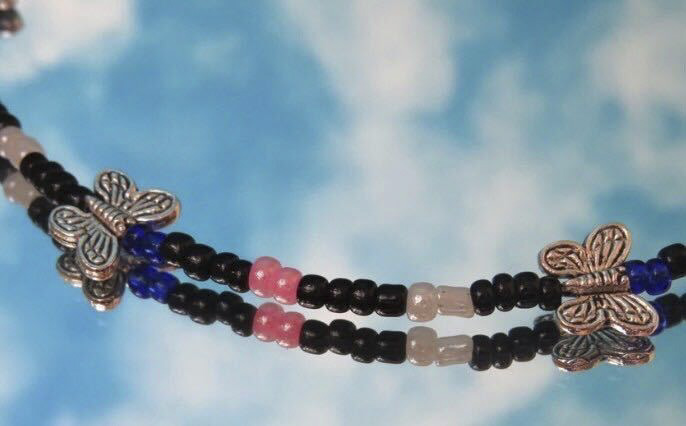 [Related: Bruin expresses artistry through boutique, nail art business]
In addition to her online platforms, Martinez said she builds her brand by including business cards that feature her website's QR code with every purchase. Her friend and second-year political science and Spanish language and culture student Astrid Menendez said Martinez creates a meaningful experience for the customer by offering order pickup to Westwood residents and adding stickers, candy and confetti to the packaging.
In the end, customer satisfaction is the priority for Martinez, and she frequently makes adjustments for buyers to ensure that product expectations are met, she said. She extends care to other small-business owners, Martinez said, as she visits the Westwood Farmers' Market weekly to support local vendors. Martinez said she is looking forward to showcasing her jewelry there, and she is planning to sell her pieces at other locations, such as the Melrose Trading Post, in the future.
"(My business values) go back to making sure that your customers feel like they're loved and taken care of," Martinez said.