'She Goes by They/Them': Institutions must be reimagined to better support neurodivergent, LGBTQ+ communities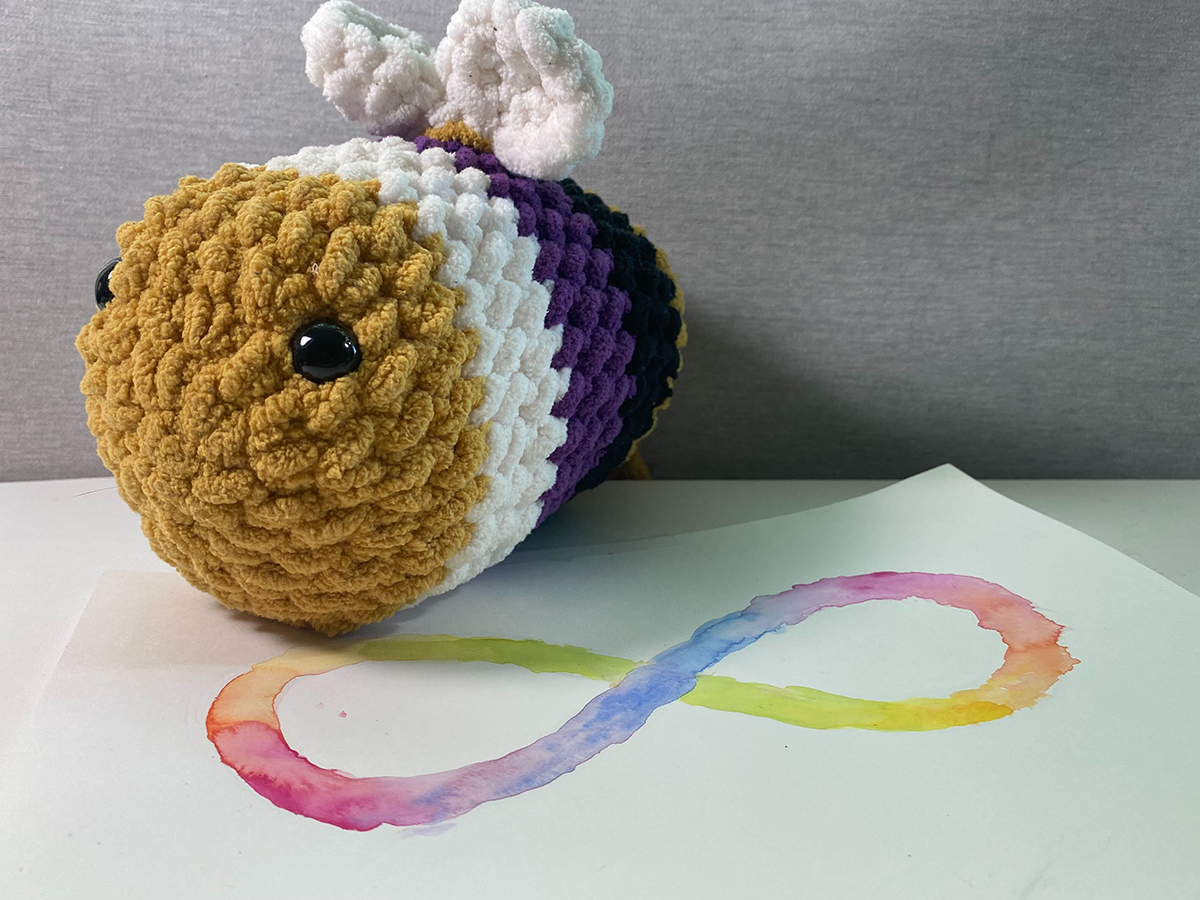 A crocheted nonbinary pride bee sits on a painted neurodiversity symbol. Assistant Opinion Editor Payton Kammerer finds parallels between their queer and neurodivergent identities. (Courtesy of Payton Kammerer)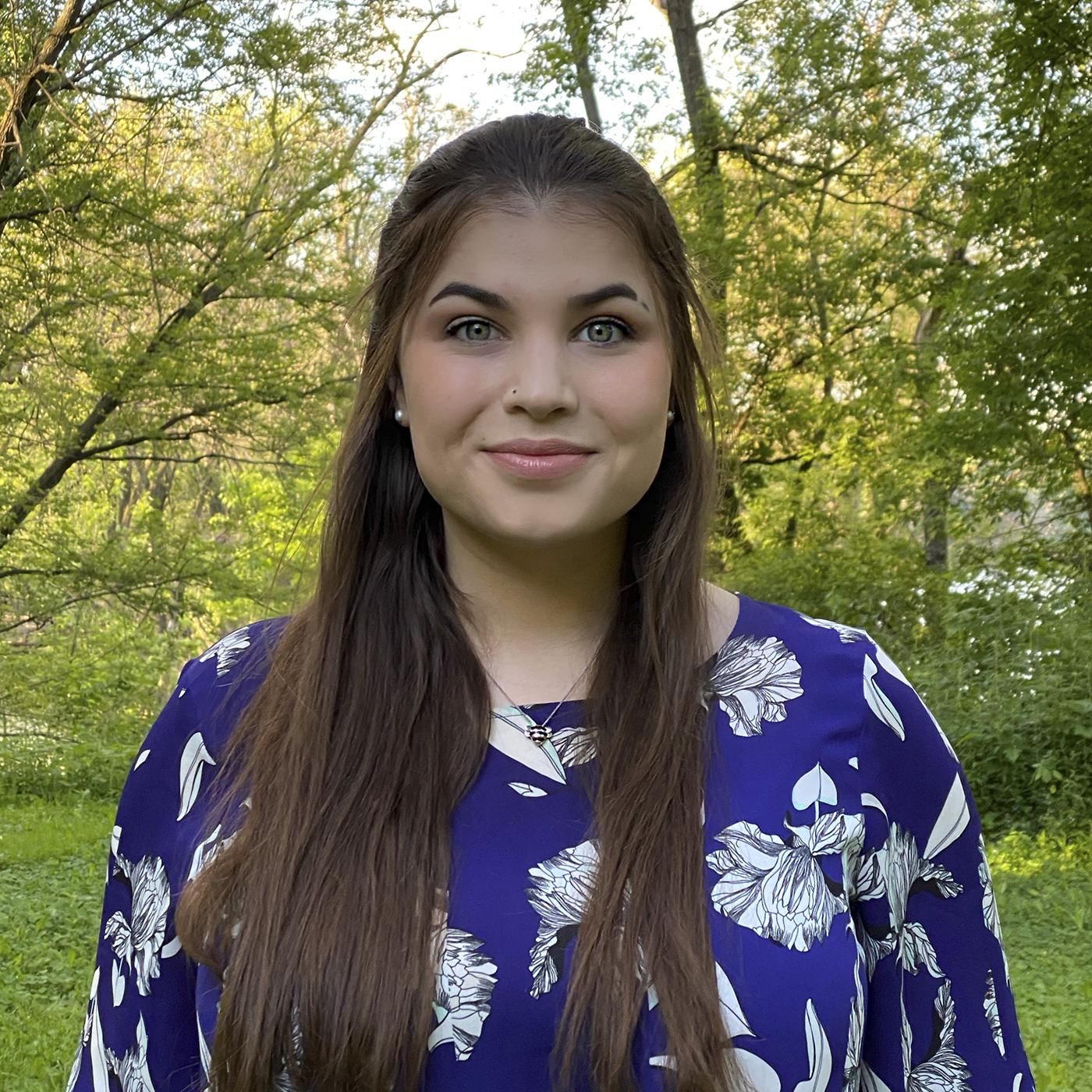 "'She Goes by They/Them'" is a recurring series by Payton Kammerer, a nonbinary editor for the Opinion section. In these columns, they will be exploring a variety of queer issues, from those specific to campus life to those concerning broad public discourse. It is their goal to use this series as a platform to elevate the concerns of the LGBTQ+ community and provide an outlet through which people with shared experiences can find connection and solidarity. It is important to note that these articles are meant to serve as a starting point for conversation, not an end to it. Likewise, members of the Bruin community are welcome to submit op-eds or letters to the editor to be published as part of this series to create a product that does a better job of representing the many viewpoints of the LGBTQ+ community.
In September, I came out as queer.
Now, I'm doing it again – but this time, I'm coming out as neurodivergent.
These two identities are impossible to separate. My queerness is fundamental to the way I see and interact with the world around me, and vice versa.
The term "neurodivergent" refers to cognitive processes and behaviors that don't align with society's expectations and norms, according to Medical News Today. Frequently, people with attention-deficit/hyperactivity disorder or autism spectrum disorder are considered part of this group. Much like the term "nonbinary," "neurodivergent" is a self-applied label; some people find it helpful, and others don't.
For me, using "neurodivergent" to frame my identity has been transformative. Rather than focusing on a clinical diagnosis, which can come with its own set of expectations and stigmas, I can decategorize myself and experience what being different means for me – good and bad.
In a previous column, I discussed a similar feeling in realizing my nonbinary identity. Rather than liberating me from forced femininity, accepting neurodivergence has allowed me to begin to leave behind broader expectations of how I should feel and act.
In a different column, I touched on the importance of inclusive accommodations for nonbinary people. In the same vein, it has been immensely helpful to seek out spaces that not only tolerate my cognitive differences but actively validate and appreciate them. I've become a happier and more productive person because of it.
This parallel between neurodivergence and queerness is not unique to me. In both scientific literature and my personal experience, people with cognitive patterns that diverge from what is considered the norm are known to be more likely to have sexual orientations and gender identities that do as well, according to the National LGBT Health Education Center.
There is no scientific consensus for why this is the case, but to me, it makes perfect sense. It seems obvious that a social order so clearly built without neurodiversity in mind would have norms of gender, romance and sex that don't align with the needs of neurodivergent people. Traditional ideas of what life should look like don't fit me because they weren't made for me and trying to jam myself into them just doesn't work.
Neurodivergent and queer communities have long been pushed to the margins, if not erased completely, and it has only been with evolutions in communication technology that we've been able to find one another.
When we can find each other, we can find ourselves. We can finally start to build lives that do work for us.
The role the internet has played in helping these communities flourish hasn't only been noticed by those in it. In American politics, fearmongering against both queer and neurodivergent identities has run rampant as we have begun to find safety in public settings.
For example, the unfounded idea that vaccines cause autism has spread in the U.S. Political figures and Facebook groups alike have encouraged parents to forgo protecting their children from deadly diseases to keep them from developing neurodivergent traits like the ones I have.
Wanting to protect one's child from a difficult life is understandable. Still, too often, the actual effect of these movements is to make people with nonstandard identities feel unwanted and unsafe.
When people feel unsafe being themselves, they are more likely to hide, even at the cost of their well-being. One example of this is the change in the self-reported proportions of left-handed people in the United States, which steadily increased from about 2% for those born at the beginning of the 20th century to about 12% for those born around 1950 when it began to stabilize, according to a study from 2009.
This trend, much like the increase in visible young neurodivergent and queer people, was very likely caused by changing social acceptance, not vaccines or internet brainwashing. The researcher that published this handedness data has hypothesized that the abnormally low rates of self-reported left-handed people born around 1900 were caused by a social and structural stigma against them. As a result, they hid or tried to change who they were.
It's a response I understand well.
The acceptance and inclusion of neurodivergent and LGBTQIA+ communities can't happen within the same structures that have held them down. From everyday interpersonal changes, such as asking people's pronouns, to massive shifts to allow equal access to educational and professional opportunities, the social order and its institutions need to be reimagined.
UCLA can be a leader in that change. In fact, the work has already begun.
Last quarter, our campus saw a historic win for accessible education following a 16-day sit-in organized by campus activists, including members of the Mother Organizations coalition and the Disabled Student Union. Thanks to their efforts, administrators agreed to many of the demands, including providing more resources and support to improve accessibility.
This triumph should be celebrated, but it isn't over. Now, the faculty directly overseeing our education need to realize the systems they grew up with are furthering the marginalization of students who already face enough challenges in their daily lives.
More than anything, the Academic Senate needs to agree to the DSU's proposal to implement remotely accessible learning campuswide.
Until they do, professors and lecturers must take it upon themselves to make the changes their students need in whatever capacity they can.
More of their peers, students and loved ones need it than they realize.
Kammerer is the 2022 Opinion editor. They were previously an 2021-2022 assistant Opinion editor and an Opinion columnist.
Kammerer is the 2022 Opinion editor. They were previously an 2021-2022 assistant Opinion editor and an Opinion columnist.